Baby Age Stickers are one of the easiest ways to document your baby's growth in photos. Use these baby milestone stickers as you take photos all year long!
---
Just had a baby? You've probably taken a million pictures already. I bet you're noticing how fast they grow too!
Taking a monthly picture is a great way to document their growth and milestones over the first year.
There are tons of ways to take pictures, but using monthly stickers is by FAR the easiest way to take monthly photos.
Baby age stickers (sometimes called monthly milestone stickers or belly stickers) are just stickers printed with months that you can use in photos. Most people stick them to their baby's onesie or use them as a prop next to their baby.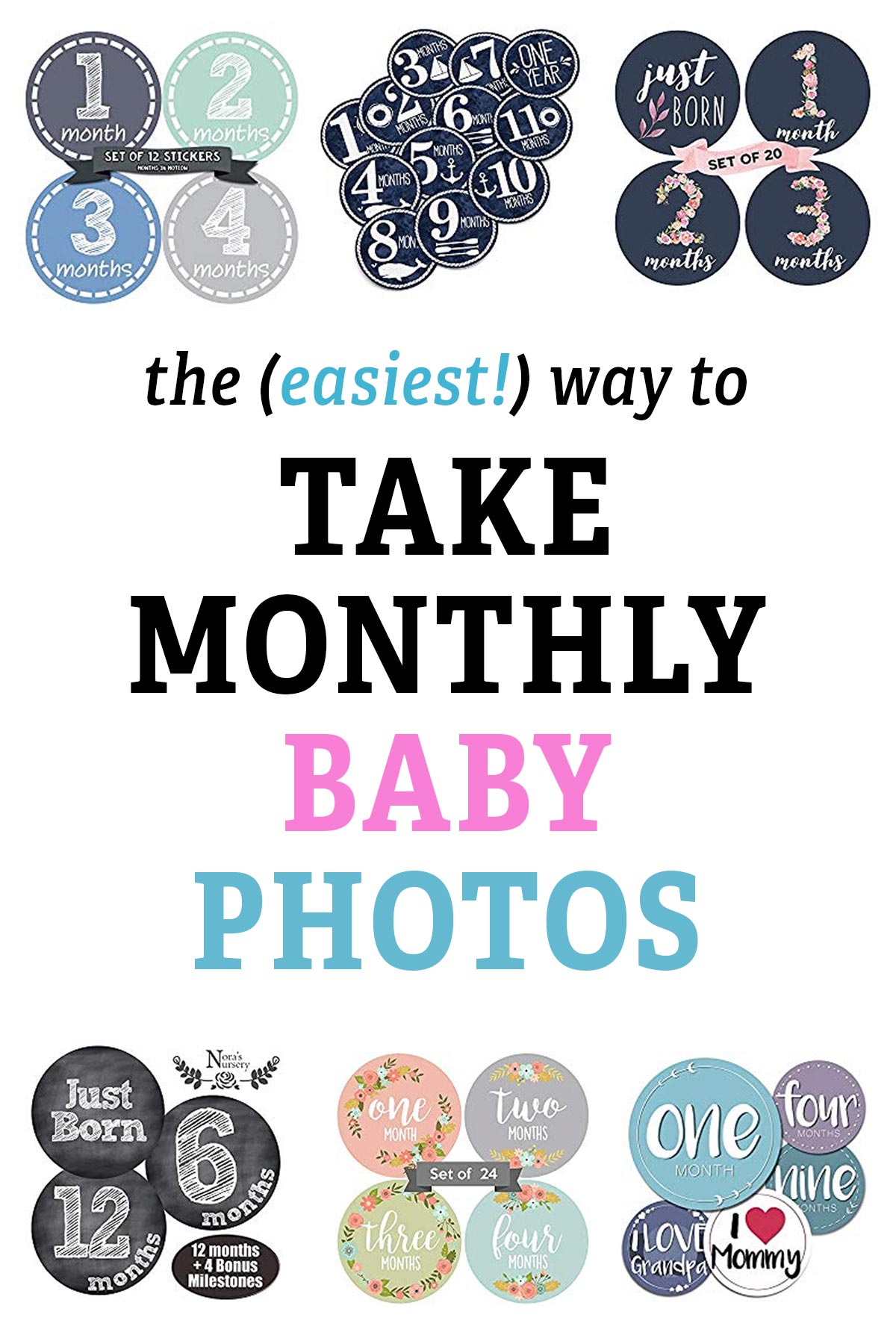 HERE'S WHY BABY MILESTONE STICKERS ARE SO AWESOME:
No other props or preparation is necessary! Just peel, stick, and photograph.
You can take pictures anywhere! They're good for travel if you're going to be gone for the exact monthly milestone day.
There are lots of different designs and fonts available to fit any style.
You can show off your favorite outfits every month and see how your baby grows.
Flat stickers are easy to store throughout the year, without being big or bulky.
They don't need to be washed or ironed like a blanket - and you have enough laundry already!
Monthly milestone stickers make a great addition to your baby book or scrapbook, alongside your pictures. 🙂
There are just a few cons:
Some stickers are hard to read or too busy. Make sure you choose one that has a big, obvious number so it's visible in pictures!
Sometimes they tear easily, but the high-quality brands that are plastic are stronger.
Older babies may try to pull the stickers off their own shirts! But it only happens at the end of your photo project, so just be patient when you take your 12-month pictures.
HOW TO CHOOSE THE BEST BABY AGE STICKERS
When you're choosing a set of belly stickers, make sure you think about three things:
Large, easy to read numbers - Most stickers are between 3-5 inches big, which means you want a big, easy-to-read font. Then they will be readable on your Instagram posts!
Simple, neutral style - You're going to use these for an entire year, and they need to compliment lots of different clothing styles! I'm not saying that cartoony animals and woodland creatures aren't cute - just that your baby is the star, not the sticker. So choose something simple & neutral that you'll still like years from now in your scrapbook.
Matte finish for photography - If your stickers are shiny or glossy, they will reflect light and be harder to read. Most of the high-quality brands of milestone stickers already know this and produce matte finish stickers that won't have a glare. All the options I gather below already have a matte finish, but keep it in mind if you find something else you like!
Lastly, it's not required, but you'll have to decide if you're interested in extra milestones (like "first tooth," "slept through the night," "I can crawl," etc) or holiday stickers (like first Christmas, Happy Mother's Day, etc).
Stickers are an easy way to make sure those things are documented. There are other ways as well, but they are nice to have!
Here are some of my favorite options for baby age stickers:
MONTHLY MILESTONE STICKERS FOR YOUR BABY
Chalkboard Baby Monthly Stickers - get them here.
The black-and-white style of these baby-age stickers is classic and works with any outfit and gender. The chalkboard effect is easy to read! If you're still pregnant, this set also includes a "just born" sticker which is cute to use in the hospital!
24 Adorable Belly Stickers - buy here
I like these because they are bigger than usual and have a large, easy-to-read font that's great for social media pics. The gender-neutral design is simple and classy. They also are made out of plastic, so they're rip-resistant and hard to tear! This brand has thought of everything - they are repositionable, matte for flash pictures, and include holiday stickers too.
Floral Baby Monthly Milestone Stickers, Set of 20 - buy here
This is one of the cutest girly sets that is STILL readable! Too often the pastels and florals are low contrast and hard to see in photos, but these black background stickers are great! Glare-free with a super sweet design.
Baby Month Stickers - Nautical Onesie Stickers - Buy here
I love this navy and white set! They are super readable and the color combination goes with anything, just like blue jeans! These are waterproof, tear-proof, and glare-free. The nautical theme is classy and not overdone at all!
Months In Motion - Baby Monthly Milestone Stickers - Buy Here
This brand is popular for a reason! Their age stickers have nice big numbers and lots of contrast. You can check their brand page for lots of other cute color schemes.
Baby Age Necktie Sticker - buy here
The necktie concept on these belly stickers is super cute for the little man in your life! I've also seen people stick the tie to a stuffed animal next to their child, which I thought was a fun twist.
Baby Girl Monthly Milestone Floral Stickers - buy here
This set has sweet florals with gold accents. It's unique because it has achievement stickers instead of holidays (like "today I said mama," which is adorable!)
Floral Baby Month Stickers for Girls - buy here
This cursive script is surprisingly readable! The pastel colors are perfect for girly outfits.
---
PHOTO TIPS FOR USING BABY AGE STICKERS
Get your photo area ready while the baby is asleep. Some people take each picture in the same place - like the corner of the couch, or in the nursery, or on a special blanket. But take a quick minute to make sure that area is clear and ready while you have two hands available.
Take your picture during the day, when there is pretty lighting! Overhead lighting is rarely flattering in pictures, so choose a bright time of day for your photo project. And if you forget until bedtime - just take the picture the next day. No one will know. 🙂
Check your settings BEFORE you put the sticker on your baby! Grab your phone or camera and do a quick test shot so that everything looks right.
Figure out where the sticker works best. Many moms like to put the sticker on the baby's belly, but it's up to you! Sometimes it might work better to have the sticker on a blanket or sheet next to them instead, especially if it covers your favorite outfit! Most are sticky enough to be repositioned with care.
Take your picture quickly. The older your baby gets, the more interested they will be in this sticky thing on their shirt! So don't waste time. They will also eventually be able to roll over or crawl away as well, so get used to working fast!
---
Put all your photos together for the cutest, easiest little time capsule of your baby during their first year.