The Yoto player is a valuable resource for any parent who wants to invite only uplifting media into your home. This is especially helpful for Christian households that want to cut down on screen time and make sure their kids have easy access to inspiring spiritual messages.
If you are a parent and are looking for Christian content for your kids to listen to, we've got tons of suggestions for audio you can purchase, download, and add to Yoto MYO cards. We cover audio from music to dramatized readings of the Bible to uplifting, appropriate audiobooks. This Christian Yoto Content works for toddlers, children, tweens, teens, and adults.
So if you're searching for Christian audio, check out this list!
Note: I do not discriminate between different sects of Christianity, nor do I tolerate unkindness towards anyone of any faith. Please recognize we are all trying to do what's best for our families, and we may have different lines for what is appropriate for our children. This post is simply a resource of available Christian content for Yoto Cards. You do you!
Which Yoto Cards in the store are appropriate for Christians?
First of all, there are a lot of cards in the current Yoto catalog.
Since there aren't reviews in the store, it can be hard to tell which cards have themes or language you might want to avoid. It's especially tricky because everyone has a different line for what content they are willing to have in their home. Something that bothers one person may be fine in other families.
If you'd like more information about particular cards in the Yoto catalog, I've found a great resource! The Christian Yoto Content Facebook Group has peer-collected reviews about card content. Request to join at the link above.
Once you're accepted, simply search "CYC Review" plus the name of the card you are researching. If it doesn't come up in the search, you can post a new request for content reviews.
Again, it's a mishmash of many different Christian religions and sects, so be kind and understanding if other people have differing views from your own.
---
The rest of this post focuses on audio content you can use to make your own cards Christian Yoto Cards.
Again remember this is provided as a general resource, and you might not find every link to be suitable for your own family, but that's okay!
Bible Stories for Christian Yoto Cards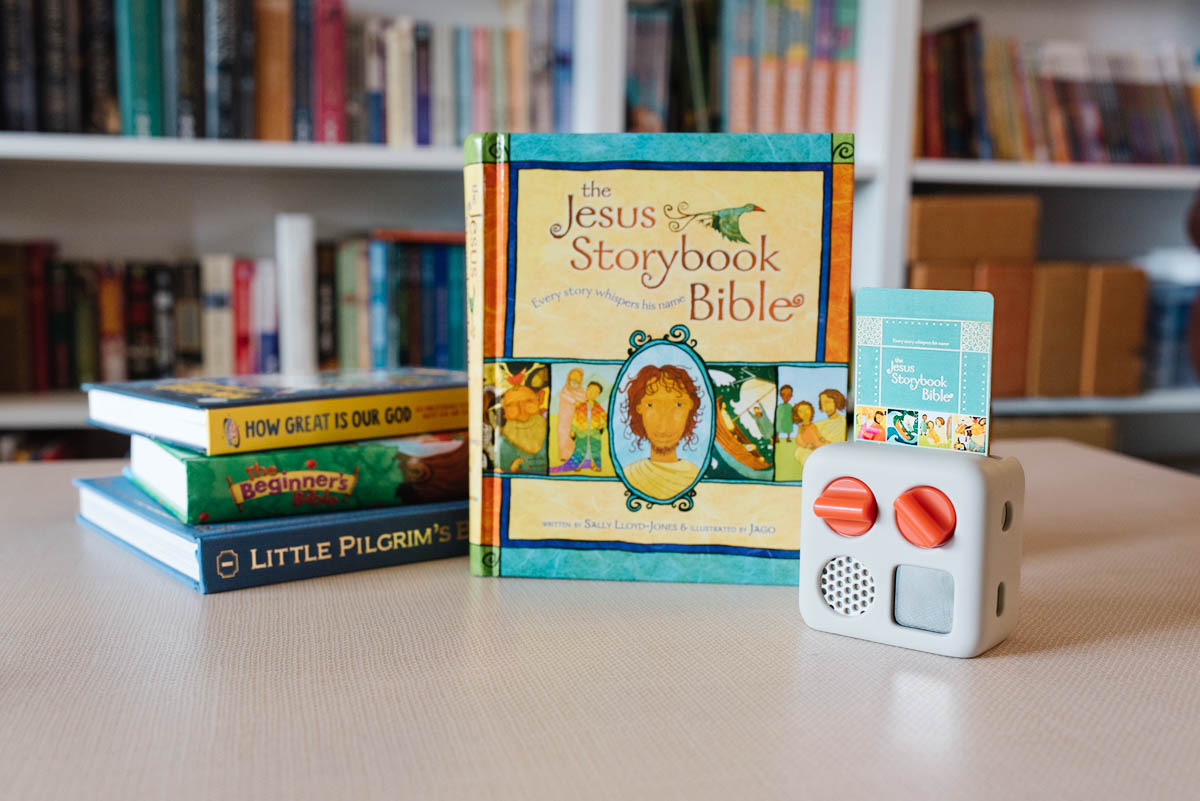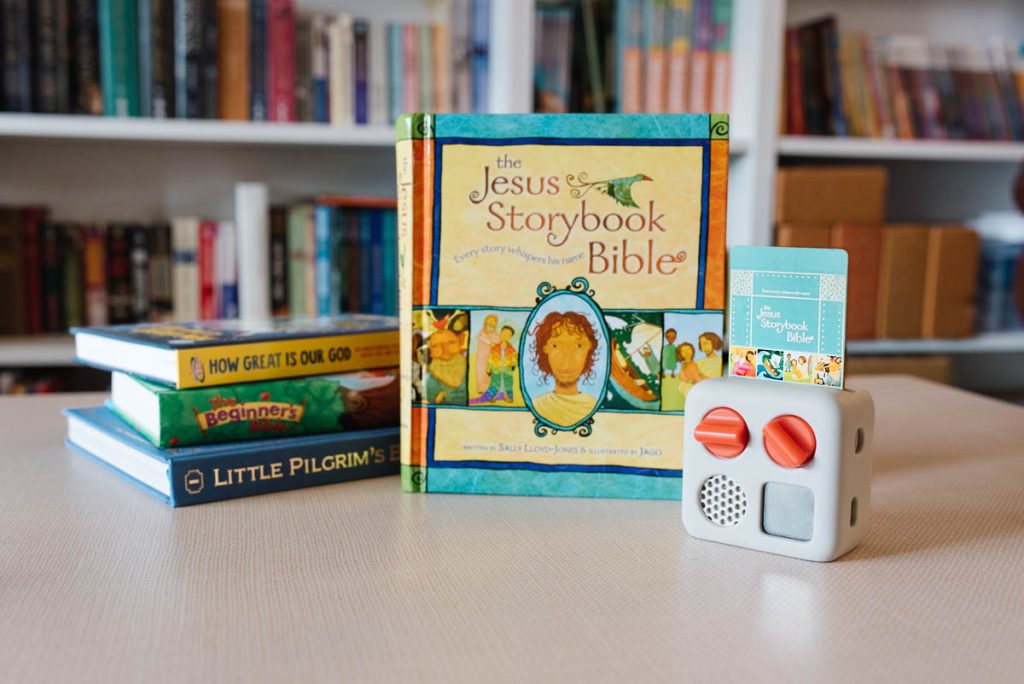 Jesus Storybook Bible
Jesus Storybook Bible is on Downpour which makes it SUPER easy to put on MYO Yoto Card!
This children's storybook Bible is universally popular. Narrated by David Suchet, and tells the stories from the Bible in a way children will understand and enjoy. They also have a podcast!
Laugh and Grow Bible For Kids
This collection of 52 Bible stories is written by Phil Vischer, who you may know as the creator of VeggieTales. You can get the audiobook here, and there is a matching book so you can do a read-along with the Yoto card. Of course, since it's an audiobook, you will have to convert it into an MP3 playlist and then add it to an MYO card. I definitely don't regret getting this one - my toddler listens to it often!
Beginner's Bible
You can find the Beginner's Bible on Downpour! It has great sound effects and has both a male and female narrator. Both have a great range of voices and really bring the stories alive. The stories are all very appropriate for very young listeners. It follows the hard copy book verbatim.
The Kingdom of God Bible Storybook Bible
The Kingdom of God Storybook Bible comes in Old Testament and New Testament from Lithos Kids, and those do have audio options available for it! So if you want a physical copy to go along with the audio, you can get the Old Testament book here and the New Testament here.
The audio of the Kingdom of God books are only $5 each, and I can send you a quick sample of either of those if you'd like to hear them!
The Child's Story Bible by Catherine Vos
This children's Bible is a classic. It was first published over seventy years ago and has been pretty popular ever since. It's written by Catherine Vos and you can get the audio version as well as the hardcopy of the book.
The Kids Bible on CD (15 CD set)
This CD set has over 300 Bible stories in over 17 hours of content. It only contains stories from the New Testament but there are some Bible songs peppered throughout the audio. It is a dramatized reading of the CEV Bible.
The Donkey Who Carried a King
This children's audiobook is about Davy, a young donkey. One day, Davey is chosen for a special task, and he ends up carrying Jesus into Jerusalem. This book gives a new perspective on what happened during Jesus's final week.
The World's Greatest Stories
The World's Greatest Stories are narrated by George W. Sarris and follow the Bible word for word. The audio is dramatized with music and sound effects so they'll hold your children's attention. You can find the CDs here and some of them are on Amazon.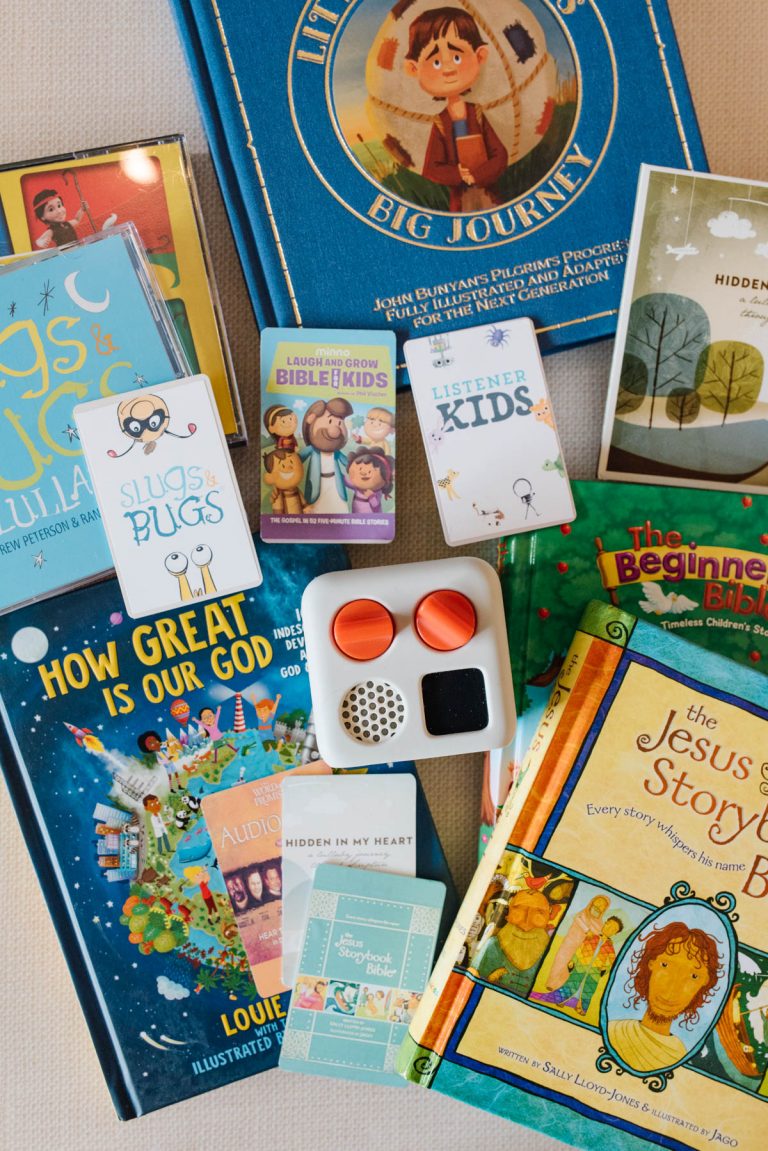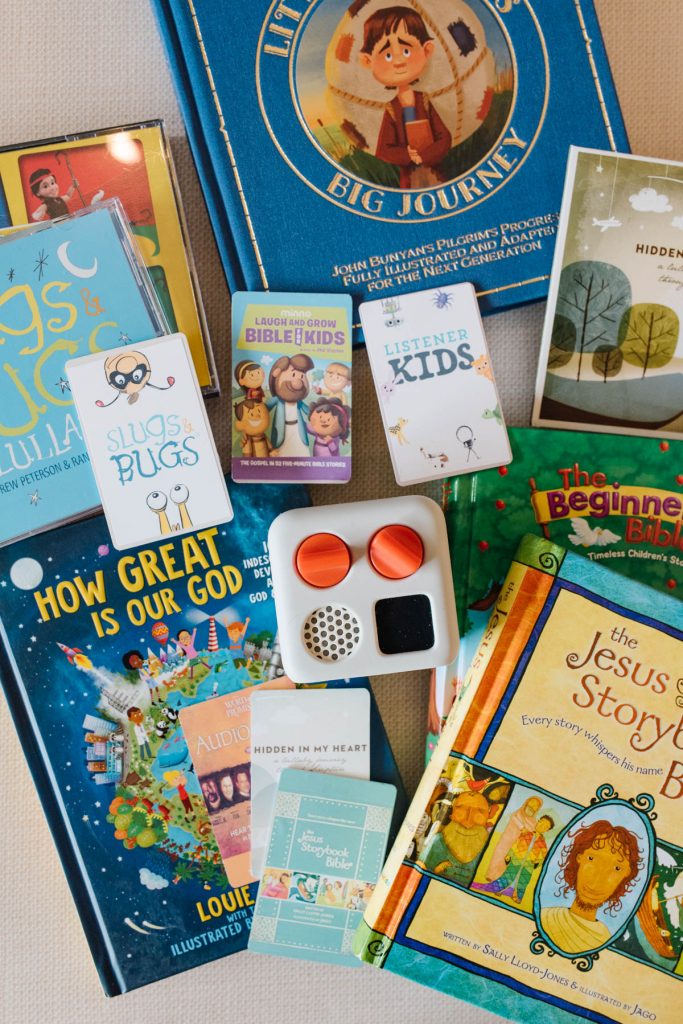 The Big Picture Story Bible Podcast
This podcast is narrated by David Helm and follows the matching physical book. The podcast is easy to turn into a Yoto card because there are no ads and you can download all of the episodes. The podcast is just the full recording of the book and the narrator is the author of the book!
The Story of God's Love For You
The Story of God's Love For You contains 44 short chapters from the Bible and melds them together into a cohesive story that centers around Jesus. It is a great listen for people who have read the Bible many times and for people who have never opened it before.
Word of Promise Audio Bible
This audio Bible of the NKJV features original music, sound effects, narration, and over 500 voice actors. It is an epic way to hear the Bible.
Please note that these files are HUGE for the New Testament alone, so the Old Testament file is even larger. I know it's always wise to use one Audible credit to get as many books as possible, but getting the entire Bible in one go basically broke my OpenAudible. I had to return and get just the New Testament. So I'd suggest you don't get both at once.
The Biggest Story
The Biggest Story is an audio CD (that you can easily turn into a Yoto card) that is almost 30 minutes with music and sound effects. It tells the core message of the Bible. There's also a hardcover book that goes along with it so your kids can read along.
Many ESV, NIV, and KJV on Audible
There are many readers of the different versions of the Bible on Audible, so I'd recommend that you preview narrators to see which one you like the most. Here's one example, but you can browse Audible for more options. Just search your version/edition of choice: KJV, ESV, etc.
The Savior is Born
This account of the Nativity is lovely! It is narrated by Morgan Freeman and weaves together the nativity story from the different gospels in the Bible. It's set to music from The Christ Church Cathedral Choir and it's absolutely beautiful!
A Tale of the Two Kings
Listen to the story of redemption told by the Bible. This tells the story of Adam and Jesus and how Jesus's crucifixion made eternal life possible. It is written in a way that is easy for kids to understand!
Word of Promise Next Generation
This audiobook is narrated by celebrities like Jordin Sparks, Corbin Bleu, Sean Astin, and more!
It tells stories from the Bible, is aimed toward teens, is set to an original score, and features sound effects and more! It will keep your teen's attention and is an extremely accessible and easy-to-understand version of the Bible.
Dan & Louie
This series is about Dan and Louie and follows them as they travel through the Bible Storybook Castle and witness different biblical scenes. You can find stories and downloads here.
---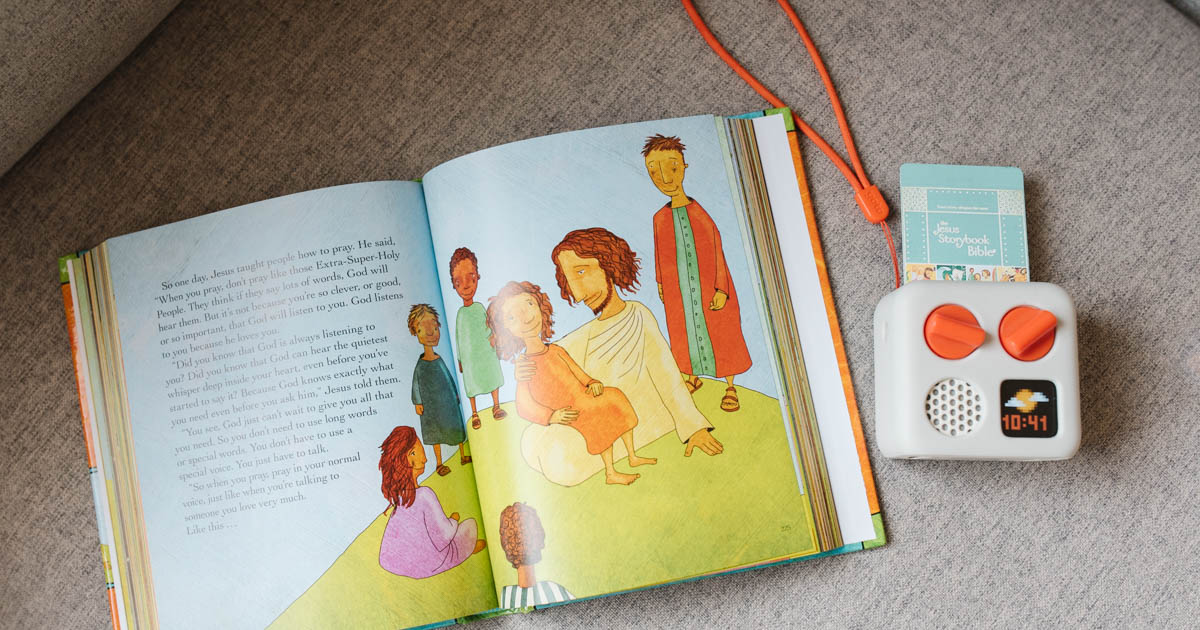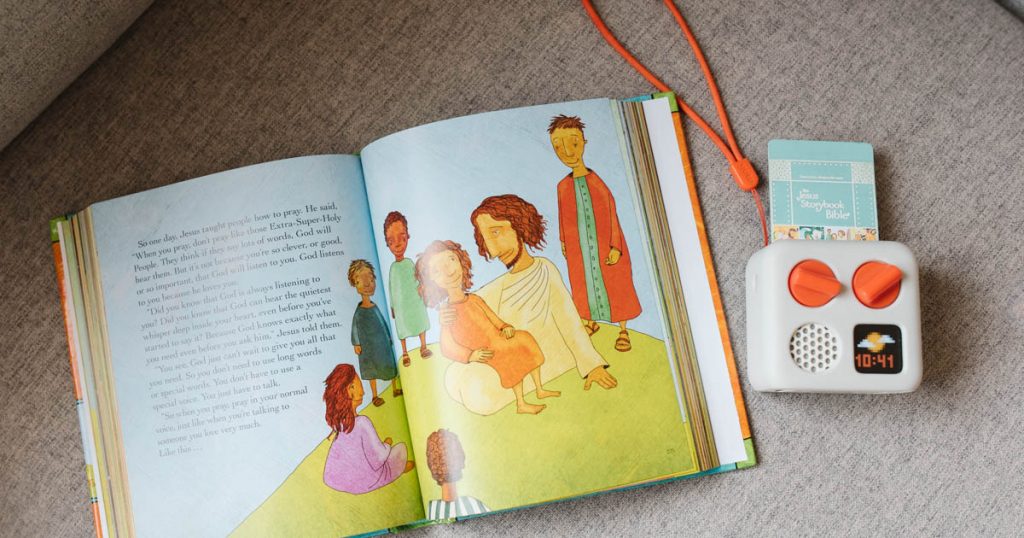 Other Christian Content for MYO Yoto Cards
There's more than just bible stories available as good Christian Yoto Content! The following audiobooks are either specifically Christian content or just fiction that follows the admonition of Paul, that is, "anything of good report or praiseworthy."
The Pilgrim's Progress
This book has been around for over 300 years! In this devotional, you follow an epic adventure through a Christian allegory. You can find the original version here, but that might be too hard to understand for kids, so you can check out a more readable modern-day version as well.
Here's another modern-English version and an audio drama. Arguably, the most listener-friendly production of John Bunyan's immortal classic ever produced can be found here.
Again, I would recommend you preview the audible narrators first so you can see which one you prefer!
Little Pilgrim's Big Journey
This book is the illustrated and adapted version of Pilgrim's Progress, made just for kids. It comes in two parts. The audio versions are available here (part one and part two). You can get the book versions on Amazon (part one and part two).
I can tell you this version (Little Pilgrim's Big Journey) is much more palatable for kids than the original version in Old English. It's amazing!
Heroes of History Series
If you have Audible, a ton of the YWAM Heroes of History and Missionary stories are now included with your membership! We read a lot of these for our homeschool read-aloud and they are wonderful!
Green Ember
Green Ember isn't a Christian book but it has a lot of Christian themes. It is about two rabbits in a magical world as they dive into the fight between good and evil.
Ted Dekker
Ted Dekker has some book series that are great for kids. You can get the entire Millie Maven series on audiobook here. Follow Millie Maven, a 12-year-old orphan who enters an institute for gifted children.
His other series, The Dragons Collection, is only available on audiobook from his website here.
Little Women
This is a good one for older kids or teens! Set in 1868, this novel follows four sisters as they grow up in Massachusetts during the Civil War. There are lots of different free versions of this audiobook with different narrators (since it is in the public domain), but this one is a favorite.
Our Island Story
This is a compilation CD of three volumes: the Romans to Richard the Lionheart, the Magna Carta to Queen Elizabeth 1, and James I and Guy Fawkes to Queen Victoria.
It's not specifically about the Bible or religion, but it does talk a lot about the history of Britain and Protestantism.
Adventures in Odyssey
There is SO much audio content for Adventures in Odyssey! If you know nothing about it, you should read this and this. You can buy CDs or digital downloads from Amazon, ChristianBook.com, or directly from The Focus Store.
Fiction From The Good & The Beautiful
There are 45 different audiobooks produced by The Good & the Beautiful on Audible. This Christian homeschooling company is invested in bringing back wholesome, high-quality books that are hard to find or have been out of print for many years.
All 45 of the books have received their stamp of approval for being clean, uplifting, and having no bad language.
We've collected some of the highest-rated ones below. Nearly all of them are under $5 on Audible!
Boy of the Pyramids

tells the story of an Egyptian nobleman's son becoming friends with a slave girl. They learn about each other's lives, traditions, and cultures. This story features themes like compassion, bravery, loyalty, love, and more.

The Three Gold Doubloons is the story of a printer's apprentice. The story is inspiring and teaches listeners that kindness is always the right choice!
Just David is about a boy who was raised by his father until his father gets sick and passes away. David then goes to live with relatives he's never met before. This story follows David through his grief and as he discovers new things about his father and relatives.
Black Hawk is based on true events. It tells a story of a Native American boy as he struggles to uphold his father's request but stay true to himself and his people.
Juddie is about a boy who wants to learn how to read and write but has to help his father on their farm. Set in Canada in the mid-1900s, you'll enjoy this heartwarming story.
Redwood Pioneer takes place in the late 1800s in California and tells the story of 10-year-old Mike as he moves with his family from a potato farm to the redwood forest. Follow Mike's adventures in his new home where he comes across bears, waterfalls, and more!
Patterns on the Wall is a historical fiction novel about Jared Austin, a hard-working man in New England. Set in the early 1800s, this is a moving tale that you will love.
Race for the Prairie is set in the last 1800s. It follows Becky and her family as they leave the Ozarks to find new land in the Land Run of 1893. Travel along with Becky, her family, their horse Sprinter, and 100,000 other people as they travel to new land in Oklahoma.
When the Dikes Broke tells the story of the van Rossem family. The novel is based on the flood in Holland in 1953, so it follows the van Rossems as they deal with a natural disaster and the struggles that follow.
Lions in the Barn is about Clay, a boy who lives on his family farm in Connecticut. They board Signor Dobbinelli's circus animals for the winter in their barn. This fun tale is all about Clay's experiences with taking care of lions and tigers through the winter.
Melissa Across the Fence takes place in New York in the early 1900s and revolves around a big, empty house. Melissa, who lives next door to the big house, sees a pale boy in the window one day. Curious as to who he is and why he never comes outside, Melissa writes a message for him on a chalkboard, forging a new friendship between the neighbors.
Jade Dragons tells the story of Wong Ting, a boy who lives on the river but wants to live on land. Follow along as he and his family escape pirates, search for a jade bracelet, save an orphan, and learn life lessons.
You can find all the books the Good & The Beautiful is publishing on Audible here.
Tuttle Twins Books
This series teaches conservative values along with how the US government and economy work through fun, engaging stories. They also come in paperback books.
Jim Weiss Collection of Audiobooks
Jim Weiss, a children's book author and storyteller, has a collection of stories that retell ancient tales and modern classics. Kids and adults alike will enjoy them all!
---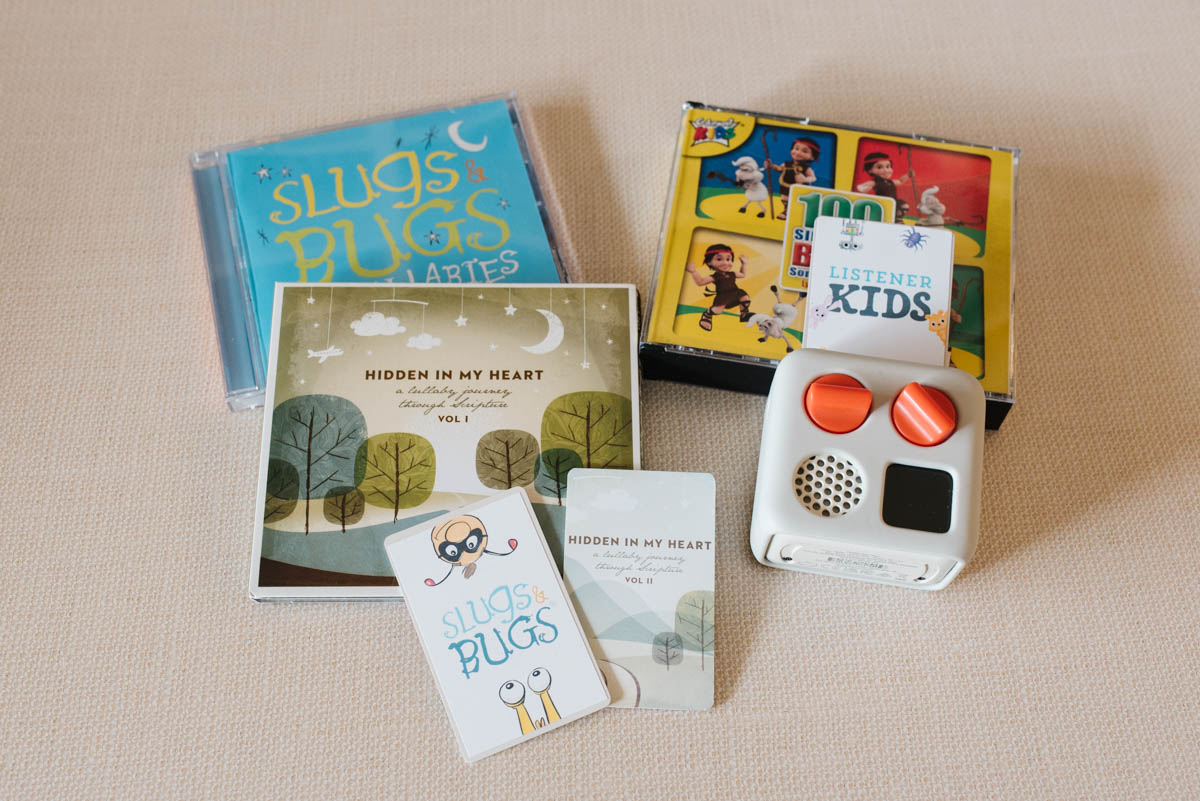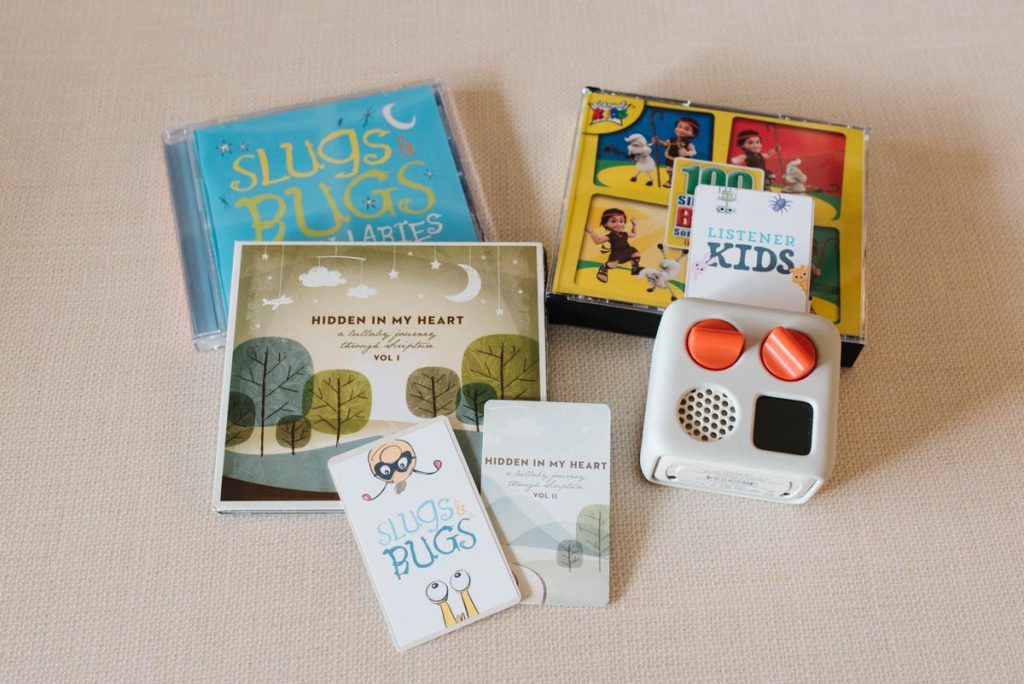 Music for Christian Yoto Cards
If you own any Christian CDs already, you can put them on a card! If you don't have any yet, or you're looking for new albums to add to your collection, we've gathered some different music that might spark your interest.
Hidden in My Heart weaves together scripture and music in a beautiful and peaceful way. It's meant for kids but many adults love to have them on as calming background music.
You can also get volume two here and volume three here.
Slugs & Bugs Music
Slug & Bugs has a lot of albums on their website as well as select CDs on Amazon. They also have a lullaby CD as well as a Christmas CD! Both are great.
Slugs & Bugs mixes faith and silliness in their music so kids can feel inspired by both spiritual thoughts and laughter!
Steve Green: Hide 'Em In Your Heart
These are some of the best songs for scripture memorization!
The Hide 'Em In Your Heart album has 20 tracks that help children learn new scripture verses as they sing along with the songs.
There is also a Hide 'Em In Your Heart Volume 2. Both are excellent!
Listener Kids
Listener Kids has a newer, modern feel than many of the classic arrangements. They have a couple of different albums with lots of variety - they don't sound like little kids' music!
Check out Let it Shine, Jesus Loves Me, Lullabies, and Sunday School Pop from Listener Kids!
Songs of Prayer
This one is a free digital download! It's a piano solo by Chad Lawson that was completely improvised and unrehearsed. It's 32 minutes long and you can download it for free here.
Ellie Holcomb Albums
Ellie Holcomb has several different albums that are great for kids' Christian music. You can get Sing: Creation Songs, Sing: Remembering Songs, and Sing: Christmas Songs. They have great lyrics and pretty music.
Shout Praises Kids
Shout Praises Kids is like kids' bop music but for worship music instead. So if you want upbeat music with Christian themes, check out Shout Praises Kids.
Dana Dirksen Albums
Dana Dirksen has some albums full of Christian music. Songs for Saplings has 38 songs that are all based on different verses from the Bible.
Cedarmont Children's Songs
Cedarmont Kids has tons of upbeat gospel and worship songs that your kids will love singing along with. They also have tons of classic songs and instrumental music.
All of these are available as CDs, but I've linked to the MP3 versions instead - it's so easy to download them in a click, and then upload them to a playlist for a Christian Yoto card!
Sunday School Songs, Action Bible Songs, Gospel Bible Songs, and Worship for Kids Volume 1, Volume 2, Volume 3, Volume 4.
Something like 100 Singalong Songs for Kids is also a great bang for your buck.
Seeds Family Music
Seeds Family Worship makes albums that kids love but the whole family can enjoy together. Each album has a theme for all the songs.
Definitely check out our favorites: Seeds of Character and Seeds of Faith! The are other CDs here, including Seeds of Purpose and The Character of God.
Seeds Family also sells their CDs on their website.
Capitol Kids! Hits
Capitol Kids! features praise songs sung by children. This album has their biggest hits. The album is full of inspirational music.
Rain for Roots
Rain for Roots is a group of songwriters and singers who create scripture songs for kids and adults. They have a few albums that are great for anyone who enjoys Christian music. Their album All Creatures focuses on the earth and animals around us. Big Stories for Little Ones is another good ones and it's all about biblical stories.
New City Catechism
This is a modern resource made to help teach about faith. It's not a replacement for scripture, but a way of drawing together the truth from different Bible verses to help listeners understand doctrine more fully.
These 52 songs are available for free download! They answer important questions like how can we be saved and how the Holy Spirit helps us.
You can listen to each song on the site and download the ones you want by clicking the three dots on the right of each song. Just select download.
Songs for Saplings
This is another question and answer of music, with 6 CDs of songs about Christian theology. For example, one album contains an overview of scriptural truths about God and His creation, and another CD talks about why God sent Jesus to accomplish our salvation.
The songs are available on Spotify and Youtube, but you can also download all the MP3s for free if you give them your email address. It's a great source of music for a Christian Yoto card!
Getty Music - Summer Hymnal
You can download 20 song files for free here that are modern hymns written by a husband and wife duo.
The Rizers
The Rizers are a band that turns scripture verses into kid's music. You can get the MP3s of their first and second albums on Amazon.
The Corner Room
The Corner Room has some great kids' albums that are scripture verses set to music. This one features different Psalms set to beautiful music.
Mr. Music's Sing-Along
You can also download free kids' worship music through Life Church. You can get volume one of Mr. Music's Sing-Along album here and volume two here. You can also download this Bible Adventure Worship album for free!
Lauren Daigle
If you've never heard of Lauren Daigle, she releases awesome original Christian music. Get her album "Look Up Child" here and her album "How Can It Be" here.
Podcasts for Christian Yoto Cards
In addition to CDs and digital audiobooks, podcasts are a great way to get FREE content for your Yoto! Technically ANY podcast you listen to for free can be put on a Yoto card.
Some are even already available in the Yoto store, like Lamplighter Kids.
Head over to this post for all the details and directions on how to get podcasts onto Yoto cards.
Christian podcast links included in that post:
Veggie Tales Podcast
Indescribable Kids Podcast
Saints Alive
The Big Picture Podcast
and lots more!
---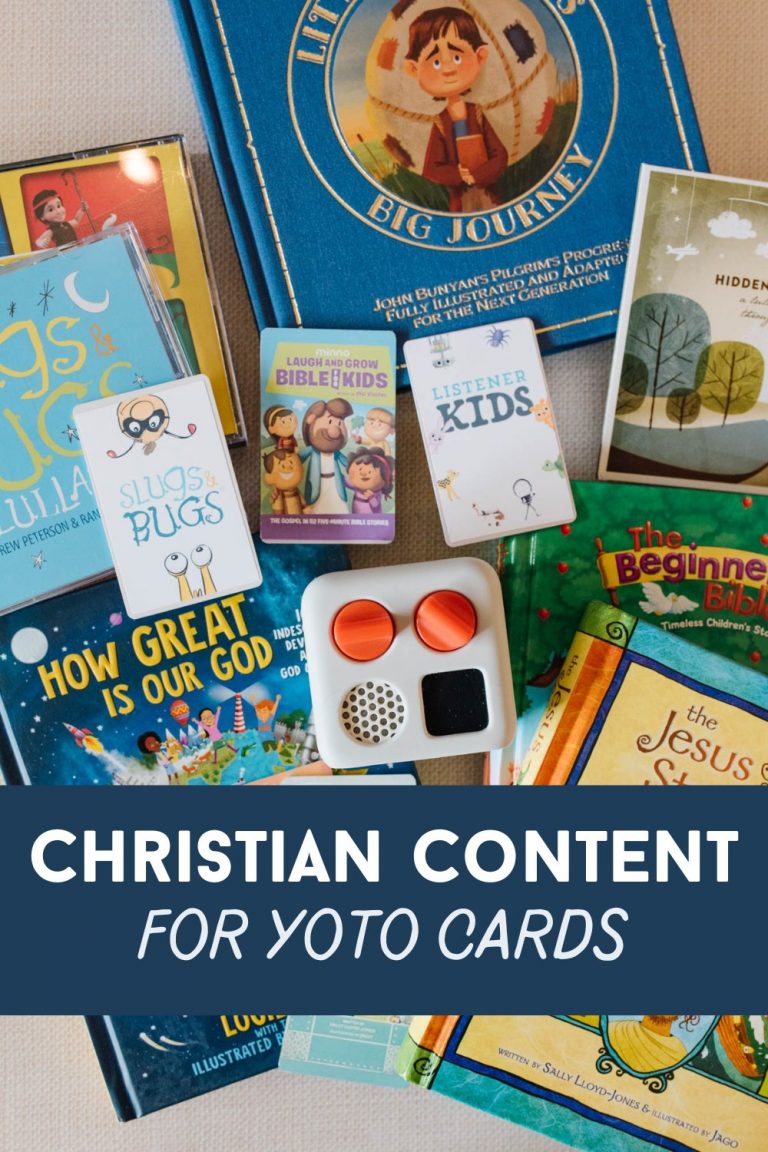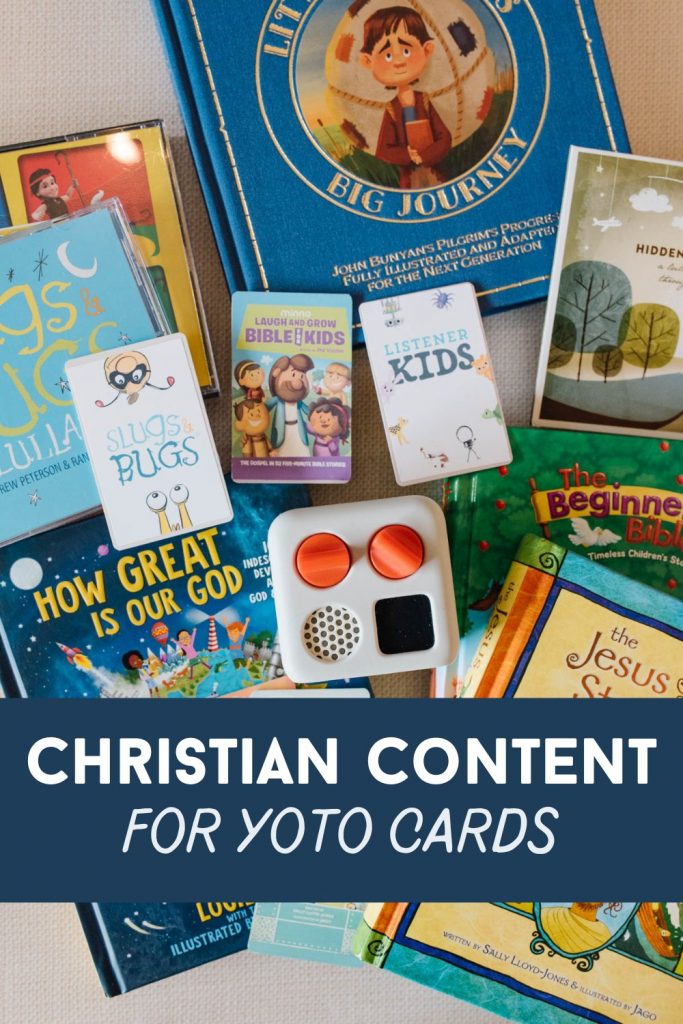 Conclusion
If you were looking for Christian Yoto content, we hope this list helped! It can be tricky to find good audio content that you like and that your kids will find enjoyable, but it's totally possible.
This list provides a huge range of suggestions for Christian Yoto cards, from music to podcasts to short stories to books. Bookmark it or pin it for later!
Have fun browsing through and finding something that your whole family will love!
And PLEASE, if you feel like we are missing Christian audio content that you love, comment about it and we will include it!