We love our Yoto Player! If you aren't already familiar with this awesome kids device for audiobooks, music, and podcasts, check out our post here about why we love Yoto players! It will tell you everything you need to know about Yoto!
If you've jumped on the Yoto bandwagon but aren't sure where to find all the Yoto content you'd like, you've got a few options. However, if you still can't find the book or content you're looking for among Yoto's pre-made cards, you can buy some of their Make Your Own cards.
What are Make Your Own Cards?
Yoto's "Make Your Own" cards (MYO) are totally blank, so they are a wonderful option for creating custom audio cards for your kids. These blank cards allow you to turn your favorite music, audiobooks, and recordings into DIY Yoto cards.
You can fit up to 100 tracks on each MYO card (or a total of 500MB of audio files), which means that you can fit a ton of content on each MYO card!
We have step-by-step Directions for Make Your Own Yoto Cards here.
Yoto's official directions and detailed FAQ article here can answer any other questions you have.
In this post, I want to share some great resources with you for finding content to put on your MYO cards. Once you've created your Make Your Own cards, check out this post for ideas on labeling your MYO cards, and this post for storing your Yoto cards.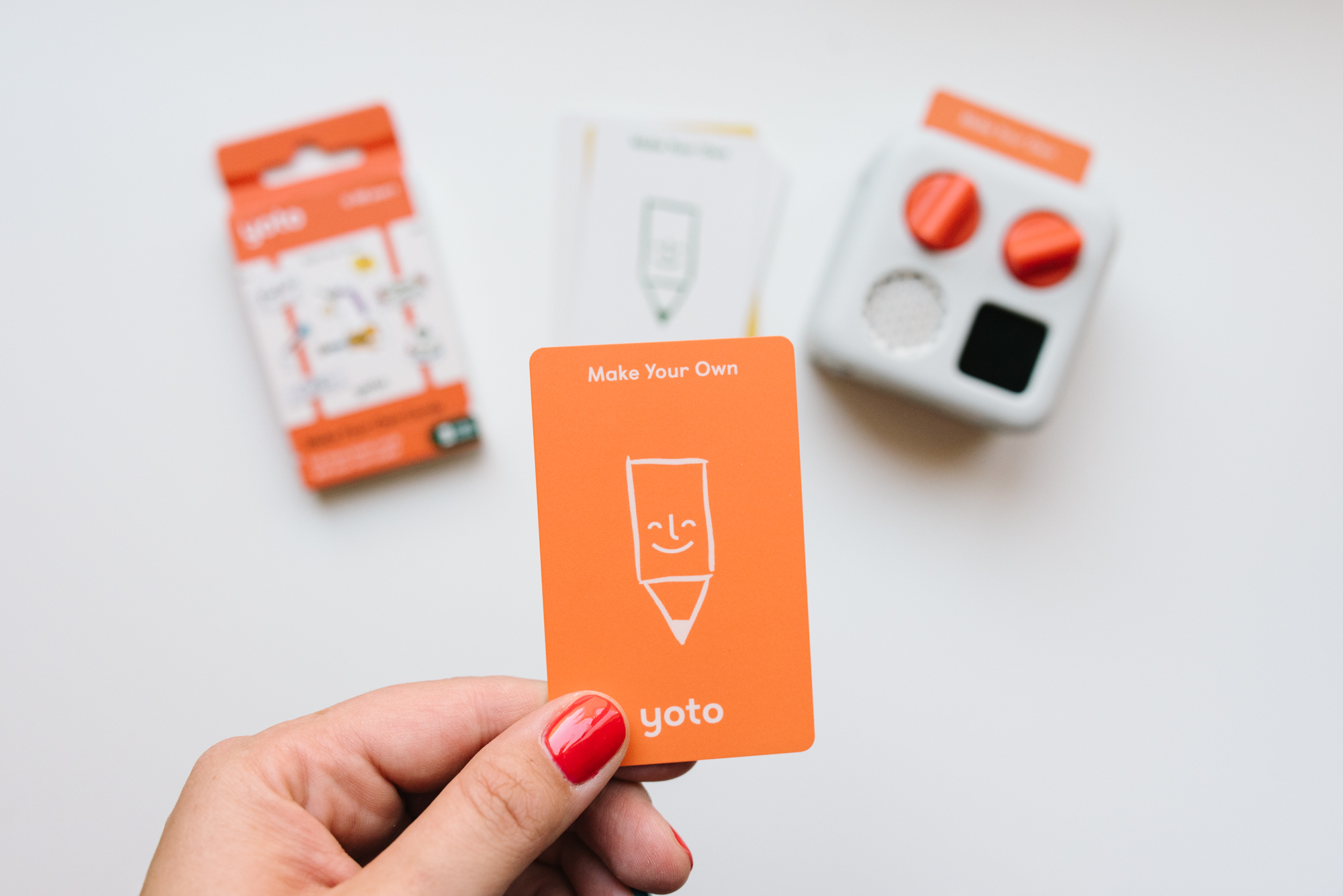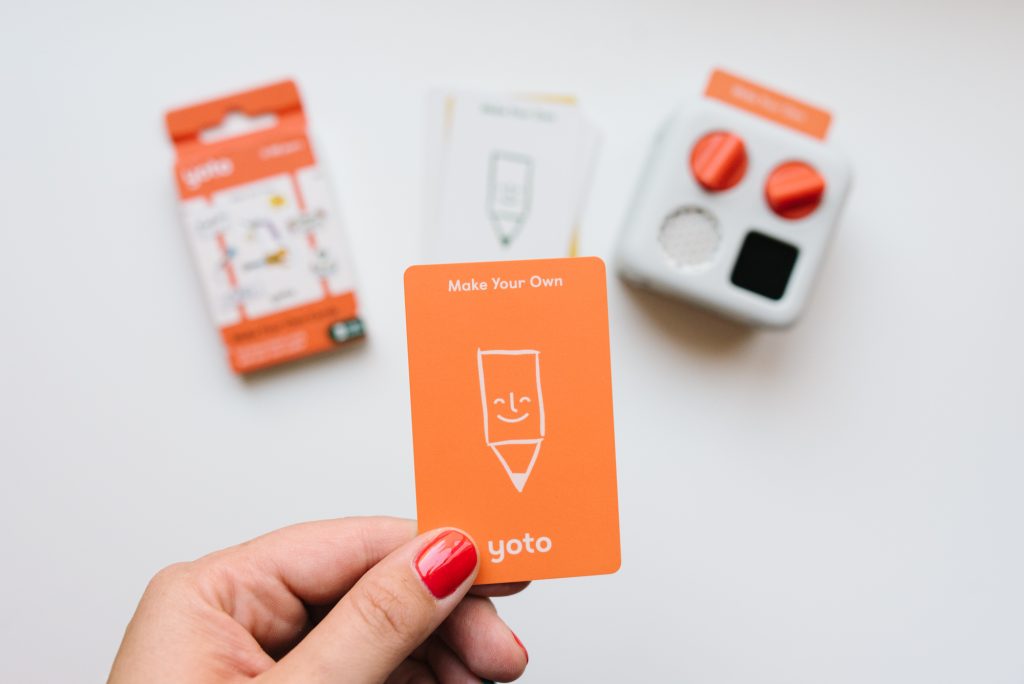 MYO Audio Sources for Yoto Content
Here are all of the sources we love using to get awesome, legal content for our MYO cards. (The first two are by far the easiest options for audiobooks in MP3 format: Downpour.com and Libro.fm.)
When you are creating Make Your Own cards, you can use audio that you created, legally purchased, or have permission to use (from the rightsholder).
1. Downpour
When you purchase Digital Download files from Downpour, you get a download link for a folder that contains MP3 files for the audiobook already broken up into individual tracks. This is perfect for MYO cards!
Just search for the content you want and check for the "Digital Download" format (shown by the blue down arrow under "Format").
The exception to this is that Disney brand audiobooks (such as the Frozen, Encanto, and Moana Junior Novelizations) are required to have DRM restrictions on them, so they are not available to download as MP3 files because you have to use their app.
But overall, Downpour has a huge library of selections and is probably the easiest way to get files for MYO cards.
2. Libro.fm
You can definitely turn audio from Libro.fm into Yoto cards - I do it all the time! Audiobooks from Libro.fm are available as MP3 files that you can download, and each chapter is separated into individual tracks, so it's easy to make into a playlist for your Yoto card.
Audiobook purchases from Libro.fm are available as MP3 files with individual tracks files for each chapter.
READ MORE: Get step-by-step-directions on how to us Libro.fm for Yoto MYO Cards at this link.
Libro.fm has a great selection of diverse books!
I love that this site allows you to select a local bookstore, which receives a portion of the profit from your purchases. (Bonus: the "select your bookstore" tags so you can specifically look for bookshops that are female-owned, Black-owned, and more!)
You can purchase from Libro.fm in two different ways.
First, each book has a listed price, and you can just pay that. There are great sales!
Or, you can get a $14.99 monthly subscription that gives you a credit. You can then use that credit on anything, which is a great way to save money on more expensive book sets! For example, instead of paying $50 for a 8 book Ramona set, you can get it with your $14.99 credit. A few things they have:
3. Amazon for Soundtracks & MP3 Music files
Amazon is a fantastic place to grab mp3 files for MYO Yoto cards.
You have two options: some physical cds include a set of MP3 files through Amazon's "Auto Rip" feature. On the "Audio CD" page for a music album, look for the Auto Rip logo with two small green arrows, right underneath the boxes showing available formats.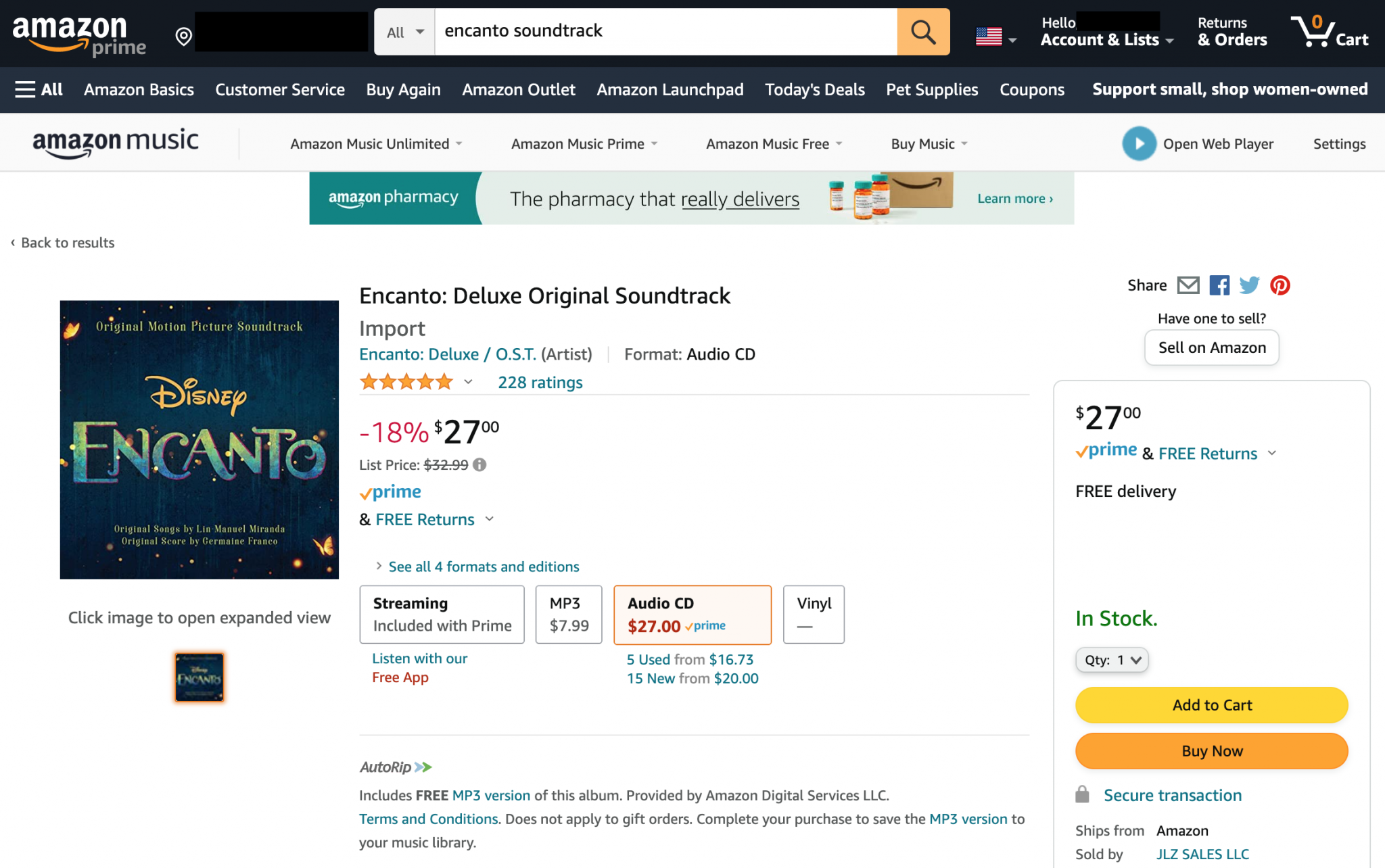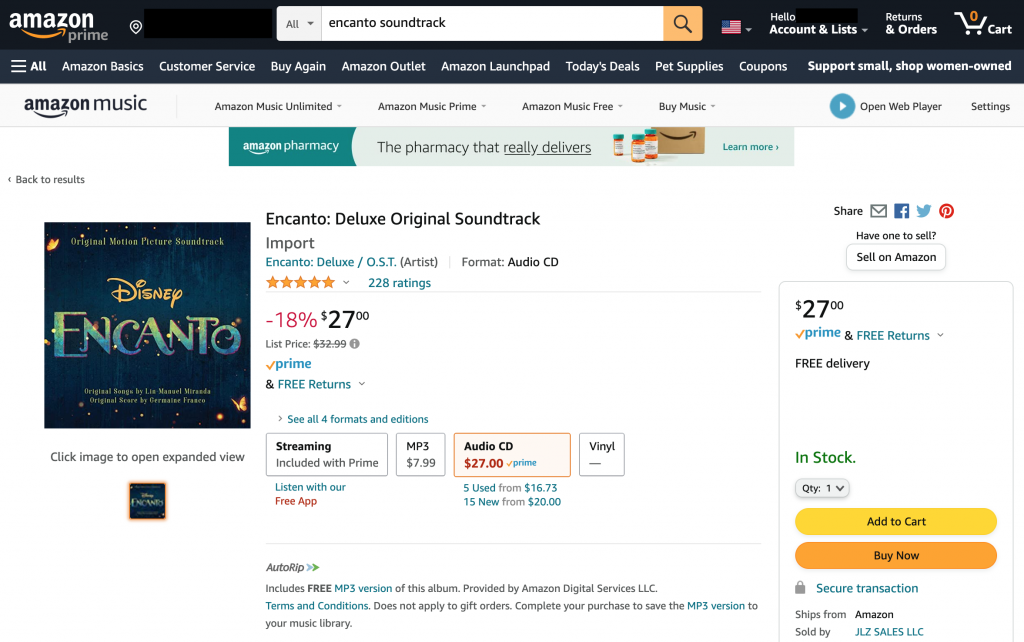 On the other hand, you can purchase an entire album of mp3 files up front.
Look for the MP3 option between Streaming and the audio cd. This will take you to the Amazon Music page, where you can choose to purchase either individual song tracks or the whole album.
There are lots of favorite soundtracks on Amazon available as MP3:
Bonus tip: Have you ever seen the "No-rush shipping credits" Amazon offers in the checkout area.
These are bonus credits that you can only redeem on digital products sold by Amazon… like these! Amazon doesn't seem to have a pattern for when they offer no-rush shipping, but if you can swing a longer wait time, No-Rush credits are a great way to get free and cheap content for MYO cards.
4. Amazon for MP3 audiobooks
While almost all book listings on Amazon will send you to Audible for the matching audiobook, there are a few MP3 format audiobooks available for purchase.
Namely, the Disney Storyteller audiobooks combine narration with some music and audio from the movie.
Disney Storyteller Series - these range in length, from 20 min to 90 min. The longer Disney Storyteller audiobooks with narrator Roy Dotrice are especially great.
5. Librivox.org
Librivox.org is a website that offers free audiobooks of books in the public domain, read by volunteers.
So you're looking at books that are over 70 years old, old enough to be in the public domain.
Since the readers are volunteers, their skill level varies. But there are definitely still good ones on there! Sometimes there are multiple versions of a book available, allowing you to choose which narrator you prefer.
I find it easiest to go to this link, and then browse the children's categories, or search for something by name.
You can find a lot of classics here for free!
6. Rip your own content from CDs into MP3
Not many of us use physical CDs regularly anymore, but they can be a great source for Make Your Own Yoto cards!
As long as the CD is an authorized copy that you legitimately own, it is legal to rip the audio into MP3 files for your own personal use (here is more info on the legal ins and out of "personal use," just scroll down to the section on Copying CDs).
Here are instructions on how to rip CDs into MP3 files.
Got music CDs you love? Introduce them to your kids on the Yoto! You can make a playlist of favorites that you can easily update or put a whole CD on the card. Consider soundtracks and classical music too!
You can also browse the CDs for sale at the thrift store; sometimes you can find great kids' albums like Raffi or Laurie Berkner. You can also check eBay and yard sales for old audiobook CDs or music to rip into MP3 files.
7. Record yourself and family members
We have a family card with three generations of loved ones reading favorite picture books aloud. It's a sweet and memorable way to have Grandma and Grandpa always around to "read" to the kids.
Recording yourself is one of the sweetest mementos you can create with Yoto. Read this post for step-by-step direction on used the Yoto App, an iPhone, or other device.
Yoto also has some great instructions here for recording your own stories or songs for Make Your Own cards.
It's as simple as reading a book aloud and recording it. Don't worry about making it perfect. Just do it!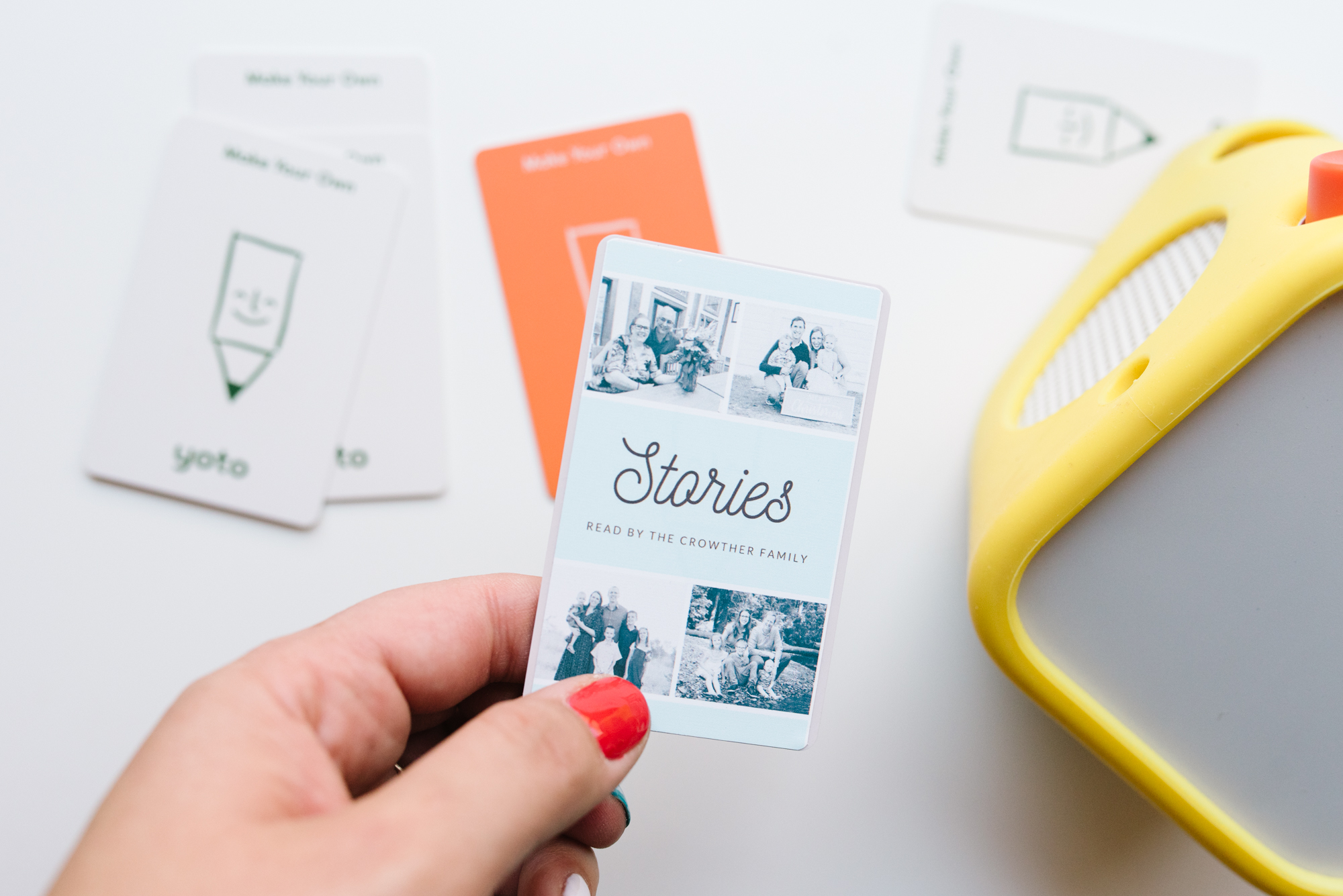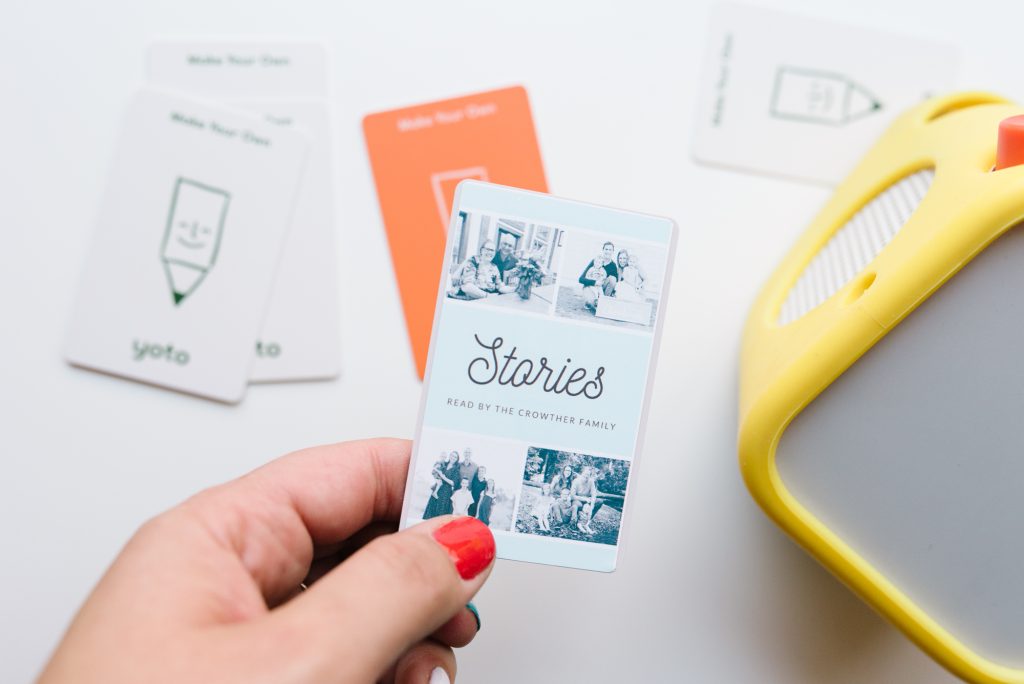 8. Homeschool Curriculums
Some homeschool curriculums have audiobooks meant for teaching in a fun way.
These two options sell mp3 files that are great resources for older kids who are interested in history and science. These two in particular are great because they avoid Eurocentric and colonialist history, are secular, and avoid trying to use body function humor/crassness/gruesome facts to try to trick kids into enjoying history.
Curiosity Chronicles Snapshots of History: These are the audiobook from a homeschool history curriculum. The book is an enjoyable conversation between two kids: Mona tells Ted about most of the history, while Ted asks questions/ provides another perspective on the historical event/ provides comic relief. Available at curiositychronicles.org.
History Quest: Another audiobook version of a homeschool history curriculum. Written in narrative form (like a story), with "history hops" every other chapter, where the author places the listener in the time period for a chapter (e.g. "You wake up and see…")Sold at pandiapress.com/history-quest
Bonus: FREE audiobooks from the publisher!
Looking for free content? Check out this post for 35 different links to free audio content for Yoto
There are a few publishers that offer free audiobooks of their own content.
---
I hope that you enjoy exploring all of these options for great MYO card content!
For ideas on labeling your MYO cards, check out our post here.
Creating a Make Your Own card can get rather addicting… if you are looking for ideas on storing your growing collection, check out our post here for Yoto Card storage ideas!
Have you found any other legal sources for great audiobooks? If so, comment below to share your finds with us!