I love Chatbooks because it is the EASIEST way to create quick photo albums. Seriously, they are fast, cheap, good quality, and totally child friendly. You can even have it automatically pull photos from social media or your phone's camera roll.
If you're not familiar with Chatbooks, they are cute square photo albums that integrate with Instagram, Facebook, your phone or computer pics, Google Photos, or Dropbox. Pictures and captions get synced automatically, so it's an easy and quick way to get your photos off your devices and into your hands. You've got options too: paperback or hardcover, 6" or 8" size, and photo covers or stylized covers.
Quality-wise I'm happy with them (meaning, as long as you have a decent camera phone, your pictures will look great! If you have an older phone or use tons of filters, you will be able to tell the quality is lower but it's still acceptable. Printed pictures can't look better than the camera that took them though... so that's not Chatbooks' fault.)
Here are 5 different things you can do on Chatbooks right now: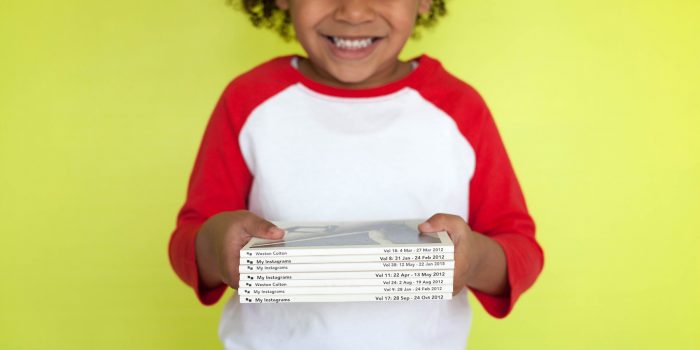 1. Set up an automatic book series.
You can set up a book subscription to print everything you mark as favorite on your phone or post to Instagram (it's called a series subscription on the app). My kids LOVE looking through our stack of Chatbooks and seeing our family's memories.
We use softcover for this because it's kid-friendly and so cheap that I don't mind if they love it to death. But you can choose softcover or hardcover in 6" or 8" square, as well as photo or stylized covers, with free shipping or trackable.
Want to try out a series? You can get your first book free by downloading the app through my referral link! No promo code needed, just download the app and click through to start a Series Book.

2. Make a custom ABC Book for a toddler in your life.
Chatbooks is working with Dallas Clayton to provide cute ABC artwork you can use to make a personalized alphabet book.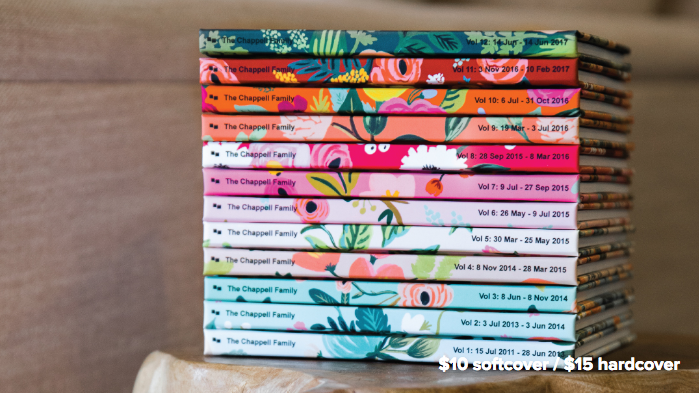 3. Choose the Rifle Paper Co floral covers!
Chatbooks is always doing cool collaborations with talented artists, and right now you can print or reprint your series books in beautiful floral covers.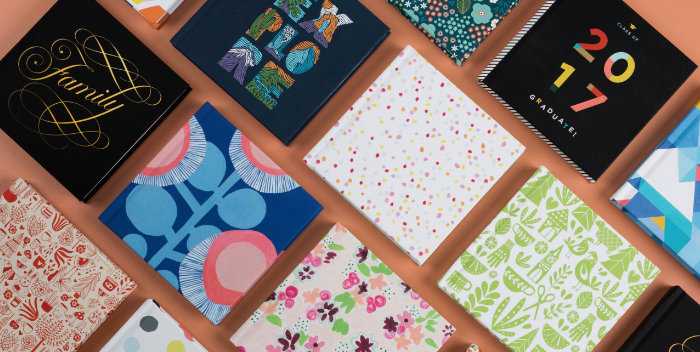 (The Rifle Paper Co patterns are not available on custom books right now - but there are other covers that you can use for custom books! Look in the app for "collections" to see cover options from Stately Type, Oh Joy!, The House That Lars Built, and Lisa Congdon. All super cute, and perfect for themed books like babies, travel, etc.)
4. Photograph your kid's artwork and print them in a book!
This cuts down on paper clutter and preserves the memories. It's easy to print another copy for Grandma too! There's a post here on how I photograph children's artwork.
5. Make a custom book as a gift.
I did one for Father's Day recently, and we've done other books for birthdays or the grandparents. Custom books go up to 365 pages, which gives you the ability to make longer books that the 60-page series books. I usually choose hardcover for my custom gift books, which is an easy $5 upgrade. I really love the full bleed option on the 8x8" version!
---
If you need more reasons to convince you why we love Chatbooks, read this post.
I'm working on another post about other kinds of photo albums, but Chatbooks is definitely the cheapest/quickest/easiest way to get those pictures off your phone and into your hands. It's my favorite.
---
Exclusive Chatbooks Promo Code: CBMEGANC20
This is good for 20% off any Chatbooks product (excluding Minis and Gift Cards) and expires at the end of March 2021.
Head to the app now to take advantage of their everyday low pricing today.