Do you have a child who loves art? Maybe they draw on every scrap of paper they can find or adore making new crafts with any stray paper plates you have laying around. If so, I've got a great Christmas gift idea for you.
I've compiled a list of 10 subscriptions to different boxes that range from drawing and painting to all sorts of crafts. If you're looking for a monthly box to help inspire any budding young artists in your family, then keep reading!
Jump to:
1. Annie's Craft Kits
Annie's Craft Kits has tons of different subscriptions available. If your daughter likes crafts or wants to try them out, then this is a perfect way to try them without spending a ton of money, or getting overwhelmed at the craft store.
The kid crates are the Creative Girls Club and the Young Woodworkers Club. My daughter loves the projects she's made!
It's $20 a month - and Annie's has a GREAT Deal right now to try their kits for cheap. Use code SHARE80 to take 80% off the price of your first month (which comes with two crafts). So that's $3.98, plus a few dollars of shipping and you have 2 crafts for about 8 dollars!
Annie's Craft Kits are available here.
This link goes straight to the Creative Girls Craft Club.
2. We Craft Box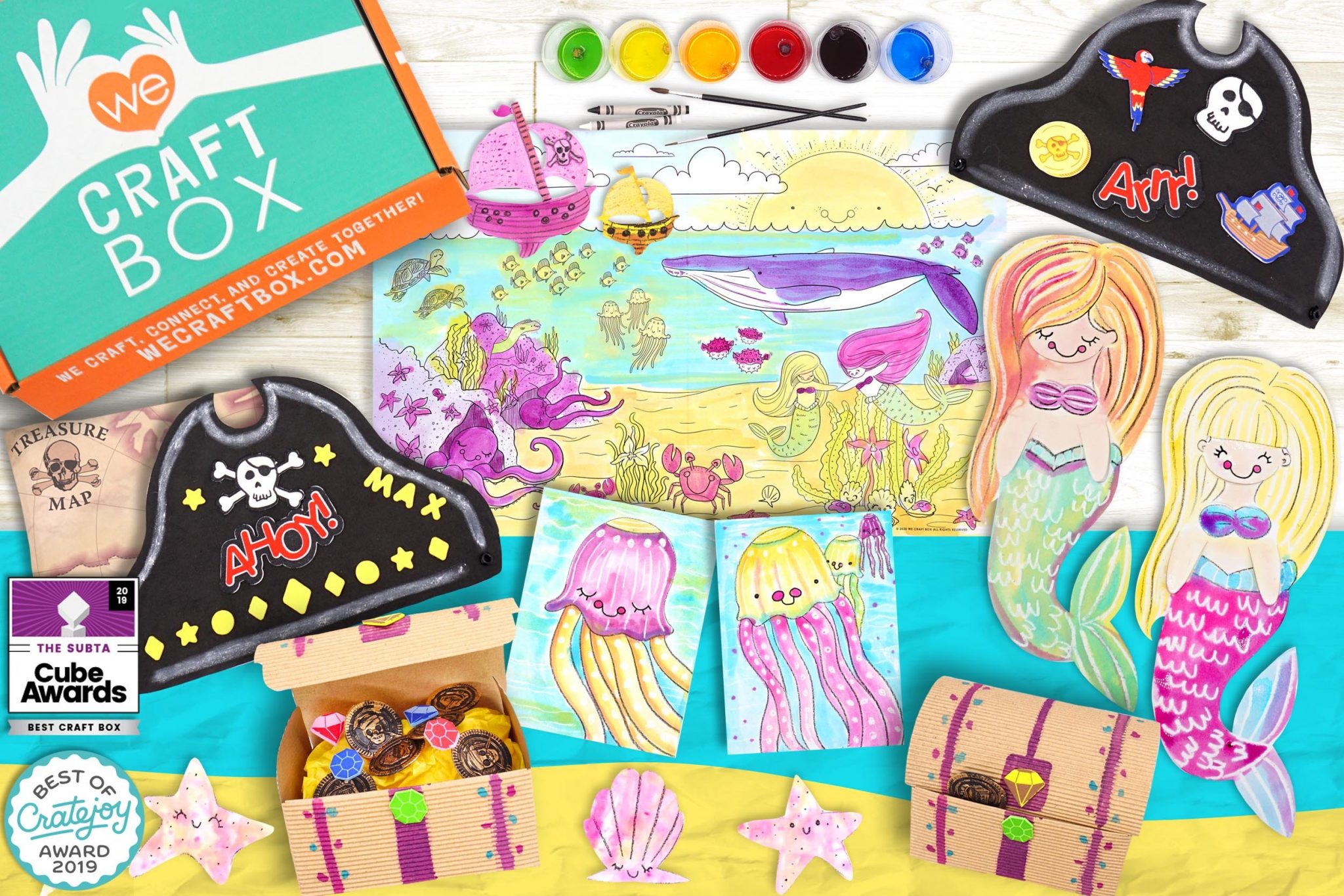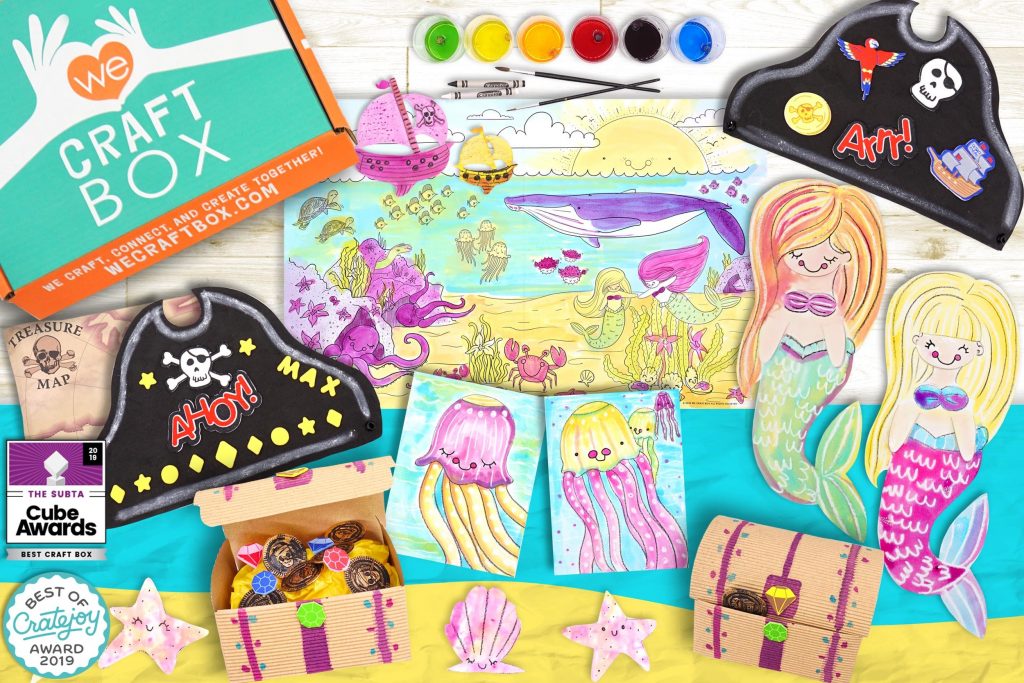 We Craft Box chooses a new theme every month, like outer space, glow-in-the-dark, polar bears, modeling clay, and more. The boxes contain a unique story about the themes and fun art projects with easy-to-follow instructions that help your kids embrace their creative side.
All necessary materials are included in the monthly boxes (except for water and scissors) and each one can be shared between 2 kids. A subscription is $30 a month and is recommended for kids between 3 and 7.
We Craft Box is available here.
3. Doodle Crate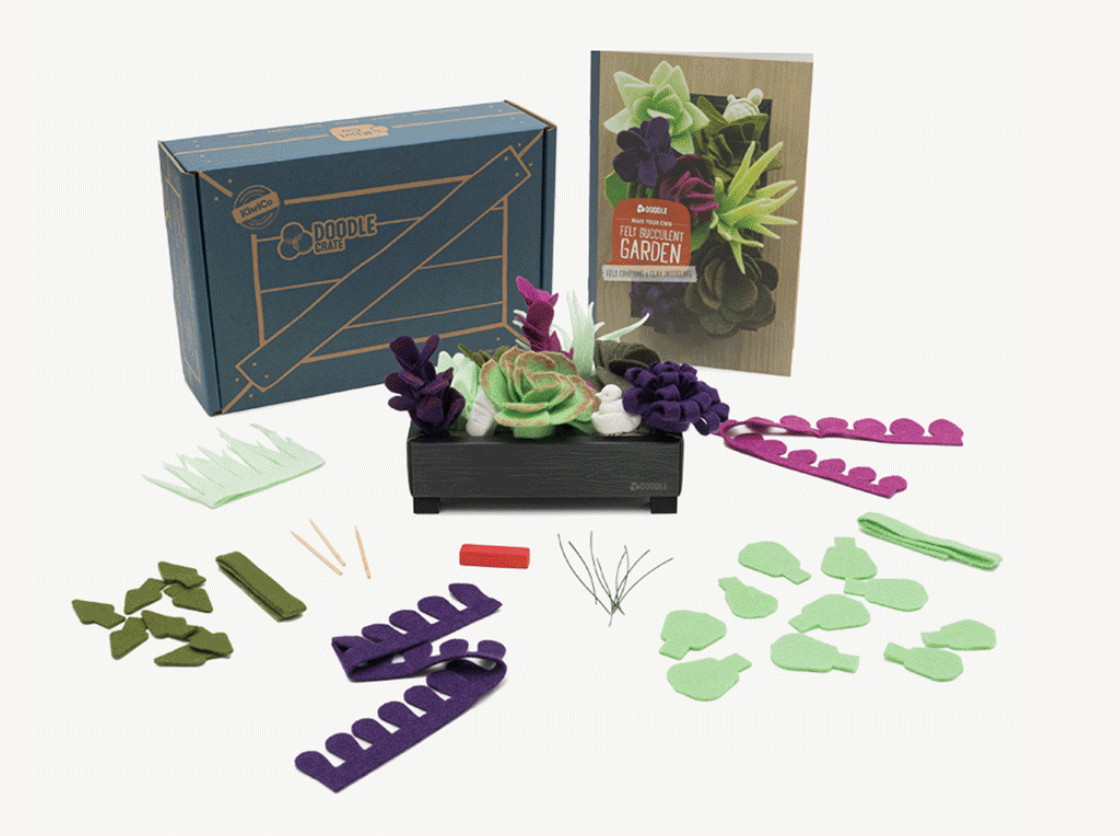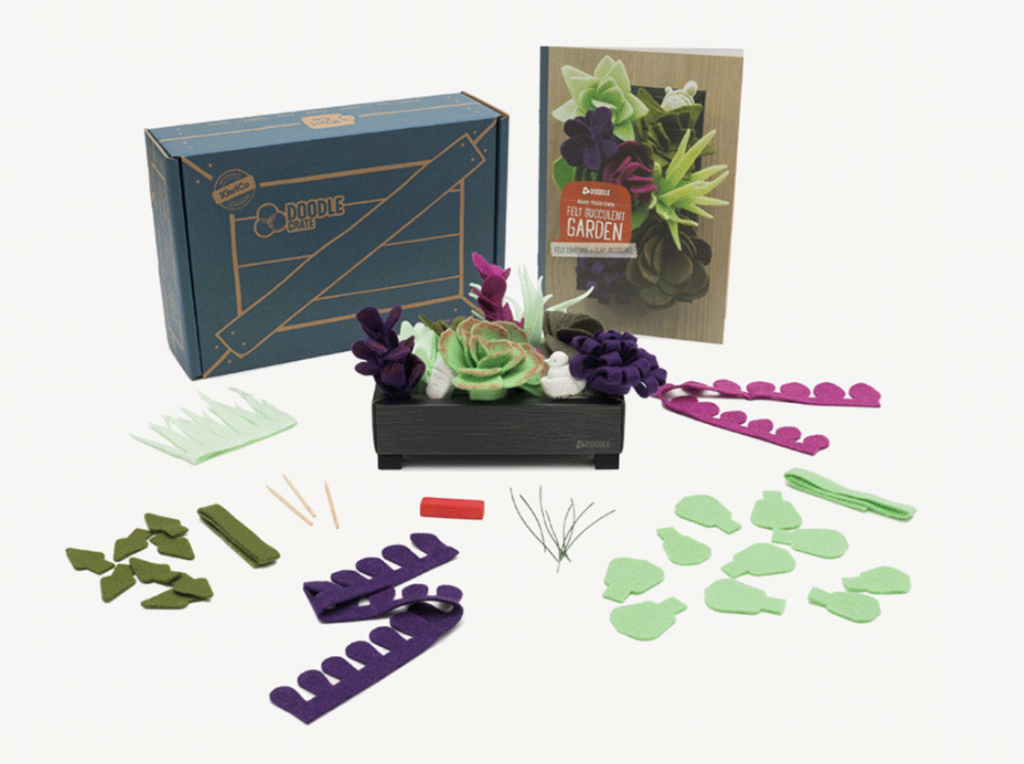 With Doodle Crate, your child can learn felt crafting to make a felt plater full of succulents or learn soap making and design their own custom soaps. Each month, your kids will be introduced to a new crafting method and the boxes contain all necessary materials, as well as instructions and additional activities.
Doodle Crate is geared towards kids between 9 and 16, and costs $17 a month.
My daughter has been getting Doodle crates for a few months and she loves them!
Doodle Crate is available here.
4. Kid Art Lit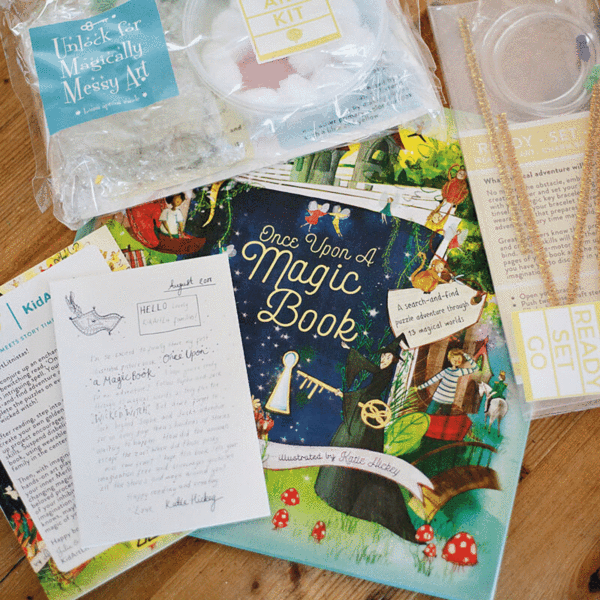 Kid Art Lit is exactly like what it sounds... it's art-kit-meets-storytime.
Each kit includes a new hardback picture book, an art project with illustrated instructions, and supplies. You can choose between the Spark box, which comes with 1 art kit, or a Deluxe box, which comes with 2.
A subscription starts at $56 a month and they are designed for kids between 3 and 8.
Kid Art Lit is available here.
5. Orange Art Box
Every month, Orange Art Box sends a crate with themed art projects. Each box includes at least three projects - one large, featured project and two smaller ones.
Orange Art Box puts emphasis on individuality and creativity. Many of the projects, like painting rocks in a Halloween theme or making paper flowers, don't have specific instructions to follow step by step, but just ideas on how to use to supplies in the crate. It is recommended for kids from 5-10 and costs $36 a month.
Orange Art Box is available here.
6. Green Kids Crafts

Green Kids Crafts combines art and science to make learning fun. They help kids pretend they are scientists, artists, and more.
With Green Kids Crafts, your child will receive 4 to 6 educator-designed STEAM projects in each box, as well as a 12-page educational magazine, and totally green and eco-friendly materials.
The junior box is for kids from 2 to 4, and the discovery box is for kids between 5 and 10. A subscription is $30 a month. Green Kids Crafts also plants a tree with every online order, which is a really cool bonus.
Green Kid Crafts is available here.
7. Let's Make Art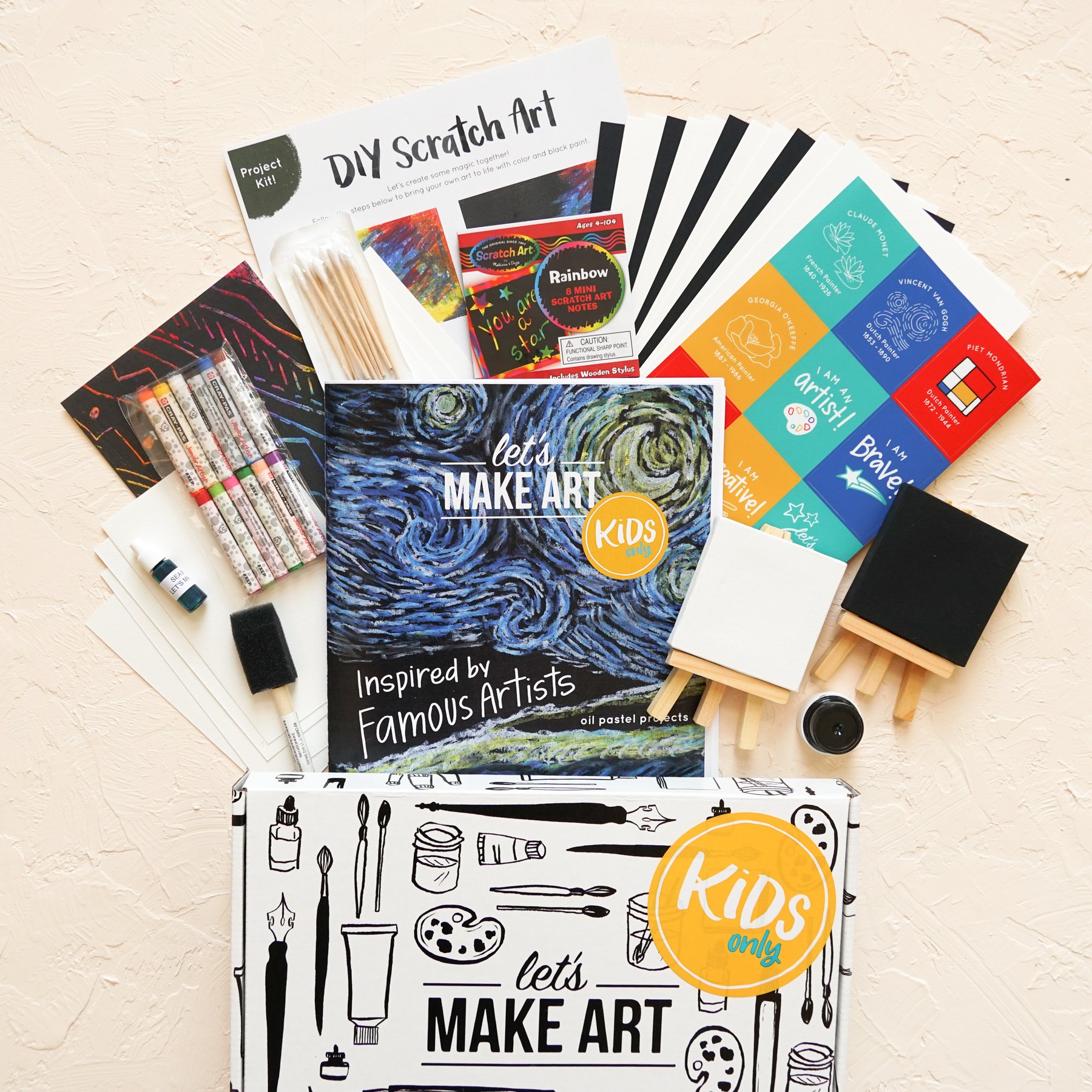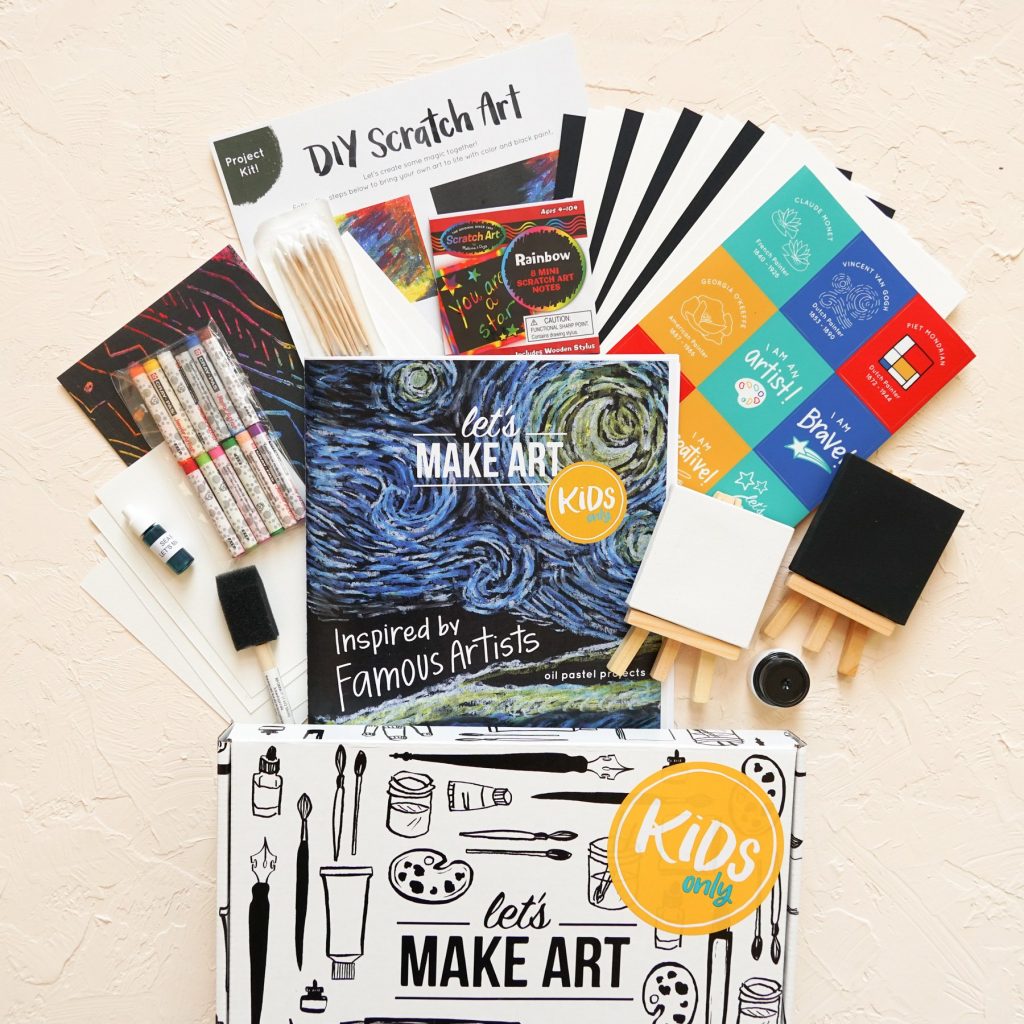 Does your child love art? Let's Make Art has gotten experienced artists to put together projects and instructions to help your kids learn watercolors, hand lettering, and art journaling.
Each box comes with all necessary art supplies and instructions for that month's projects. You can also share most of the supplies each month which is perfect if you have more than one child.
The Kids Art Box is recommended for ages 5 to 11, and it costs $45 a month. It comes highly rated!
Let's Make Art is available here.
8. Outside the Box Creation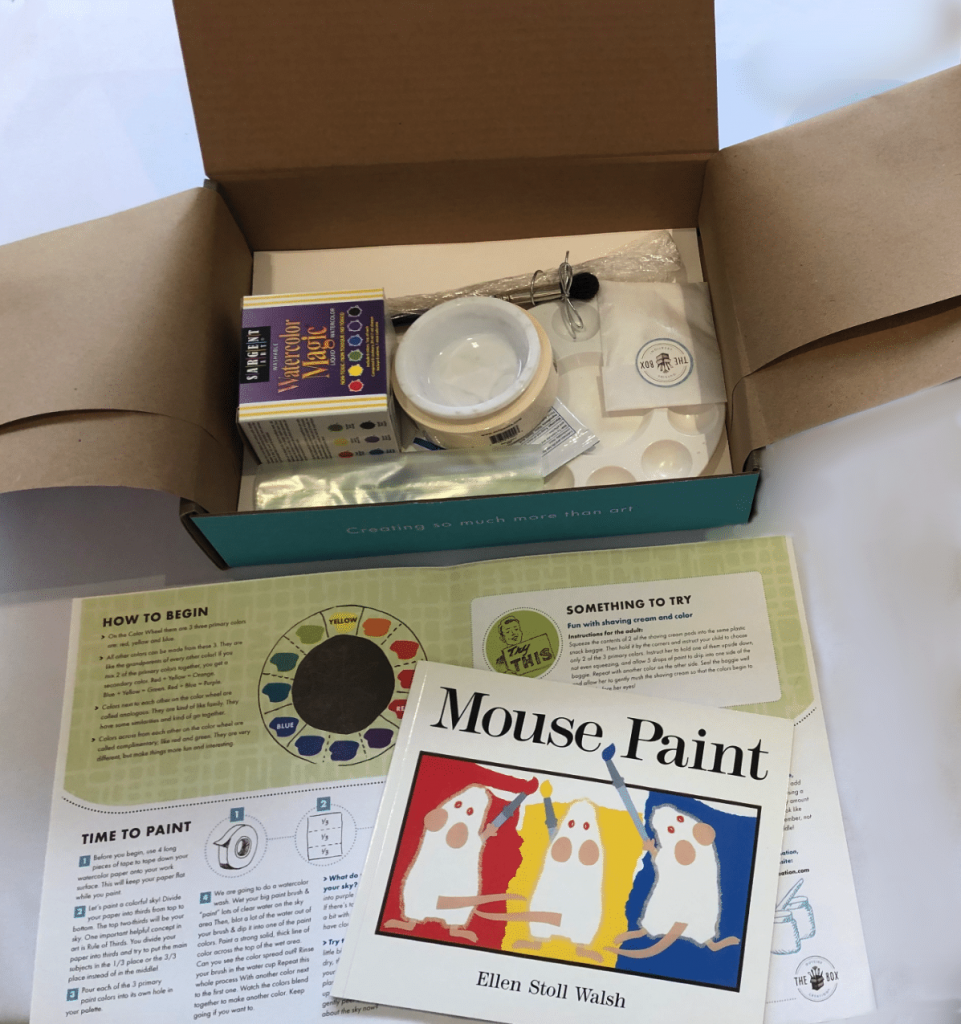 Each month, Outside the Box Creation explores a different art theme. They include enough instructions to help walk your child through the projects, but they encourage the use of imagination.
In each box, you'll find an enclosed picture book that ties into the project and quality supplies that can be reused. The regular boxes have enough for 2 children (and often with some to spare) and cost $35 a month. Large boxes have enough supplies for 4 kids and cost $42.
Outside the Box Creation is available here.
9. MoxieBox Art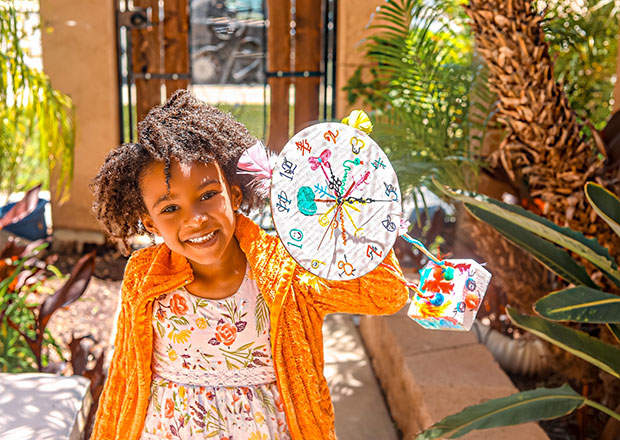 MoxieBox Art is set up a bit differently than most other month-to-month subscription kits. Instead of a monthly fee and box, you get lessons for a semester or a full school year, depending on your preference. The box for five months is $140 and the box for ten months is $250.
Each lesson introduces a new art medium, artist, and art movement, as well as all supplies needed. They offer an elementary box for beginners or grades K-5 that might require some adult assistance or a more advanced box for older or experienced artists where they can work independently. You can adjust your subscription level at any time if your child outgrows the beginning boxes.
MoxieBox Art is available here.
10. Guide Dots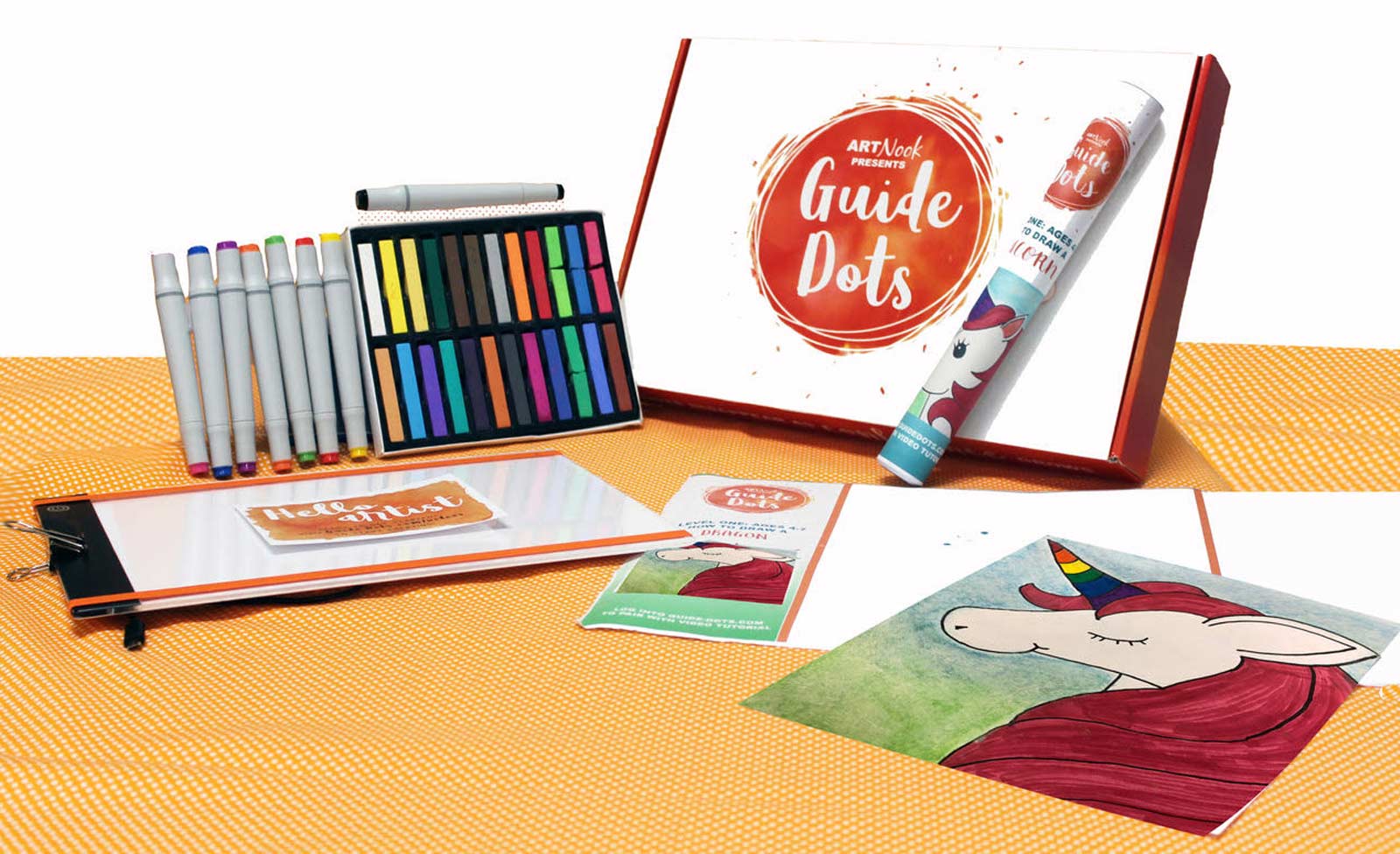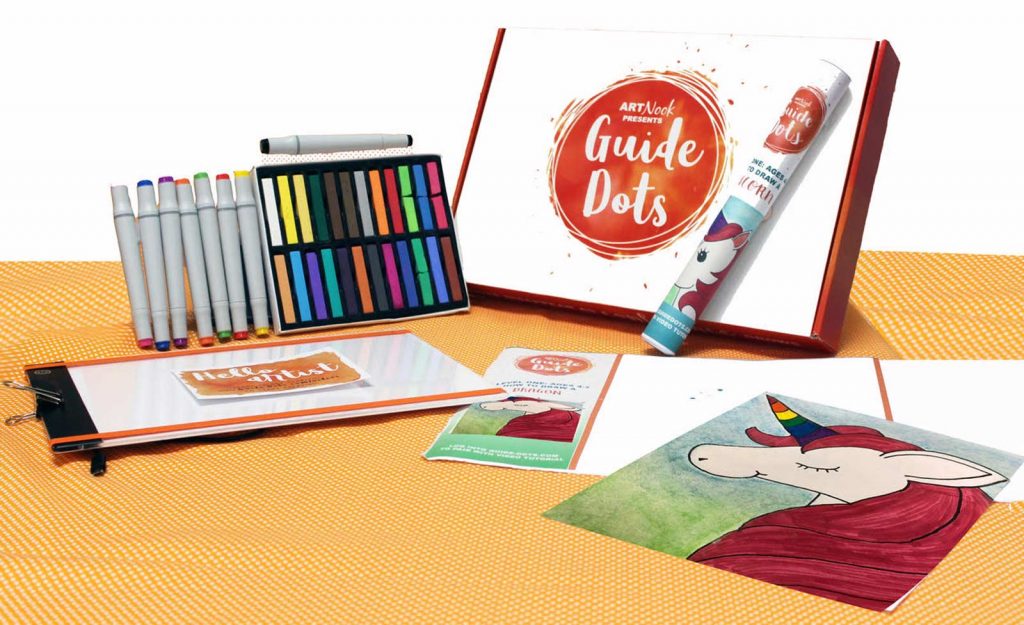 Guide Dots uses strategically placed dots and online instructions to help your child create beautiful artwork. Each box includes two projects and step-by-step tutorials that help teach drawing, shading, and painting.
They have two levels. Level 1 is designed for ages 4-7 and focuses on developing skills and introducing techniques. This foundational art level costs $90 for the starter kit, which includes 3 months of projects, a light tablet, and tons of supplies.
Level 2 is for kids ages 8-10 and is designed to help build your child's confidence in their own creativity and artistic decisions. Level 2 costs $110 for the starter kit.
---
See anything promising? I love subscription boxes -- it's like a fun new gift every month! Comment below: have you tried any subscription boxes before? Which is your favorite?