Have you ever seen a custom camera roll keychain before? They are a super fun gift for a spouse, child, parent, or friend. This post talks about where to get a custom camera roll keychain, and what to expect.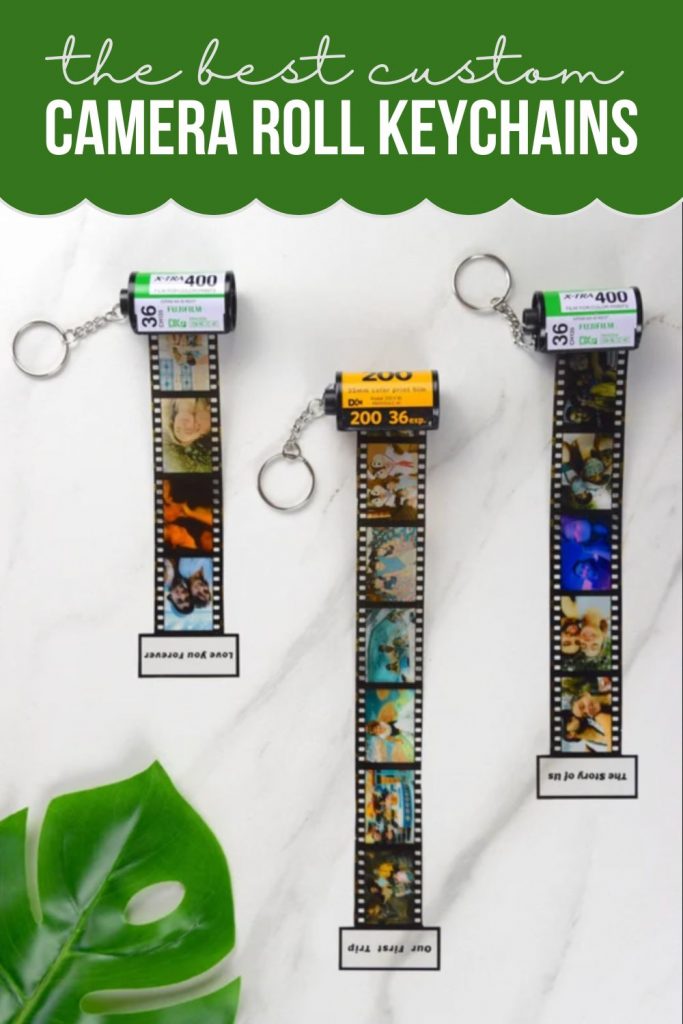 What makes custom camera roll keychains special?
Custom keychains are a great way to give someone a small, unique gift meant just for them. Camera roll keychains are keychains made out of old camera film rolls. You know those spools of wound-up photographic film? That's what I'm talking about.
Instead of the film negatives, you can get actual photos printed on those camera rolls. Then, the film rolls out from inside the little canister, and the recipient can look at their pictures and then wind them back inside.
What pictures should I pick?
It's a really cool way to display your favorite photos! There are a few ways you can select the photos for your camera roll or group them together.
One easy way is just to select your favorite photos!
You could also choose a specific set like wedding photos or your love story through time - like a picture from your first date, when you got engaged, and then wedding photos.
You could also add photos of every year of your child's life so far or family pictures through the years.
Or, if you're getting it for a grandparent, a photo of each of their grandkids.
The options are endless!
There are tons of ways to select and organize your photos, but keep in mind that with most of these products, you need to let the creator know the order when you email them!
Where to get a custom camera roll keychain:
There are two main places to get a custom camera roll keychain: Amazon and Etsy. Read
Amazon has tons of options for custom keychains. You can browse through their options or check out our favorites here!
Price: $12.95
Number of Photos: 10
Production Time: About 7 days
The pictures on these keychains are printed in HD so they are vibrant and clear. They are laser-cut so they fit perfectly together in the camera roll. Plan ahead with this one as it seems that in normal circumstances, it takes 7 days to make and 14 days for shipping.
Price: $8.99+
Number of Photos: 10, 15, or 20
Production Time: Not specified
Amazon's custom camera roll keychain is a cheap option for a personalized keychain. You can pull the film out from the roll easily and you can choose how many photos you want to be included: 10, 15, or 20. The clearer the image you send in, the better your keychain photos will look.
Price: $10.99+
Number of Photos: 10, 15, or 20
Production Time: Not specified
You can get a camera roll keychain with fewer photos (3 or 6) but it looks like those are $9.99, so it makes sense to spend an extra dollar for more photos. You can also add customized text to this photo reel keychain.
---
There are quite a few options for these custom camera roll keychains on Etsy. Here are a couple of our favorites.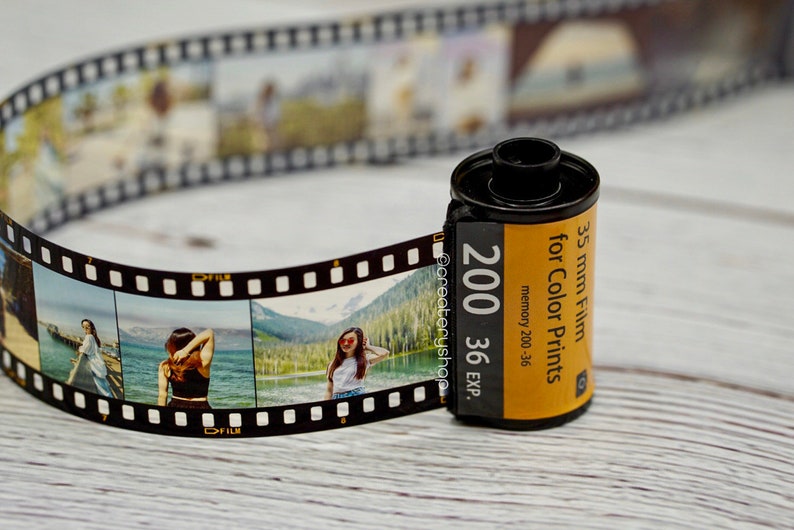 Price: $8.49+
Number of Photos: 10, 15, 20, 30, or 40
Production Time: 3-6 business days
You can choose to add a keyring or leave it off your product. Send your photo to the email address listed in the product's info and add your order number and name on the email subject line. Number them if you need them in a specific order. Don't send your images inside a Word document or in PDF format, and don't send in any screenshotted images with frames or borders or small text.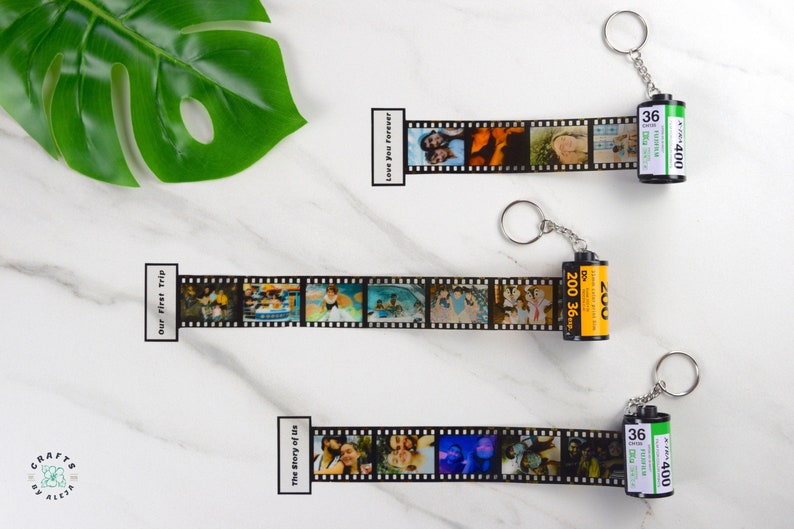 Price: $18.99+
Number of Photos: Up to 10
Production Time: Not specified
This is a bit more expensive than some of the other options but the quality of this product is really high. In addition to the 10 photos, you can also include a short, custom message at the beginning of the film roll. You'll get a proof of your product before they send it, and you have 2 days to approve the design before they ship it out.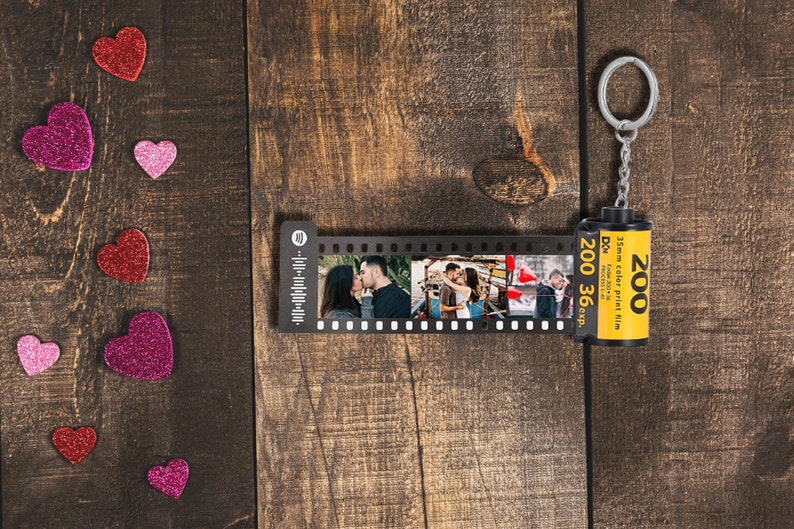 Price: $21.99+
Number of Photos: 5, 10, 15, or 20
Production Time: 5-7 business days
One really cool thing about this keychain is that you can customize it further by having a song printed on the end. So if the recipient of your gift has a favorite song, you can use the Spotify music code printed on the end! The photos on the keychain are printed in HD so they'll look clear and beautiful.
---
Order Straight from the Source
There are a few retailers that print their own custom camera roll keychains, instead of selling through a marketplace vendor like Amazon or Etsy. Check these out: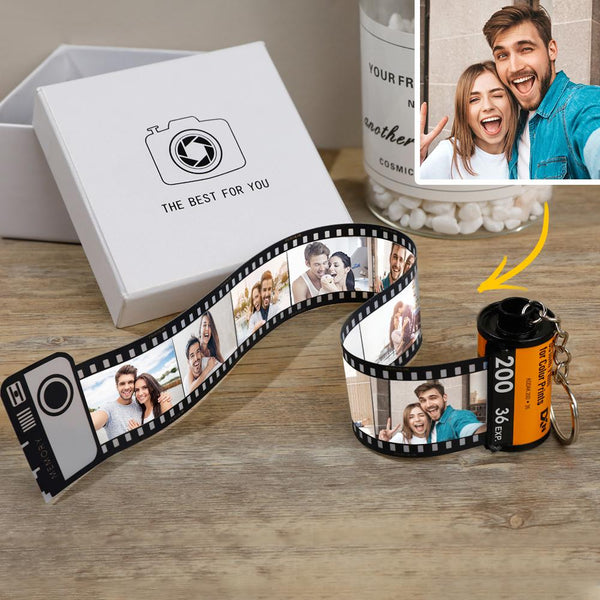 Price: $15.95+
Number of Photos: 6-10, 15, or 20
Production Time: 3-5 business days
With this website, you just need to upload rectangular photos with high resolution. Just as a heads up, the shipping can take a while, so plan accordingly if this is a gift. It takes 3-5 days to produce, and then standard shipping takes anywhere from 10 to 15 business days. They do have express shipping options.
---
Price: $12.95+
Number of Photos: 5, 10, 15, or 20
Production Time: 4-5 business days
Despite their name, Make Photo Puzzle makes keychains too!
One reviewer said it took a while to get to them (though they did say the wait was worth it!) while another said it came quicker than expected.
Because it seems to vary, I'd suggest ordering as early as possible. Your photos will be printed in HD and the customer service is responsive and friendly throughout the whole process.
---
Price: $12.95+
Number of Photos: 5, 10, 15, or 20
Production Time: 5-7 business days
Upload 5-20 photos of your choice to this lightweight but durable keychain. These are made from 100% recycled film rolls, and you can check out their website for different film rolls you can order. To retract the photos back into the roll, you just have to twist the little knob that the keychain is attached to.
---
There are a lot of sellers out there that make this product, so feel free to keep searching if you don't love any of these ones. For the most part, they are all pretty similar, but pick the number of photos you want in your roll and what price seems reasonable to you.
Custom camera roll keychains like this are a thoughtful and beautiful gift that anyone would love to receive!