Do you have a 2, 3, or 4-year-old that loves taking photos on your phone? Get them their own toddler camera to take pictures!
Here are some great options if you're looking for a camera for children that will hold up when your little ones are using them. These cameras are meant specifically for tiny hands, so they are really durable.
We bought many different toddler cameras to try out, and these are our favorites and why.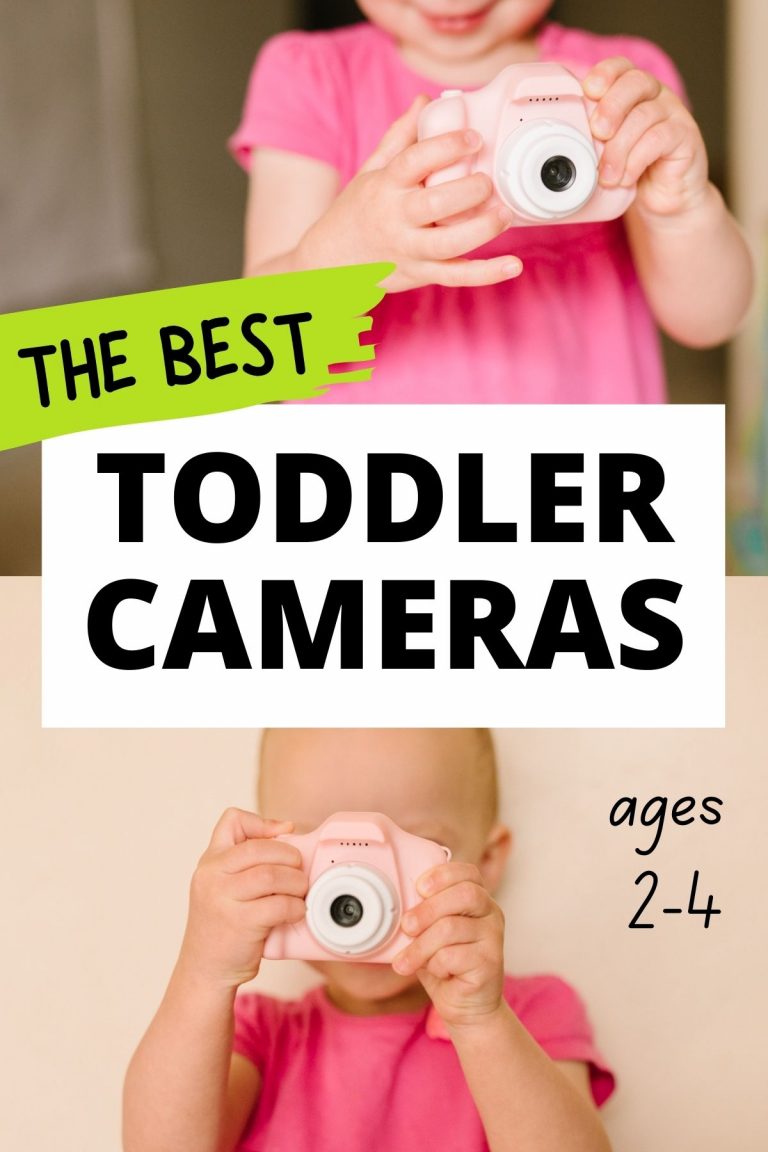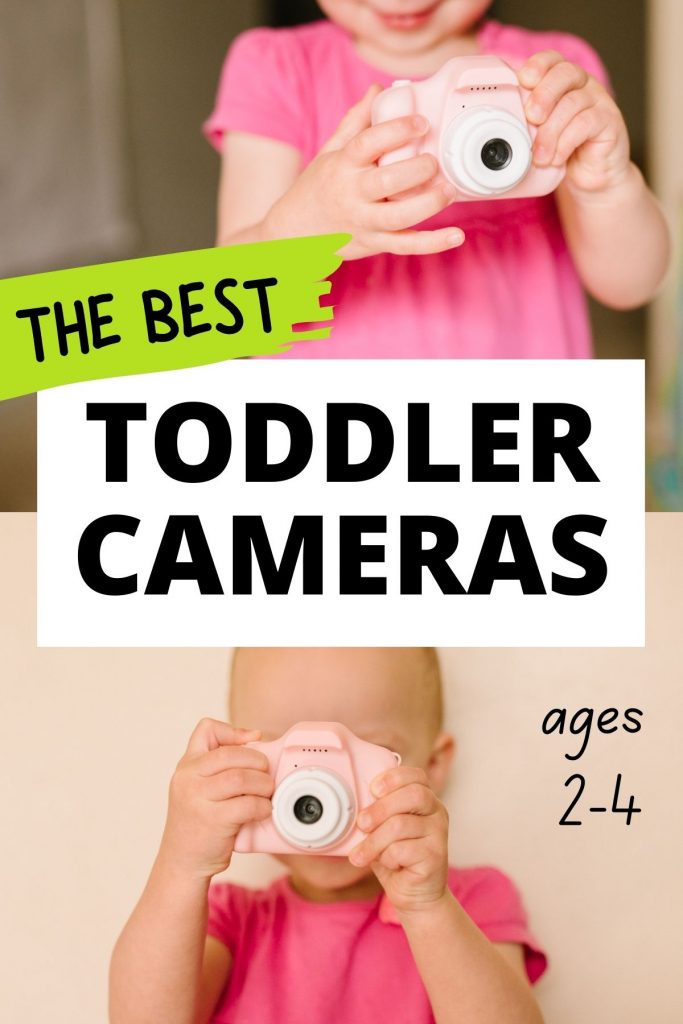 8 Features that are important in a camera for toddlers:
Durability: We're talking about giving a toddler an electronic device - so durability is a given. All of these cameras are durable and shockproof so they can withstand being dropped by little hands
Size: You don't want it to be so big that they can't handle it properly. Choose something small for little hands.
Memory: Every camera needs a memory card to store the pictures. Each camera on this list comes with a memory card in the box.
Colors: There are usually at least two color options, and sometimes more. Most of these cameras come in pink, blue, and then sometimes a yellow or green option.
Power: You don't want to be buying AA batteries all the time! Having something you can recharge over and over is a much better option for toddlers. We've only included toddler cameras that use a USB cable to charge.
Selfie mode: Toddlers LOVE seeing themselves while they are taking a picture. We consider selfie mode to be a requirement, so most of the cameras here include that option.
Filters, Frames & Stickers: Most little kids' cameras include some kind of creative functions, such as a black & white filter, colored filters, festive frames, or cartoony hats/sunglasses/mustaches/etc. Most kids love to play around with these options, so we've included them on this list.
Games: The presence of games is a polarizing factor! Most cameras come with games on them, such as a simple Tetris or snake game that uses the direction buttons to play. Some parents are glad because they view it as a toddler camera toy; kids do love the games, and it keeps them busy. However, some parents wish a toddler's digital camera could simply be a creative tool without the distracting entertainment factor. It's up to you!
Best Cameras for Toddlers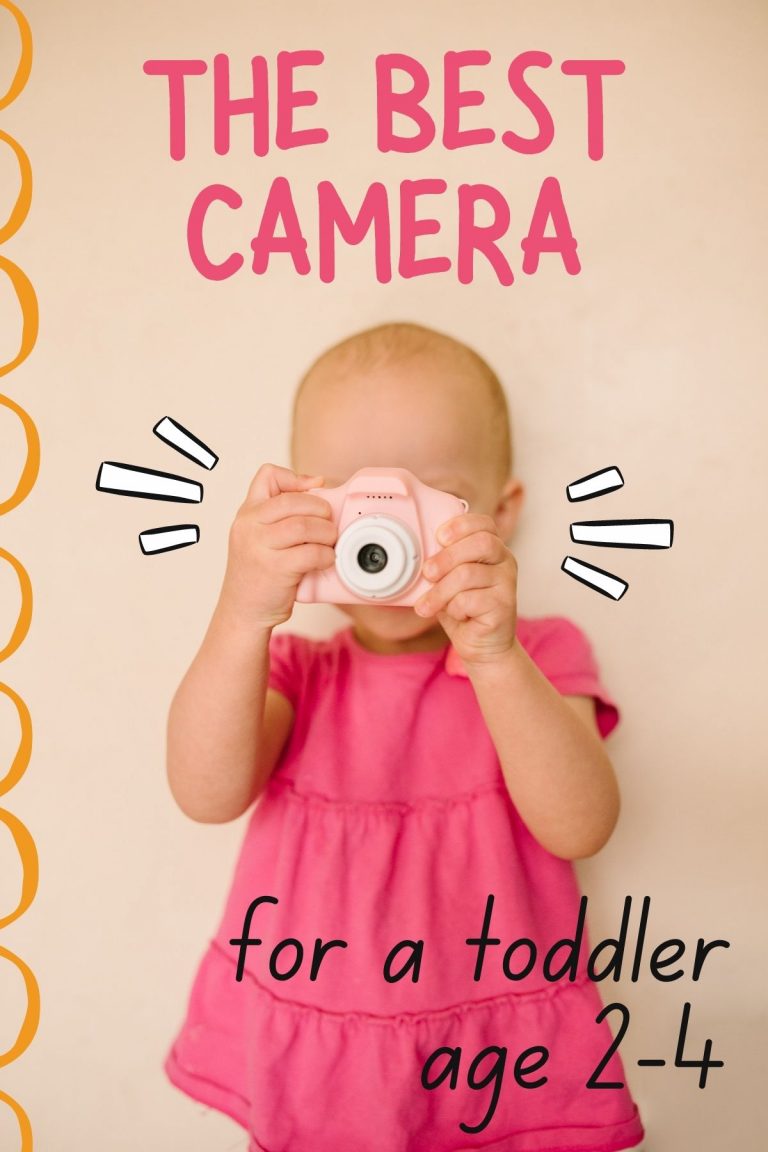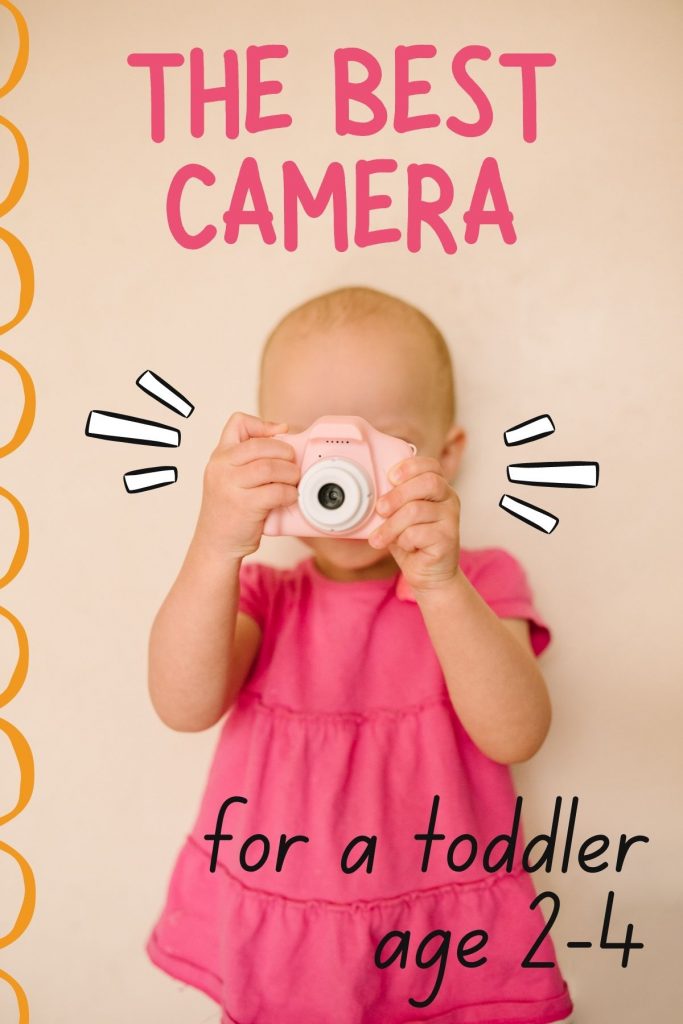 Price: $34-35
Powered by: Rechargeable lithium battery
Memory card: 16GB card included
Color options: Pink, blue, red, camo, dark blue, dark pink
Selfie mode: Available
Frames, Filters & Stickers: 8 scene selections and 4 shooting zooms
Games:
This was my favorite digital camera for toddlers out of all the ones we tried! It has the clearest resolution and the best usability for youngsters.
It's got a fun cartoony body, easy to hold, and shockproof with a silicone exterior. It's the perfect size for little hands!
Why we recommend this: This camera comes with an eco-friendly and protective soft, silicone material which makes it durable and safe for kids.
---
Price: varies, see below
Powered by: Rechargeable lithium battery
Memory card: 32GB card included
Color options: Pink, blue
Selfie mode: Available on some models
Frames, Filters & Stickers: yes
Games: 3-5 puzzle games, depending on model
Why we recommend it: This sturdy camera has a plastic shell, making it very lightweight. It is TINY, almost laughably so in an adult's hands. However, that makes it perfect for a toddler.
There are many similar versions of this camera on Amazon, all from different sellers. The more you poke around it's pretty obvious that the same camera body can be obtained in China and resold under different brand names.
As far as we've seen, they all come with a camera, a memory card, and a card reader. Most come with a lanyard or strap although the styles vary. The resolution appears to be the same across models.
However, we did notice some differences. For example, the software inside the camera is not identical, which is especially noticeable with the included games and graphics.
The biggest difference is that not every camera includes dual lenses, which is how you would take a selfie with a rear-facing camera. It seems like this is prevalent on the cheapest models, so don't be tempted by the sub-$20 versions. They imply you can take selfies in the description but do not outright say there are dual cameras. In my experience, anything under 20 bucks does NOT actually have a back-facing lens.
There are also many color options and different plastic finishes. Some of the models are shockproof silicone and some are just cheap plastic.
---
These are the ones I personally ordered:
Some manufacturers have taken the same base model and added exterior decorations, to make it appeal to kids even more. This makes the camera extra cute!
---
Price: Currently unavailable
Powered by: Rechargeable lithium battery
Memory card: 32GB card included
Color options: Blue, pink
Selfie mode: Available
Frames, Filters & Stickers: 8 scene selections and 4 shooting zooms
Games: Built-in puzzle games
Why we recommend it: With dual cameras, video playback, voice recording, and burst shooting, this is a great beginner camera for your toddlers. It also has a built-in flash so your child can take photos in low light.
---
Price: ~$21
Powered by: Rechargeable battery
Memory card: 32GB card included
Color options: Blue, pink
Selfie mode: Not Available
Other features: Multiple cartoon frames
Frames, Filters & Stickers: multiple cartoon frames and color modes
Games: none
It is tiny and very cute, and I like that it doesn't have any games to distract toddlers from taking pictures.
However, it lacks a rear-facing camera, which is a deal-breaker on a toy camera for a toddler. They love to see themselves in the viewfinder, and this toddler digital camera doesn't have that option.
This camera is not quite as intuitive to use as some of the other options, but the controls make more sense after you've read the short instruction pamphlet.
Note: There are also some features that don't work how you expect. Specifically, the listing says that it has a "zoom in and out" feature. Most people would assume this to be a digital zoom to use in camera mode, but it's actually just the ability to zoom into a picture on the back of the camera screen. Things like that often get lost in translation with overseas manufacturers, so I just wanted to mention it.
We don't recommend the Turn Raise Digital Camera and think you're better off with one of the other options above.
---
The Verdict: Which Camera Is Best for Toddlers?
Overall, we think the best camera for toddlers is one of the first two options - either the Omzer Shockproof Camera, or any of the versions listed for the Kids Digital Camera from a good brand (we particularly liked the Belhvit and the Seckton, but obviously we couldn't try the hundreds of options available.)
We think one of these is the best toddler camera because it has all of the features that matter to kids, and they come at a good price point.
These are all toddler camera toys, so they are perfect for taking pictures and viewing them on the screen or on a computer. These cameras won't be able to take perfectly sharp photos, especially indoors or in low-light situations (no camera under $200 can function well in low light, because of the cost of the better sensor).
Technically, you could print 4x6 files off with this resolution, but that's not usually how toddlers use a camera. They just love to see themselves on screen, and the resolution is sufficient for how toddlers use cameras.
Is there another camera for toddlers you love that I left out? Let me know in the comments!