Camera bags are a necessity if you own a DSLR camera. You spent all that money on expensive equipment, you want to make sure it's protected!
But you want to make sure you get a camera bag that is not only functional but cute too! After all, if you have a camera bag you don't like, you probably won't be eager to take it along when you're heading out.
You don't have to compromise style for security and protection: you can absolutely find a beautiful DSLR camera purse with good padding and dividers.
Here are a few of the best camera bags for women, plus links to some additional lists we've compiled with tons of cute camera bags.
---
Best Cheap Camera Bag
Price is always a factor when choosing a camera bag. But you don't want to sacrifice style either!
At only $30 each, these are our two favorite affordable camera bags:
This pink shoulder bag is Amazon's choice for "camera bag for women!" You know that Amazon's choice badge can't be manipulated, so this bag has got to be good. It does come in black if pink isn't your thing.
It has a main compartment that will fit a standard DSLR and extra lens, plus padded dividers that will protect your camera gear. It also has an extra pocket for memory cards, your phone, keys, or other accessories.
This adorable striped bag is reminiscent of the old Polaroid cameras - in fact, it was custom-made for the Polaroid Originals camera! It would be great to hold an Instax camera or a compact camera, especially for a teen. Unfortunately, it won't hold a DSLR, but it's perfect for smaller cameras.
If you want to see other cheap camera bags, we've gathered some of our favorite cute, affordable camera bags on this post: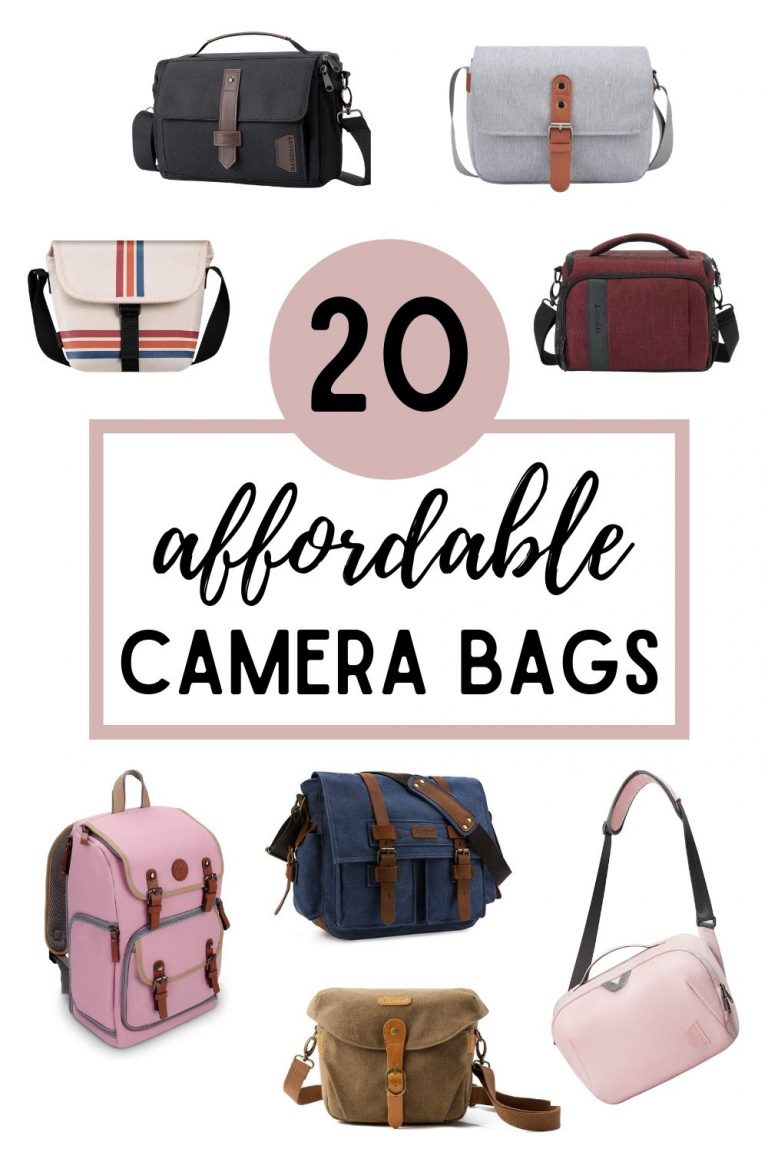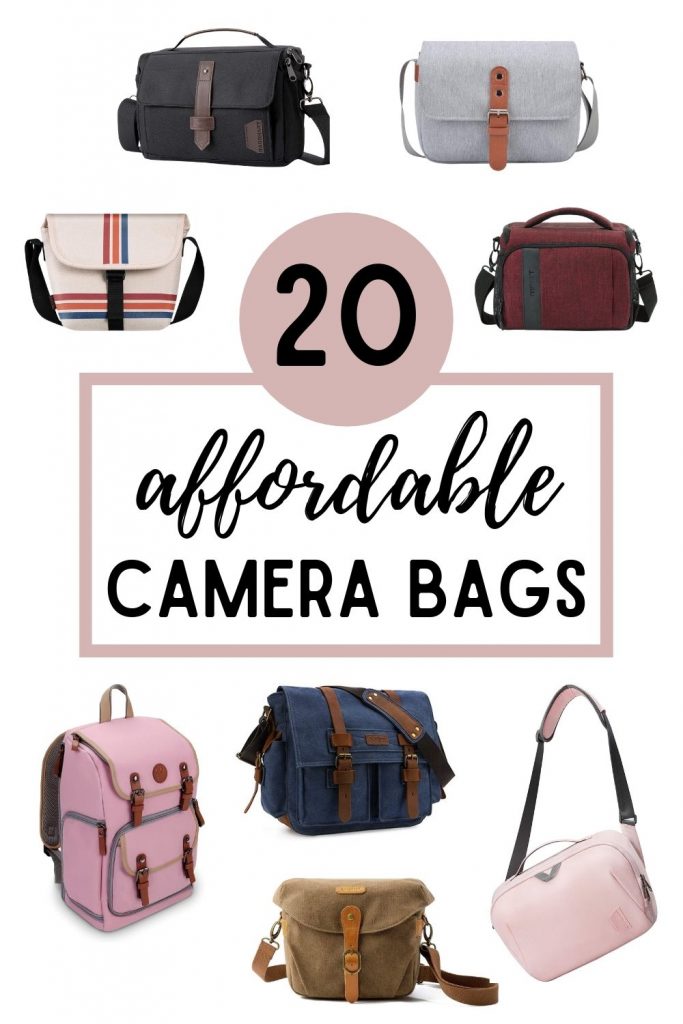 ---
---
Best Stylish Camera Bag for Women
Do you want a camera bag that doesn't really look like a camera bag? There's nothing that says your bag must be boring and black - there are plenty of purses and handbags that are actually stylish camera bags!
Of course, style is objective and everyone has different tastes, but here are some of the best stylish camera bags in our book. No more hiding your bag in pictures!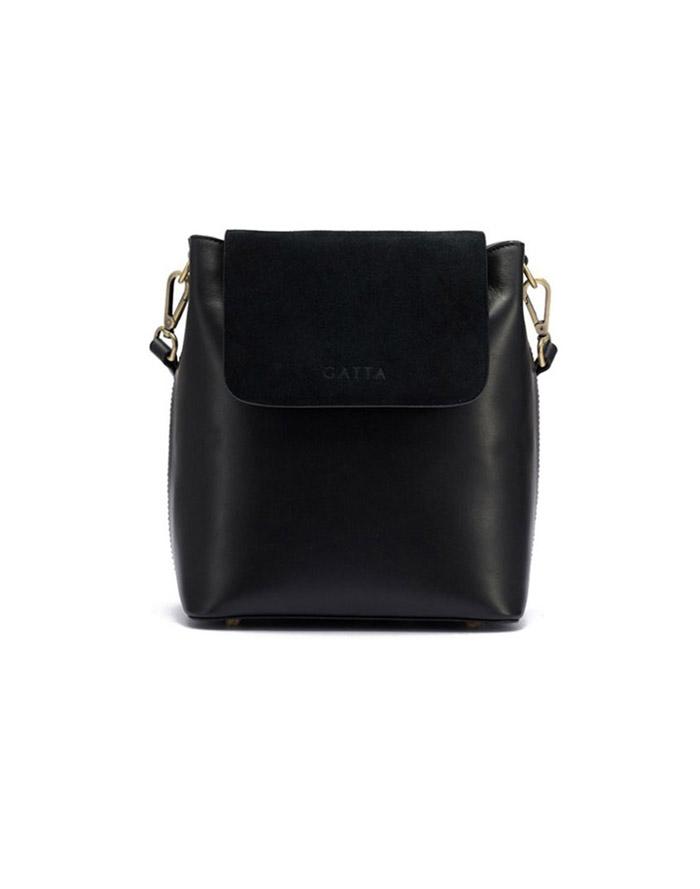 No one will guess that this mini backpack is actually a DSLR camera purse! It can fit a standard DSLR camera with a lens attached and has 5 interior pockets for extra accessories. Don't forget to buy the interior dividers as well for added protection! Keep in mind that it's good for street use, but the unpadded straps might not be comfortable for long-term wear.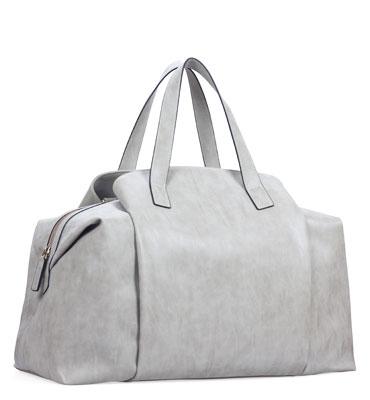 Not all stylish bags are small. This one is quite large! It's more like an overnight travel bag, so it's perfect if you have a ton of gear but don't want to carry a backpack. This bag is water-resistant, tear-resistant, and durable. It's made of faux suede exterior and comes with a shoulder strap. I do wish there were more interior pockets along the sides, but it's perfect if you like a sleek design.
Large Vintage Purse Camera Bag
This is a large, handbag-style purse that can be carried with its top handles or a shoulder strap. The inside of the bags has a super cute floral pattern which adds a nice touch. This bag fits a standard DSLR with a lens and some small accessories. The padded dividers can also be removed if you want to use the bag as a purse in the future.
Want more stylish camera bags? Head to this post for 15 options.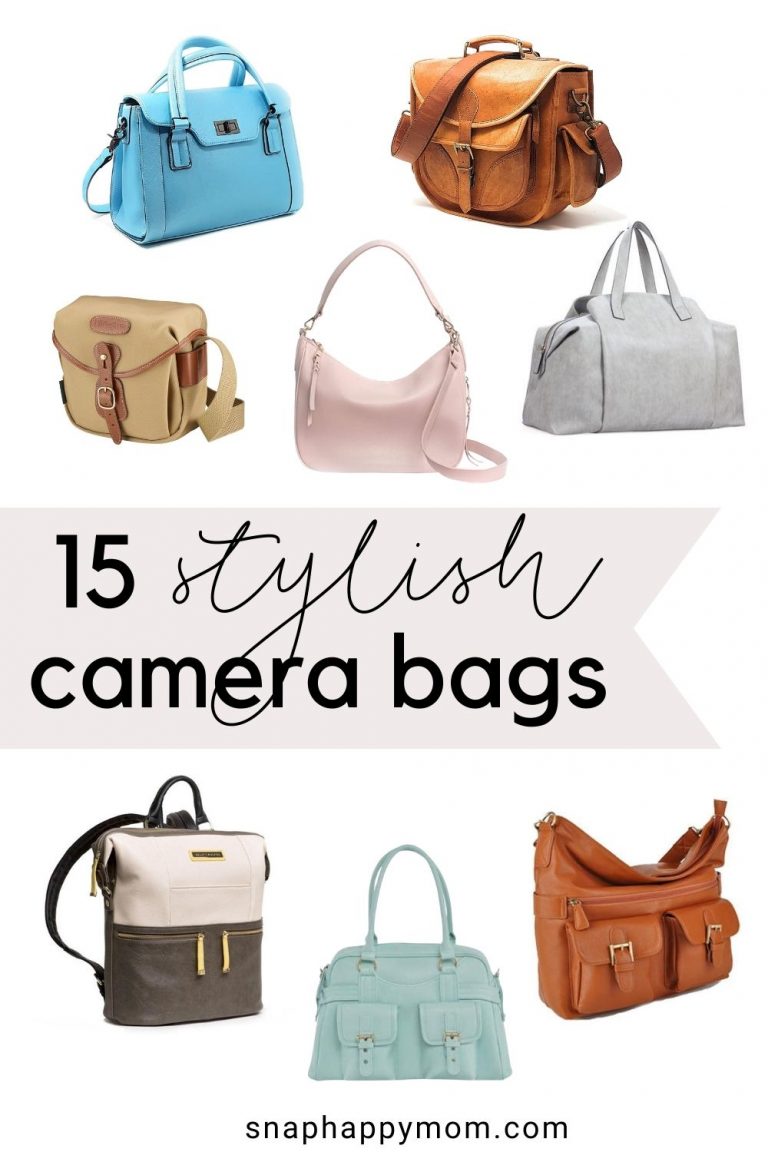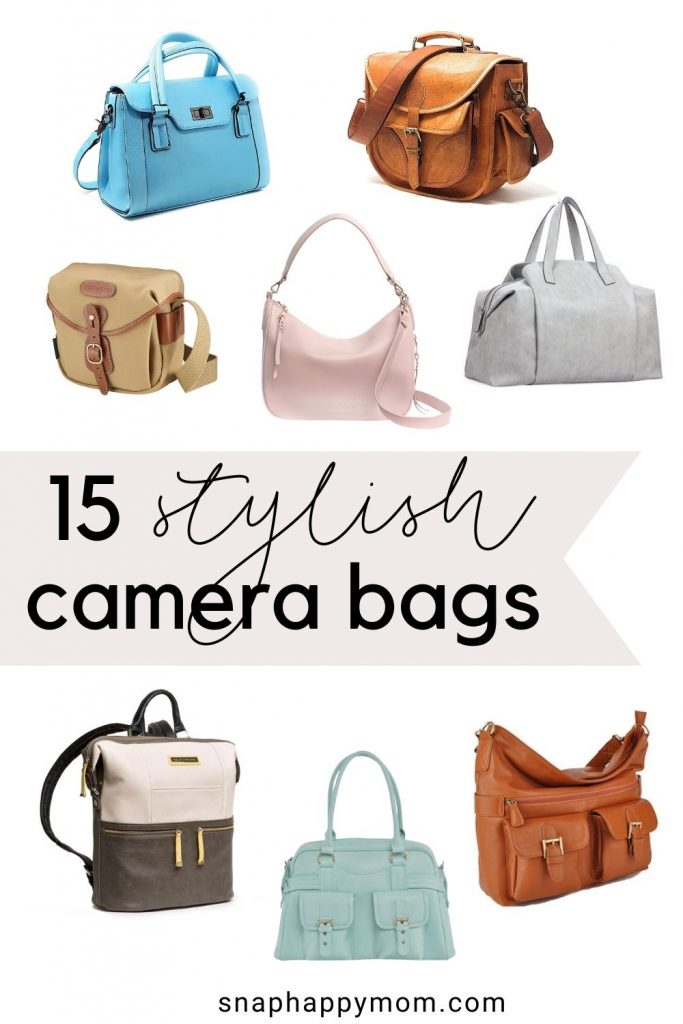 ---
---
Feminine Camera Bag
Sometimes you just really need to lean into the feminine style among all the masculine options out there. We love the pink tones on these feminine camera bags:
With side camera access, lots of zippered pockets, and tons of durability, this backpack a great option for your camera bag. It has adjustable interior dividers and can fit a small laptop or tablet.
There is always a place for a pretty pink bag in my closet. This exquisite pink bag is super classy, and no one will know it hides your camera gear. It comes with two straps, so you can switch between long and short for a crossbody or shoulder bag. This bag has an interior padded camera case to keep a camera and 1-2 lenses safe. It's perfect if you want a feminine camera bag.
---
---
Best Backpack-Style Camera Bag for Women
We love camera backpacks. It's a style we highly recommend. Wondering why a camera backpack is better than other options? This is why.
4 Reasons you Want a Camera Backpack
Being hands-free is probably the biggest benefit! Having your gear on your back means you can use both hands to shoot. This is especially helpful if you're not in a safe place to leave your stuff (like for traveling or walking around in a city). It also comes in handy if you're chasing kids at the park.
Camera gear is heavy and the longer you carry it the more you'll feel it. A backpack is way easier on your body because it has the weight distributed over both shoulders. Some backpacks even come with a waist strap (think hiking backpack style) to spread out the weight even more.
Many people look for a cross-body bag because it's a quick way to access your gear. But many backpack camera bags have some form of "quick access," so you can swing your bag to one shoulder and get to your gear from a side zipper compartment. It's a great option if quickly accessing your DSLR is important to you.
It's one of the safest ways to keep your gear from pickpockets and thieves. A single strap cross-body strap can easily be cut by a nefarious person. The two backpack straps, plus multiple zippers and enclosures, make you less of "easy pickings" to would-be thieves. In crowded public areas, you can also flip the bag around to wear on your front, so you can keep your eyes on the pockets.
Now that we've covered why we love camera backpacks, here are our two favorites:
This techy bag is packing a lot more features than are visible to the eye. It can keep your gear safe and charged too! It's padded in all the right places and has tons of pockets to keep things organized. If you travel with a lot of expensive gear, this is what you want: there are combination locks on the zippers to keep your stuff secure!
It can easily fit your camera, laptop, notebooks, water bottle, and more, plus there's a USB charging port included.
Brevite Runner Camera Backpack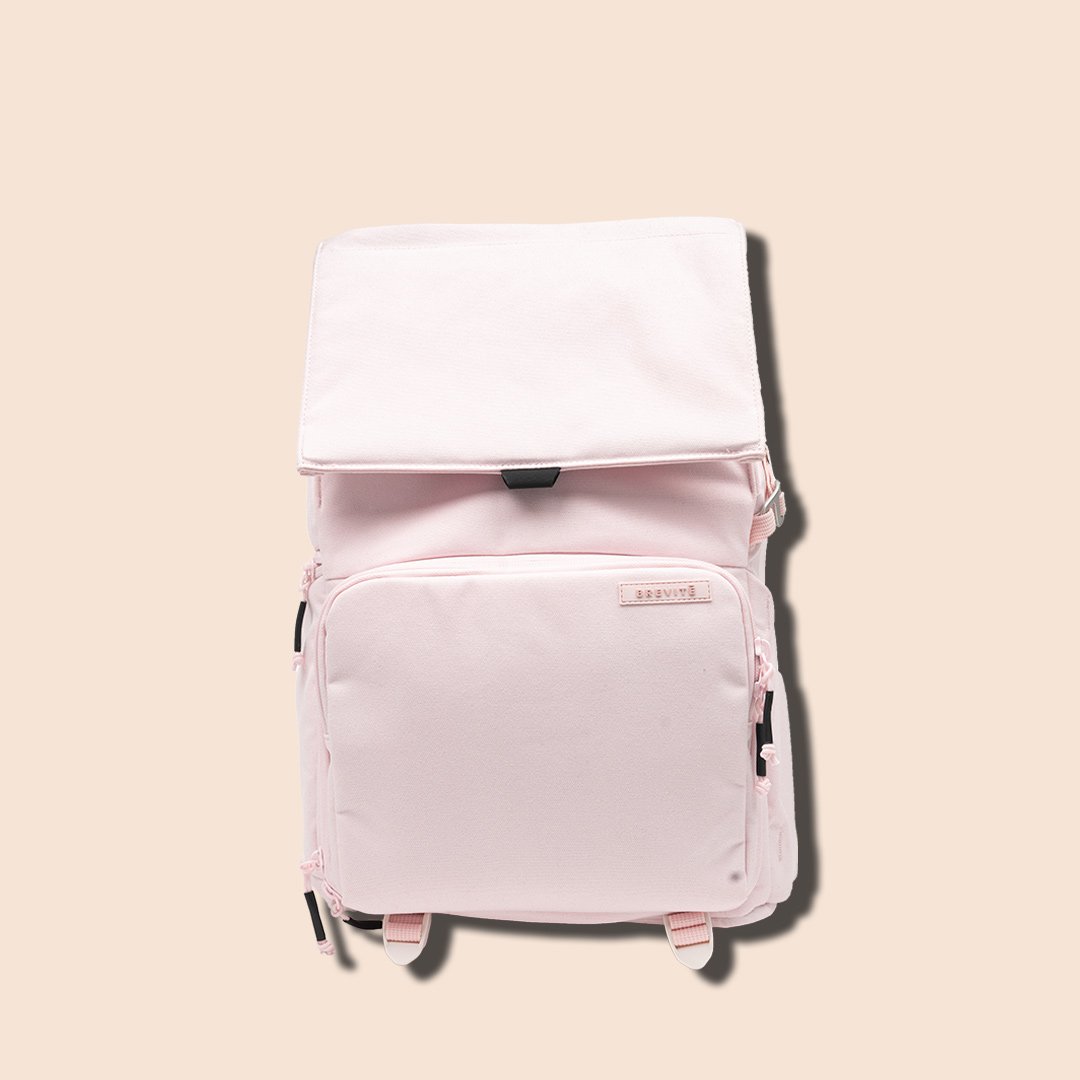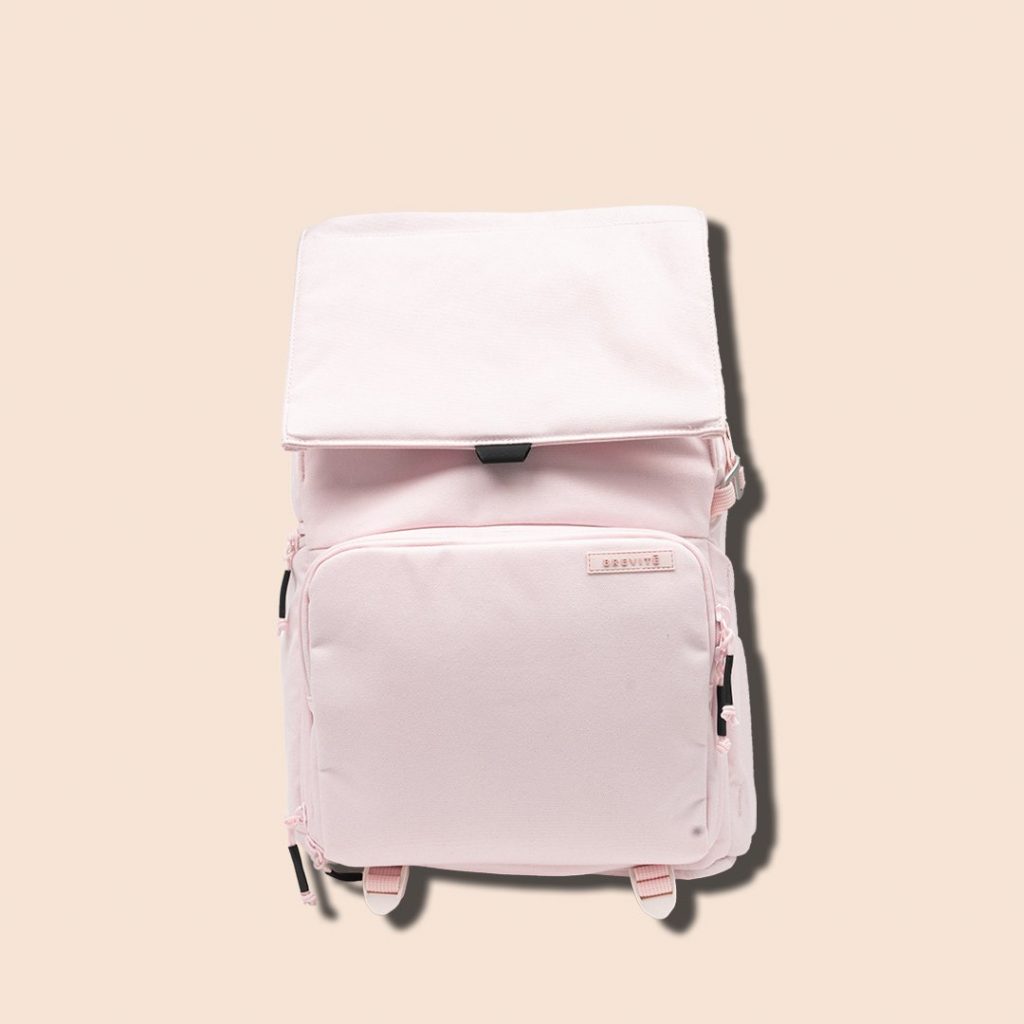 This backpack comes in a bunch of fun colors and it's lightweight while staying super functional! There is a padded, quick-access compartment for your camera, a sleeve for your laptop, and a back area for other necessities. Plus, there's a tripod holder on the bottom!
If these don't float your boat, check out this list of backpack-style camera bags for women.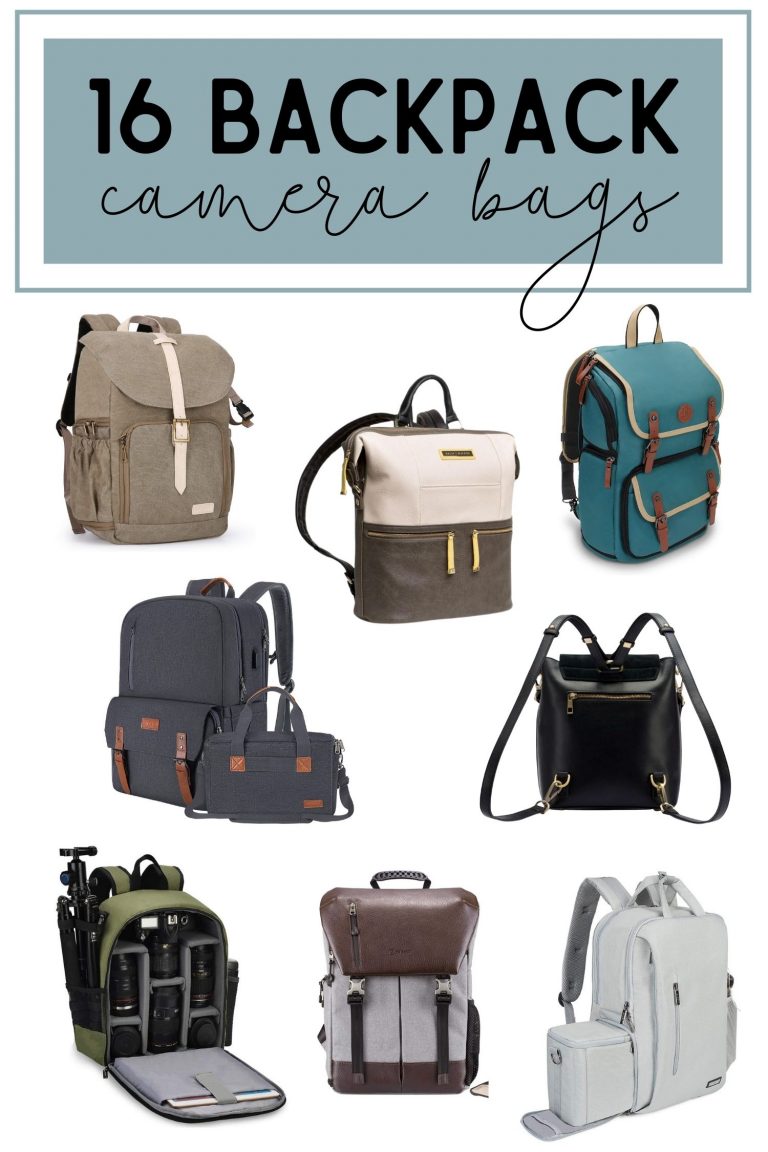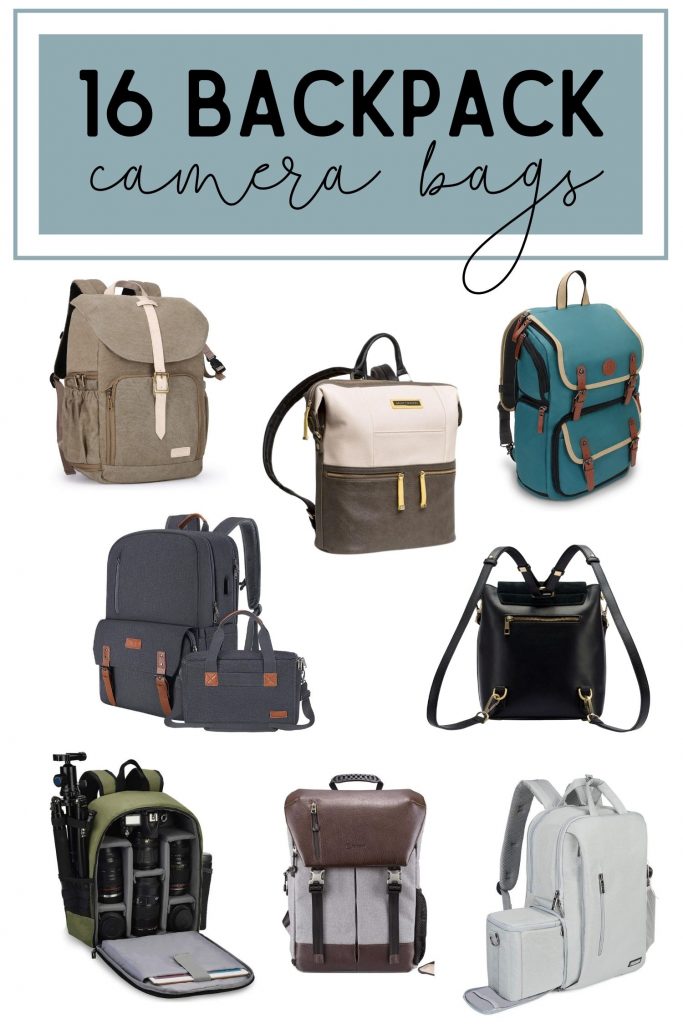 ---
---
Best Camera Bag for Travel
A travel-ready bag is an interesting request. It has to be good at everything - cute, spacious, comfortable, a good price.
This is our pick for the best camera bag for travel:
Brevite Jumper Camera Backpack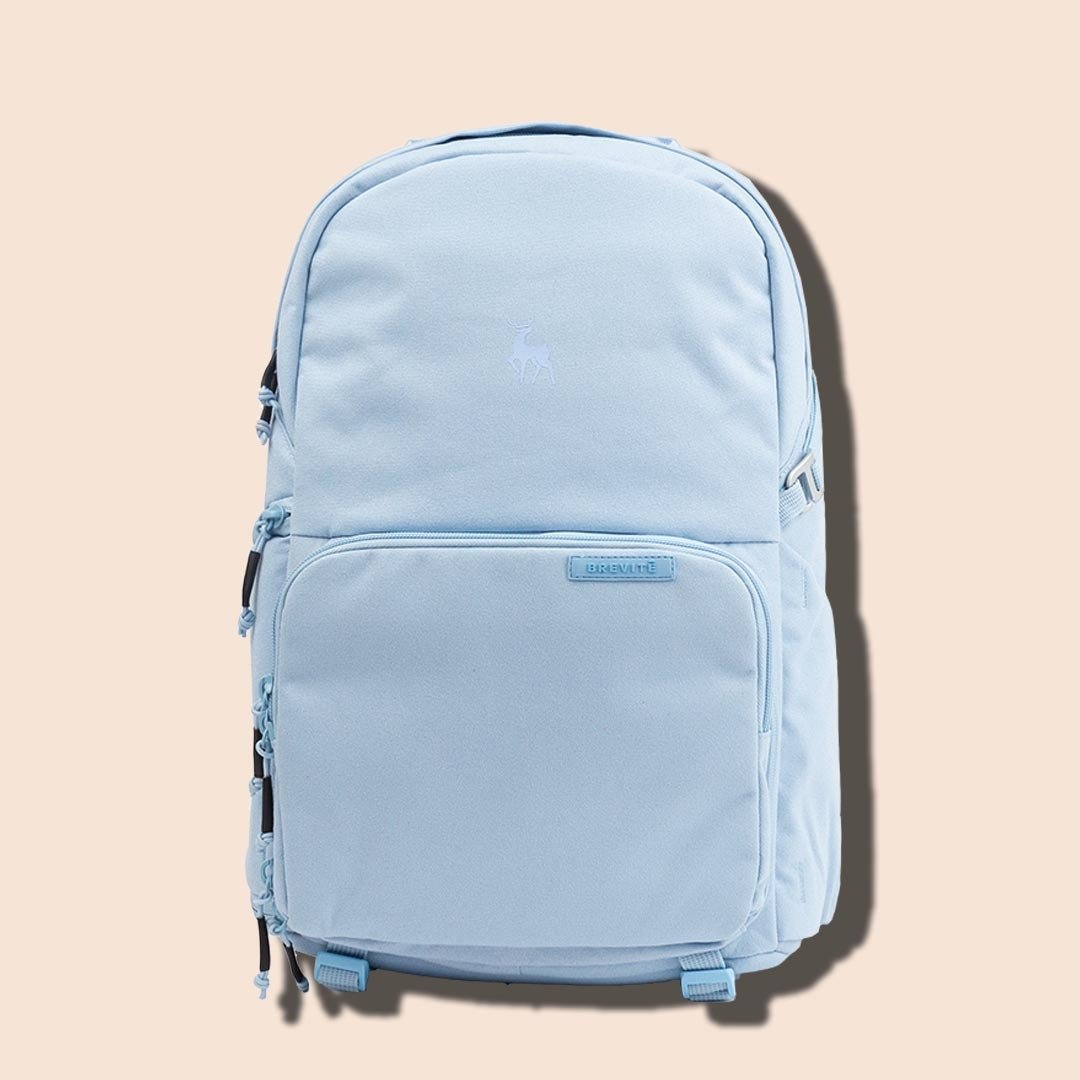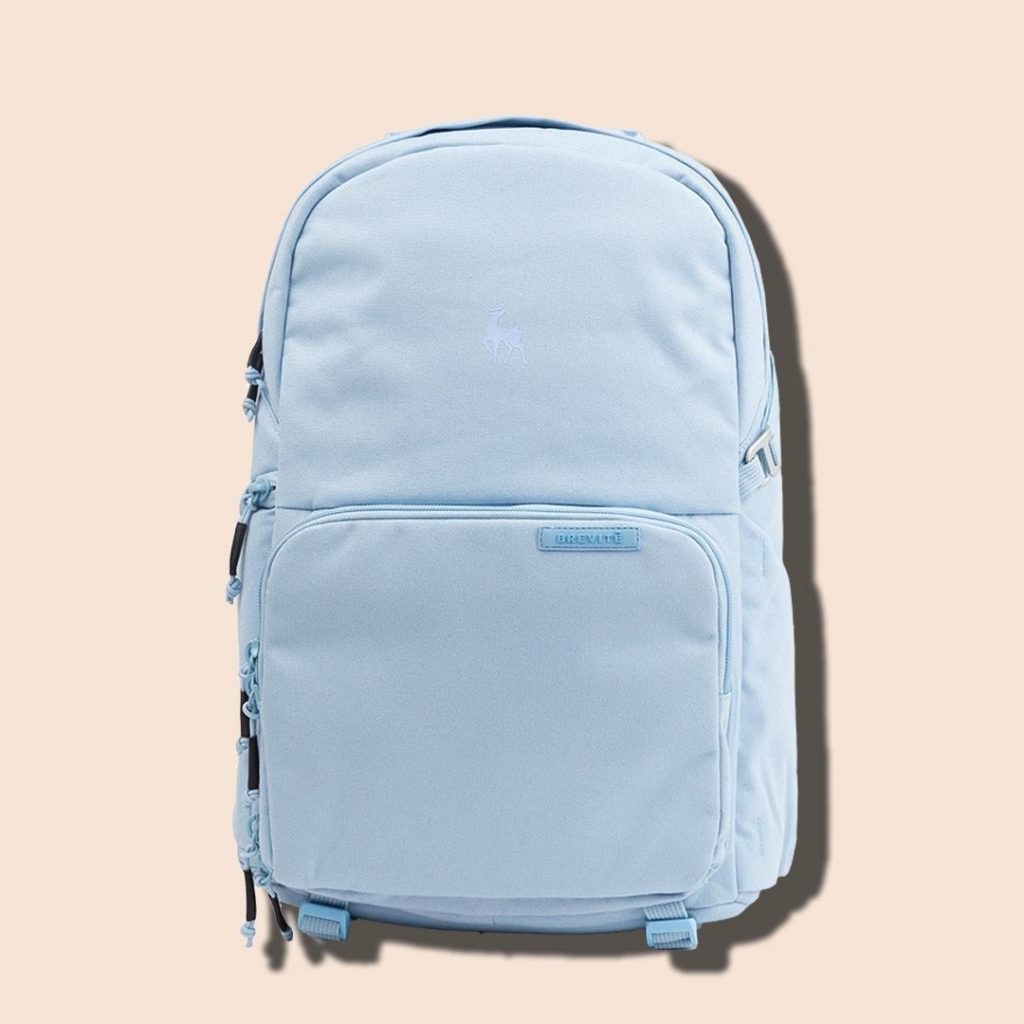 I love that this camera bag looks like a normal backpack and doesn't scream "expensive equipment in here!" This camera backpack has a padded compartment with customizable dividers, quick access zippered door, and tons of other space for a laptop or other accessories.
There's also a tripod holder & luggage passthrough on this backpack, and you can choose from tons of colors, like blush pink, pine green, moonlit blue, poppy red, misty blue, bright yellow, black, light grey, and teal.
The Brevite bag is available in black on Amazon, and their website has lots of different colors. It's one sale for $30 off quite regularly - so if it looks like it's full price, just wait a few days!
If that doesn't quite fit the bill, we recommend checking out the GoGroove Backpack, this canvas one, or any of the other bags on the Stylish or Backpack lists.
---
---
Best Small Camera Bag for Women
Large camera bags can be bulky, heavy, or frustrating to cart around. Sometimes you just want a small, compact bag to carry your camera in, right?
Here are two small camera bags that I love. They both fit your camera body plus 1-2 lenses, and not much else. If you're heading out for a quick trip then these are perfect for you. You won't have to worry about a crammed bag weighing you down!
This is my favorite small camera bag. It's simple, but the mix of gray fabric and brown leather complement each other perfectly. The fabric is waterproof, which makes it convenient if you get caught in bad weather (or your toddler spills their juice on your bag). It comes with removable and reorganizable dividers.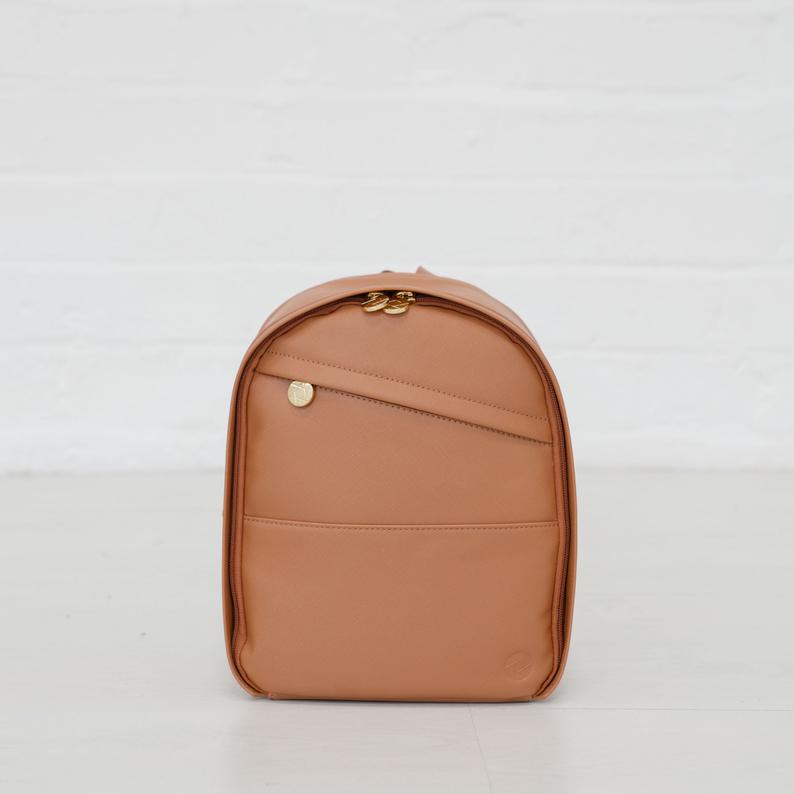 This is a great option if you love backpacks but don't want anything too bulky. This cute camera backpack is small and sleek with a minimalist design. I love this pretty caramel color too! You can protect your camera while keeping your hands free and avoiding a large, bulky bag.
If you want a small, cute camera bag but you didn't love these two, we've compiled this list of Small Camera Bags for Women with 12 other options of great bags. All are of them fit the criteria we've listed above.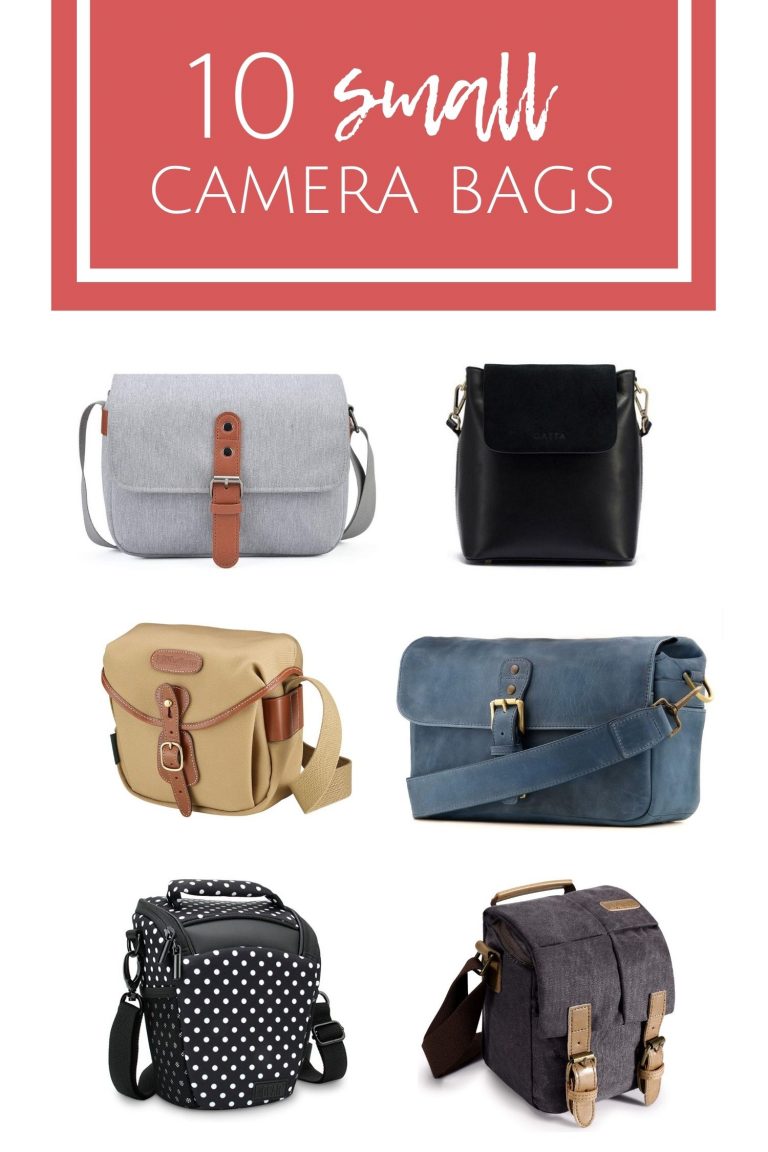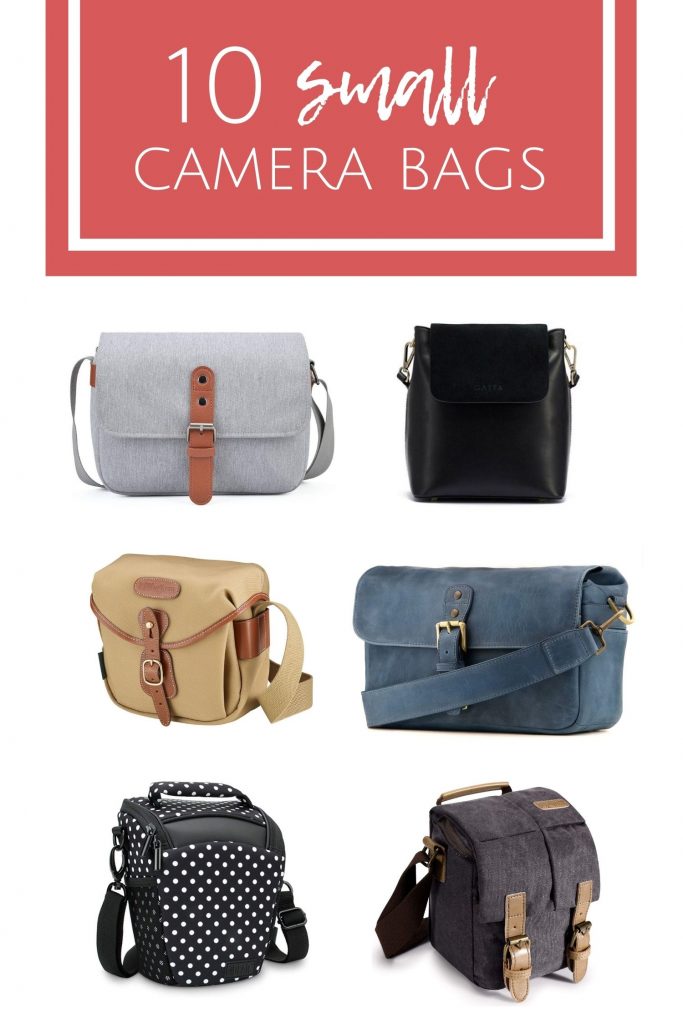 ---
---
Best Medium-Sized Bag or Daypack
Finding the perfect medium-sized camera bag can be tricky. You don't want it to be too big or too small. It needs to fit everything without being too heavy and cumbersome.
If you're looking for a new camera bag that isn't too massive, we like these two options best:
This is perfect if you want a daypack for hiking or heading to the zoo with your family. You have two side pockets that can fit a tripod or water bottle, plus a hidden pocket where you can safely store any important items. You can even fit a 16" laptop and extra lenses in this backpack! The back paneling and straps are padded for comfort and made of breathable mesh material for ventilation.
If you want a medium-sized purse, then this is one that we love. This is the bag I used when I first got a new camera! I love that it looked like a pretty, feminine purse, but still kept my gear safe and secure. With seven spacious pockets and adjustable interior pockets, this bag will fit everything you need.
The bag is also available on their website, and sometimes they have sales.
You may also like the options on this blog post: Medium-Sized Camera Bags For Women.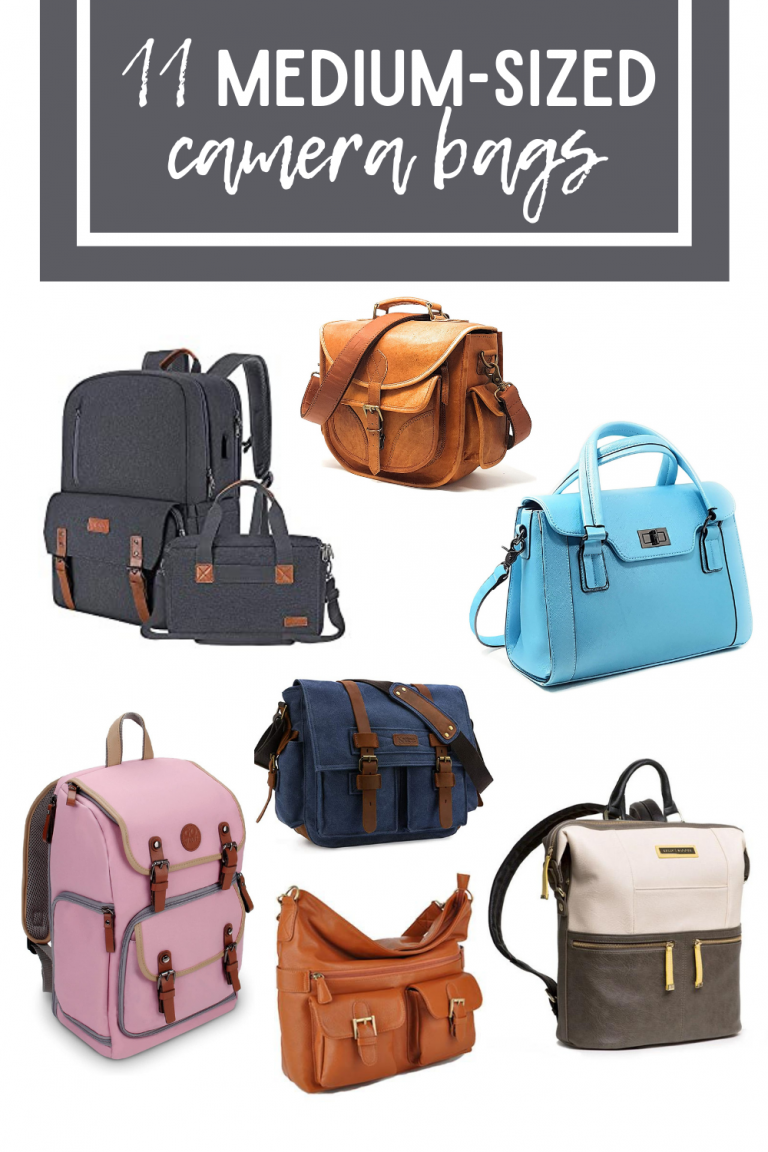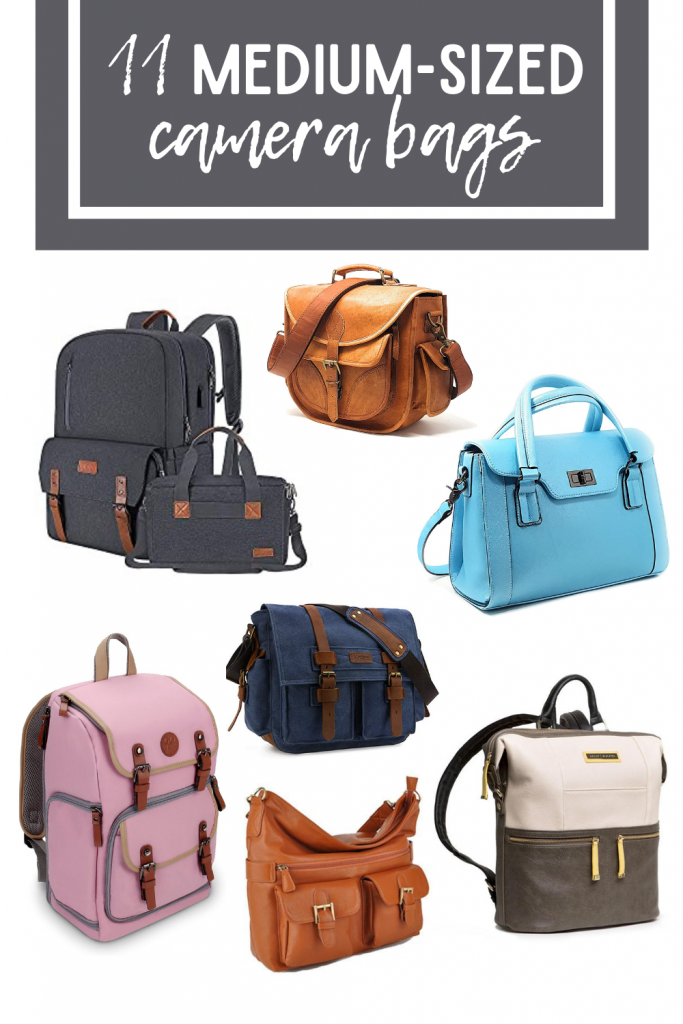 ---
---
Best Large Camera Bag for Women
Large camera bags are definitely to each person's taste. They usually imply you need a full day's worth of gear. If you're looking for a large camera bag, a backpack might be your best bet. That way you can carry a lot of gear around without worrying about balancing all of that weight on one shoulder.
However, if you don't love backpacks and are looking for a crossbody or shoulder bag, here are a couple options for you.
Large Vintage Purse Camera Bag
This is a large purse can be carried by top handles or a shoulder strap. It has padded dividers and comes in lots of fun colors. The inside of the bag is a cute floral pattern and the bag is so adorable that you don't have to worry about hiding your bag in pictures!
Leather DSLR Messenger Bag Satchel
This satchel is like a messenger bag that's big enough for you camera and an extra lens. It also has room for a charger and other accessories. It has a worn-in, casual look and the leather is real, so it should get better with time.
---
---
Best Waterproof Camera Bag
Most camera bags aren't totally waterproof - meaning, they aren't submergeable bags like you might take on a canoe or camping trip.
However, many bags are made of water-resistant fabric or may come with a rain cover to add when it's wet outside. It's always a good idea to find a bag with a water-resistant option because you never know when it might rain when you're out and about.
Here are 2 of our favorite water-resistant camera bags.
This backpack is made of durable, water-resistant fabric and comes with an additional rain cover for added protection. This bag has been officially tested and awarded IPX5 waterproof rating, so you can be confident it will keep your gear fully protected.
This bag has removable dividers and can store tons of gear. Plus, it has a side tripod pocket and extra interior pockets for small accessories.
If you want a smaller bag, this camera bag is made of high-quality waterproof artificial leather and has a soft interior that protects your camera from scratches. The strap is detachable, and the dividers in the main compartment are detachable.
---
---
How to pack a camera bag.
There's a couple of ways to pack your camera bag safely, but check out this post to see how we usually like to pack our camera bags.
For large backpack-style bags - face your camera either to the side or downwards. Make sure that no matter what bag you have, you store your camera properly so you don't have to worry about damaging your camera or lens.
---
---
Love The Purse You Have? Try An Insert
Sometimes you don't need an entire bag for your camera - you just want to take your DSLR along with you on the go. If you already have a bag that you love, but need a safe way to store your camera while inside your purse, check out this post we have about camera storage inserts.
With a camera bag insert, you can use the bag you already use so you don't have to cart an extra bag around and your camera is stored inconspicuously. Camera bag inserts come in a few different styles.
Neoprene camera sleeves fit like a glove around your DSLR and doesn't take up too much space. There's even with a zippered accessory pocket to hold small accessories.
Similar to the neoprene sleeve, a hard shell camera case fits snug around your camera. They are made of durable, reinforced design has a cushioned interior that give your camera body and lens all the protection you need.
This bag insert only works if you have a larger bag and want to carry around more than just your camera body and lens. It's a detachable divider made of shock-absorbing material to protect your camera against drops, dust, and scratches.
This is the largest type of bag insert, and it's basically a bag in and of itself. It closes completely to give you tons of protection and support, and it's large enough to fit your DSLR camera body, 2-3 lenses, and other accessories.
If you want to keep your bag but find a way to safely transport your camera, consider getting a camera bag insert!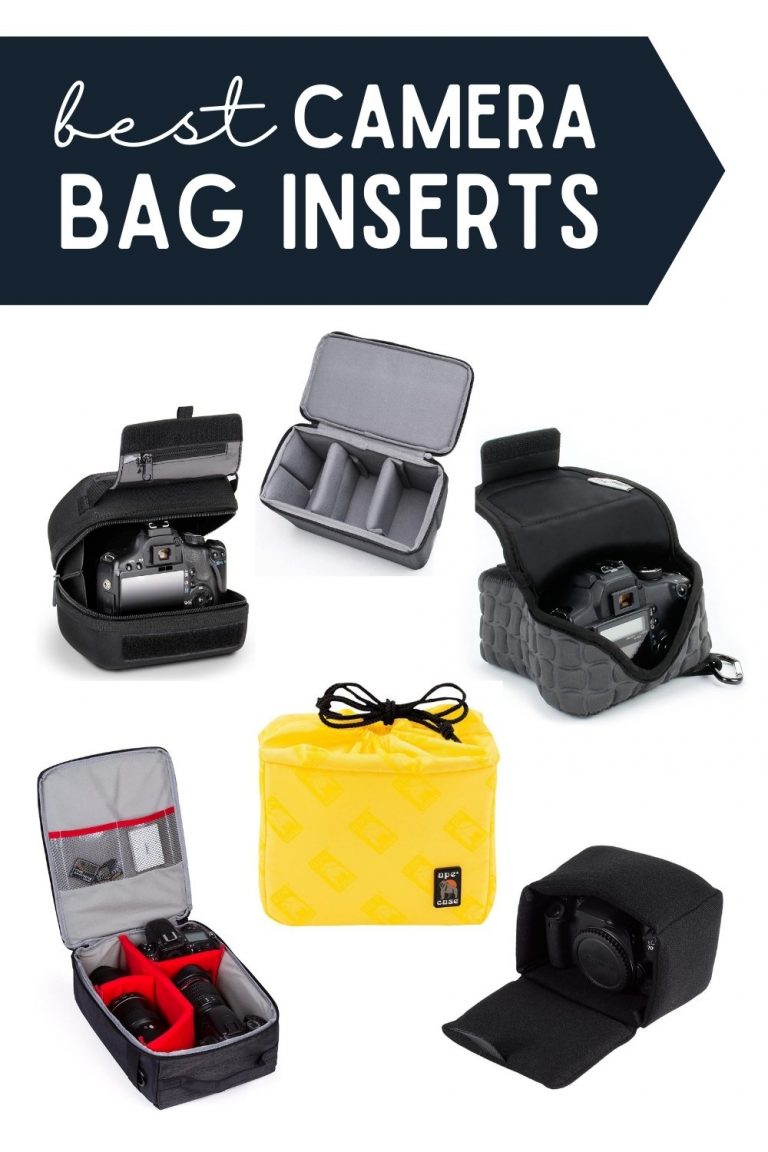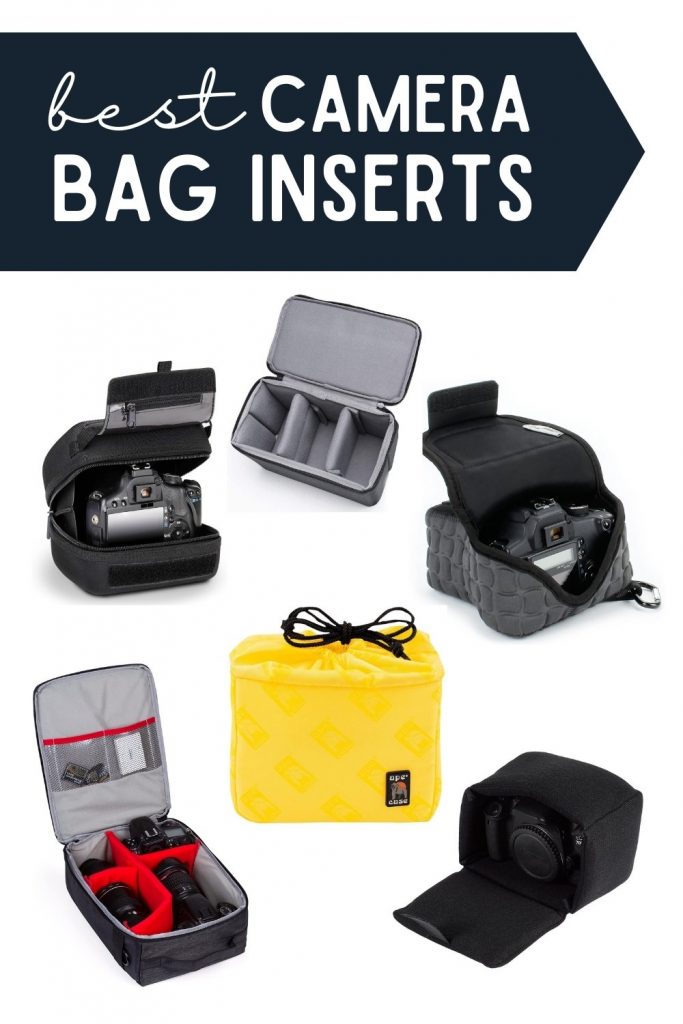 ---
---
Those are the best camera bags for women that we've been loving. Hopefully this list has helped you find something you love.
Getting a good camera bag is imperative. These bags are in all different price ranges, so there should be something to fit your budget. When you're looking for a new bag, make sure you know what your priorities are. Do you want it to be waterproof? Have a tripod holder? Be small and compact?
Make sure you find something you will love to have on your shoulder because you won't be want to take your camera out if you don't like the bag that protects it!
Do you have a favorite camera bag? Let me know below!