When my kids were little, we never went anywhere without our trusty diaper bag. But when I bought my new DSLR, it gave me two bags to carry and deal with, in addition to chasing toddlers around. It was just too much, so I ended up leaving my DSLR home more times than I brought it places.
And then one day, I had an aha moment. I watched a busy mom at the zoo take her DSLR camera out of her diaper bag, where it had been safely nestled in a padded insert.
The lightbulb went off! I could solve this!
My problem was carrying two bags. The bulky camera bag just felt like too much when I was already carrying a diaper bag, and then later, a purse. But if I could safely carry my camera inside the bag I was used to carrying - Well, that would solve everything!
It makes so much sense in hindsight, but I can't be the only one who didn't realize there is a way to safely carry your camera in the bag you ALREADY use. No need to carry a second dedicated bag, especially if you won't need a charger or extra gear!
Jump to:
3 Benefits of Using A Camera Bag Insert
⭐️ You don't have to bring two bags.
Why carry two bags if you can carry one? An insert lets you bring only what you need inside of a regular purse or diaper bag. The insert itself is padded, but it's meant to tuck inside a different bag. Less weight, less bags overall.
⭐️ You're not carrying around stuff you don't need.
Raise your hand if you put everything that came in the box inside your camera bag? Guess what? Your manual, charging cord, 3 extra cards, cleaning kit, spare lens caps, and more ought to stay at home on the shelf. You don't need it when you're out shooting
Sometimes we use a large camera bag as a storage system for anything related to the camera - but that means more weight to carry and a lot of things that aren't useful at that moment. Ultimately, you'll start to feel like taking your camera gear is more weight than you need, and you won't want to bring it.
On most short trips, all you really need is the camera itself, and possibly a spare battery. You might take a second lens, but you might challenge yourself to pick wisely and shoot creatively.
⭐️ It's helpful if you want to take your camera somewhere inconspicuously.
One problem with nice camera bags is they tend to yell "expensive gear in here!" And that's not always the message you're trying to broadcast to would-be thieves or scammers.
If your bags look like they have thousands of dollars of gear in them, you're making yourself more of a target for shady people. If I'm going somewhere like the beach, I'd rather tuck my camera into a diaper bag in an insert than bring a big heavy-duty bag that might be left unattended while I play with the kids.
Here are some options for packing a camera inside another bag.
Option 1: Padded DSLR Camera Sleeve
A padded sleeve is the most compact way to carry a camera. It's basically a camera-shaped case to provide a sleek container for your gear. They are usually padded, and must be fitted to a specific size of lens.
This neoprene sleeve fits your camera like a glove and allows you to protect your DSLR when you put it in a larger bag. It conforms to a standard-sized body and lens with dimensions of 6.5" x 6" x 3". If you want something small and sleek that will give a bit of extra protection to your camera when you put it in your diaper bag, then this is perfect!
This waterproof neoprene sleeve is 7mm thick with reinforced durability to protect your camera, so you don't have to worry about any bumps breaking it. It is 8" x 6" x 4", so it can fit a standard DSLR without taking up too much space in your bag.
This sleeve provides even more protection than most others. With a sturdy, hard exterior and foam interior, this camera will keep your camera and lens safe from any bumps. It zips close and even has a zippered accessory pocket. The dimensions of this shell case are 6" x 6.5" x 3".
This waterproof camera case is made of semi-hard material to keep your DSLR safe. It has inner padding made to absorb shock, and the case can protect your camera from bumps and scratches. The dimensions are 9.5" x 7.5" x 4.5".
This form-fitting sleeve protects your camera with durable, reinforced neoprene that will keep your camera safe from scratches, dust, and low-impact bumps. The dimensions are 6.5" x 6.25" x 3". It also has a zippered pocket on the outside to store an extra memory card.
Protect your DSLR from dust, water, dents, scratches, and bumps with this hardshell case. The internal dimensions of this case are 7" x 5.5" x 3.5".
This neoprene case will stretch most digital cameras, so it keeps your camera lightweight and protected. It's also weather-resistant and closes over your shoulder strap so you can easily pull your sleeve out of your bag.
Option 2: Camera Bag Inserts & Camera Bag Partitions
You can make any bag a camera bag! Sometimes you already love a purse you have, or you want to pack your camera alongside other items. A camera bag insert is the way to go.
Inserts work particularly well if you want a partition function, like being able to carry a spare lens in addition to the camera body. They have all the usefulness that comes from a dedicated camera bag, but allow you the convenience of moving it from bag to bag as needed.
With these removable and adjustable foam inserts, you can basically DIY your own bag. These shockproof camera bag inserts can easily fit a DSLR camera and lens if you want to partition off a section of your diaper bag for your camera.
This cube insert comes in a 9" x 7" x 4" size, so it easily can fit in diaper bags or large purses. The material is water-resistant and it can fit a camera body and 1-2 lenses depending on how you customize your inserts.
This packing cube has external dimensions of 9'' x 7'' x 4'' with detachable dividers. It is made of nylon that is anti-wrinkle, anti-scratch, shockproof, and waterproof. It is lightweight and extremely portable, as it can be easily folded up when not in use. These camera bag inserts can fit a DSLR and 1-2 camera lenses.
These camera bag partitions are made of shockproof padded nylon with two sections. The dimensions are 10.5" x 5.9" x 4.5" and it comes with a drawstring cover if you want it to be enclosed when you put in your bag.
This insert has dimensions of 9" x 7.5" x 15", which gives you plenty of space to store your camera gear. There are six sections with a thick wall dividing each one. It is a bit larger than most of the others, so if you don't take a lot of gear with you, then this one might be too bulky for you.
These padded camera bag partitions protect your gear from scratches, bumps, and dust. The design is just big enough for a standard DSLR, with dimensions of 11" x 6.5" x 4". It's made of high-quality velvet material.
This insert fits easily within another bag. The interior padding is adjustable and durable and has a super accessible drawstring closure. The dimensions are 7.5" x 3" x 6", so the bag is small and you might need to detach your lens to store it. But the small size makes it even easier to fit in another bag!
Option 3: Fully Enclosed Camera Packing Cubes
Some situations call for a padded DSLR camera bag insert that is fully enclosed. This just means that the container is more like a packing cube, and can be zipped shut.
This is especially helpful if you're using a tote bag or purse that doesn't securely close, or if the camera will be carried with many other items that could bump or jostle it.
It's also really useful if there's any chance your camera might be exposed to elements - like snack crumbs, a leaky waterbottle, sand on a beach, etc. A DSLR camera bag insert that can be zipped shut means you can protect your gear from your own stuff.
Sometimes I use packing cubes like this to safely store gear inside my luggage as well.
This is a small bag you can slip into your larger diaper bag or backpack, and it zips close to ensure total protection and security. It's made of high-density waterproof nylon and is a bit larger than other cube inserts with 13" x 5" x 9" dimensions.
It can hold a DSLR body with the lens attached, as well as 2-3 additional lenses. The dividers are detachable and can be configured in any way. The bag also has a top handle so you can easily pull it from your bag.
This small cube insert is 6" x 5" x 4", so it only fits a standard DSLR. It is made of nylon and velvet material and has a top lid to keep the camera fully enclosed. This is perfect if you just want something small to stick in your bag without taking up much space.
This camera insert bag made from is anti-static with a soft padded shockproof lining. The small size is 9'' x 6'' x 4'' and can fit your DSLR body and lens, and the large size is 11'' x 7.5'' x 6.5'' and can fit your DSLR body and 2 lenses.
The dimensions of this padded cube are 10.5" x 6.5" x 7.5", so it can fit a DSLR camera and 2 lenses. It's also foldable, which makes storage super convenient! The shockproof dividers are detachable, so you can reconfigure the interior however you'd like.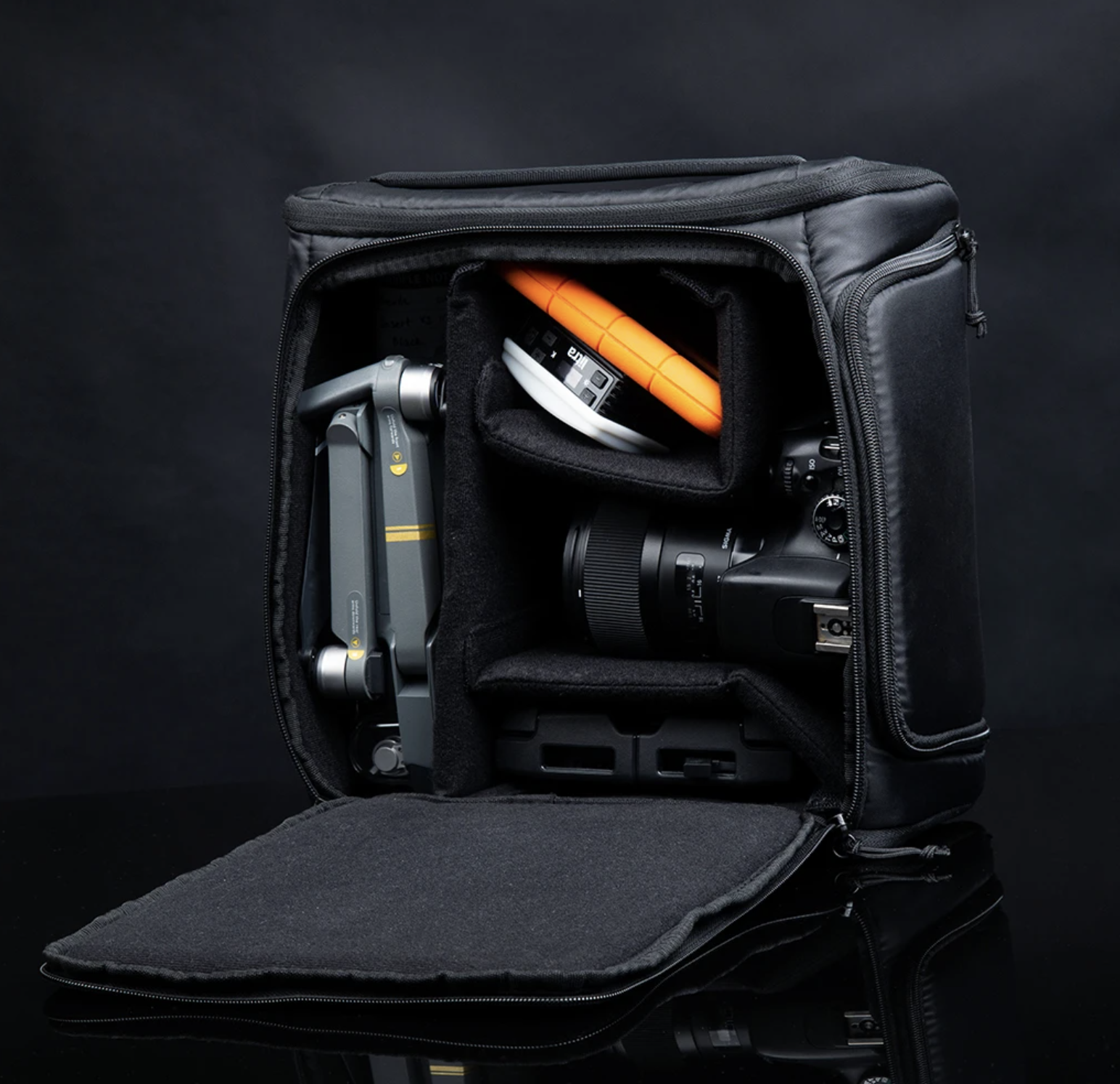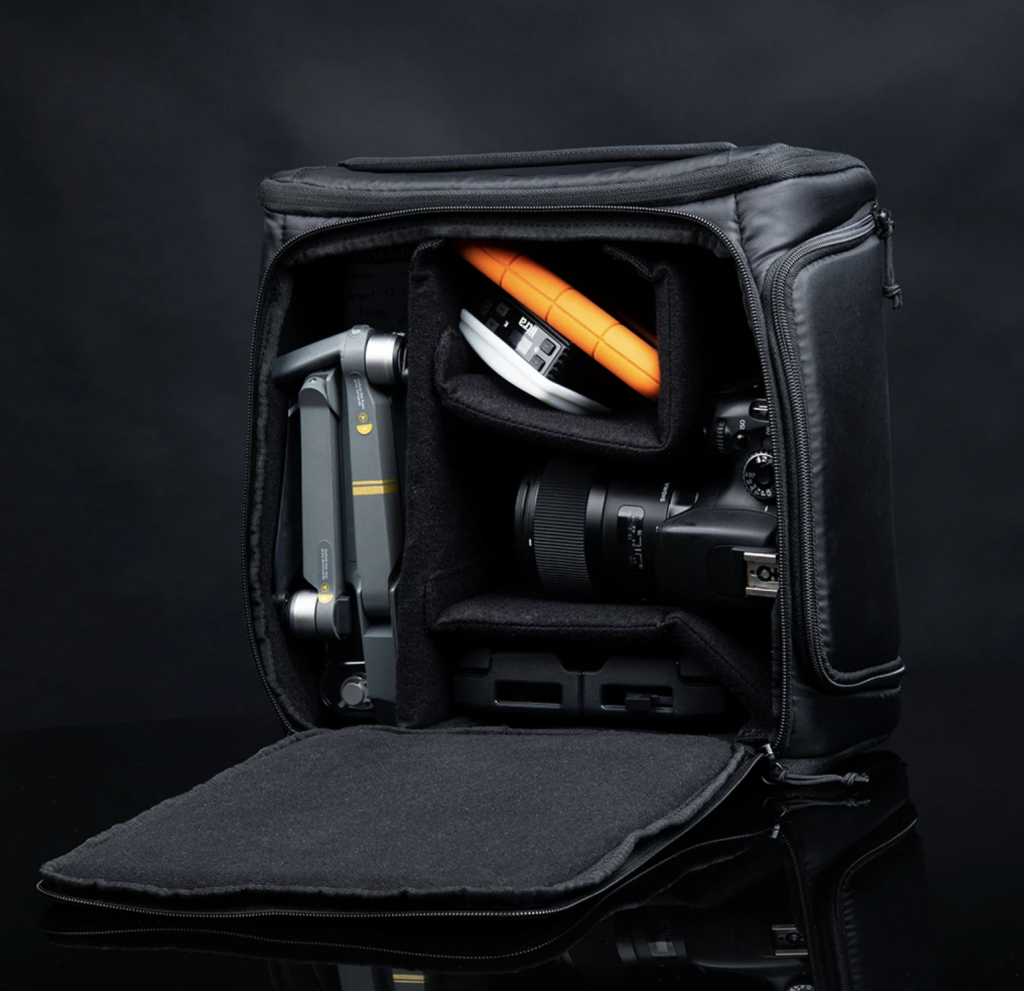 This collapsible DSLR camera bag insert can fold flat like a cardboard box. Its dimensions are 11.5" x 10.5" x 5", so it can fit your standard DSLR, plus a few extra pieces of gear. It's very light, so it won't weigh down your bag, but the padding is thick enough to protect your camera equipment.
This bag is made of waterproof polyester fabric with detachable dividers. It has a padded handle so you can carry it on its own or easily pull it out of your diaper bag. The dimensions are 9.5" x 6.5" x 5".
---
All of these DSLR camera bag inserts are great options for keeping your camera safe. You can make any bag a camera bag!
If you're looking for a dedicated camera bag, check out this series of camera bag guides: