A camera bag is a necessary piece of equipment, but it can be extremely expensive. Plus, too many camera bags are made of boring, black nylon and look like something you'd find at Radioshack for old guys. If you're looking for a cute, affordable camera bag for women, then you're in the right place!
We've gathered a 20 budget camera bags - some under $30 and the rest under $50!
Check out this list of the best affordable camera bags for women that have great reviews.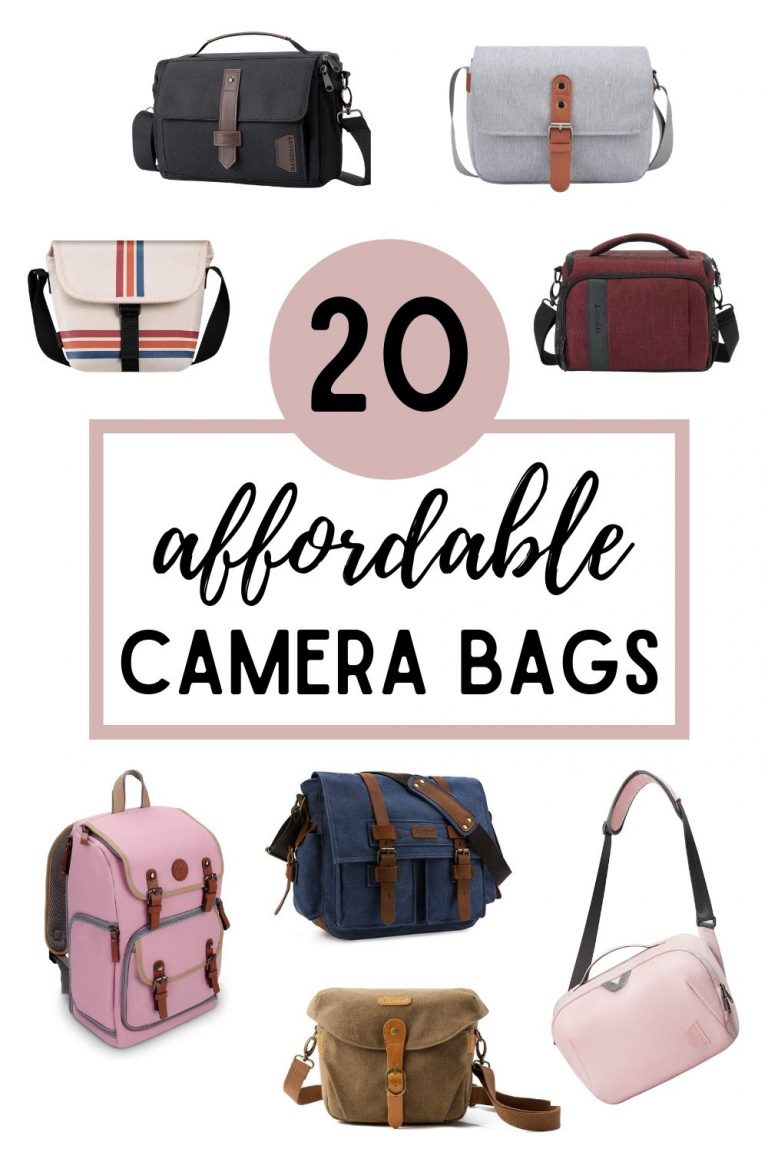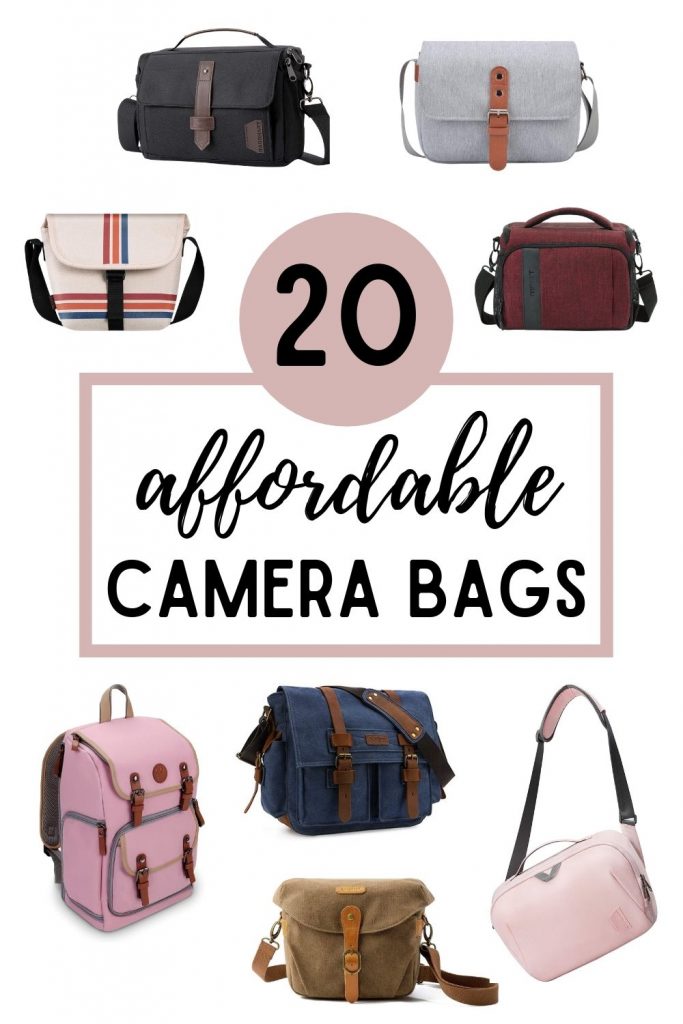 Cute Affordable Camera Bags for Women Under $30
Keep in mind that with a lot of camera gear, you get what you pay for.
So while it's not necessary to spend hundreds of dollars on a bag, recognize that budget bags probably won't last as long, nor may they be as durable, as more expensive bags.
Amazon's choice for "camera bag for women!" You know that Amazon's choice badge can't be manipulated, so this bag has got to be good. It does come in black if pink isn't your thing.
Price: $29.99
Features:
Main compartment large enough for any standard DSLR and an extra lens
Padded dividers to help protect your camera gear
Extra pocket with memory card slots, your phone, keys, or other accessories
Sling/purse style or crossbody
Black or pale pink
Note: This bag won't fit extra things like a laptop or water bottle.
This is a classy canvas camera bag. It comes in black or khaki and is a good budget camera bag.
Price: $27.99
Features:
Main compartment can fit DSLR with an attached lens and 1-2 additional lenses
Additional pockets for cables, phone, batteries, memory cards, and other accessories
Made of durable and water-resistant canvas
Note: This is quite a small bag, so there isn't room for a laptop, water bottle, or other equipment. But it still is great for walking around.
This adorable striped bag is reminiscent of the old Polaroid cameras - in fact, it was custom-made for the Polaroid Originals camera!
It would be great to hold an Instax camera or a compact camera, especially for a teen.
Price: $29.99
Features:
Small, crossbody bag intended for Polaroid or Instax camera
Zippered pocket for Instax film or phone
No interior dividers
The striped version has a nylon strap and buckle closure
Note: Some of the other colors have a velcro closure instead.
This small bag comes in two colors and it's just big enough for the essentials! It has only one divider that could separate a DSLR from a lens or could be removed to use with a mirrorless setup.
Price: $16.99
Features:
Black or grey waterproof fabric with leather detail
Adjustable shoulder strap
Velcro closure - I personally like more security than velcro but this is sufficient in most cases
Price: $27.99
Features:
Water-resistant fabric
Black or grey textured material, water-resistant fabric with contrast buckle
Crossbody, shoulder bag, or messenger handbag
Main padded compartment with adjustable dividers
Price: $26.99
Features:
Small, casual bag with a vintage/rugged style
Water-resistant canvas
Lightweight for travel or day trips
Shoulder strap
Adjustable dividers
This small bag can fit a DSLR or compact camera, plus a charger or additional lens. The grey color is super neutral, and the buckles are a nice detail!
Price: $22.99
Features:
Very compact bag - just big enough for a small camera and 1 extra lens
Waterproof canvas with zippered compartments
Has a shoulder strap
Comes in grey or army green options
Note: The way the bag unzips would make it hard to access your camera quickly
This one comes in a weathered blue, red, or grey. I love the classy texture compared to a solid! It can be easily packed in other luggage if needed.
Price: 29.99
Features:
Top handle or removable shoulder strap
Padded, removable dividers to make 1-3 compartments
Large zippered pockets for other accessories
If you want a discreet black bag, this one stays fun with a pop of purple inside.
Price: $19.99
Features:
This is a small bag, just enough space for your camera and accessories
Comes with a shoulder strap or use the top handle. Would tuck nicely into a second, larger tote bag or purse.
Multiple accessory pockets, single adjustable divider
If you need a bit more color in your life, this minimalist bag has a pretty green flap. It's great for everyday use and small enough to pack inside a larger purse or diaper bag if needed.
Price: $28.90
Features:
comes in two sizes and three colors: this green & khaki version, a black, or a gray
has two dividers and a large pocket
crossbody style with an adjustable shoulder strap
If you just need a small bag for your camera, this is a great option. It's made of neoprene, wet suit material, and comes in several interesting patterns. It's easy to use and carry over your shoulder or pack inside a larger purse or tote if needed.
Price: $24.99
Features:
Top loading camera bag with shoulder strap
Very lightweight
Fits basic DSLR and small lenses easily. Not meant for large pro gear or long lenses.
Comes in rose floral, geometric, stripe, polka dot, southwest, galaxy prints to fit your style
Cute Affordable Camera Bags Under $50
Need an affordable camera bag? This is a casual option that comes in several color options. There is a removable camera insert to pad your camera and lenses.
Price: $43.99
Features:
Spacious enough to hold other essentials like headphones, notebooks, a water bottle, etc.
Can fit a small laptop or tablet alongside your camera and lenses
Sturdy, padded material to keep your things secure
Several color options: a classy blue, black, brown, khaki, green, and grey
2. Pink Backpack (or Coffee, Grey, Black)
Pink is always an option in my book! This cute, affordable camera bag comes in a pale pink, coffee brown, grey, or black. It's a super classy way to keep your gear on your back!
Price: $39.99
Features:
Customize the space by moving the dividers
Pink, coffee, grey, or black
Quick side access
Laptop sleeve
Side pocket for water or tripod
This backpack has the cutest striped camera case to hold your gear. A simple bag like this one might be just what you need!
Price: $46.99
Features:
Comes in black or pink, with included striped case
Has a laptop sleeve and interior pockets, with a separate compartment for the camera
Hidden rain cover to protect your gear
Casual style
This leather satchel is like a messenger bag. It has a worn-in, casual look that travels easily. It's not particularly feminine in the product listing, but there is a very pretty picture in the reviews that makes me believe it could be styled differently.
Price: $39.99
Features:
Real leather, so it should get better with time
Just big enough for the basics - camera and 1 extra lens
Has a divider but it is not adjustable
Note that this is real leather, so it may have an unexpected smell
This canvas bag comes in khaki or a darker brown. It's definitely the affordable camera bag that flies under the radar. But that's the whole point, right? A cute, affordable camera bag that doesn't make it obvious you're carrying expensive gear.
Price: $32.99
Features:
Canvas shoulder bag, messenger style with buckles
Interior zippered compartment holds a padded camera sleeve, and the whole padded section can be removed
Lots of pockets for various items
Tripod holder on the bottom of the bag
This backpack comes in pink, purple, or several neutral colors here. It's a solid option for keeping your gear on your back without spending a lot.
Price: $49.99
Features:
Adjustable interior dividers to help separate extra lenses or gear
An additional padded compartment that can fit a small laptop or tablet
Lots of zippered pockets
Price: $49.99
Features:
Bottom layer is designed to fit DSLR and 3-4 professional lenses
The top layer can fit travel necessities and extra pockets for small accessories
Front zippered pocket for phone and side mesh pockets for water bottle or tripod
---
There you go - just a few of the best affordable camera bags for women. Did you see anything you like? Let me know below!