There are lots of different styles and sizes of camera bags. A compact camera bag is perfect when you don't need to fit extra items, and just want something small to safely store your camera gear.
Compact camera bags are especially nice when you are carrying it in addition to a purse/diaper bag and don't want another big, heavy bag to cart around. For example, if you're heading to the park or zoo with your kids, you'll want something to keep your camera safe while being small enough to fit in the stroller with another bag.
If you need a compact camera bag that is just the right size for a camera, battery, and extra lens, then check out this list of small camera bags for women!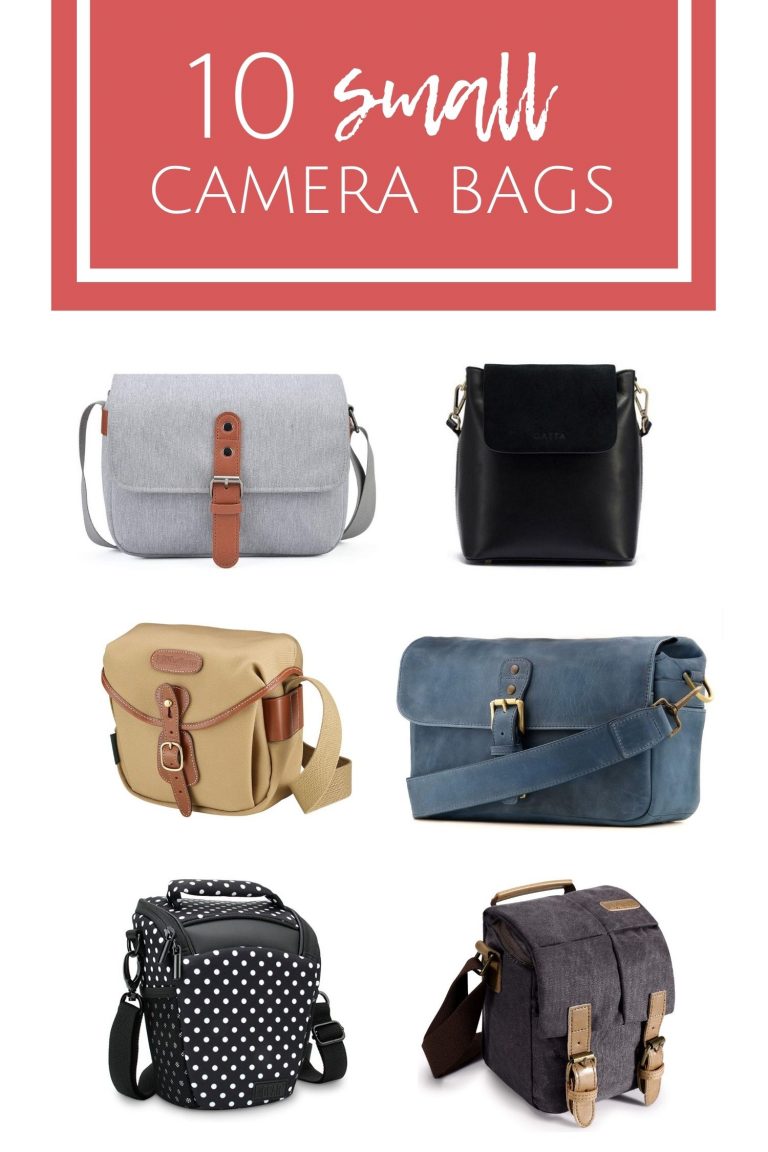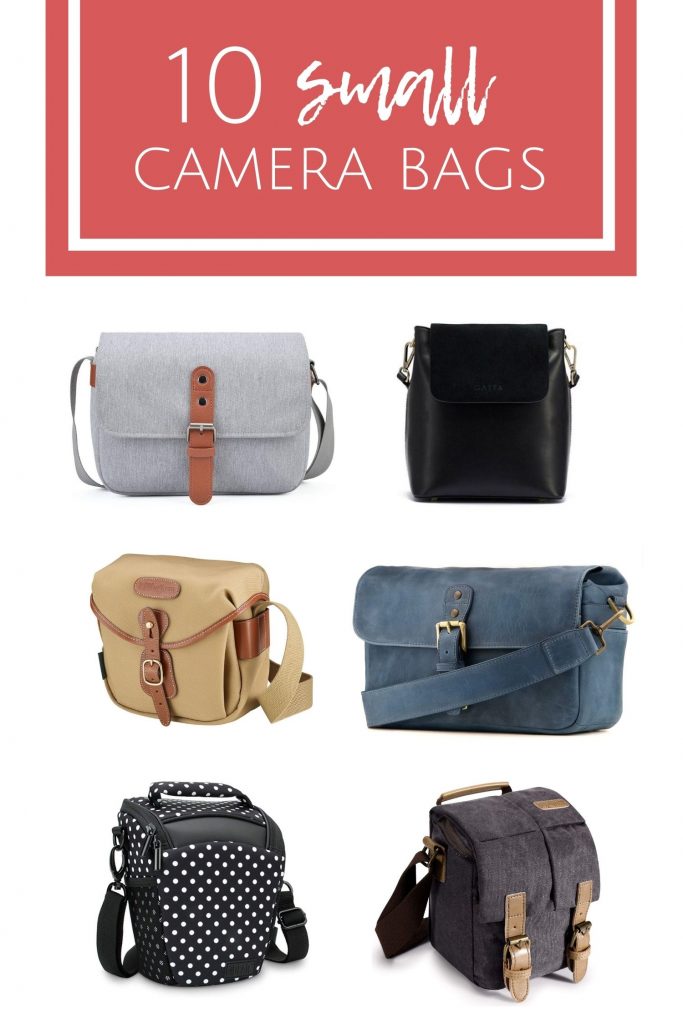 Compact Camera Bags for Women
We define "compact" as a small camera bag, about the size of a lunchbox or smaller. There is usually room for a single camera, and possibly an extra lens or battery. Some of these are intended for DSLR cameras, while some are intended for a smaller mirrorless camera or compact camera.
If you're looking for something a bit bigger, then try this list of medium-sized camera bags for women.
I adore the look of this compact camera bag! The colors are super classy, including an olive green option.
The leather is so supple and pretty, and it's got great padding and dividers. My one qualm is that the crossbody strap isn't padded, but it will totally work as long as you aren't wearing it for hours on end.
Features:
Comes in super classy colors: olive, maroon, mink brown, black, and more!
Genuine leather exterior lined with heavy-duty, shock-resistant material
Large enough for DSLR camera, 1-2 lenses, and camera accessories
Pockets at the front and sides fit notebooks or small electronic devices
This is a great bag that doubles as a purse for an outing! You can easily fit a wallet and phone inside along with your DSLR.
This bag in a nutshell:
Main padded compartment for your DSLR and an extra lens
Extra pockets for spare batteries, memory cards, and other essentials
Open side pockets for a small water bottle
Sometimes you just want to get out and shoot without carrying a full backpack. This water-resistant messenger bag is an excellent compact bag for carrying your camera! I especially love that it can be carried like a handbag or a crossbody with the included strap.
Features:
Main compartment with dividers for DSLR camera body and lenses
Made from water-resistant canvas
Crossbody, shoulder, or handbag options
Discreet and good for travel
Additional pocket in the front for phone, battery, or other small accessories
(There is also a larger size if you want something just a bit bigger so you can fit an extra lens.)
Keep in mind: Due to the front buckles and zipper underneath, this is not the best compact camera bag if you need quick & easy access to your camera.
This is a very cute and discreet bag, especially in the grey color. You can fit a DSLR and extra lens, and there are dedicated phone pockets as well.
My only qualm about this bag is that there isn't a zipper to keep it closed, just a magnetic snap and two pieces of velcro. That makes it quicker to open to get the shot, but not as secure either. So, depending on how hard you are on your bags, that might be an issue.
Features:
Inner bag pocket made of 7-layer shockproof foam
Two pockets in the front for phone, keys, memory card, or other essentials
Fits your camera and extra lens
This compact case is not actually a bag - it's more of a shell that pads your DSLR without leaving empty room for it to get jostled. This might be the perfect option for you if you'd like to keep your DSLR inside a bigger tote bag or purse so you don't have to carry multiple bags.
This case in a nutshell:
Durable hardshell exterior and foam interior to give DSLR extra protection
Velcro flap allows easy and secure access even while case is unzipped
Does not include a strap - just a carrying handle. Meant to be tucked inside a larger bag or work on a belt.
Keep in mind: This bag only fits a standard DSLR camera and kit lens or smaller. So it won't work if you're using a long zoom, like a 24-70mm.
This is from the same company as the above shell, but it's actually a small bag. It comes with a long strap and is perfectly sized/padded for a DSLR camera.
About this case:
Soft, scratch-resistant, padded interior with an adjustable padded divider
Internal accessory pouch and exterior netted pockets that provide space for accessories
This bag also comes in a floral pattern, as well as geometric, southwest, tribal, striped, and plain black!
This is a very compact camera bag, so it doesn't have extra space for items beyond your gear. But it's super cute and comes in several different color combinations.
Features:
Constructed from 3-layer material with real leather buckle and fixings
Soft, padded, removable insert to separate and protect camera equipment
Adjustable front pockets and 5-year manufacturers guarantee
This classy bag is just about perfect - comes in great colors, not flashy about your gear, and quite stylish!
good size for a small DSLR or mirrorless camera body, plus one more lens
padded interior and adjustable divider
crossbody style
comes in several colors: maroon, black, brown, mink, olive, blue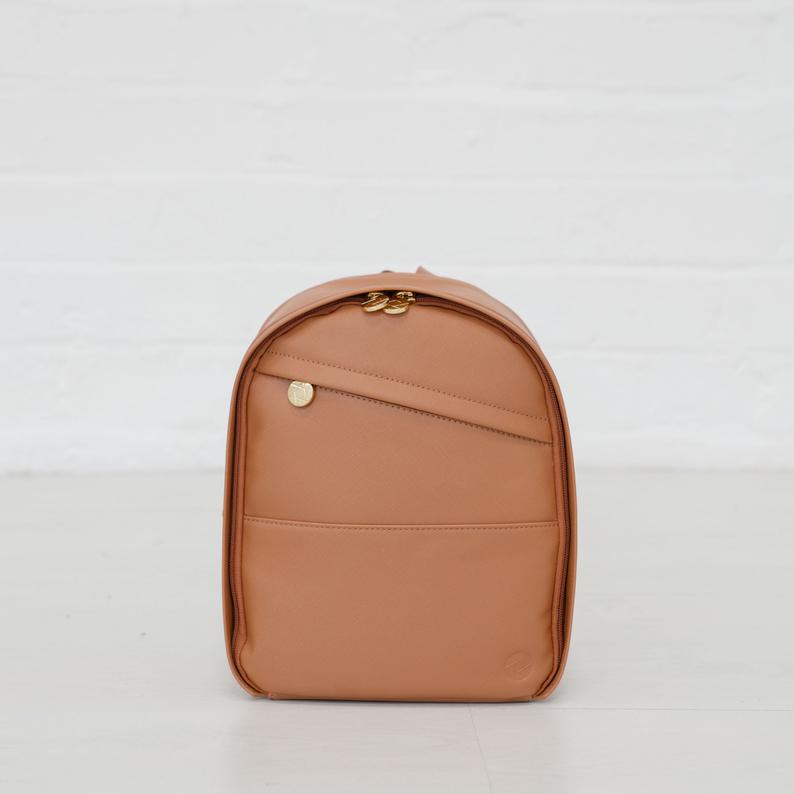 Backpacks can be compact camera bags too!
You can customize the interior however you'd like, and it's surprisingly roomy inside! It comes in this pretty cognac, black, or a light grey.
Features:
Fits a DSLR camera plus an extra lens
Front zip pocket for small accessories and separate pocket in the back for a tablet
Removable and customizable velcro dividers
This is a simple but sleek bag. It's very small, but can keep your gear secure and away from other items.
Features:
Padded velcro divider that can be removed
Can fit standard DSLR and 1-2 lenses
2 side pockets for small accessories like batteries or memory cards
Note that there isn't a ton of padding on the bottom of the bag, but you could add some.
Have a compact camera and feel like some of the other options are too big? This compact little pouch is perfect for a small camera body, such as a Powershot line, or the SL2.
Very small camera bag for a compact camera (most DSLR bodies will not fit).
Top handle and shoulder strap
Brown, Dark Brown, or black
This bag comes in several sizes between these two listings, so be sure to get the one that is the size you want. The smallest ones are great for a compact camera, and the medium sized ones can fit a DSLR and additional lens.
This simple bag comes in lots of fun colors - hot pink, sky blue, lime green, and more! It's a simple way to keep your camera safe and secure while traveling.
Lots of fun color options
Top carrying handle and removable shoulder strap. Easy to pack instead a suitcase if necessary.
Plenty of pockets for DSLR accessories, like a charger, memory cards, etc.
Note: Intended for a beginner DSLR with the kit lens, so it's not meant to store a second lens.
---
These small camera bags for women won't fit tons of stuff, but sometimes that's exactly what you need! You probably don't want to cart around a large bag when you're only heading out for a few hours.
Didn't find what you were looking for? Check out some of these options instead: