Now that winter is almost upon us, it's time to bust out the mugs for all those warm drinks! If you have been looking for the perfect gift for the photographer in your life, consider a cute mug!
I have searched out camera-themed mugs that any photographer would love to add to their collection. From mom-photographers to women who are rocking their own photography business, here are 16 options that are sure to hit the spot for a photographer in your life.
Some of these will be making an appearance in my cupboard soon!
Jump to:

---
Cute & Clever Word Art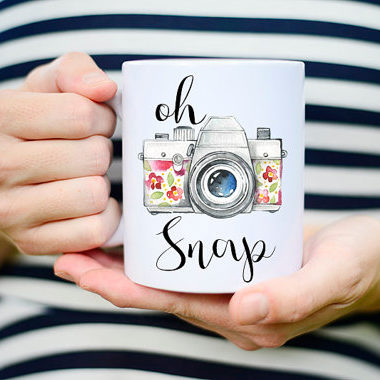 The camera on this mug is absolutely adorable! The floral print and brush lettering make this a sweet choice.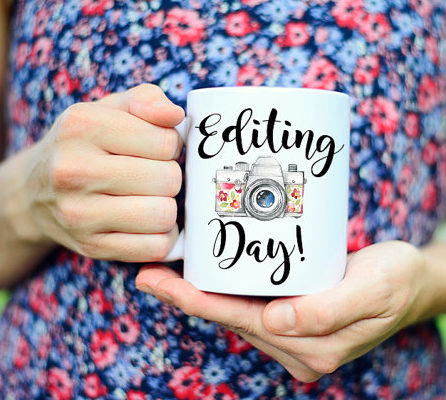 Have a long day ahead of you as you edit all those family photos from your recent trip? This cute mug will make it more enjoyable!
This mug will amuse any photographer who has found themselves in an awkward situation when they refer to "shooting" people... with a camera, of course!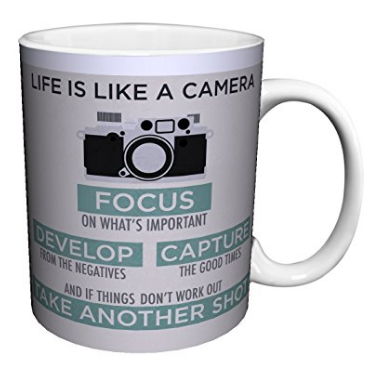 A lot of people love this quote. Get it on a cute mug!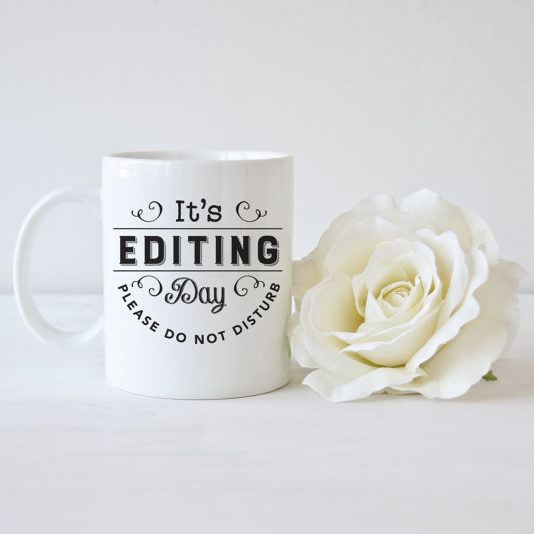 Editing Day - Do Not Disturb Mug
This is the perfect gift for anyone who has lots of editing to do - photographer or mom!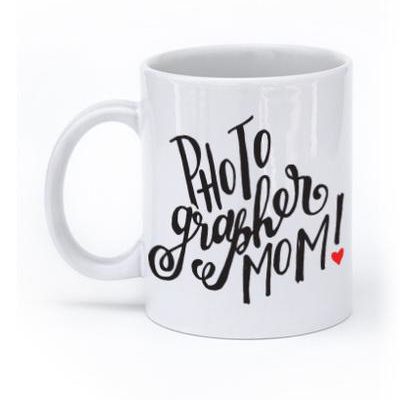 Photographer Mom Mug No longer available
This the cutest mug for moms who like to take photographs! Whether you take pictures of your own family or run a side business, this is a tribute to moms everywhere!
Photography Eye Chart Mug No Longer Available.
Yes, you are "seeing this correctly." Sorry, I had to! This clever graphic is a play on the eye chart at the optometrist.
---

Look-a-like Lens Mugs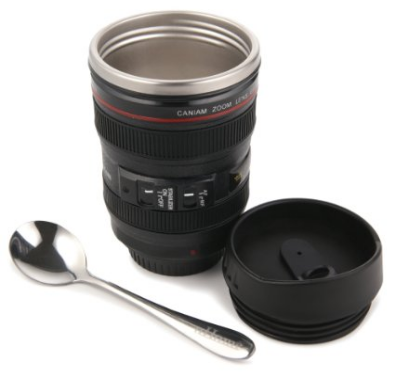 Look-a-like Canon Lens Replica Mug
This clever mug looks exactly like a Canon lens - it's super fun for photographers who already love their lenses!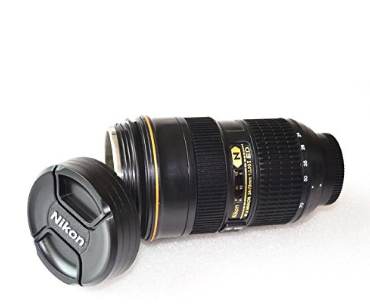 Look-a-like Nikon Lens Replica Mug
Here's the Nikon version of the above mug. The lens cap clicks on and off and it has a stainless steel interior. Just don't mistake it for your real lens!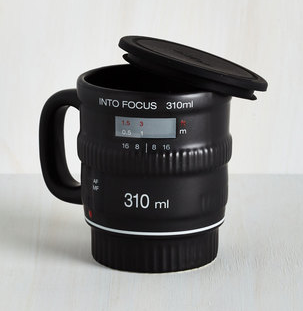 This one isn't as realistic, but it's still a super cute option for someone who wants a lens mug but likes a handle. I love that it has a lens cap too!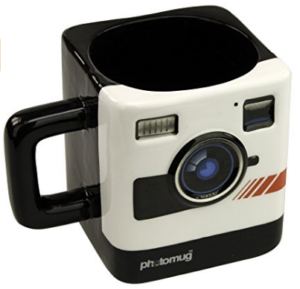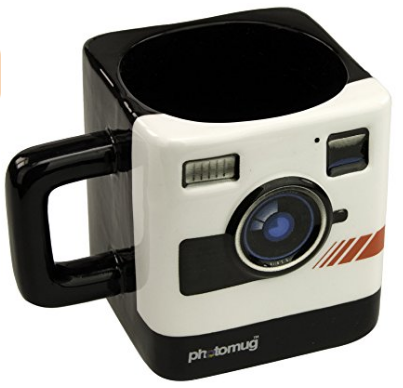 Retro Camera Mug - No Longer Available
This unique mug is a nod to the retro cameras of old. It's square and has plenty of vintage character!
---
Fun Camera Prints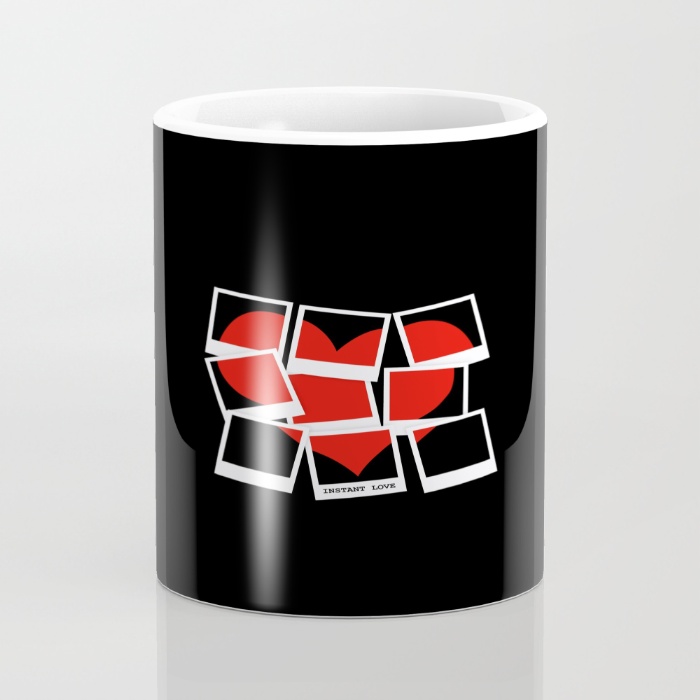 This one is called "Instant Love" which was a fun play on words too. I love the Polaroid look with the heart too!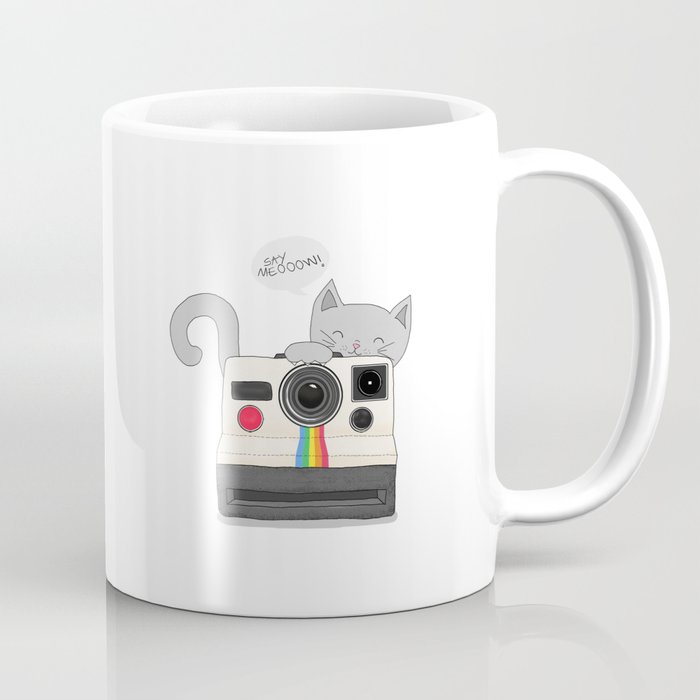 This one is super cute and fun! Society6 has TONS of other photography themed mugs, I couldn't put them all on here without overloading you - but I liked this multicolored one too!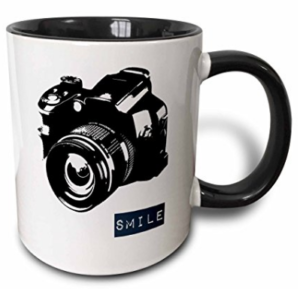 The two-toned design on the cup makes this one unique. It might be just the right photographer gift!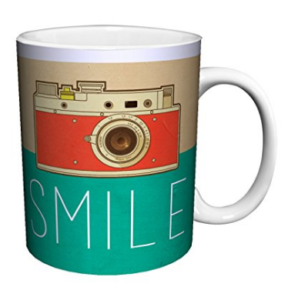 I'm loving the unique colors of this mug. It's a fun break from the usual black and white.
---
I hope one of these mugs is exactly what you're looking for. They certainly make me want to curl up with a warm cup of cocoa!
Even if mugs aren't your thing, check out our other photography gift guides. I'm sure you'll find something you love!