One of my favorite companies just announced a new product… Chatbooks is now offering Bonus Prints!
Chatbooks Prints come in packs of 5 as a $2 add-on to an Instagram series subscription. You can opt-in to getting prints when you sign up for a new subscription (or activate it on your email if you are an existing subscriber.) So, every time a new book comes in your subscription, you get a pack of 5 prints from the pics that are in that book. For just $2 a pack! It's a great deal for high-quality paper prints.
The prints themselves are 5×5 inch square, on thick card stock. They have a white border all the way around, so the image is a bit smaller. If you're wondering, the technical details are 120 lb paper, smooth finish, acid-free, and archival quality. The print quality is the same as the books, which I've found is very good if I'm uploading well-lit pictures that aren't overly filtered.
At the moment, there is no way to order them separately, or order prints with a Custom Book. I hear that more options might be coming in the future – but right now you can't make a one time purchase or just order a stack. They are just Bonus Prints with Instagram Series subscription.
I seriously love Chatbooks and have a great relationship with the brand, so I put together this primer of details for you:



How to Choose Your Chatbooks Bonus Prints:
Chatbooks automatically picks photos to make into prints, so that you don't have to! Of course, you can always re-pick which pics get made into prints yourself – but sometimes automation is nice if you have decision paralysis. 🙂
And, Chatbooks has a special "recipe" that takes into account the likes/comments on each post, so they usually do a pretty good job picking which prints you'll love!
If you already get Chatbooks delivered to you:
If you are a previous subscriber, you have two options: you can order prints from all your past books at once, or you can start here and go forward. Either way, you'll pay $2 for 5 prints, per volume in your series. If you want to get a nice stack of images from your previous volumes, then the app is set up for that already. If you just want to start going forward, then you'll need to email Chatbooks support (support at chatbooks dot com) or to cancel the other prints. You can't cherry-pick only some of your past volumes to print though – it's all or nothing for this initial launch.
You have to click on an email in your inbox to activate prints in your Chatbooks account. Check your inbox – and if you don't have it then email support and they'll get you going. I had to email them but they fixed it in minutes!
Click on your subscription in the app, and "Edit Book" for your most recent, unshipped book. You won't be able to choose prints from this book yet, but that's how you get into your locked books. Scroll up to the previously ordered books that are grayed out, and you'll see the letter P in the corner of some of your images. This icon means this image is included in your initial Bonus Prints order!
To change or swap these images, simple tap on the three dots on the top right, and tap "remove from print pack." Then, go tap a pic you do want a print of, and tap to "add to print pack" or "include in bonus prints." depending on your phone. That's it!
If the image you uploaded was not square, then you have the choice to crop it to a square or force a rectangular image with white borders to make a square print. I've done both, depending on the picture and if the layout was important. To edit the crop, you have to remove and re-add the picture to your print pac to get the crop options. They pop up when you try to add any picture – and then you can reposition your square print area. Use the regular Apple motions with your fingers to move the crop box accordingly: tap and slide to reposition, and then pinch to zoom in and out.
FYI: You can't pick prints for the book you're currently adding pictures to until it hits 60 images. But, that's the way you get into your locked book to choose prints, since your initial order is more of a back-order. If you just got a book in the mail, you'll need to add one more image to start your next volume, and then you'll be able to edit your prints.
If you've never ordered Chatbooks before:
Go download the Chatbooks app from the Apple Store or Android store. Make an account, and start an Instagram series. You'll need to connect your Instagram and/or Facebook and let it upload all the images you've posted already. You'll have the chance to order all your previous posts in separate 60-page volumes. If you don't want all your past images, just click select in the top corner and unselect the pics you don't want included in a book, until you get down to a more manageable number.
Chatbooks will automatically choose which pictures to include – and they usually do a really good job of this! One of the beauties of Chatbooks is that it helps you get your photos in your hands, automatically, so you don't have to worry if you don't have time/mental energy to choose these yourself.
Of course, you can still edit which picks you want. Just click the edit button under the cover of each volume and look for the P in the corner of some of your images. This indicates it's been preselected to be one of your Bonus Prints. You can click on each image to deselect it from your print pack, and then tap on a new image and add it to your print pack. Easy peasy!
Feel free to adjust your crop on rectangular images as you go – you can either keep the square crop or have more of a white border around rectangular images.


Your first order of Prints, and what happens on future Chatbooks orders.
If you choose to do a "catch up" order from volumes you already have on your shelf, then your prints are mailed to you separately. They come turtle speed, which means they are slow and untrackable, but it's free!
From now on, whenever you hit 60 pages in a book you'll get an email with a 3 day warning before your book ships. That's when you choose and confirm your prints! And if you don't get around to it, rest assured the Chatbooks algorithm will pic good ones for you. I love these ones they picked for me!
Then, your print pack comes packaged with your book each time you have a volume mailed out to you. The prints are super fun to have!
---
What to learn more about Chatbooks? Check out these posts!
Intro to Chatbooks and a FREE code here!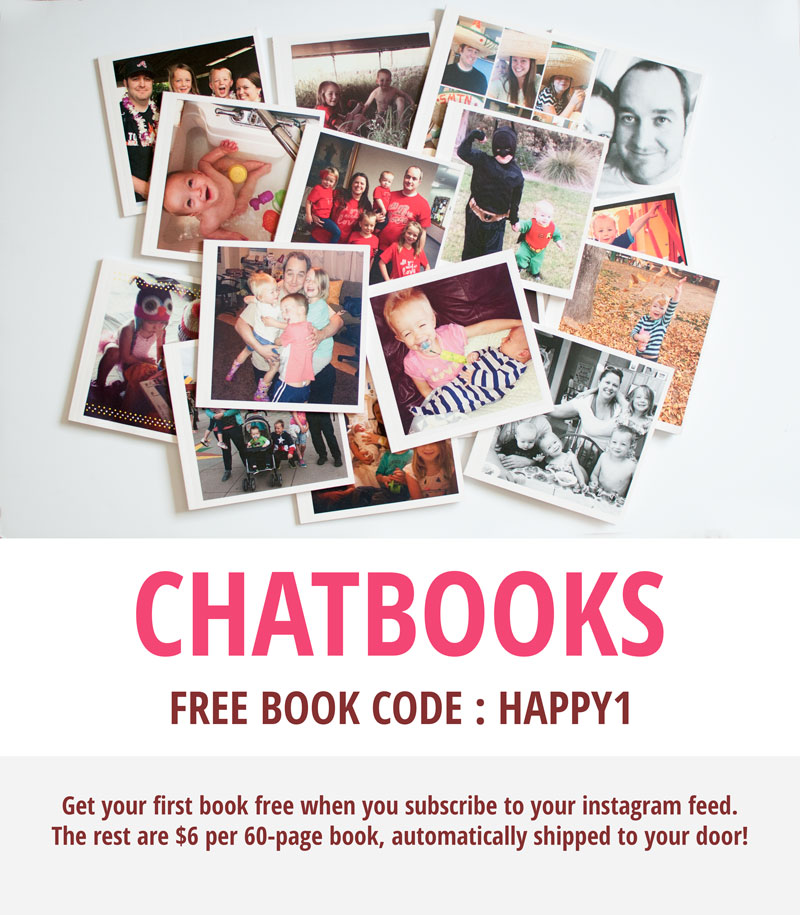 Features of the Chatbooks here