Have you heard of Chatbooks? It's an awesome photo printing app that was just updated with some pretty cool new features! It takes photos from Instagram, Facebook, or your phone and puts them in super cute little books. It's better than ever!
How much of your life is in pictures? All of it, right? You post certain things to Instagram, some things to Facebook, and some memories never make it out of your phone. Those pictures deserve to be printed! And Chatbooks makes it EASY to hold what matters to you.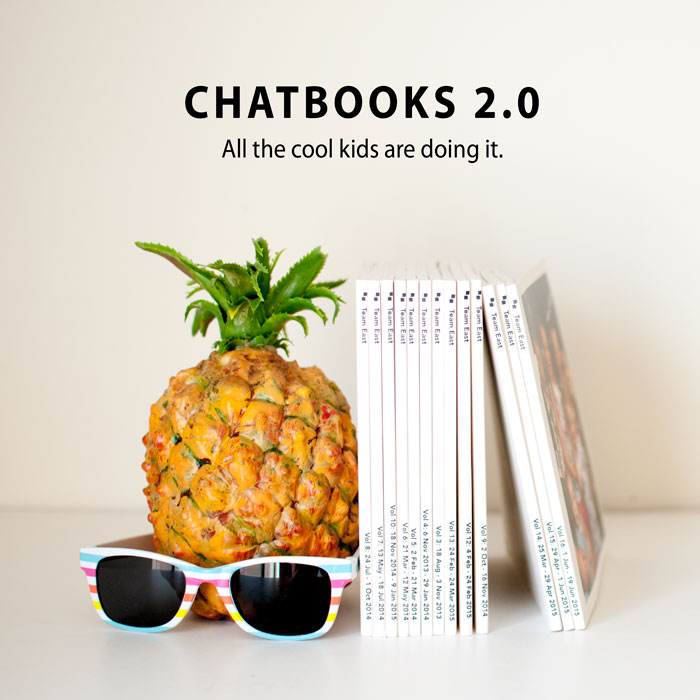 How Chatbooks Works:
You subscribe to an Ongoing Book Series. You can link up your Instagram, your Facebook, and even access the camera roll pics you've marked as favorite. All the pictures you've already posted get filtered into 6-inch square books. Each volume is 60-pages long, just $8, shipped to your door. You can always edit your captions, the order of the photos, or exclude photos entirely. Easy-peasy!
The genius part is that it automatically pulls new photos from your Instagram and Facebook feeds, so you get a new book every time you hit 60 more photos. The app notifies you every time there are 60 more photos, and you have three days to view and edit the book, in case you want to change anything. Then it automatically bills and ships, without any work on your part! Can you say happy mail day!?
Want to try it? Head over here to get started! More details at the end of the post- but to clarify, this code is to get the first book in a multi-volume series free.
Chatbooks was already awesome, but they've just updated their app to include some extra cool features!
NEW FEATURES OF CHATBOOKS 2.0
New Ongoing Series instead of just Instagram Series (Facebook and your phone pics!)
In the old Chatbooks, Instagram photos couldn't be combined with photos from other sources, like your phone's camera roll or Facebook. This was a bit frustrating, because sometimes you have cute pictures that you don't post to Instagram but still want in your family memory books. Don't you worry – you can put any of your Instagram, Facebook, and camera roll favorites in your books (and they are working on Google Drive, Dropbox, and others as well!)
Just link up your accounts and all your memories get automatically pulled together on the app. It's genius and SO convenient!
Filter Books by Hashtag
Want a book of just one hashtag? You can do it! Start a new ongoing series and when you link up instagram, you can filter by hashtag. PERFECT for project 365, event specific books, or showcasing one kids's growth over time!
Create Books with Multiple Contributors.
You can also "share" photos by creating series with multiple contributors – there's an add user function that lets you each use a special code to access different all your photos in the same book series. This is super fun for cousin books, teams, or with a groups of friends!
Just link up your accounts and all your memories get automatically pulled together on the app. It's genius and SO convenient!
Ability To Change The Order of Pictures
You know how you don't always post things in order? Like for Throwback Thursday, or you food some old vacation pics that you adore? Now,  you can change the order of your pics in your book! Just tap, hold, and drag & drop into the new location.
Ability To Edit the Date
You can also manually change the date on any photo. Just tap the 3 dotes below the picture when you're viewing it, and choose "Edit Date." This is especially helpful if you've changed the order of some pics.
International Shipping!
People around the world #lovechatbooks – but until now, there was no easy way to get those books overseas for cheap. Chatbooks was finally able to work out a solution for international shipping for the standard 60-page books, it's just $2/ per book. That brings your finally book cost up to just $10 a book, which is still awesome for getting a book from the US to another country!
International shipping at $2/book applies to Canada, Australia, Japan, Italy, Spain, Germany, Portugal, Brazil, Mexico, France, The UK, and New Zealand . More coming soon!
(They are still working on a solution for the custom books with variable number of pages – but I trust Chatbooks will come up with something simple and affordable for these too!)
Pricing: Still a deal at $8 a book, shipped.
The price per 60-page book is $10, shipped to your door. Honestly, this is STILL a screaming deal! It's your memories, automatically published in a book, printed and shipped with no effort to you. The convenience factor here is HUGE.
Want to share the good news with your friends? Pin it!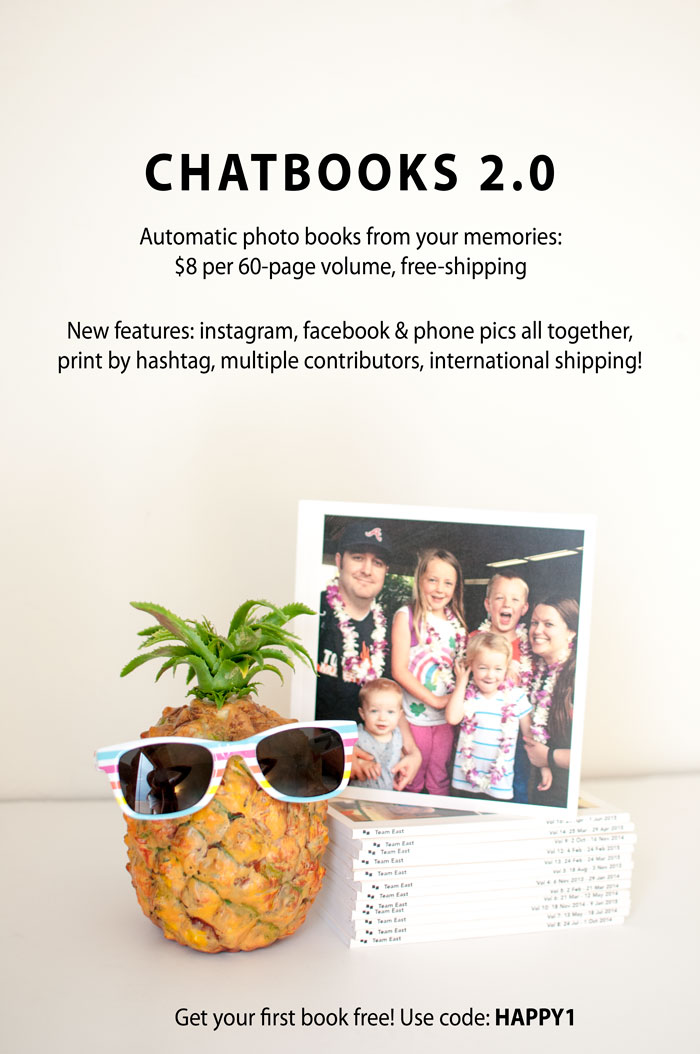 Have any questions about Chatbooks? Send me an email and I'll get right back to you, or read these other two posts for more information:
Chatbooks and Free Book Code
Chatbooks is available for Android Users!