I want to tell you about my very favorite photography resource for moms - Click Magazine! It's a gorgeous magazine for female photographers, or as their tagline says, "for the modern photograp[her]."
Click Magazine is inspiring and educational: every single issue gives you information and content that helps you be a better photographer! Whether you're documenting your family or taking pictures of clients, Click is a fantastic resource for creative women.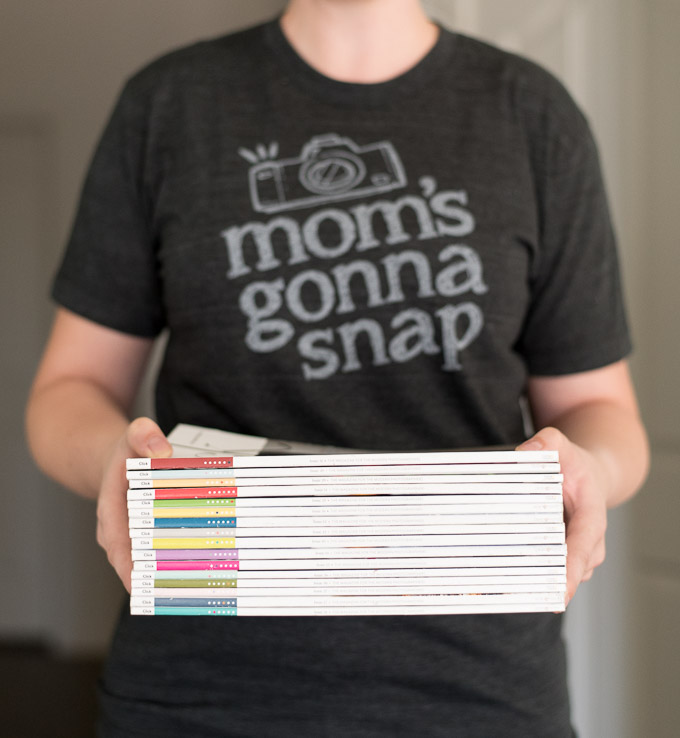 See my big pile of Click magazines? I've been getting them for almost four years, and you can see that my issues are well-loved! I'm even missing a few because I keep wrapping up the current issue to gift to friends when I buy them a subscription for their birthdays. 😉
Are you a Click subscriber yet? Let me tell you more about why I love it!
---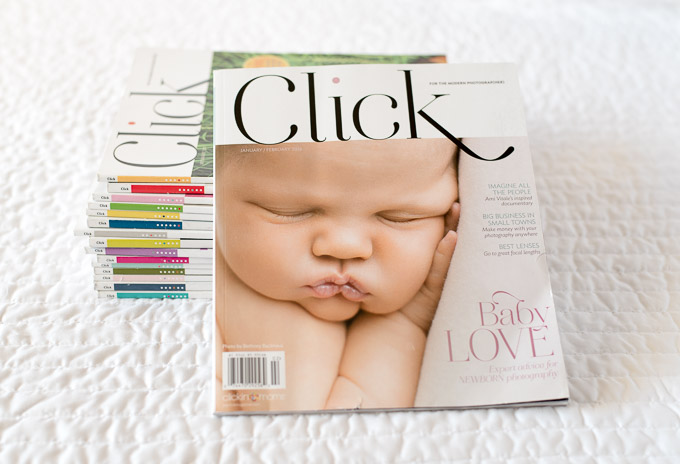 WHY I LOVE CLICK MAGAZINE AS A MOM
1. Click is for all skill levels and genres.
Click Magazine appeals to both hobbyists (those who shoot for themselves) and pros (those who shoot for paid work).
The content includes all different genres of photography: kid portraits, candid lifestyle shots, birth photography, still life, street shooting, wedding portraits, and even pet photography!
Even within a genre, there are tons of different styles included. They've got editorial, colorful, moody, bright, detailed, whimsical, and candid. It's always inspiring to see the huge range of creative expression and individuality displayed in Click.
2. The goal of Click is to educate women.
Photography is such a competitive market that many local photographers hold their "secrets" close to their chest - their methods, their strategies, their locations, even what gear they use. It can be frustrating to get the answers you need.
But Click magazine isn't like that at all. It's a helpful, supportive resource for women to learn and grow together.
In every issue, top-notch photographers provide photos and guest articles. These talented women share everything - they actually WANT you to succeed! It's so useful to get a fresh look at how people think and to see the steps they take to make their vision a reality.
The content in Click works for professionals as well as moms who want to document their children in a beautiful way. Much of the content focuses on little things that are hard to just pick up on your own.
For example, I've recently seen content on:
what angles are flattering for different ages
verbal cues to get great expressions
how to use light creatively
how to use a boring location effectively
workflow tips for posing and managing kids
how to compose photos in a pleasing way
picking a lens for specific situations, and more
Reading Click is like having a friend teach you all her best tips! It's an insider-look at how photographers think, shoot, and edit.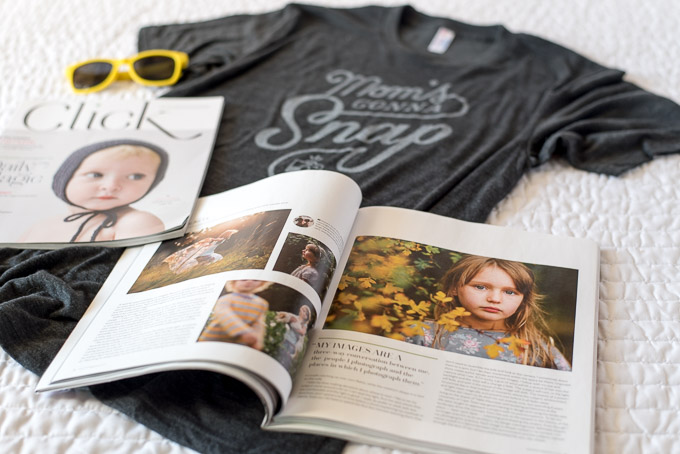 3. Click is a high-quality magazine, full of amazing images.
The photos themselves are absolute eye-candy: there are so many gorgeous shots by really talented photographers!
In general, Click Magazine is not your normal flimsy magazine on cheap paper. Photographers know that print quality matters, and this magazine does not disappoint. Click is printed on gorgeous, thick paper with super high-quality images. Holding it in your hands is a totally different experience than grabbing a gossip magazine off the grocery store shelf.
The newsstand price of Click Magazine is normally $36/year. I have been a subscriber for almost four years, and I always renew it online because it's a third cheaper than grabbing it from Barnes & Noble (although, if you want to get your hands on this month's copy, that is one retailer that keeps it on the shelf!)
4. But you can also get every issue digitally.
Click knows women are always on the go - so there's a digital version of every issue too! The digital version is included with your print subscription, and there's even a handy app for it.
I always download the digital magazine so I have it available when I find a few minutes to myself during the day (hello, school pickup line!).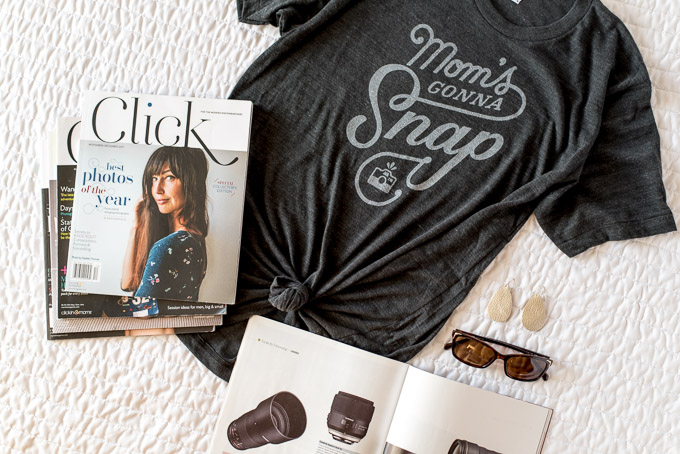 5. Every single issue pushes me creatively.
Click Magazine makes me feel inspired and more aware that everyone has different talents and styles. Instead of feeling overwhelmed and pressured to mimic other people (uh, Pinterest, anyone?) I feel my creative boundaries expanding as I want to try new things.
I think any photographer, no matter what level, could pick up Click Magazine and feel inspired. It's a breath of fresh air!
Too often we think our gear is holding us back and if we just bought a new camera or lens then we could take the pictures we want. But reading Click has helped me realize that photography has way more to do with the photographer than the camera. Click is all about pushing yourself creatively, no matter what gear you have.
6. There's a huge focus on capturing children and families authentically.
Click is such a good resource for moms who want to document their families better!
Since it's a women-owned magazine that's meant for other women, you can imagine that motherhood is a near-constant theme. Every single month, there are articles about shooting childhood authentically: getting natural poses, real connections, and photos that truly capture emotion.
If you want less cheesy grins and more raw emotion, then you will love the tips in Click!
---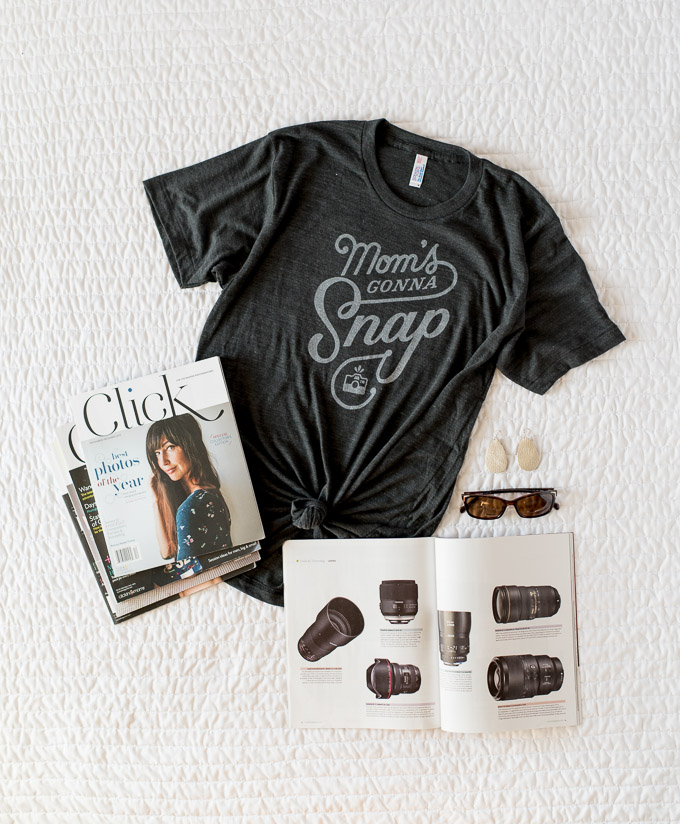 Whew! Have I convinced you how awesome this magazine is yet? I hope so!
I happily pay for Click every year: the subscription price for 6 issues of Click is $24, or $36 if you bought each issue individually at Barnes & Noble.
In case a subscription to Click Magazine isn't enough, the Click & Co store also offers tons of other adorable products!
I love this "Mom's Gonna Snap" t-shirt. It's super soft, comfy, and has a longer fit. And you better believe I love a neutral gray for shooting! (While it was available at the time of publication, the tee shirt is no longer available.)
Best of all, the clever slogan makes me smile every time. It's so perfect for mom photographers!
In fact, I think this makes an awesome gift for yourself. 😉 Head to the Click & Co store today to check out everything they offer!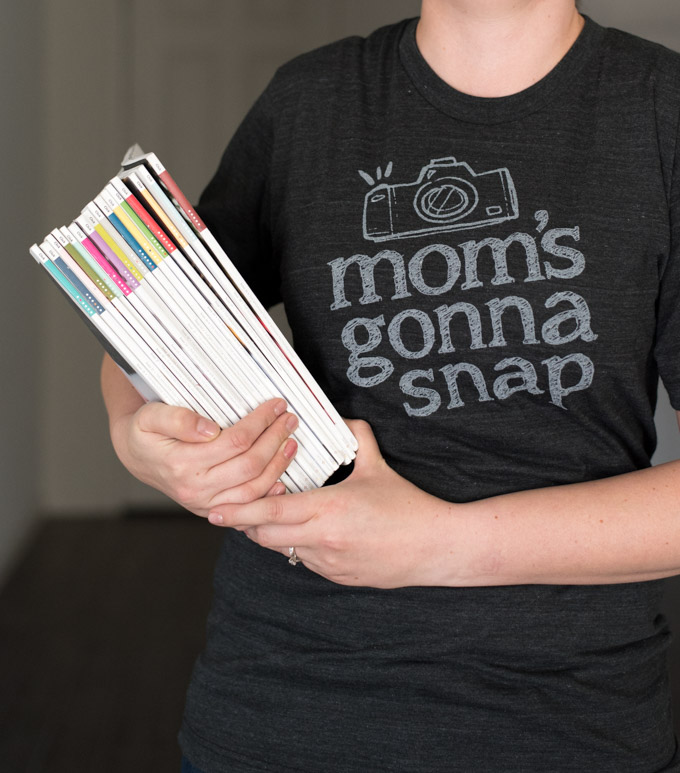 ---
COMMENT: What questions do you have about Click Magazine? Comment below and I'll answer them!