Going on dates when you have kids can be pretty tricky. It's not always easy to find a babysitter, and then the cost of dinner, activities, and paying for childcare can really add up! Sometimes it's easier to just not go at all.
But I'm a proponent of the importance of dating, no matter how big the hassle or how long you've been married.
So why not try out a monthly date night subscription box? I love that there are subscription services that offer monthly dates.
They take the stress out of planning and the prices are pretty comparable to a normal date night! Here are a few of my favorites to help you and your spouse with future dates.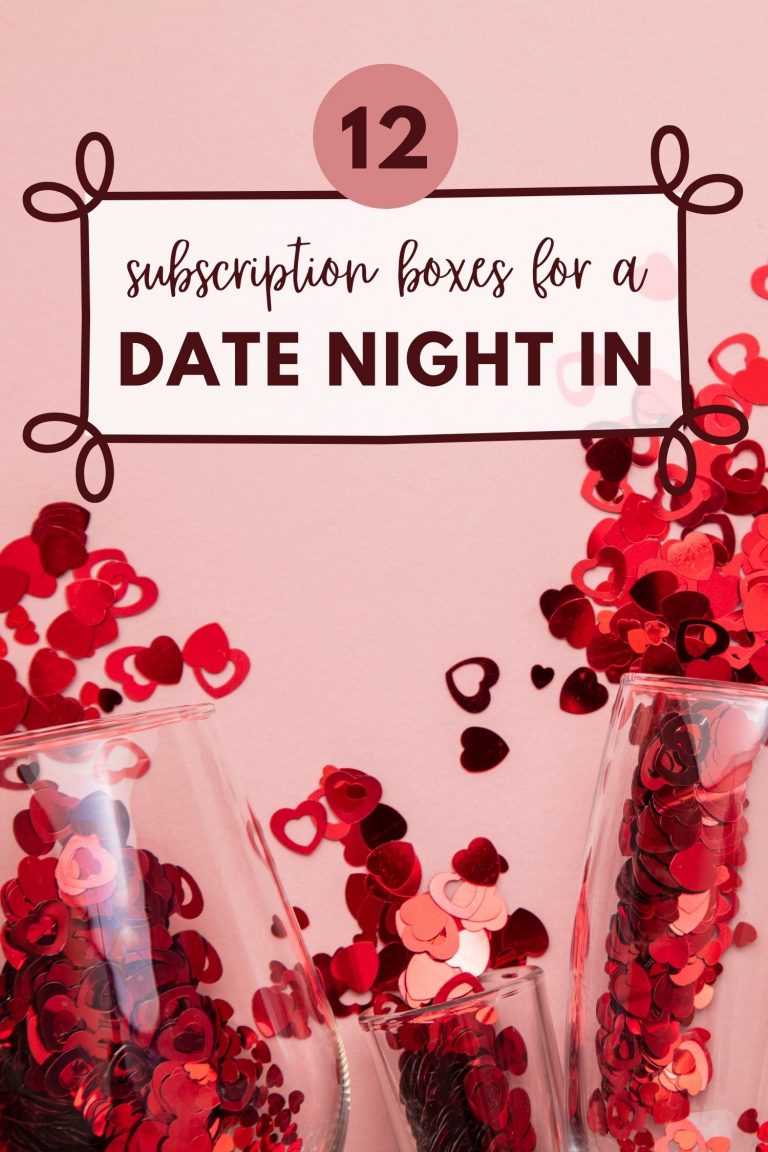 1. DateBox Club
Price: $40/month
DateBox includes step-by-step instructions and all necessary elements for their themed dates. They are designed to help you connect and try something new together. Some of their past themes have been travel, DIY, and game night. They keep the dates fun and engaging, so you may find yourself learning about a new food or painting a picture together.
They also offer digital dates for just $4.99 a date. It's delivered to your email and includes a PDF so you can just print it out and have fun. Love this idea!
Datebox Club is available here.
2. The Deadbolt Mystery Society
Price: $25/month
Any mystery lovers out there? Even though this isn't geared specifically towards couples and date nights, this subscription is great for you and your spouse if you like escape rooms.
Deadbolt Mystery Society is a monthly subscription of original, interactive mysteries. Each mystery is a new, stand-alone story and takes about 2-3 hours to solve. It works for up to 4 players, so you could even use it for a double date. Enjoy a night full of an original, compelling story with interesting characters and an immersive experience.
We've gotten almost six months of Deadbolt Mystery Society, and they are really fun!
The Deadbolt Mystery Society is available here.
(If you like the idea of a mystery or escape room box, check out this list for list more options.)
3. Night In Boxes
Price: $42/month
Date Night In offers custom-curated date nights to your door every month. You can enjoy them in your pajamas because, let's be honest, everything is better when you're in pajamas.
Each date includes a few interactive activities as well as snacks, accessories to set the ambiance, and special dinner menus and recipes.
Date Night In is available here.
4. Crated with Love
Price: $40/month
Crated with Love is a date night in a box subscription that is filled with unique and spontaneous items and activities focused on bringing you more romance and laughter. There is a new theme each month and no preparation is required.
Each box contains 4 to 6 date night activities and all the items you'll need for them. The dates are designed to strengthen your relationship while having fun.
Crated With Love is available here.
5. Happily Co. Date Box
Price: $40/month
Happily gives you everything you and your spouse need for a fun date night every month. The box ships free and always provides a new, unique date.
To make sure you and your spouse get a date you'll enjoy, you'll fill out a questionnaire about your interests, personalities, likes, and dislikes. Then Happily will be able to curate the perfect date for you.
If you don't want a physical date box, or you're looking for something cheaper, you can also get a digital date that only costs $7.99 for each one. It delivers right to your email inbox with all the instructions and ideas you need for a fun night!
Happily Co. Date Box is available here.
6. Unbox Love
Price: $45/month
Every date from Unbox Love allows couples to learn about each other and experience something new together. The contents of each box is a secret until you get it, so there's not much I can tell you about these ones. Unbox Love wants their dates to be a mystery, so hopefully, you like surprises.
Their mission is to provide products and experiences to help you and your spouse connect, appreciate, flirt, and laugh with each other. Most couples keep coming back for more after their first box, so it's definitely worth a try.
7. The Adventure Challenge
Price: $40/month
The Adventure Challenge is a bit different. First, you need to purchase the book The Adventure Challenge: Couples Edition, which is $40. Then, using the book as your guide, you'll get a new box each month that includes curated items to help you take each date to the next level.
The book has 50 date-night adventures that are each a mystery until you scratch off the top, revealing your new challenge. You'll bake a pie blindfolded or re-create your grandparents' first date... plus tons of other fun activities!
The Adventure Challenge is available here.
8. Bonding Bees
Price: $40/month
Bonding Bees boxes feature a custom-made game, unique activities, and awesome products each month that help you connect and have fun. All you have to do is choose the best plan for you and your spouse and then Bonding Bees will do the rest.
Each month will have a unique theme and activities to go along with it. You'll get games, recipes, crafts, relationship building exercises, desserts, products, and more!
Bonding Bees is available here.
9. Adults and Crafts
Price: $33/month
Adults and Crafts isn't geared specifically towards couples, but if you and your spouse enjoy building and crafting new things, then this is the perfect date night for you!
Each month, you'll get a box with a new project and all the materials, tools, and instructions you'll need. Projects are fun, functional, or both. Some of their past projects include a clockmaking kit, a mosaic serving tray, coasters, and cement planters.
Adults and Crafts is available here.
10. Modern Love Box
Price: $12/month
Modern Love Box is a digital date night subscription (also known as Modern Love Inbox). Each month you'll get tips and communication activities curated and created by a therapist. You can include your monthly digital activity with any date night you've already planned to bump up your connection!
You can also order some of their physical date boxes for $54 if you prefer that.
Modern Love Box is available here.
11. Finders Seekers
Price: $30/month
This is another subscription great for any couples who like mysteries or games! Finders Seekers sends you a box of cryptic clues and puzzles each month that transport you to a new, unique location. You can explore new places and learn about local traditions and culture right from your living room.
Each puzzle takes between 2-4 hours to complete.
Finders Seekers is available here.
(If escape room boxes sound fun, check out this escape room in a box post.)
---
Hopefully you found something that you and your spouse will love! Do you have any other favorites? Let me know in the comments below!