One of the most useful accessories you can buy for a Nikon DSLR is a wireless camera remote. As a mom, it lets you be in photos with your children, and you don't have to race your timer!
A remote is incredibly handy, fairly cheap, and opens up a whole new world of possibilities for you being able to get in your own family photos, vacation snapshots, or special moments at home.
I think a wireless remote or shutter release is absolutely essential for families!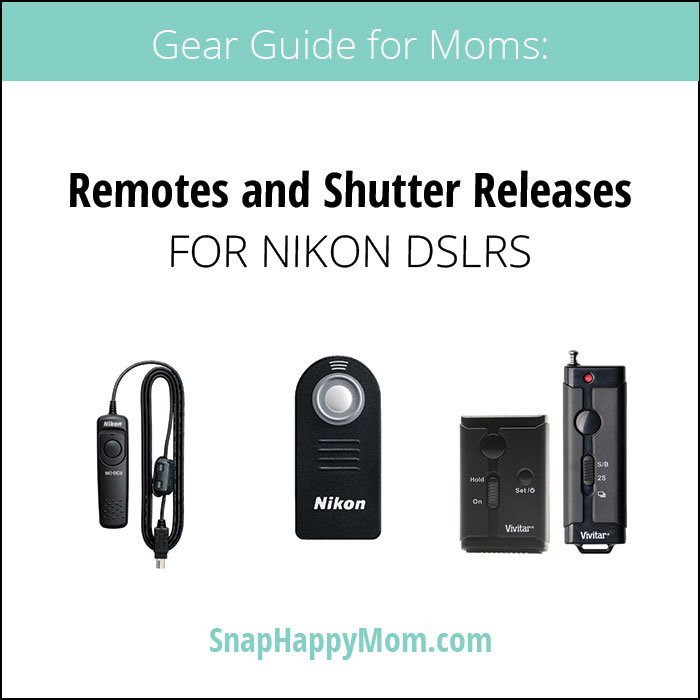 But here's the problem: the world of remotes has tons of different options. There are three types of shutter releases or remotes that you can use for your Nikon DSLR, depending on the situation!
There isn't one "best" remote: it all depends on what camera you have and what type of pictures you want. Once you add in third-party products, the world of remotes can get pretty complicated.
But never fear, that's what I'm here for! This gear guide explains the different kinds of remotes you can get for Nikon DSLRs and which remote I recommend for which situation. Of course, everything here is a product either I've used or something my friends have used and recommended to me!
Have a Canon DSLR? Check out the Canon gear-guide for remotes instead!
NIKON DSLR REMOTES AND SHUTTER RELEASES
Click through these links to jump to different types of camera remotes for Nikon DSLRs:
Wireless Infrared Remotes (short range remotes with a single button)
Wireless Radio Remotes (a bit more features and flexibility, at a slightly higher price)
Wired Remotes (most reliable option, but not great for mom photographers)
This page features affiliate links, which means I may earn a small commission if you purchase the item after clicking through my link. It doesn't change the price of the item for you! For more information, see my disclosure. I appreciate your support!
---
WIRELESS INFRARED REMOTES
Most Nikon DSLRs have infrared technology, which allows a wireless remote to trigger the shutter button to a distance of 10-15 feet. Infrared remotes work just like your TV remote - they require line of sight to work, which means have to point the remote at the front of the camera if you want it to work.
The remote works very simply in place of pushing the shutter button on your camera. IR remotes don't have any advanced features, but they work well for the job you need!
Infrared remotes are usually tiny, which makes them convenient to keep in your camera bag.
The best part about infrared remotes is that you can get one for under twenty dollars! That's a price point that should allow every mom to have one in her camera bag.

Just so you know, infrared remotes have a few drawbacks: they have a short-range that requires line-of-sight; so you can't be more than about 15 feet away and you must aim right at the camera.
IR remotes don't always work in bright light because sunlight can confuse the sensor. Also, the tiny IR remotes are so simple that you lose out on some of the most helpful features like multiple exposures for family pictures, the ability to half-click to focus, and timer delay options for hiding your remote.
That said, infrared remotes work for most cameras and they are very cheap!
Camera Compatibility & Products Recommendations:
These are the Nikon cameras that can use infrared remotes:
Nikon D3000, D3200, D3300, D5000, D5100, D5200, D5300, D5500, D600, D610, D7000, D7100, D7200, D750, D90.
Notable Exception: the D3100 does not have infrared capability, so no IR remote will work with it. See other options below.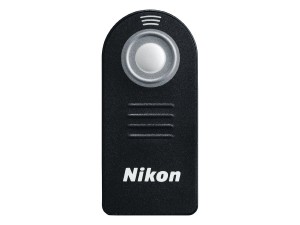 The original remote from Nikon is a good product. It includes a velcro pouch to keep it safe.
Only the original Nikon remote lets you use Bulb mode on your DSLR camera. This setting is useful for night photography: it lets you click once to open the shutter and click again to close it, allowing for custom shutter speeds on the fly.
AmazonBasics Wireless Remote Control
This little third-party remote is about half the price of the original Nikon remote! It still comes with a fabric pouch and I'm usually been impressed with the quality of the AmazonBasics products. It's certainly worth a try!
---
WIRELESS RADIO REMOTES
The best option for a mom is a wireless remote that works over radio waves. This type of remote is actually a transmitter that sends signals to a receiver plugged into your Nikon's accessory port.
This gives you more control and flexibility because your remote is actually controlling your camera settings, not just triggering the shutter. A radio signal can also travel much further than IR, so you have a much further range with a wireless radio remote (up to 100 feet away from your camera on some models).

Best of all, many wireless remotes and shutter releases offer options like multiple exposures, time lapse, long exposures, and timer delays.
Do you want to take 12 pictures of your family photo in a row? Totally possible with a wireless radio remote. Do you want to give yourself a few seconds to hide the remote before a self-portrait? That's an option too! Are you interested in taking star trail photos at night? Totally possible!
I personally consider wireless radio remotes the best option for moms because they have the most control, but also the most flexibility. This is the type of remote that enables you to be in family photos easily and without fuss. They definitely range in price, but I've included some here that are under $40.
Drawbacks
Most wireless remotes require batteries for the transmitter, which means you have to deal with remembering extra batteries and being diligent at turning it off when you're done. In general, you're at a higher price point than IR remotes.
Also, most remotes are made overseas which means they often have incomprehensible directions. So, you may have to fiddle around to understand how it works with your particular camera.
Product Recommendations & Camera Compatibility
Just to be clear, a remote itself is wireless, but they require a transmitter that plugs into your camera. And unfortunately, plugging into your camera can get complicated because different camera models have different accessory ports. So, read on to see the types of remotes that work with each camera model.
If you have a consumer-level Nikon, you plug into the MC-DC2 accessory port:
Nikon D3100, D3200, D3300, D5000, D5100, D5200, D5300, D5500, D600, D610, D7000, D7100, D7200, D750, D90, Df.
All the consumer, entry-level Nikons have an accessory port or terminal called the MC-DC2. That's a really complicated name, but it's just a square-ish socket on the side of your camera, and you can plug remotes or other accessories into it.
Vivitar Universal Wireless and Wired Shutter Release Remote Control
I own the non-universal version of this remote and I adore it. You have lots of options that give you flexibility for lots of different situations: take a photo instantly, take a few in a row, or take some on shutter delay.
This universal model comes with 6 different cords, including the RC-DC2 connector for consumer Nikons. I love it!
Neewer Wireless Shutter Release Remote Control for Nikon
This little remote is so easy to use! It just how you would expect - you plug in the receiver to your camera and use the remote transmitter to control single frame mode, continuous mode, bulb mode, or timer mode.
The remote comes with batteries, but you'll have to use your own batteries for the receiver (it's not hard to get AAA batteries though). The maximum distance range is 30 feet on this remote.
It works like a charm with the Nikon D3100! As well as the other consumer cameras listed above.
Polaroid Wireless Camera Shutter Remote with Interval Timer
If brand-recognition and manual readability is important to you, get this Polaroid model! It has four modes: shutter-release, delay, long exposure, and interval shooting.
Just recognize that it does NOT come with any batteries, so you'll have to purchase the CR-2 and AAA batteries separately. Also, it has no on/off switch, which is a minor inconvenience but can be worked around by taking the battery in and out to extend the lifetime.
If you have a professional Nikon, you use the 10-pin accessory connector:
D200, D300, D300s, D700, D800, D810, D2Xs, D3, D4, D4S
Nikon's mid to pro-level cameras have a different port called the 10-pin accessory port. It's round and has 10 tiny pins in a circular pattern. This port gives you more control over the camera and also lets you use the locking thread on many accessories so they don't fall out of your plug. It's usually right next to the flash sync socket, behind an accessory flap.
Vivitar Universal Wireless and Wired Shutter Release Remote Control
I own two of these remotes in the non-universal version. I bought a duplicate when I forgot to pack mine for a vacation because I loved it so much.
You have lots of options that give you flexibility for tons of different situations. You can press it to make it take a picture instantly (good for when you don't want camera shake). There's a timer delay option, which is useful if you need to quickly hide the remote (so it's not visible in the picture!). And, you can use the continuous shooting button, which lets you take multiple exposures by holding down the button (hello, family pictures... it's usually set here for me!)
This universal model comes with 6 different cords, including the 10-pin connector for professional Nikons. Love it!
Neewer LCD Display Shutter Release Wireless Timer Remote Control
This is a good price on a generic remote with timer functionality (which my favorite remote above does not have). It's decent for what it is, but recognize that the instructions are pretty useless because they are written by a non-native English speaker. That said, it has a custom timer/interval function that is so useful!
---
WIRED REMOTES
A Wired Remote has a few different names: a Trigger Release, Shutter Release, Remote Control Cord, Remote Release Cord, or Remote Switch.

It's basically a cord that plugs into your camera with a remote on the other end. They let you trigger the shutter without actually touching the camera since even the slightest movement can cause blur.
Wired remotes are super reliable too: no signal to lose or batteries to die. However, you are stuck with a short cord unless you shell out the big bucks, which can be frustrating and extremely limiting.
It's for this reason that I do not recommend a wired remote for moms who primarily take photos of their family. If you want to be in your own pictures, then this isn't for you: the cord is too short to get anything other than a closeup of your family, and it's hard to hide a cord in your photo. Choose one of the wireless remotes above instead.
However, a wired shutter release is useful for photographers who like night photography, because it allows you to avoid camera shake for long exposures. If this is you, then a wired remote is very reliable! Make sure you buy the right kind for your camera model.
Consumer-level Nikon Cameras with the MC-DC2 port:
Nikon D3100, D3200, D3300, D5000, D5100, D5200, D5300, D5500, D600, D610, D7000, D7100, D7200, D750, D90, Df.
Nikon 25395 MC-DC2 Remote Release Cord
You can't go wrong with this Nikon remote - it's the namesake of the port you use for any remote! It's a well-made, reliable accessory that you can use for long exposure and bulb shots easily. Hands down the best wired remote for this type of camera.
Shoot MC-DC2 Timer Remote Shutter
The only reason to get this off-brand remote is to have timer functionality in a remote. If that's not something you need, the original Nikon remote is a better buy. This third-party remote is cheaper, but in my experience, it wasn't as well made.
Professional level Nikon Cameras with the 10-pin connector:
D200, D300, D300s, D700, D800, D810, D2Xs, D3, D4, D4S
Neewer Digital Intervalometer Timer Remote Control
If you're only shooting with a remote occasionally, then I would go with this wired remote. It works and has a lot of functions for a good price. The build quality is not great, but it certainly does the job.
Nikon has two branded remote cords for professional cameras: the basic Nikon MC-30A Remote Trigger Release
(which is just a shutter release), and then the more advanced Nikon MC-36A Multi-Function Remote Shutter Release Cord
(which has bulb settings and a timer). However, these are obviously profession level equipment and have a cost of $60-250.
If you're a pro-shooter and using a shutter release often, then the Nikon-branded products are absolutely worth the high build-quality and reliability. The cheaper options above are not built as well and won't last as long.
---
Not ready to buy a remote today? Pin this for later! Someday you'll want one.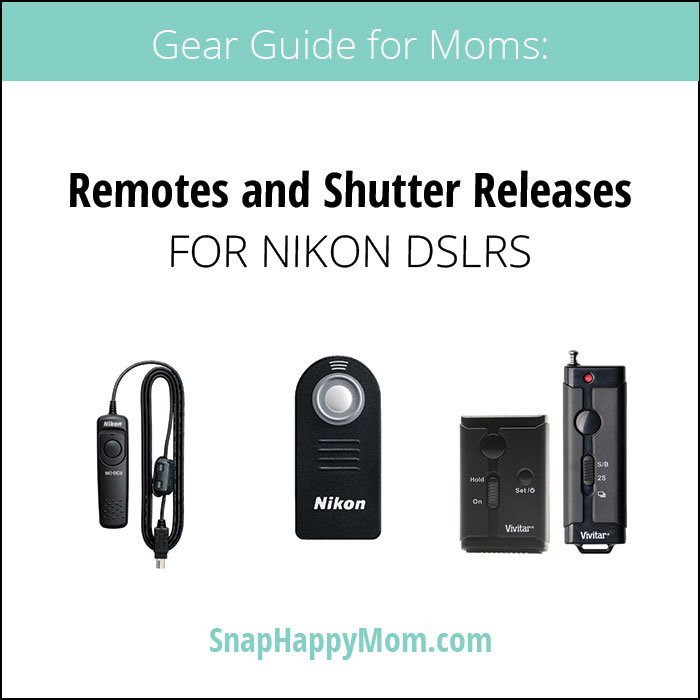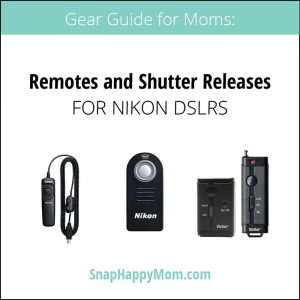 Have a Canon DSLR? Here's the gear guide for moms with Canon Remote and Shutter Releases: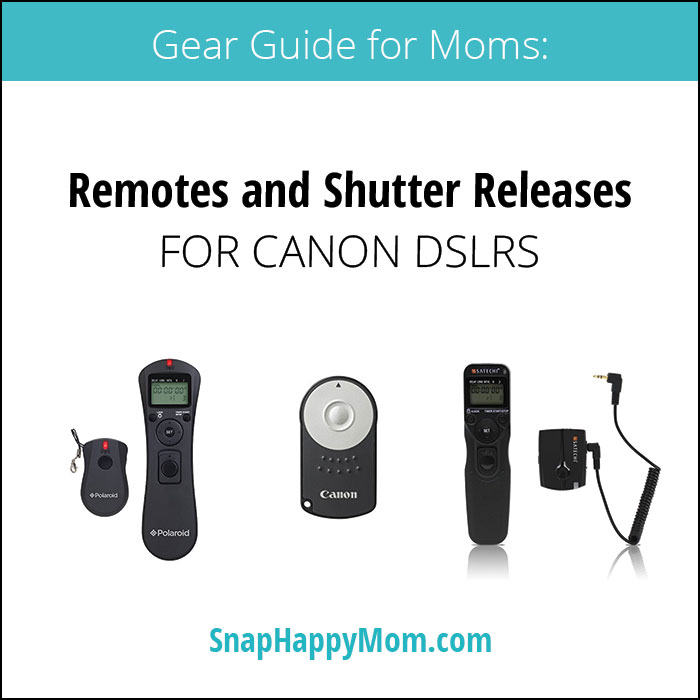 As always, this is a working document, and I'm open to your suggestions if you've found a product you love that isn't listed here! Feel free to comment or email me with suggestions.
This page contains affiliate links - thanks for supporting Snap Happy Mom by purchasing through one of these links! I earn a tiny percentage of your order through these links at no additional cost to you.
---