Today I want to talk for a minute about how to put a DSLR camera in a bag. Now, I know it seems simple, but there is more than one way!
Many camera bags today come with customizable interiors. These usually consist of padding pieces with velcro tabs that you can attach in lots of different ways inside your bag. Really, there are lots of different ways that can work for you and your particular gear. However, there is one way that I really encourage my readers to avoid, and that is any position where the camera lens is pointing down.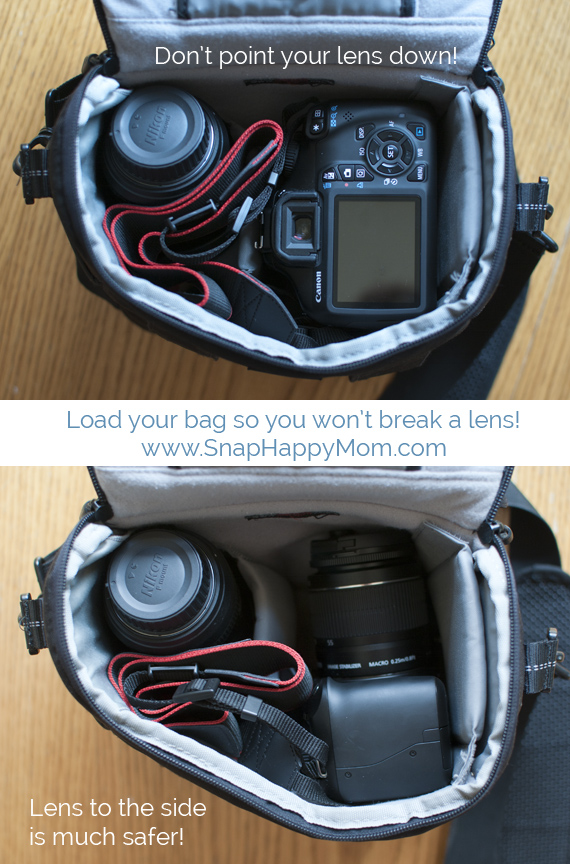 This is a very unsafe way:
Do not place your camera in the bag with the camera lens pointing down!
The reason for this is safety. Lenses are worth far more money than camera bodies, and they are also more delicate because of the glass involved. Breaking a lens is heart-wrenching, but you can reduce the chances of this happening if you are more deliberate with how you put your camera in your bag.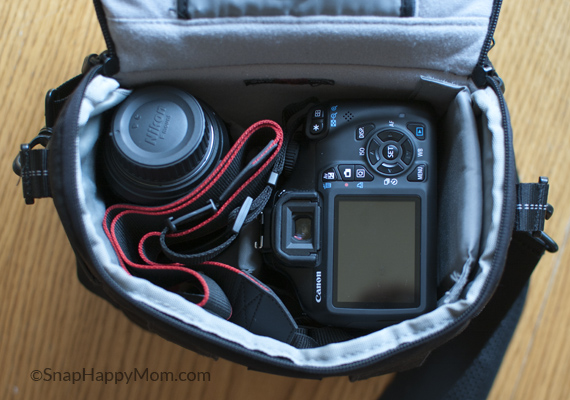 I used to put my camera in my bag this way, and on two different occasions the bag landed on hard ground and shattered my lens filter. The glass was the closest thing to the impact because it was on the bottom of the bag.
It's not like I throw my equipment around either: both times were simply setting the bag down with a bit more force than necessary. After the second time, I wised up and realized I needed to make some changes in my bag layout to protect my gear.
It is much safer to load your camera into the bag with the lens pointed to the side. (Lens up can work as well, but it's really awkward to pick it up that way.)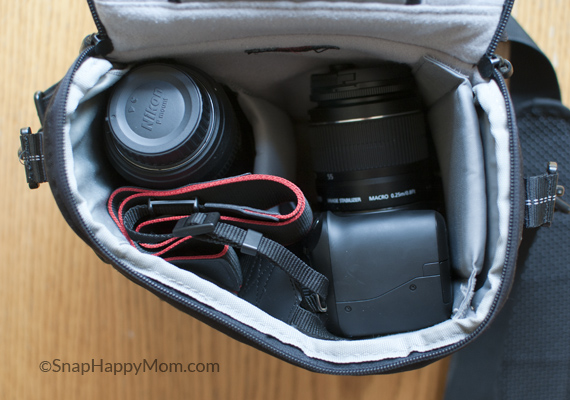 I find it is easiest to point my lens to the side or front of the bag, where it's not bumping into me constantly. This allows me easy access to the right-hand grip and means that if the bag hits the ground a little harder, I'm not going to automatically break any glass. Padding pieces can be placed to support and cradle your camera and lens this way.
It's such a simple thing but has eased my fears significantly. I am extra gentle with my camera bag now, but sometimes it gets set down a bit rougher than I wish or family members and friends don't realize there is a precious camera inside. I'm happy to announce that I have not shattered any filters or lenses since making this change almost 3 years ago!
Speaking of filters...
This brings me to the importance of adding an extra filter to every lens you have. Without a replaceable filter, I would have likely cracked my actual lens. Filters are cheap and protect the expensive stuff from scratches, dust, fingerprints, and cracks. They screw on to the end of your lens and then your lens cap clicks into the filter the same way.
For basic everyday lens protection, you want a multi-coated UV filter. There are several super cheap options, but I always go for "one step up" in quality and price. The 5-dollar no-name lens filters are far more likely to give you strange reflections and ghosting because they are made with cheaper glass.
Try to avoid the less-than-10-dollar-range: even one in the $15-25 range will be far superior. My favorites are these Hoya and the Sigma ones, which I have on every lens I own:
Nikon:
Hoya 52mm Alpha UV (Ultra Violet) Multi Coated Glass Filter

Sigma DG 52mm Multi-Coated UV Filter
Canon:
Sigma DG 58mm Multi-Coated UV Filter

Hoya 58mm UV (Ultra Violet) Multi Coated Glass Filter
If you're ready to splurge, I've heard that this B+H brand is incredible, as well as the Nikon and Canon brand name filters.
B+W 52mm Clear UV Haze with Multi-Resistant Coating (010M)
Also, remember to buy the correct size filter to fit your lens: it's a measurement in millimeters of the outer edge of your lens, where the cap goes. It will probably be called filter thread and will also be labeled on the underside of the lens itself. The kit lenses for Canon are usually 58 mm, and the Nikon are usually 52 mm. Always check before you buy!
Filters are essentially disposable - use them until they break and then replace them. They've saved me many times! Comment below if you have any questions!
Other Camera Safety Resources:
How To Put On a Camera Strap
Using Your Camera Strap
How To Hold A Camera Correctly