I've been looking for a feminine camera bag - something cute and stylish that looks like an upscale purse, yet has all the padding and dividers I need to haul around my DSLR photography gear.
I've had my eye on the JoTotes brand for some time, and knew it was the company I wanted to support. Also, for what I was looking for it was also the most affordable.
This is not a sponsored post. I bought the bag with my own money, and I wanted to share it with you!
Now that I've used it for a few months, I feel better qualified to give a review.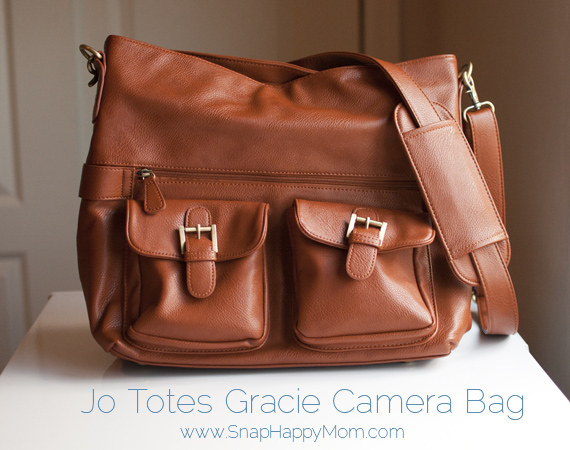 Jo Totes Gracie Camera Bag in Butterscotch
Here is the link to the Gracie bag (which comes in more fun colors!). The regular price is 119.00, and there are occasional coupon codes (about once a season). Here's the rest of the JoTotes collection!
Perfect Size For Me
The dimensions are 13 x 13.25 x 4.74 inches. It's big enough for a camera body and two or three lenses, plus an iPad and personal stuff.
I specifically chose this bag for the ability to use it for a camera plus extras. I'm at the point where I don't want to take two bags anywhere, so I wanted to fit extras to make it a day-bag. I've shoved diapers and snacks down there several times already.
You can fit a lot of stuff if you want it to, although it will get heavier!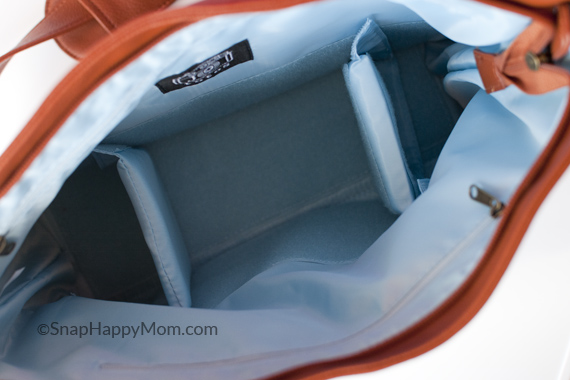 Great Color Options for Exterior Fabric
There are several color options! For the Gracie, they currently have mint, black, and this warm butterscotch brown. The exterior is a really soft faux leather and my interior is baby blue.
In the past, they've offered some bright colors, which I adore, but this time I wanted a bag that would go with everything. After seeing a few pictures on some friends' blogs (like here) I knew the brown was the way to go. I love it!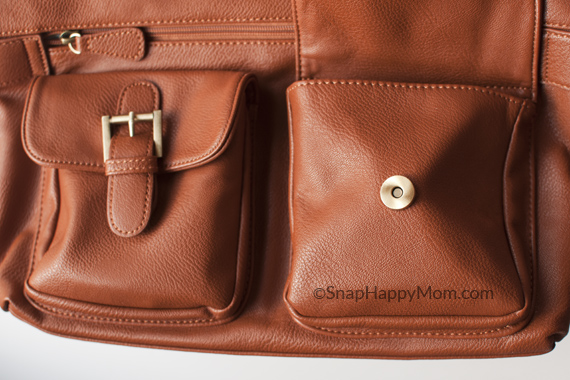 Pockets Galore!
There are tons of great pockets on the Gracie.
I especially love the front ones that have hidden magnetic closures with a buckle detail on top: perfect for a stack of business cards or small personal items.
There are interior pockets for memory cards, batteries, and extra lens caps as well. There is a zippered iPad pocket on one exterior side, and a slide-in pocket on the other, with an extra zippered section for keys and phone.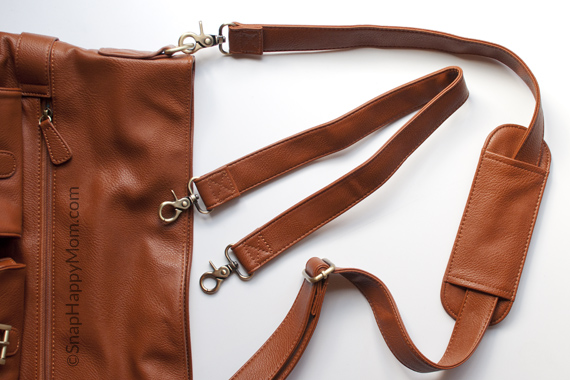 Multiple Strap Options
It includes two straps: a shoulder strap and a crossbody strap.
There is also a removable shoulder pad to help distribute the weight when it gets heavier. The crossbody strap is adjustable, and both straps have perfect swivel connectors that won't get stuck or jammed.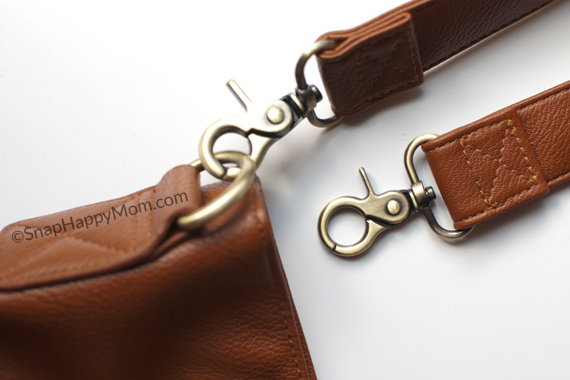 Affordable Prices for Quality and Style
All the Jo Totes bags are affordable. They range from $89-119, and they are high-quality bags for housing expensive gear.
The Gracie is $119, which I think is very fair for the quality of the bag you are getting. I pay a lot for my camera and lenses, and I want them to be safe and protected.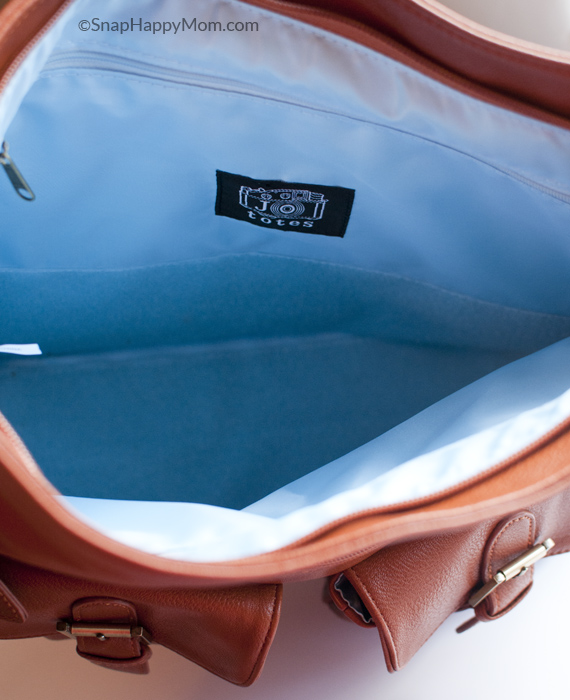 Customizable Interior
The bottom half of the bag interior has a loopy side of velcro, and the bag comes with five foam dividers that can be positioned as you choose.
I played around a bit before I found a setup I really liked that has space for extra lenses and easy access to the camera hold.
The nice thing is you can customize it for any situation, and it has the ability to grow with you. There are lots of different options!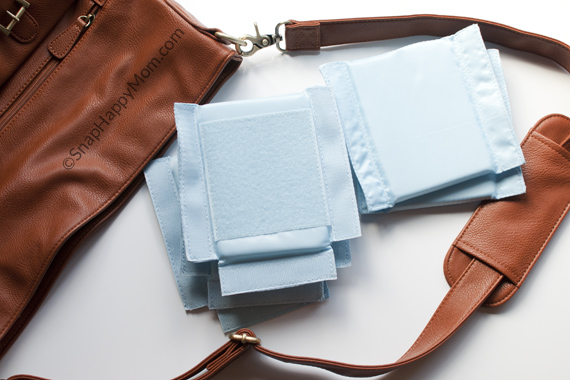 Two drawbacks
First, this bag offers an iPad pocket, but it is just a tad too small for an iPad with a cover on. This seems like an oversight since the vast majority of iPads users tend to have some form of cover, especially when traveling.
I can fit mine in the exterior pocket, but it won't zip up. I stick it in the inside pocket instead, but it is a very tight fit and difficult to align just right. I wish it was just an inch or two deeper to account for a cover.
Second, I think the faux leather shoulder pad ought to have padding or coating to make it less slippery.
You know how the Nikon camera strap has a few inches of grippy stuff in the middle back where the strap lays against your neck? That's what this shoulder strap needs. It's just too slick against my shoulder, especially when my shirt is a sleek material, and it often slides off.
This won't bother everyone, but it worries me because I shattered a lens when a bag slid off my shoulder a few years ago. (I'm considering doing a little DIY-fix for this by sewing a rectangle of grippy material on the bottom of that sliding shoulder strap. It should be completely hidden when it's on my shoulder. I'll let you know if I do it.)
Overall though, these are minor drawbacks that deal with usability and won't affect everyone who uses this bag.
I don't bring my iPad everywhere, so I don't have to deal with that problem very often. And I usually wear my bag across my body to calm my worrying heart.
With those two things accounted for, I adore this bag!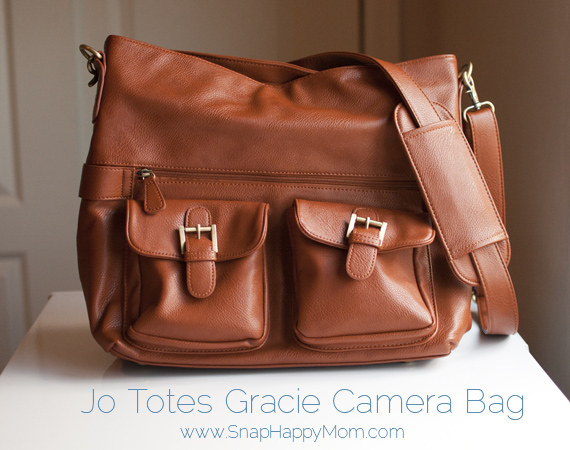 Here's the link to the Gracie bag (which comes in more colors) and here's the rest of the JoTotes collection!
This is not a sponsored post. I bought the product with my own money and provide the review as a service to my readers. All opinions are my own.