One of my favorite Christmas traditions is getting matching pajamas for the whole family!
I love how festive it feels to have everyone decked out in holiday jammies. It's perfect for holiday pictures with Santa, and Christmas morning shots.
...But actually finding matching family pajamas can prove harder than it sounds. Especially if you have kids in toddler sizes, kid sizes, different genders, and need adult sizes too.
I've gathered together 12 places to look for matching holiday pjs below. Whether you want Christmas pajamas or a winter style to last for months, these retailers all have a great selection of matching pjs available.
Remember that the earlier you order, the better chance you'll find the sizes and selection you want in stock.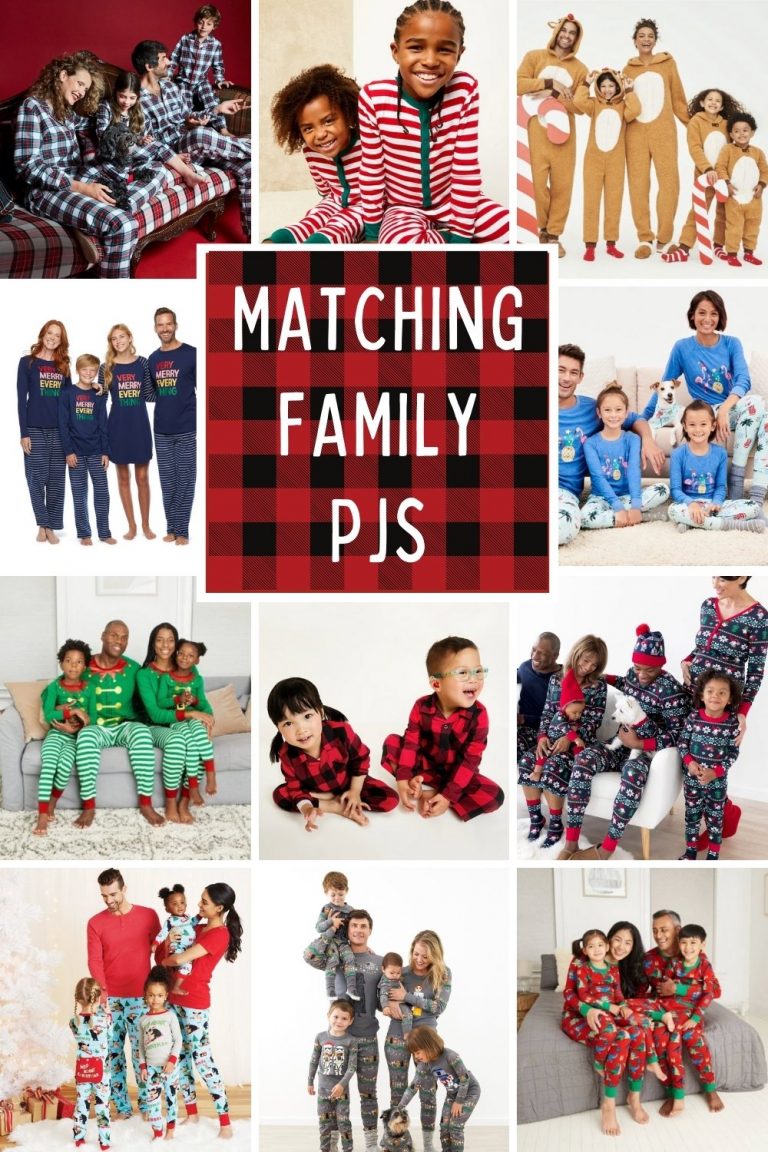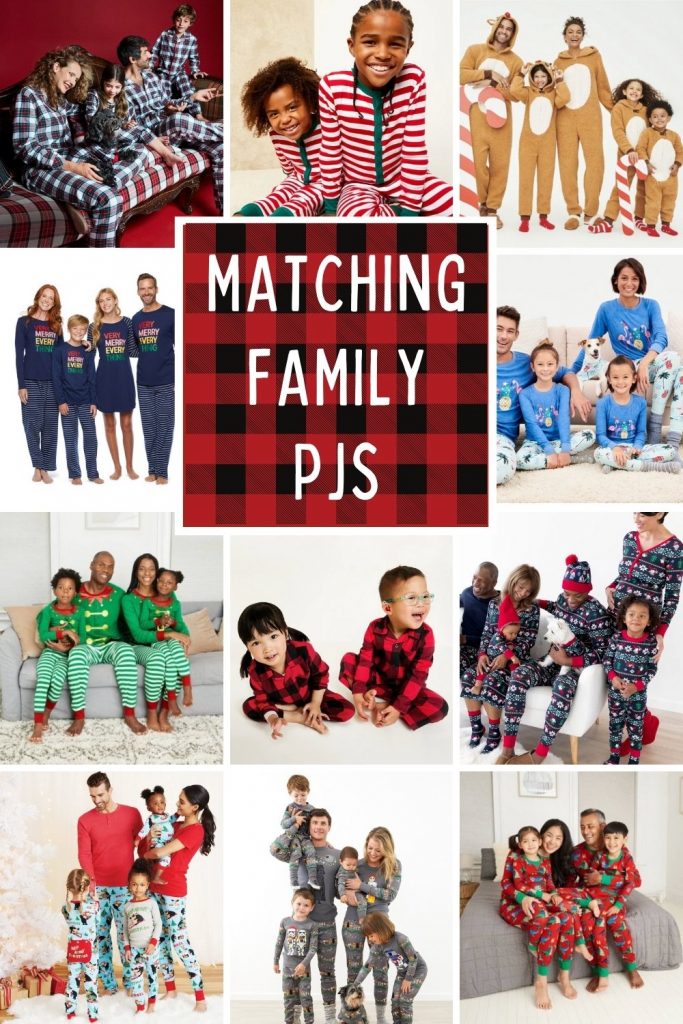 Where to Buy Matching Pajamas For The Whole Family
Little Sleepies has buttery soft pajamas that are gentle on sensitive skin. They are also made to keep kids cool in the summer and warm in the winter. There are no snaps, buttons, or interior tags so you don't have to worry about anything itching or annoying you as you sleep.
You can get tree pajamas, poinsettia pajamas, and more.. This is what I bought for my family this year- they are SO soft and comfortable. I may be addicted!
If you prefer solids & stripes over cutesy sayings or graphic tees, then Primary is the place for you!
Primary.com definitely specializes in kid sizes in EVERY color! They have 23 shades of solid tops alone, and you can mix and match them with any of their stripes or prints as well. They also have footie pajamas for the littles.
They do have adult sizes, but they are unisex sizing. Primary says that the bottoms fit true to size for women and men, but that ladies should size down on their tops for a truer fit.
There aren't quite as many color options for the adults, but they have all the classic red, green, and neutrals. You can definitely find something that works for everyone!
Old Navy is honestly one of the first places I check for matching holiday pajamas because they carry tons of sizes and they make it really easy to find styles that coordinate. They also run fantastic deals! Just order early, because they seem to run out of sizes of the cutest ones really early.
This year there are a lot of plaid and striped pajamas, but they also have a few fun Santa and snowmen options if you want something different. They also have some shorts and short-sleeved tee options in case you live in warmer climates.
You can find lots of plaid or striped pajamas.
Amazon has everything, right? Well, matching pajamas is no exception. Last year we bought some from Amazon and they've lasted really well!
Amazon has tons of options to choose from, but you'll have to put your searching hat on. Many of the options come from third-party sellers, so you'll have to do a bit of work to find the right sizes for your whole family. Check the "frequently bought with" section, since the links often show up there!
You can find the snowman pajamas here and the plaid Christmas tree pajamas here.
Hanna Andersson is another great place to go when you're looking for family jammies. They are super well-made and high quality!
I recommend sizing up for the littles (you can always fold the cuffs up) because the kids will grow out of them before they wear out.
They have classic plaid, buffalo, and striped options. Hanna Andersson also has some fun holiday options for Marvel, Star Wars, and Disney fans.
You can find the Star Wars pajamas here.
Kohl's is another retailer with tons of options. You can choose between one- or two-piece pajamas, and they have loads of patterns available -- from plaid to character themes to fun holiday quotes.
Macy's has pages and pages of options, some more casual (like a tee with words paired with plaid bottoms), or some more traditional button-down styles.
They even have nightgowns available for any little girls in your family that love to wear dresses 24/7.
You can find the flannel pajamas here and the tropical Santa pajamas here. (No longer available, but lots of other cute options!)
Target is a classic go-to for holiday pajamas, and it's definitely an affordable option for cute matching sleepwear. The only drawback is that they don't have quite as many patterns available as some of the others on the list.
Etsy has several different shops where sellers make matching pajamas for your family. Since they aren't necessarily mass-produced, there's a chance they'll sell out or be on the expensive side... However, you can find something unique or even personalize your family pajamas (like adding a name to the shirt), which is a fun touch!
You can find the gnome pajamas here.
Walmart has a pretty good variety! You can get button-down plaids, loose long-sleeved tees, or one-piece pajamas. They even have robes for the whole family, which is pretty cool. They also have a nice assortment of patterns, like flamingos decorating a Christmas pineapple.
You can find the reindeer pajamas here and the elf pajamas here.
From Santa and the Grinch to reindeer and plaid flannel, JCPenney has tons of great options for family pajamas. They also have various styles and extra sizes, including plus and tall for women, baby/toddler sizes, and even some bandanas for your family dog!
You can find the ornaments pajamas here and the merry pajamas here.
Little Blue House is a little more expensive than some of the others on the list, but they've got a nice collection of mix-and-match options if you want your family to look cohesive without being totally matching. It's a fun take on matching family pajamas!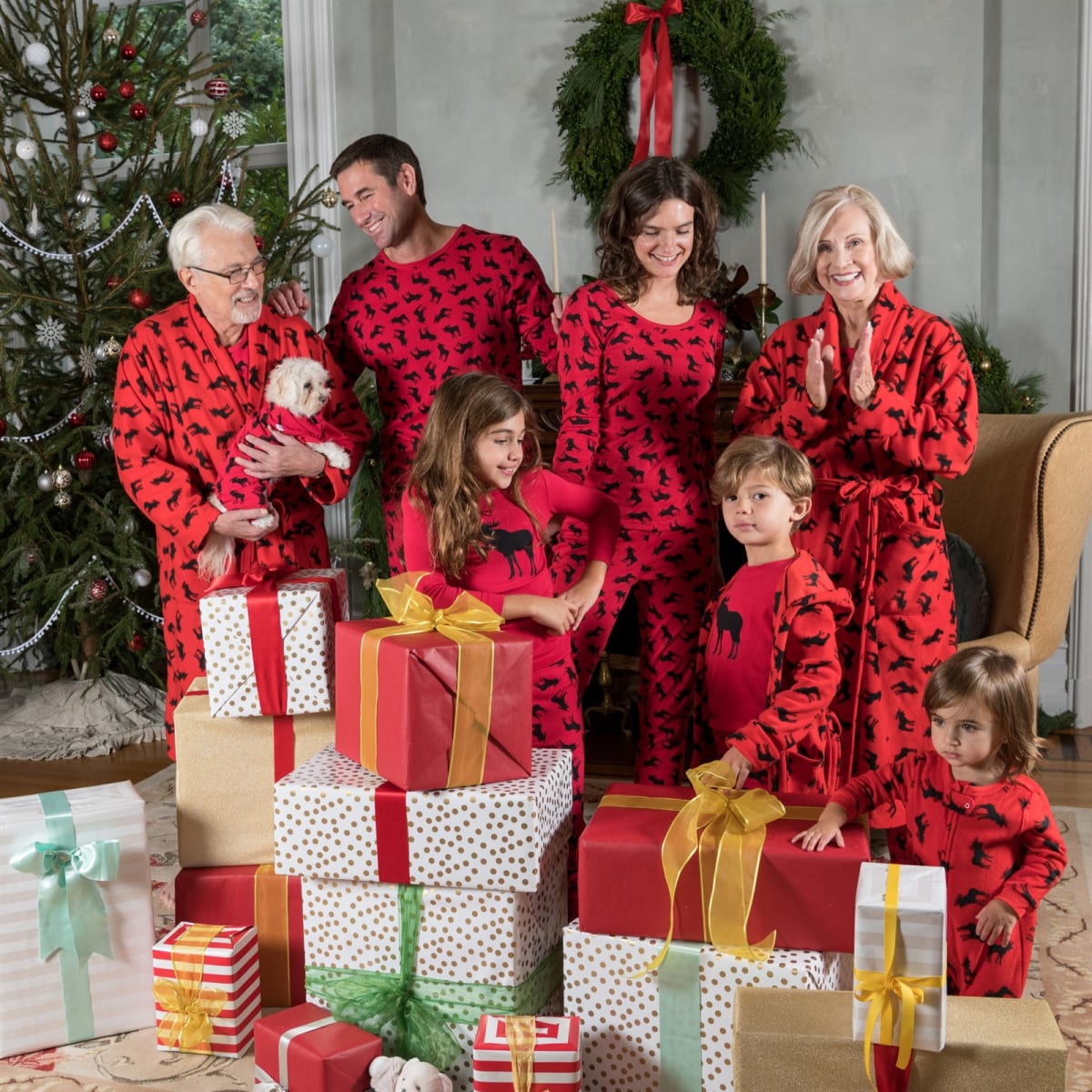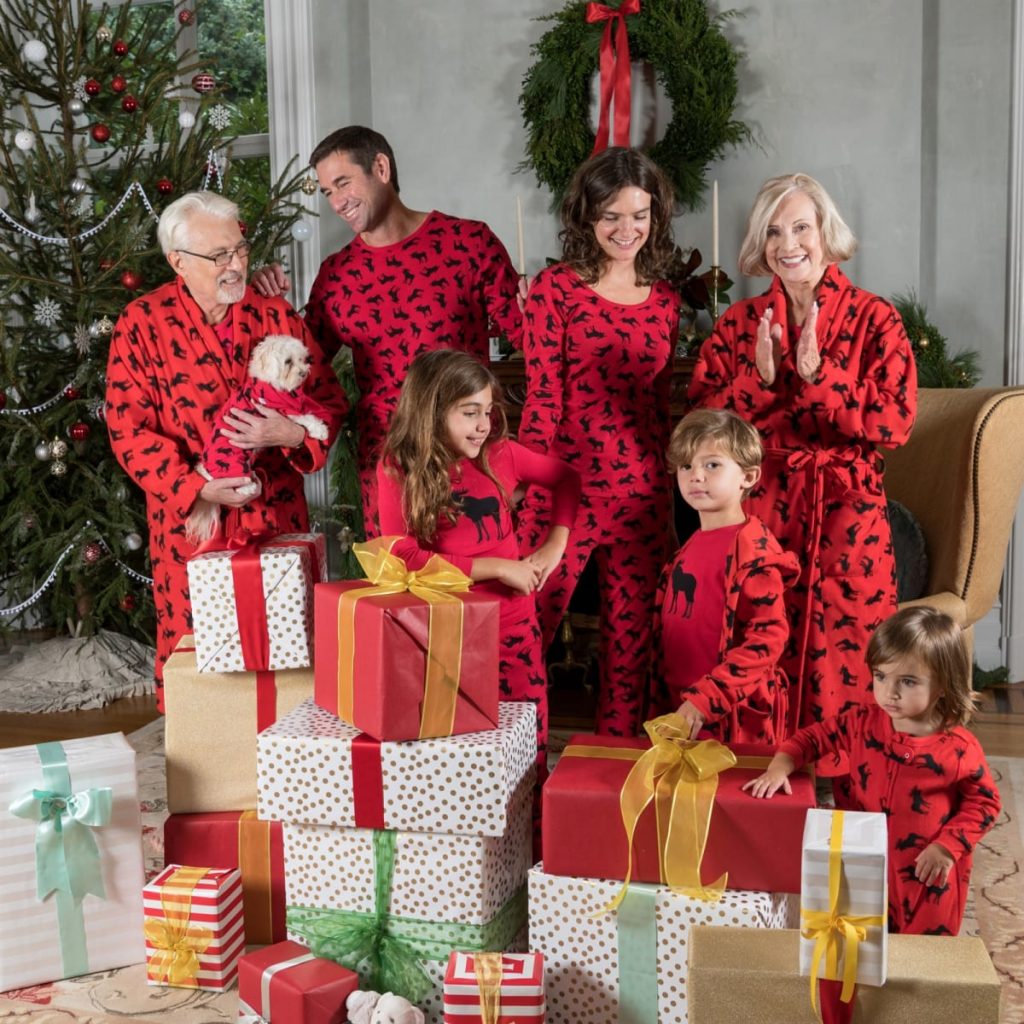 Jane.com is a bit different from the other ones on the list. They have an ever-changing inventory, but that means you can get something more unique than you'd find at your average store.
The picture above is an example of what they've had before, but since the inventory is constantly changing, you have to keep an eye on their site until you find something you love!
The one thing to keep in mind with Jane.com is that it's harder to return your purchases since it depends on each individual seller's policies. It's likely you'll pay shipping costs as well. So just make you know the exact sizes you need before you order!
---
I can't wait to get my kids into their cute new holiday pajamas.
Do you hand out your family pajamas on Christmas Eve or do you like to wear them all month long? Comment below and let me know!