Instax and other Polaroid cameras are a great way to capture memories and have become increasingly popular in recent years, but sometimes it's hard to know what to do with all of your fun polaroid photos!
One way to display those Instax photos during the holidays is with a picture frame ornament. Here are some cute Instax Christmas ornaments that can fit Instax Mini photos. (If you need extra film so you're ready for all your holiday pictures, you can get some here.)
These Instax ornaments are a super fun way to use your favorite holiday Instax shots!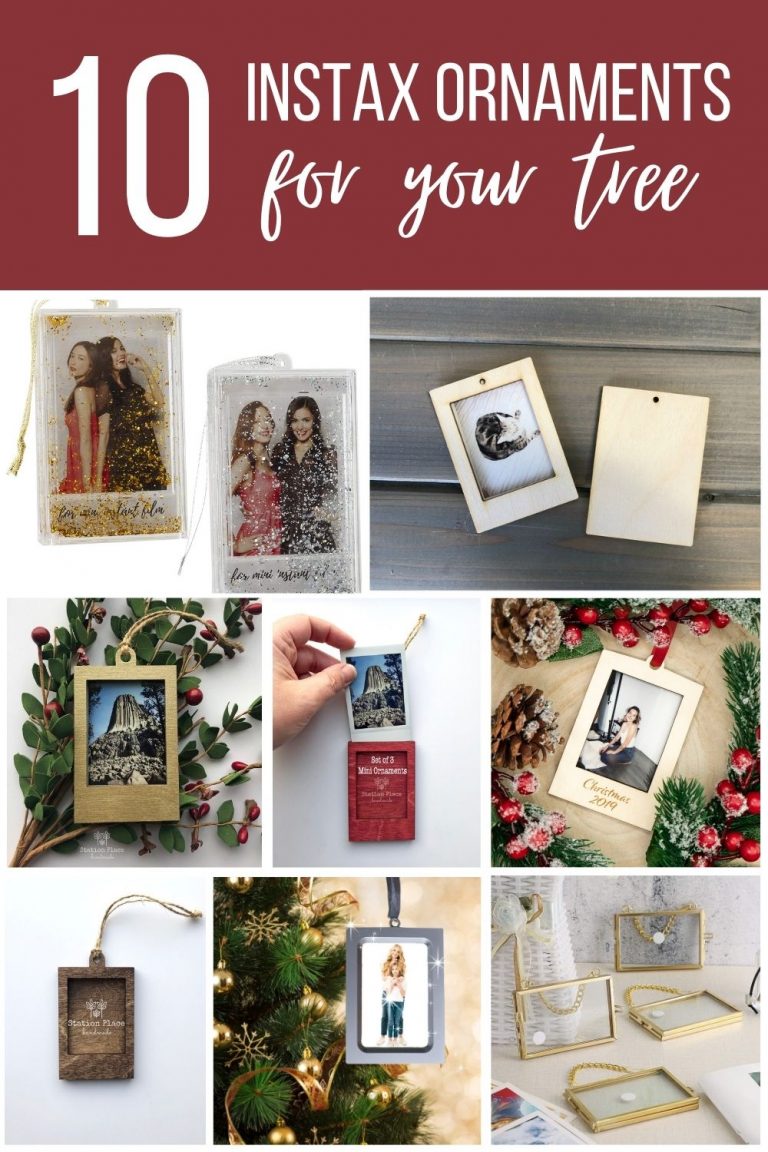 Jump to:
How big are the Instax Mini Photos?
There are three sizes available with Fujifilm Instax photos.
Instax Wide is best for landscape photos. The photos are 3.4 inches tall and 4.25 inches wide. Instax Square films are the most standard polaroid size. They are 3.4 inches tall like the wide photos, but they are only 2.8 inches wide.
Most of the ornaments in this post, however, are compatible with Instax Mini photos. The Instax Mini photos are 3.4 inches tall, like the others, but they are only 2.1 inches wide. So they are slightly skinnier than the square films.
The mini photos are pretty popular, which is why a lot of the ornaments are designed for that size!
How To Decorate With Instax Frame Ornaments
Decorating your Christmas tree is always fun, but sometimes ornaments aren't as personal as you want them to be. These ornaments, however, provide a perfect way to personalize your tree with photos you love.
A lot of these ornaments are more neutral or use wood tones, which look really pretty on a Christmas tree! They also complement the other ornaments on your tree, since neutral tones look good with anything.
Use your Instax Mini photos to make a "memory tree" of all the fun times you've had this year. Your tree can be decorated with photos of your favorite family vacations, birthday festivities, or holiday memories.
If you're looking to personalize your tree, these Instax Christmas ornaments are perfect for you!
How to Gift Wrap With Instax Ornaments
If you're getting these ornaments for a friend who loves taking Instax photos, most of these ornaments are a nice rectangle shape so you can easily wrap them.
Some have an area for the string that juts out from the top, so you may need to bubble wrap those or put them in a box to make them in an easily-wrappable shape.
Another cute idea is to use this ornament as a gift tag! If you're buying another gift for a friend, get an ornament, fill it with a picture of the two of you, and tie it onto a pretty bow around your gift. You can even tie it around the handles of a gift bag.
Using an ornament with a photo inside is an adorable way to step up your gift wrapping game and give them a bonus gift at the same time!
10 Cute Instax Ornaments
These Instax Christmas ornaments are super festive and fun to add to your tree. This set comes with two ornaments: one with silver glitter and silver string and one with gold glitter and gold string.
The Instax ornament frames are made of thick plastic and are designed to fit an Instax mini film.
This deep red ornament can display two Instax minis because it's two-sided. The deep red is perfect for an Instax Christmas ornament, and I love that you can use two photos so both sides feature a picture you love.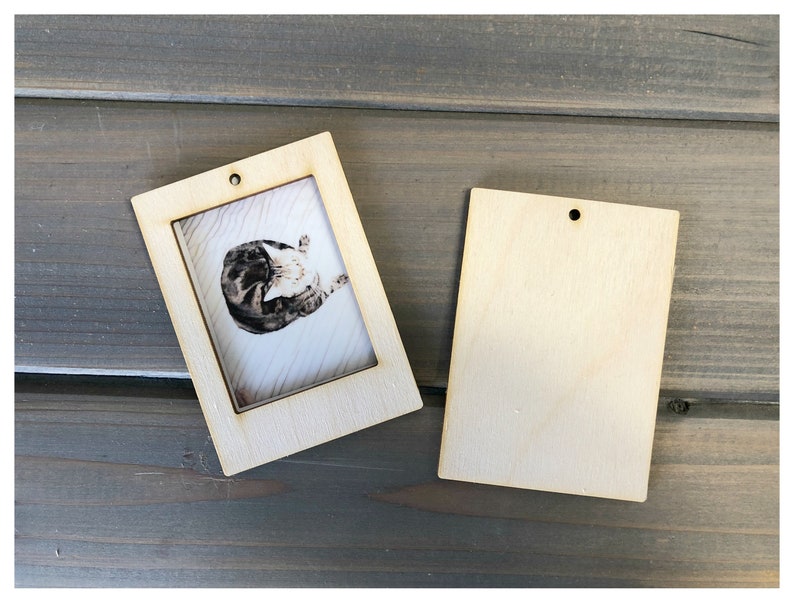 (No longer available, but a similar one here.) This set comes with 5 Instax frame ornaments made out of birch plywood. They are designed to fit Instax mini photos and are a vertical layout with holes at the top to add a string to so you can hang it on your tree.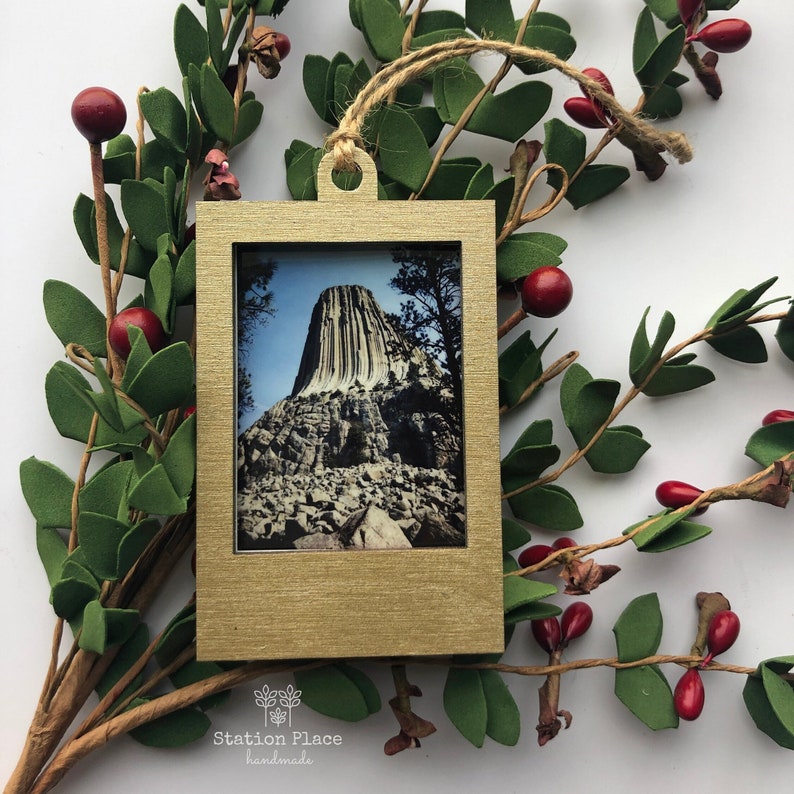 This wooden frame is a classy ornament that would look beautiful on any tree. They easily fit Instax mini photos. The ornament comes with twine for hanging and it comes in several different finishes: medium, dark, red, or gray stain, metallic gold paint, or unfinished.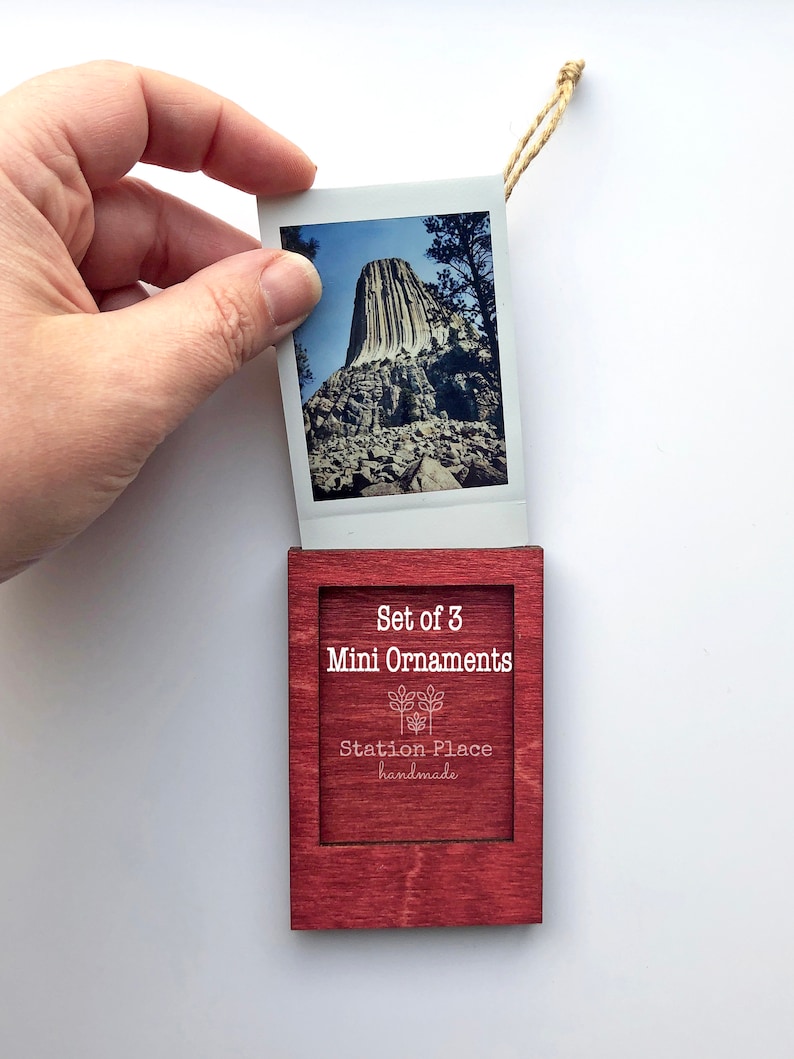 These 3 Instax frame ornaments are drop-in style frames so that your photos can be added or replaced easily. You can choose the color of all 3 frames (they must all be the same color) out of the following options: medium, dark, or barn red stain, painted gold, or painted white.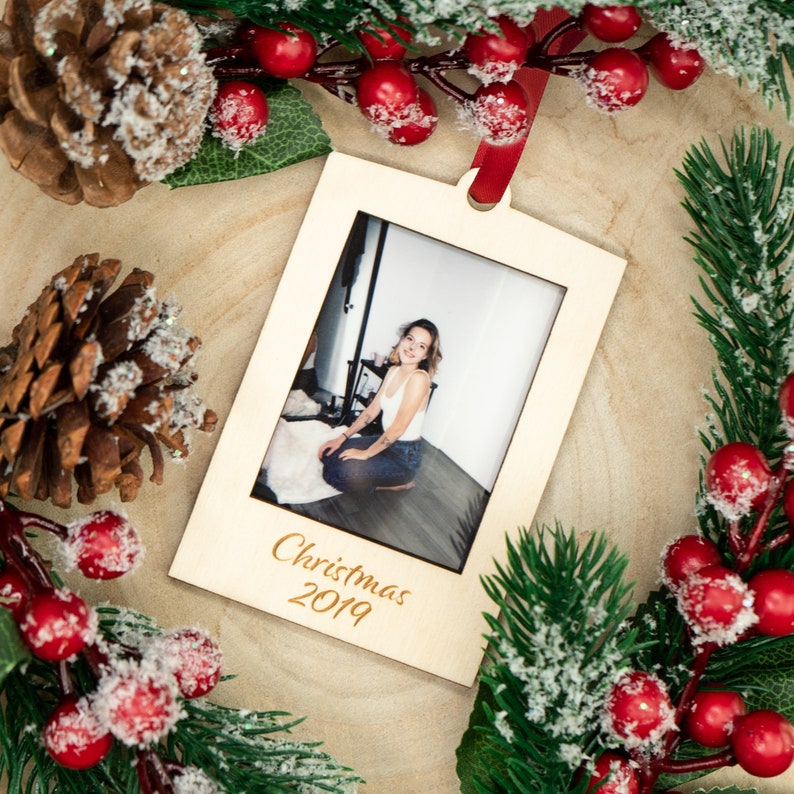 (No longer available, but a similar one is found here.) This wood ornament can be engraved and comes with a red satin ribbon for hanging. Note that due to the fact it's real wood, the color and grain of your product may be different than pictured.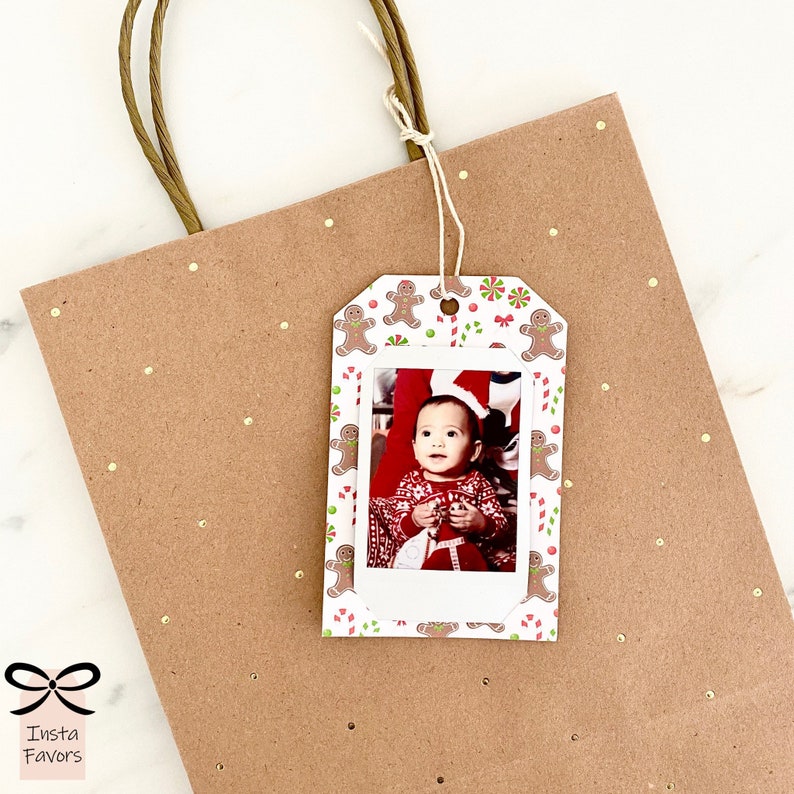 This is technically a gift tag but it would totally work as an ornament. It fits Instax mini photos and is made from one of two types of cardstock - either standard or premium. You can choose from over 40 different patterns, though the pattern is just on the front.
This set of mini hanging Instax frame ornaments is not designed specifically for Instax pictures and they aren't technically ornaments either, but they are so pretty.
The metal chain allows them to be hung anywhere and the glass on both sides means you can put in two pictures to make it double-sided!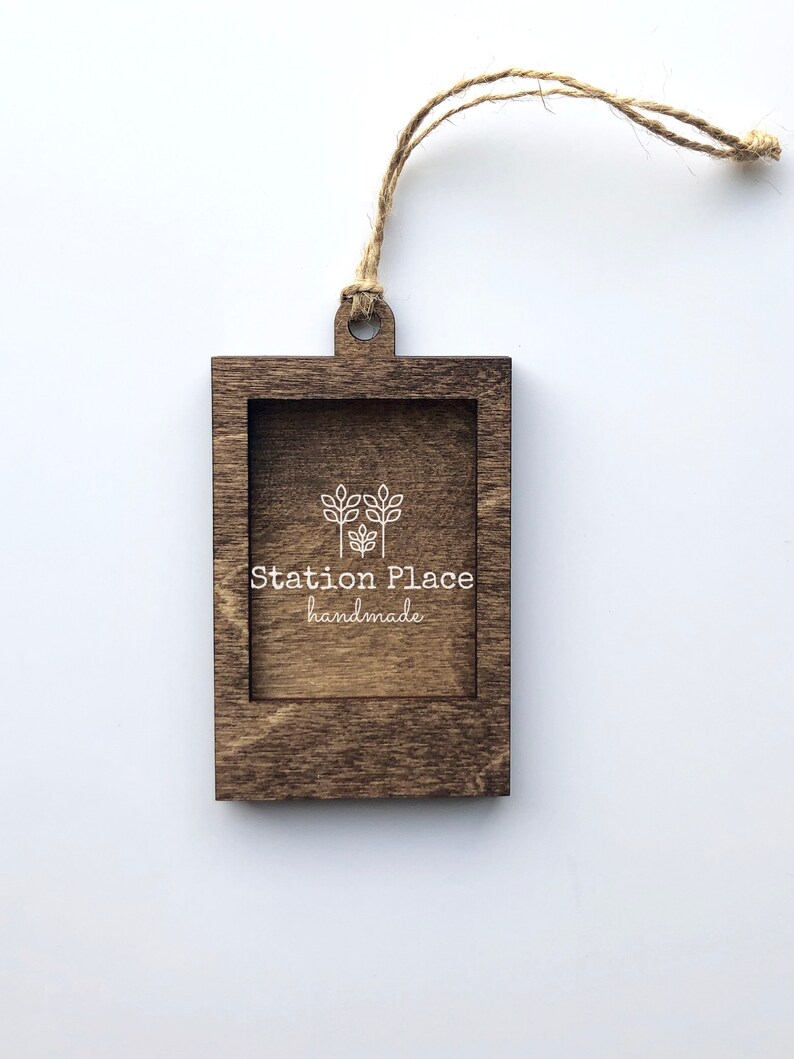 These ornaments have a drop-in style frame so it's easy to get pictures in and out of this ornament frame. They are designed to fit Instax mini photos then laser cut from birch wood and assembled by hand.
These metallic silver Instax frame ornaments are really pretty. They aren't designed specifically for Instax Minis, but they are made to hold a 2x3 photo, so they will work great. They are made of durable material and come with a ribbon for hanging.
---
One last option is to make your own DIY Instax Christmas ornaments!
Just use any washi tape to make a border and punch a hole at the top. Thread some string through the hole and tie the ends of the string together to make a closed-loop.
If you don't want to punch a hole in your picture, just get a little creative! you can tape it to construction paper and just hole punch the backing paper. Or you use a small, pretty paperclip to attach a string to the photo.
Whether you choose to make an Instax Christmas ornament yourself or you buy one of these ornaments, turning Instax or polaroid photos into Christmas ornaments is a really fun and festive way to display family photos.
If you're looking for a way to show off your Instax photos throughout the year, check out this post.