Want to send Christmas cards, but on a limited budget? This post gives you the three cheapest ways to print holiday cards that I know of! You can come in at less than a dollar per card - including postage - with one of these printers.
Every print shop is running a deal right now on Christmas cards. But here's the conundrum: printers like Shutterfly, Chatbooks, Mixbook, etc are scaling the price of a card depending on how many you purchase. So the more you order, the cheaper it gets.
But that also means it's very hard to send just a few cards at a low price point.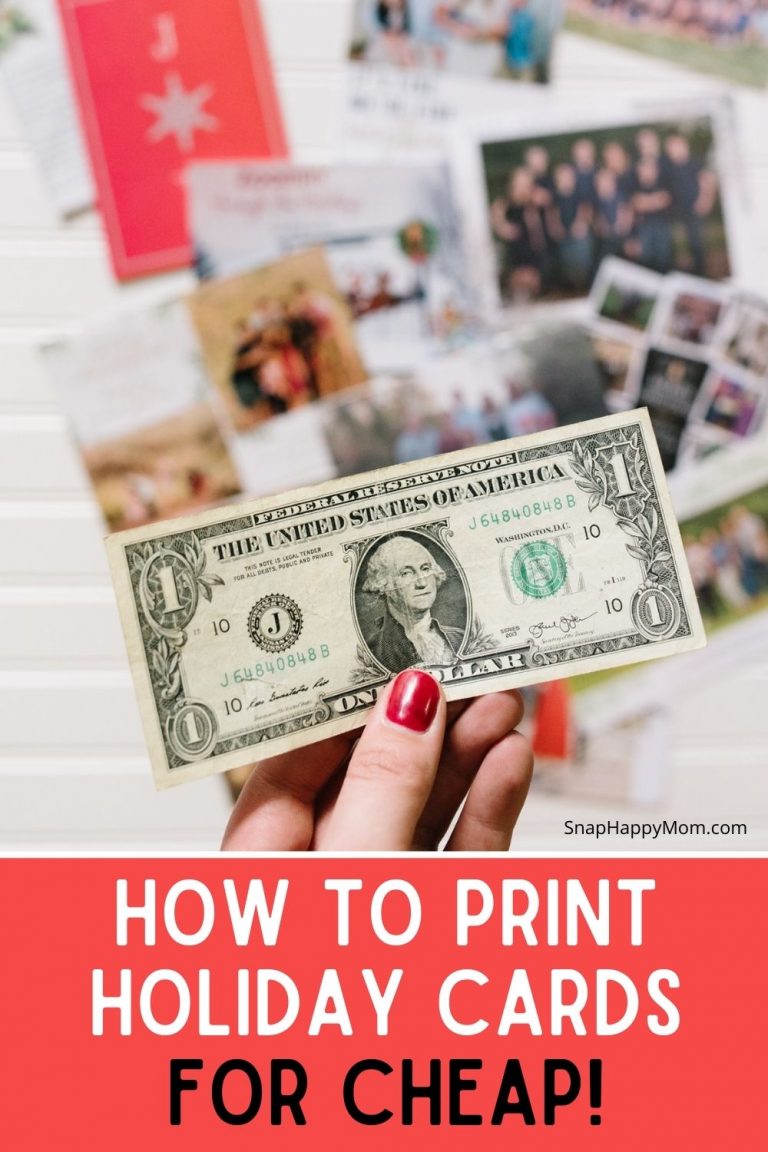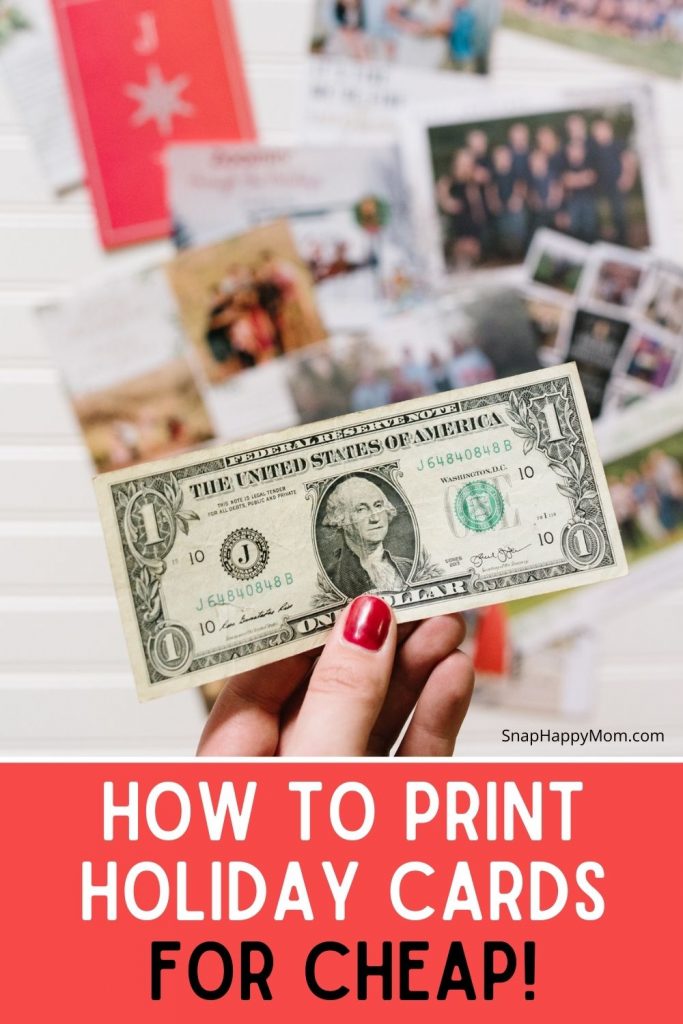 The three cheapest ways to send Christmas Cards
Most retailers advertiser their cards with something like "starting at .79!" but that price is only available if you're ordering more than 300 cards! Lame, I know. Plus, you have to pay for initial shipping just to get a box of cards to your door, before you even stamp them to send to others.
Basically, it adds up really quickly when you order from some of the traditional retailers. I love and adore my cards from Chatbooks, but some years the budget doesn't allow for $150+ to send out cards.
If you're on a limited budget, a good goal for sending Christmas cards is to aim for getting them for around $1.00 each, including your postage.
Since a stamp costs .55 cents, that can be a tall order! That means postage alone is more than half of your card budget.
Luckily, there are ways to send cards at a lower price point, especially if you're willing to use a less traditional route than something like Shutterfly.
This post has three places to order holiday cards that should help you come in right around a $1.00/card budget.
Best of all, most of them have next-day availability to pickup in store. So if you're behind, check out this list!
---
1. Use Costco to send Photo Greeting Cards
If your list of recipients is extra-long this year, you should seriously consider using Costco's Photo Greeting Cards. This is what I did the first year I sent cards, because they are super cheap and you can get them by tomorrow!
These aren't your thick cardstock cards - they are actual single-sided 5x7 photos, with festive design/backgrounds and a holiday message. Costco has tons of pre-designed options.
Shop for Christmas Cards at Costco here.
The downside to this is you have to order at least 50 cards. You pay $13.99 for that first pack of 50, and then you can buy additional sets of 25 to get to the number you need.
Best of all, you can also avoid shipping costs and mail delays by picking them up next day in your warehouse. Such a great deal! You've probably received these from friends and not even known they were from Costco.


Bottom Line Cost of Costco Photo cards:
$13.99 for 50, or .27 each
$5.49 per additional set of 25 (an additional .21 each)
Single sided glossy photo, envelopes included
No shipping cost if you pickup in warehouse
Shop Costco Photo Greeting Cards here.
---
2. Use Groupon to get cards from Staples.
Do you have a Staples near you? Every year, Groupon offers a deal to get cards printed at Staples, available for same-day pickup.
The prices start at $12 for 20 double-sided cards, which is crazy low for cardstock cards.
This is the Groupon Deal link for Staples Cards.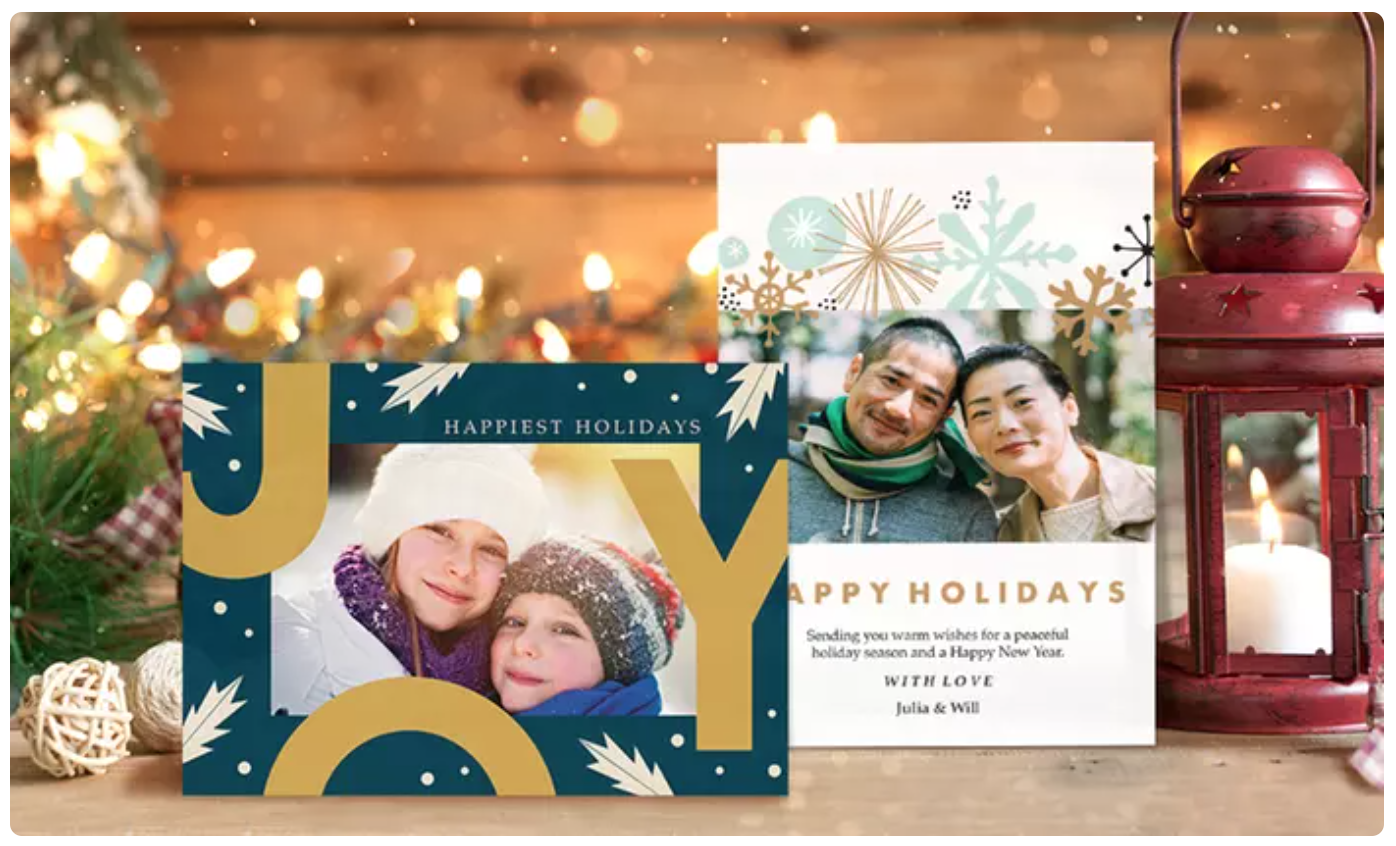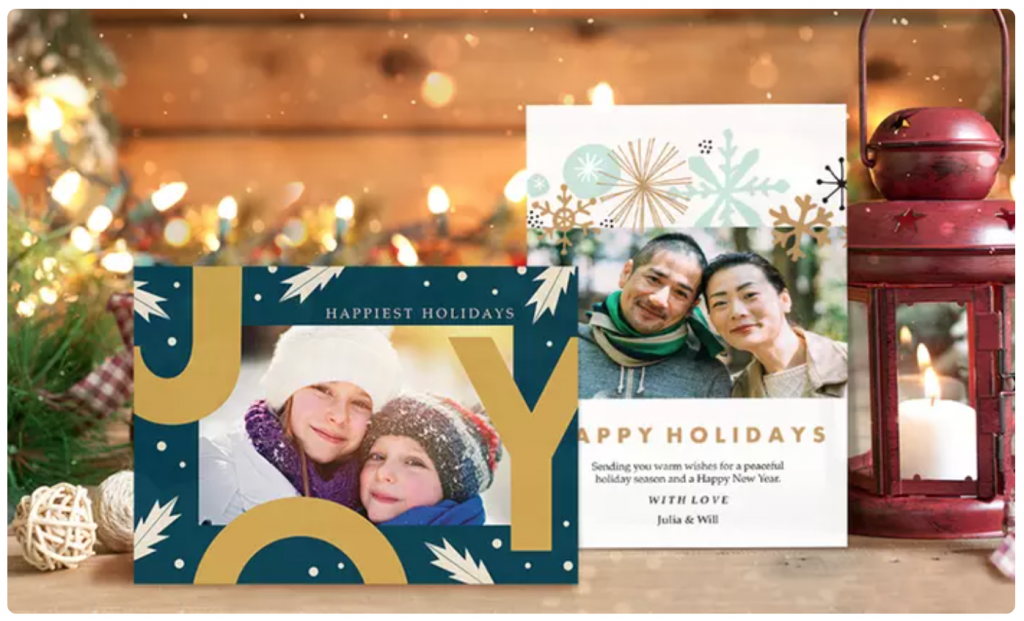 My sister in law has used these for three years and she is a BELIEVER. I've received her cards every year and they totally work!
The printing quality is a bit lower than a professional print shop, but if you're happy with color prints from Staples, these are the same thing. We've loved her cards and think they're a beautiful option at a low price point.
If you pick up in-store, then there's only one type of paper to use. But if you order online, there is an option to pay more for premium cardstock, which is thicker.
You can pick them up same day or next day in-store, so there's no shipping fee. Plus they give you envelopes!
There are Groupon deals to get 25, or 50, or 100 cards for 50% off, and it saves tons of money compared to other outlets or websites.
Bottom line cost for using the Groupon/Staples deal:
$12 for 25 cards, or .48 each
$20 for 50 cards or .40 each, (same pricing as $40 for 100 or .40 each)
Envelopes included
Printed on cardstock, double-sided
No shipping if you pickup in store
Head to Groupon here to purchase a Staples deal voucher.
---
3. Send a single-sided 4x6 photo with a typed letter.
There's nothing that says your card has to be a certain size. And guess what? Regular 4x6 photos are super cheap!
Most local shops let you print regular 4x6 photos for about 20 cents each. Our Costco is .19 cents! If you have time, you can get prints from the Shutterfly app for just the price of shipping.
The main downside to this option is that there aren't any easy ways to add background/designs to your picture. You can definitely do something if you're savvy in Photoshop or PicMonkey, but there aren't free drag and drop designs like at a major retailer. But in the long run, the recipient just wants to see your family anyway - So just send the picture as is!
I recommend typing up a letter with how your family spent the year. Then you can print out as many copies as you need at home, and add the family photo to include in the envelope. We've received these from friends and love seeing their life update.
There's one catch: most regular card envelopes don't fit a 4x6 photo (unless you're willing to trim it down slightly by hand). You can either send your photo with a letter in a regular #10 envelope, or grab A6 4x6 envelopes which are made for this situation.
Bottom Line Cost for sending regular 4x6 photos:
.20 each, printed locally at Costco or Walmart.
plus the cost of envelopes, about $12 for 50.
---
Bonus: Check Groupon for deals from other retailers:
There are often other deals on Groupon
for getting deal vouchers for various sites:
PhotoAffections - Another friend uses these every year and they are always adorable designs. Good quality, similar to Shutterfly. The deal I last saw was 40 cards for $15!
Shutterfly - You can get a voucher at Groupon to redeem at Shutterfly. It's really easy, and usually even CHEAPER than the sale Shutterfly is promoting.
Your mileage may vary - it depends what deals are available in your area.
Make sure you read the fine print: most of the deals do NOT include shipping, and sometimes only include single-sided cards. So there may be additional costs. But it's worth looking into!
---
Other Tips to Save You Money On Christmas Cards
1. Whittle down your recipient list.
This is one of the easiest ways to cut costs while sending holiday cards. It might be difficult, but whittling down who to send the cards to will definitely save you money.
Family-wise, you probably need stay pretty consistent and send to everyone. Family first!
But in the friends/neighbors/acquaintances group - take a close look at your list of recipients and decide if everyone on the list really needs a card this year.
It might sound rude to put it that way, but there are probably some people on your list that you haven't spoken to in years! Or maybe someone moved, and you're no longer as involved as you were in each other's lives. Long-lost roommates can get moved to the back burner. If you rekindle your friendship, add them back next year!
It's ok to focus your list on the people that will appreciate hearing from you the most. My general rule is that if I wouldn't be thrilled to run into them at the store and have a real conversation (not just a quick hi!), then they don't need a card.
2. Plan postage into your cost.
We often forget to factor in the cost of postage when we are budgeting for our holiday cards, so make sure you plan the price of stamps into your final cost estimate.
Stamps are $.55/each. International stamps are $1.15.
Also, make sure your cards only need 1 stamp to send. If your cards are square or weigh more than one ounce then you'll need extra postage.
To help save some money, try to hand deliver your cards where possible. Drop off your cards to neighbors, friends and relatives that live nearby.
3. Consider sending homemade cards.
You could also send homemade cards instead of ordering and printing them. Blank cards are available at all major retailers, and even the dollar store! You could even let your kids go all out with construction paper if needed.
Including a hand-written message makes your cards more personal anyway. It's a great option!
4. Opt for email - it's free!
Another option is to make a digital version of your card and email it to most people on your list, or even all of them. It's free!
If also gives you the option to just print few cards for close family members that want a physical copy, without committing to sending tons.
My cousin does this every year - she sends a family letter by email with an attached picture. It totally works, and saves on paper waste too. We still feel connected to them, which is the whole point of holiday cards anyway.
---
Whatever route you choose with your holiday cards this year, these tips can save you money this year.