This post contains affiliate links, which means I may earn a commission if you order through my links. However, I purchased the product for this review myself.
Looking for an easy way to get some photos on the wall? Enter Mixtiles! Photo tiles are a great way to decorate your home without nail holes (hello apartments, dorms, & renting... but also overwhelmed homeowners too).
Mixtiles is a company that prints your photos on lightweight tiles. They come framed in black or white, and also look great without frames! The beauty of Mixtiles is that they stick straight to your wall - you don't have to worry about finding frames, getting hanging equipment, or putting a nail in your wall.
If you're looking for fun decorative pieces for your wall, here's everything you need to know about Mixtiles!
I'm waiting on my order, but here are my sister-in-law's photos she printed with Mixtiles. Don't they look awesome?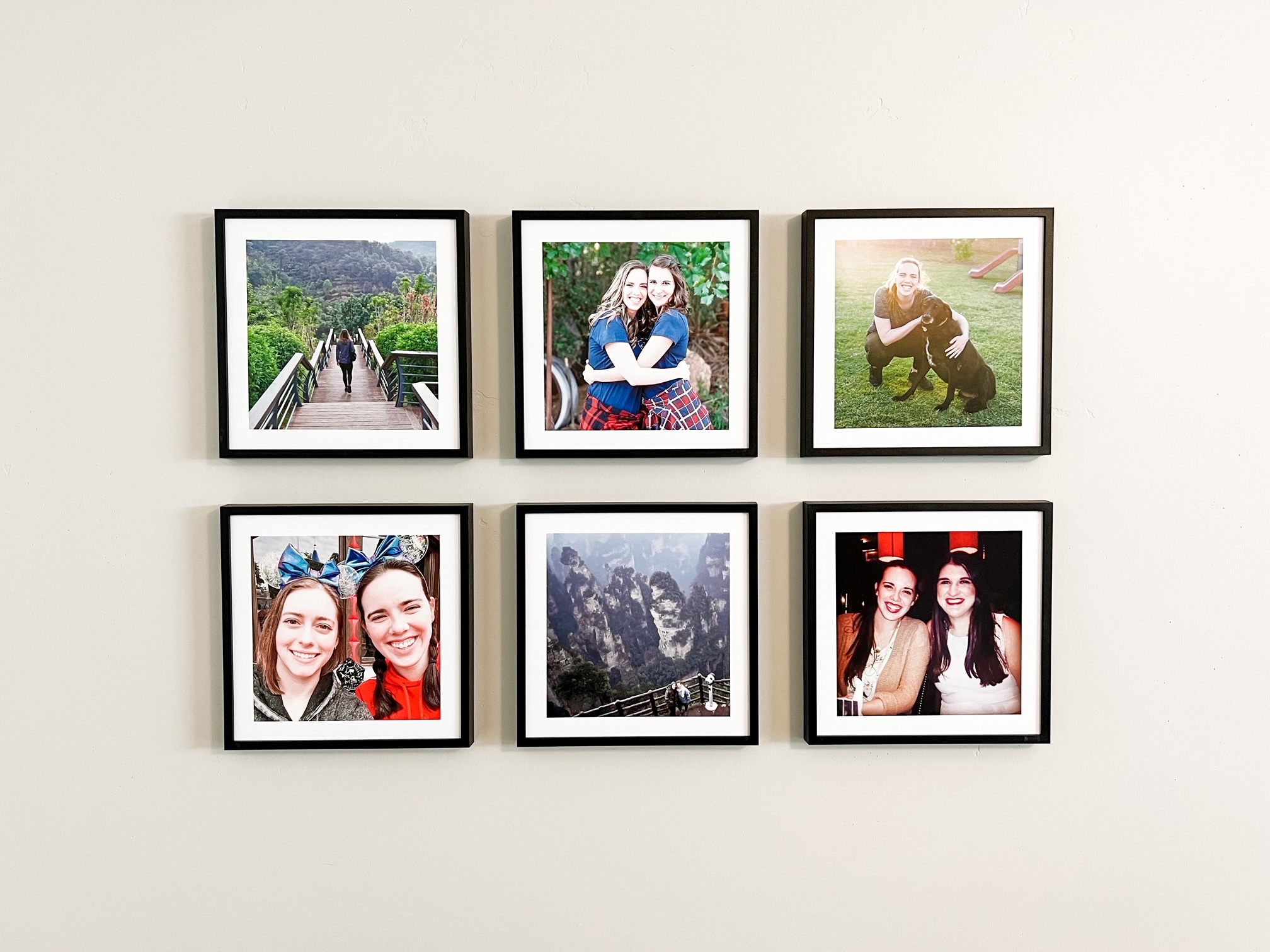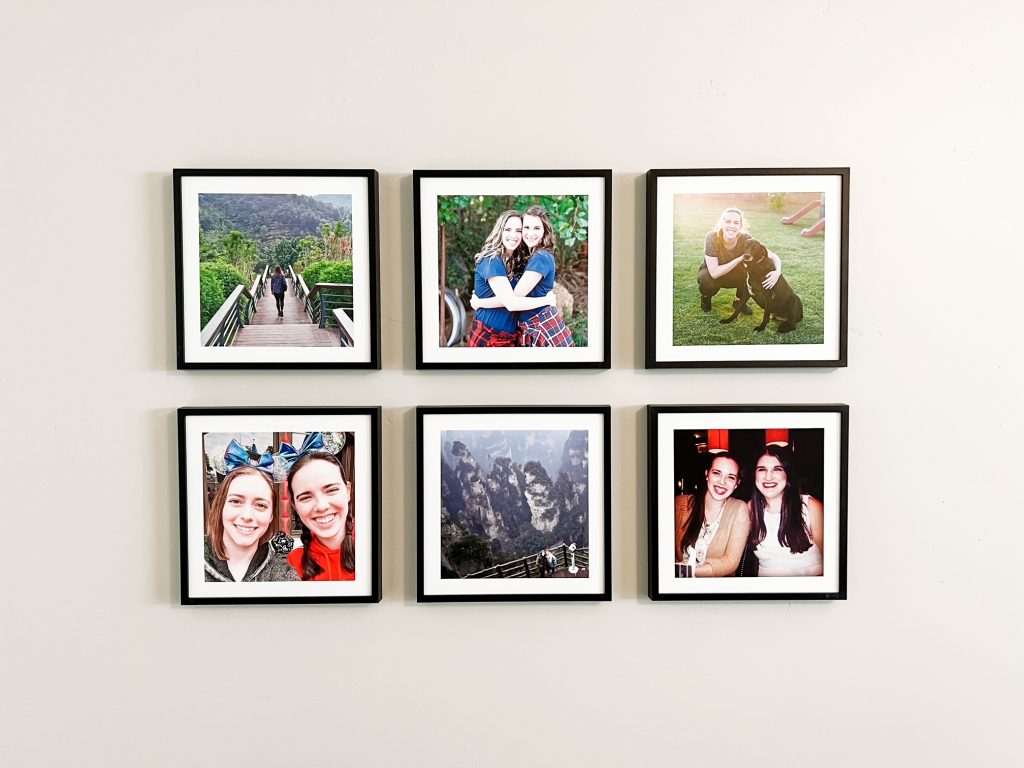 Basic Information About Mixtiles
Mixtiles cost $11 per tile, so if you were getting a box of 5 Mixtiles, it would cost you $55. Their tiles are 20x20 cm and 2 cm thick (which, in inches, is 8x8 and just under an inch thick).
They often have deals for ordering 12+ tiles, such as their current deal to get 12 tiles for $99 or 16 tiles for $125.
It will take about a week to get to you (though shipping to countries outside the US might take a bit longer). But they have a pretty quick turnaround and it's free worldwide shipping, which is amazing!
How do you order Mixtiles photo tiles?
Ordering a tile through Mixtiles is easy. They recommend your photo resolution be at least 499x499 pixels. You can even use photos from social media (like Facebook or Instagram) since those meet the minimum resolution required.
When you hit their landing page, push "Let's Go" and you'll be asked if you're making your tile for yourself or for a friend. If it's a gift, you can upload the photos yourself, or you can just send them a gift card.
If you're ordering some Mixtiles for yourself, you'll be asked to enter some information (like your email) and then you can get started.
You can then choose to upload photos from your computer (or whatever device you're using), Instagram, or Facebook.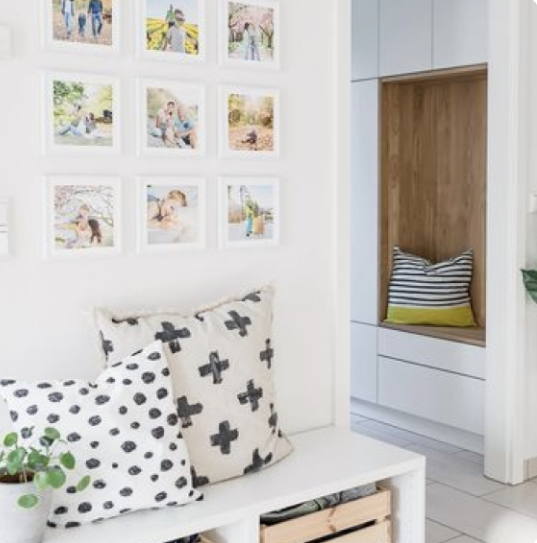 How do you hang your Mixtiles?
When you get your Mixtiles, you'll see some sticky strips on the back. Just peel off the protective paper and stick your tile to the wall. They will hang to the majority of walls, but if you find that the strips aren't sticking to your walls, let them know and you can get a refund.
Another cool feature of Mixtiles is that you can move them around. If you decide you want your photo tiles in a different spot, just pop the tile off the wall and stick them in the new spot. It won't damage your wall, and you don't even need a new sticky strip.
You can move them around a few dozen times before you have to worry about the strips losing their stickiness!
I love that I can change my tiles around and try different arrangements super easily. I love the idea of ordering a few every few months, and adding to my family gallery wall!
But even if you don't move them around, Mixtiles are a great way to make a quick and easy gallery wall - without nails, hammers, or expensive frames.
Ordering Mixtiles Photo Tiles
Ordering for Mixtiles is super straightforward. You add your photos and then adjust them within the mock frame. You can zoom in and recompose them so they look the way you'd like.
Mixtiles Frames
There are 5 different options for Mixtiles frames. You can choose between: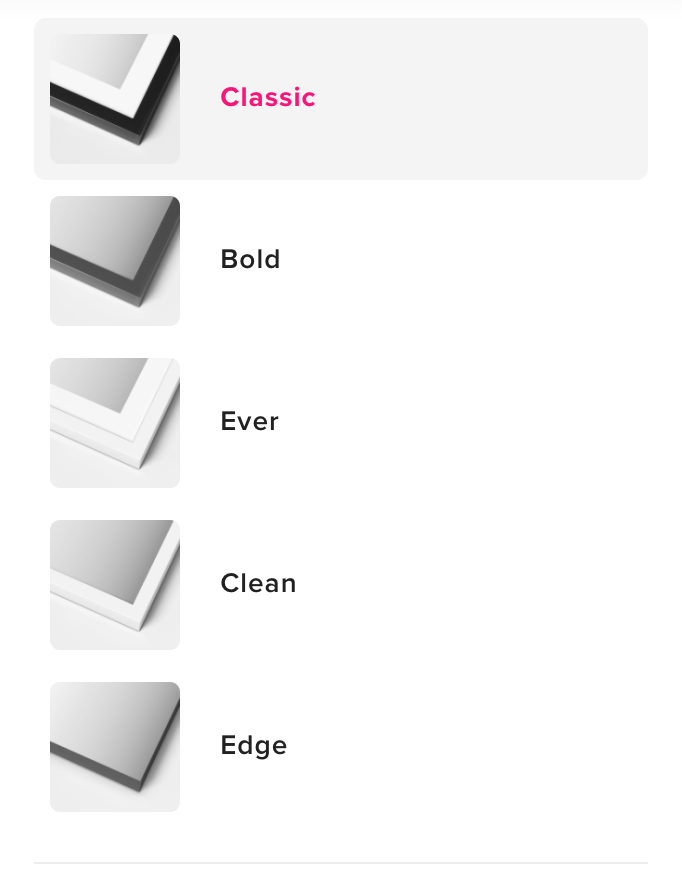 a black frame with a white mat (not really a mat, just an unprinted white border)
a black frame with no mat border
a white frame with a white mat
a white frame without a mat
or just a tile (so no frame or border)
After you're happy with the tiles you have and the frames you've picked, it's time to checkout. You have to have the same frame for all of the tiles in your order, but you could easily do a second order with a different frame, since shipping is free.
Once you've completed your order, you'll get an email confirmation that contains your receipt and an attachment with the photos & frame combinations you've picked. So it's basically like a proof of what you'll be getting.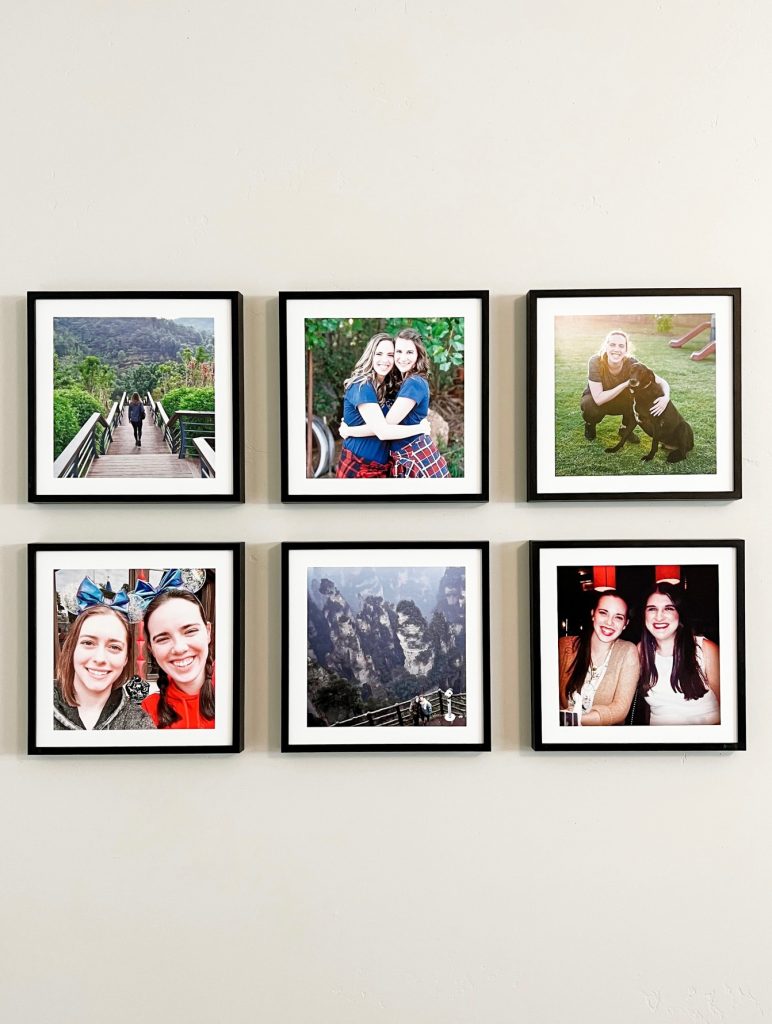 ORDERING FAQ
What is the cost of Mixtiles?
If you just want one or two photo tiles, they cost $11 per tile, which is a great price. However, if you're looking to buy in bulk, they often have deals for buying 12 tiles at once, like $99 for 12 tiles, which saves you over $30.
Do Mixtiles only have one size?
They are definitely well known for their 8x8 wall tiles, but they actually have a few more sizes for US customers!
8" x 8"

8" x 11"

vertical (or 11x8, horizontal)
12" x 12"
12" x 16"
However, this option is hidden on their website, since most people want their flagship 8x8 tiles.
Click this special link to access the other Mixtiles sizes.
What are the border options?
You can order your print without a border or with a thick white border that mimics a mat.
Can I order multiple borders in one order?
When you upload multiple photos at once, they will have the same frame and border for all of those photos. Because Mixtiles photo tiles are designed to look classic and consistent, the option you choose will apply to all of the photos in that order. If you want a different frame or border for other photos, you will have to upload those separately.
Can you change the photos in Mixtiles? Can you replace photos in Mixtiles?
You cannot. Mixtiles prints the photos directly onto your tile, so the picture will stay the same and you can't change it out with another photo unless you get a new photo tile.
Can I upload photos from Facebook or Instagram?
Yes, you can! When you upload your photos, you'll have the option to upload them straight from your device or access Facebook or Instagram for your photos.
What is on the back of Mixtiles?
The back of your Mixtiles photos will have an adhesive strip at the top with a protective sheet of paper covering that strip.
HANGING FAQ
How do Mixtiles attach to the wall?
Mixtiles photo tiles attach to the wall with an adhesive strip on the back. When you get your photo tiles, it comes with protective paper on top of the adhesive strip. Just pull off the paper and stick it to your wall!
Are Mixtiles magnetic?
Mixtiles photo tiles are not magnetic. The adhesive used is sticky like a command strip.
Do Mixtiles stick to concrete walls?
They should. Mixtiles sticks to almost all surfaces - textured walls, brick, glass, and wood. If you have a problem, reach out to Mixtiles and they will do what they can. If you want to check first before you order, you can also reach out and ask if it will work on your walls.
Can I hang Mixtiles in the bathroom?
Hanging your photos tiles in the bathroom has worked for most people who have tried, so you should be fine. The humidity isn't a problem with the adhesive, but be careful not to get it wet because the photo tiles aren't waterproof.
Do Mixtiles peel paint?
They do not! Your Mixtiles will not peel any paint.
Can you reposition Mixtiles?
You can! Gently pull them off the wall (starting from the bottom and pulling up) and stick them in a different spot. You don't need a new adhesive strip or anything.
How many times can you move Mixtiles?
You can move them a few dozen times without the adhesive strip losing its stickiness.
Are Mixtiles heavy?
They are not. They are actually super light! Don't worry, they are still durable and well-made, but very lightweight at the same time.
How much space should you leave between Mixtiles?
However much you want! There's no right or wrong here, but most customers left about 2 inches between their photos for a really pretty gallery wall.
SHIPPING FAQ
Where are Mixtiles shipped from?
Mixtiles is an international company, but their tiles are produced in the US.
How long does shipping take?
It depends on where you live, but for the US, they'll arrive in 5 business days. Shipping for most countries will take between 1-2 weeks.
How much does shipping cost?
Shipping is free on all orders!
Does Mixtiles ship internationally?
They do! They don't ship to every country, but they do ship to a lot. You can check when you're ordering if your country is an option.
---
Mixtiles is a great place to get photo tiles. If you're looking for something to put on your wall and want a set of cute pictures, we highly recommend Mixtiles.
They are easy to stick on the wall, durable, lightweight, and the printing is of great quality. While you can't replace the photos like you can with normal picture frames, these photo tiles are a fun way to get a lot of frames that are exactly the same so you can create a really pretty arrangement on your wall.
Check out Mixtiles for your own photo tiles!