Does your child love cameras and photography? Kids are never too young to learn about a profession: and picture books about photography can be just the thing to inspire and teach them.
This post has 24 great photography picture books. There are books about taking pictures, biographies about inspirational photographers, and moments when history was changed by someone with a camera. I'm sure you'll find the perfect picture book about cameras for your child!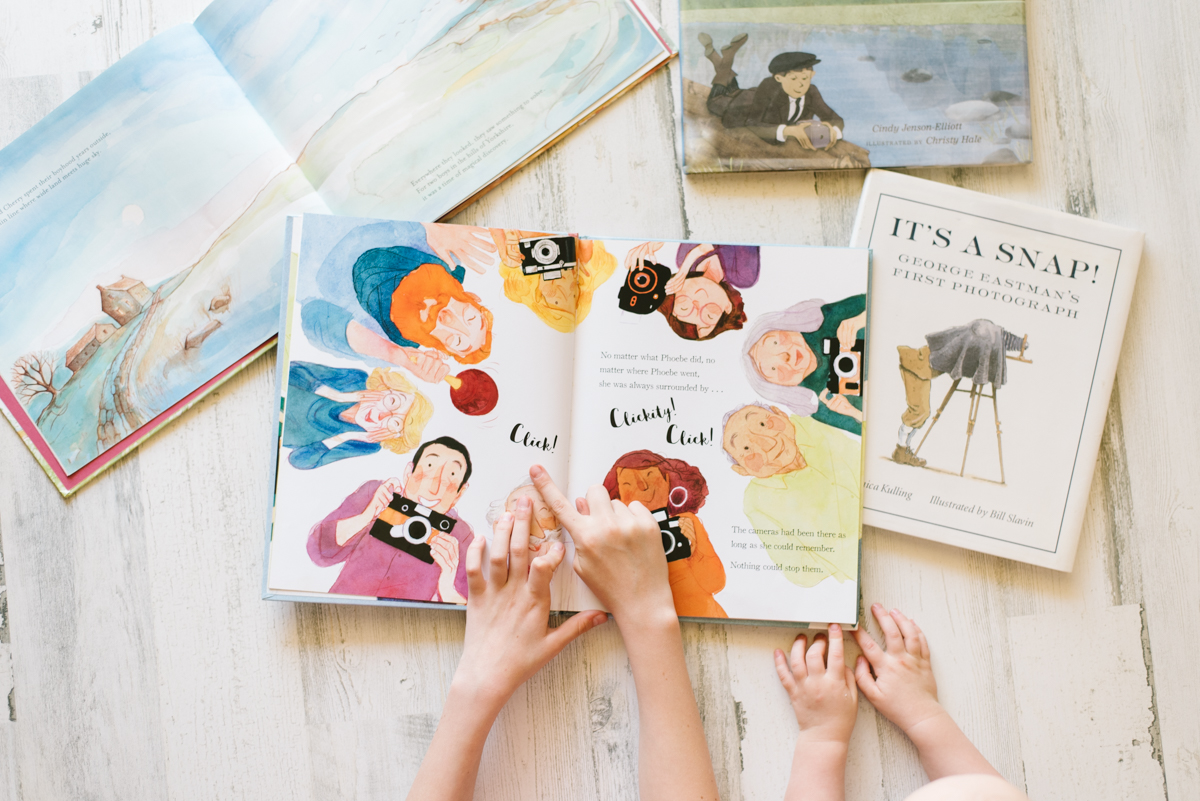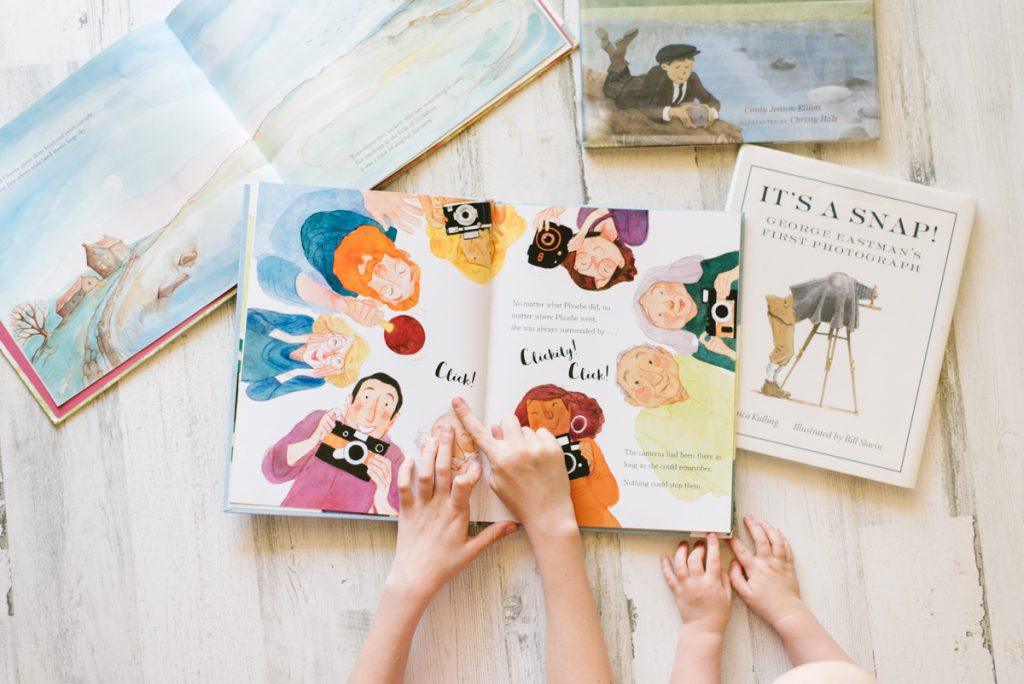 24 Picture Books About Photography
Remember Kodak cameras? This book is all about the man who figured out how to make cameras cheap enough for regular people to take pictures as a hobby.
Back in 1877, photography was much harder than it is now. Cameras were big and heavy and expensive, and George Eastman thought that needed to change. So he put his clever mind to work and invented a new kind of film and a little thing called the Brownie camera. He was the founder of Kodak!
This book is a wonderful picture book about photography and the hard-working man who helped make cameras more accessible to all.
Sylvie the Squirrel loves selfies! But, as she's snapping all those selfies, she doesn't see what's happening right in front of her. After her friends save her from a dangerous situation, Sylvie decides she needs to focus on something other than just taking selfies.
This is a great little book that can help your little one understand that, even though selfies can be fun, it's more important to be a good friend.
This is one of my favorite picture books about photography. And I didn't even know what Flotsam meant at first!
In case you don't know either, flotsam is what you call anything that gets washed up onshore.
This book is about a little boy who visits the beach and discovers an underwater camera covered in barnacles. Apparently, the camera has been taking magical pictures under the sea, and it's been traveling around the world for years.
The wordless story takes you on an adventure and he examines the pictures found inside the camera, and the imaginative situations it has captured.
If your kids have every looked at you as if you were the paparazzi, this on is for you. Your snapping habits are all for a good cause, right? Those memories need to be captured! The rhymes are perfect for young kids; they'll be joining in to say "click!" on every page
This is a super-thin soft-cover book, but I just love the illustrations and message. (I believe it's a print-on-demand book, which means it has a soft-cover library binding).
This one has the funniest illustrations - based on real situations!
Richard and Cherry Kearton were brothers that loved nature. As they grew up, they developed a passion and desire to photograph it. They "invented" bird photography by camouflaging themselves so they could get closer to the birds.
My kids giggled their way through this one as their adventures were described. They tucked each other into haystacks, put ladders in crazy high trees, hide under a fake sheep, and even had a fake ox, as portrayed on the cover!
The published their work in a famous natural history photo book, and changed the way people see birds and their nests forever. It's a sweet picture book for any nature lovers.
With her 5th birthday rapidly approaching, Phoebe desperately wants a superhero costume for her birthday gift. But when her special day arrives, she got a different present instead. When the big day arrives, however, she unwraps something else entirely: a camera.
As a kid, Ansel Adams could never sit still. He hated being inside and his feet were always moving. But when he was outside, he felt at peace. He loved everything about the outdoors - the wind, the water, the snow... all of those sights made him feel at home.
This book is about the childhood of Ansel Adams and how this active boy became a famous photographer and nature conservationist.
Bill Cunningham searched all over New York City for beauty, and eventually, he found it - but not in the people, in their clothes!
He took photos of fashion, both on a runway and just on the streets around him. Bill Cunningham used his passion for photography to capture the beauty and freedom he found in fashion.
This inspiring picture book is all about the importance of creativity and finding your path in life.
Ever since his childhood, Wilson Bentley loved looking at snowflakes. He decided to use his camera to try to capture these "small miracles" so others could see the beauty of them as well. Back then, most people didn't understand his passion for photographing snowflakes, but that didn't stop him! Eventually, Bentley's work revealed the truth we all know now: no two snowflakes are the same.
This story can help your little one see the power in perseverance and pursuing your passion!
Since Phoebe was born, she's always been the star of the show. Her parents always took photos of her, and she loved the attention.
Until one day, a newcomer changes that. Hint: it's a new baby!
This little book is all about Phoebe learning to share the spotlight and take on a new role. It's a sweet story that is perfect for any new older brother and sister.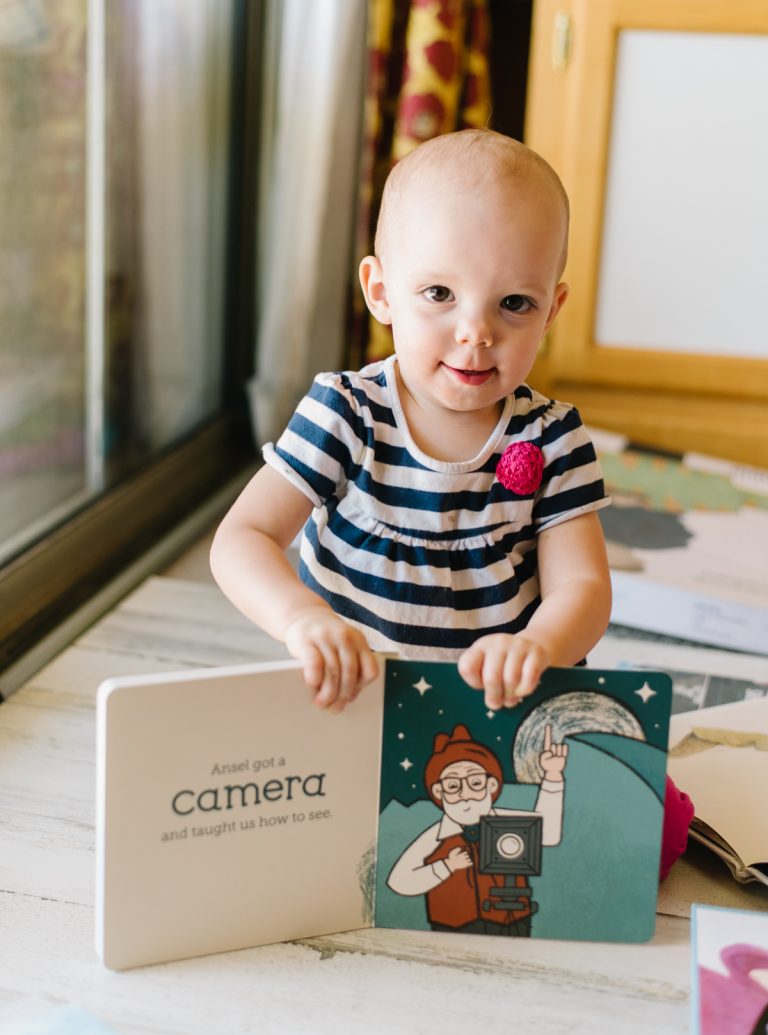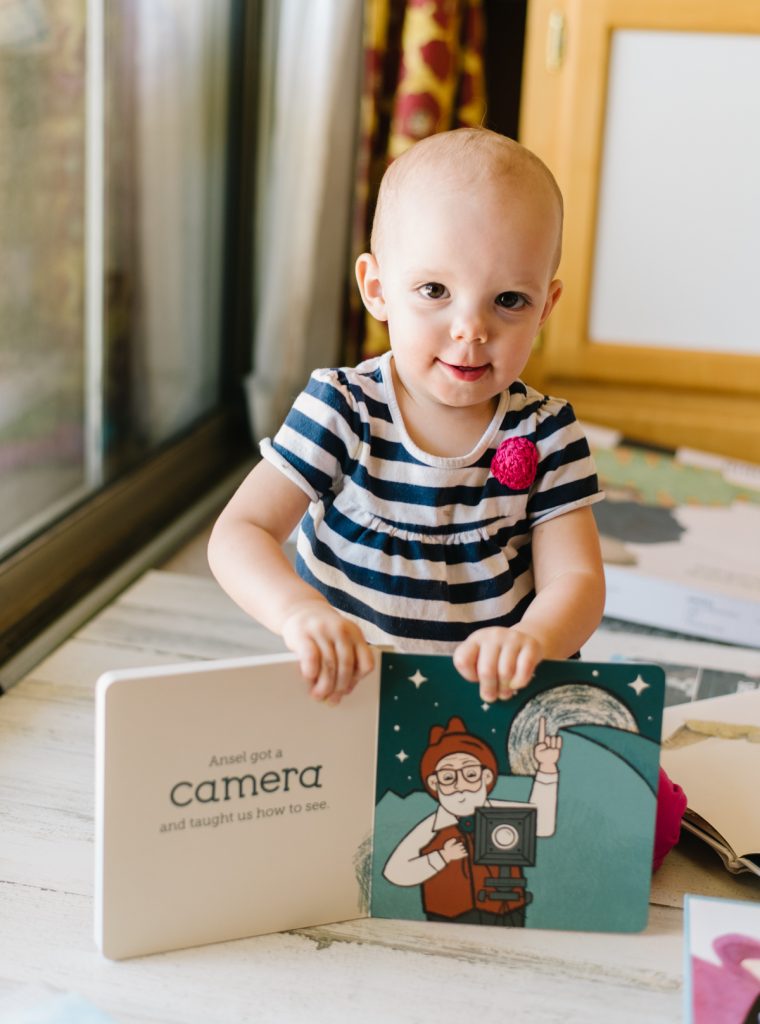 There are very few board books about photography available. If your little one loves nature and photos, then this one is a winner!
This toddler-friendly board book is all about Ansel Adams. He got his first camera at age 12 when he went on a trip to Yosemite National Park with his family. He became a famous photographer and advocate for nature conservation.
This book is about Anna Atkins, a little girl who grew up in the 1800s and was completely fascinated by plants. She started her career as a botanist by illustrating her research, but her life changed when cyanotypes were invented. She realized she could use photosensitive paper coated in chemicals to record her findings, creating "photos" of plants in a way no where had ever done before.
In 1843, Anna published a collection of her photographed plants, which is considered the first book of photographs that was ever published.
My daughter loved this story of art and creativity and pursuing your dreams. We talked about ho technology that can change our life might now even exist right now!
Ever heard of Dorothea Lange? After a difficult childhood, she went on to become one of the founders of documentary photography. She took one of the most famous pictures of all time, of a migrant mother and her children.
She used her skills to focus her camera on those less fortunate. She traveled across the United States, taking pictures of businessmen who had fallen from grace, former slaves, the homeless, and those who were most affected by the Great Depression. This inspiring book is perfect for any child!
This is an illustrated biography of Gordon Parks, who is most famous for being the first black director in Hollywood.
But Gordon grew up poor and struggled to find work. He bought a used camera and taught himself how to shoot. Eventually, he landed a job as a government photographer and used his influence to shed light on segregation and rascism.
With his camera in his hand, Gordon Parks found a way. This is the inspiring story of how a single photograph and the man behind the lens got a country to notice unfairness in the world.
James Van Der Zee was a young boy who, after finally saving enough money to buy his first camera, enlisted his family, classmates, and anyone he could find to sit down for a portrait. By fifth grade, he had become the school photographer and the unofficial town photographer. Eventually, he grew up and moved to New York City and got a job. But after his boss told him that no one would want a black man to take their photo, James decided to open his own studio in Harlem.
James ended up taking photos of several legendary and influential figures in the Harlem Renaissance, plus a lot of ordinary people in the neighborhood too. Everyone wanted their portraits taken by James Van Der Zee. This book tells the groundbreaking story of an artist who helped change the world.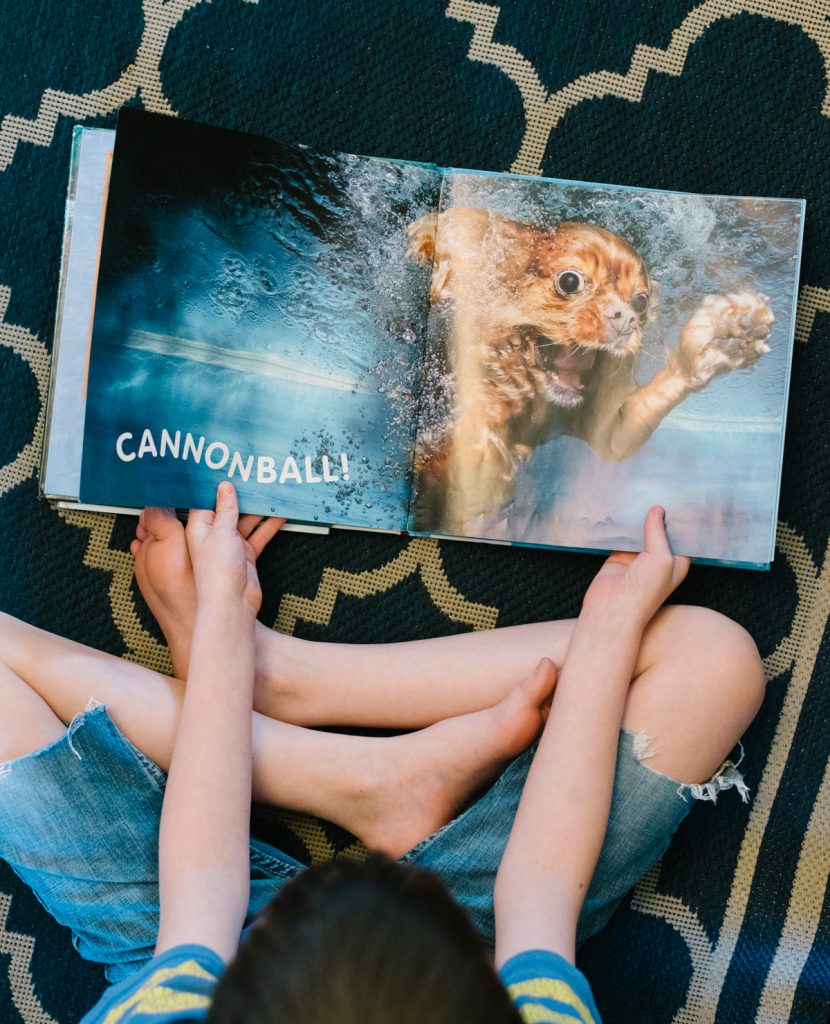 This is sure to become a favorite picture book about photography! It's filled with adorable photos of all kinds of dogs taken by photographer Seth Casteel. My whole family loved seeing how amazing and fun photography can be.
You also might like Puppy Pool Party by the same author. It turns out that puppies are even cuter than dogs!
Phoebe doesn't understand how a camera can help her be a superhero, but once she uses her imagination, she realizes just how powerful she and her little camera can be.
This is the story of Imogen Cunningham.
Growing up, Imogen and her family didn't have much. But when Imogen told her parents that she wanted to be a photographer, her father made her a darkroom.
Years later, Imogen became a photographer and a mother of 3 boys. She decided to turn her garden into a place where she could work while the boys played. As they ran around, having fun, Imogen photographed them. Taking photos of her sons and the plants and flowers around them, Imogen Cunningham went on to become one of the best photographers of the 1900s.
You've seen alphabet books before, but this one has a fun twist!
This alphabet book is full of vintage photographs from the 19th and 20th centuries. A monk playing a bamboo recorder, a circus band, and an alligator going to dinner. It's a unique little picture book that helps readers see just how interesting photography can be.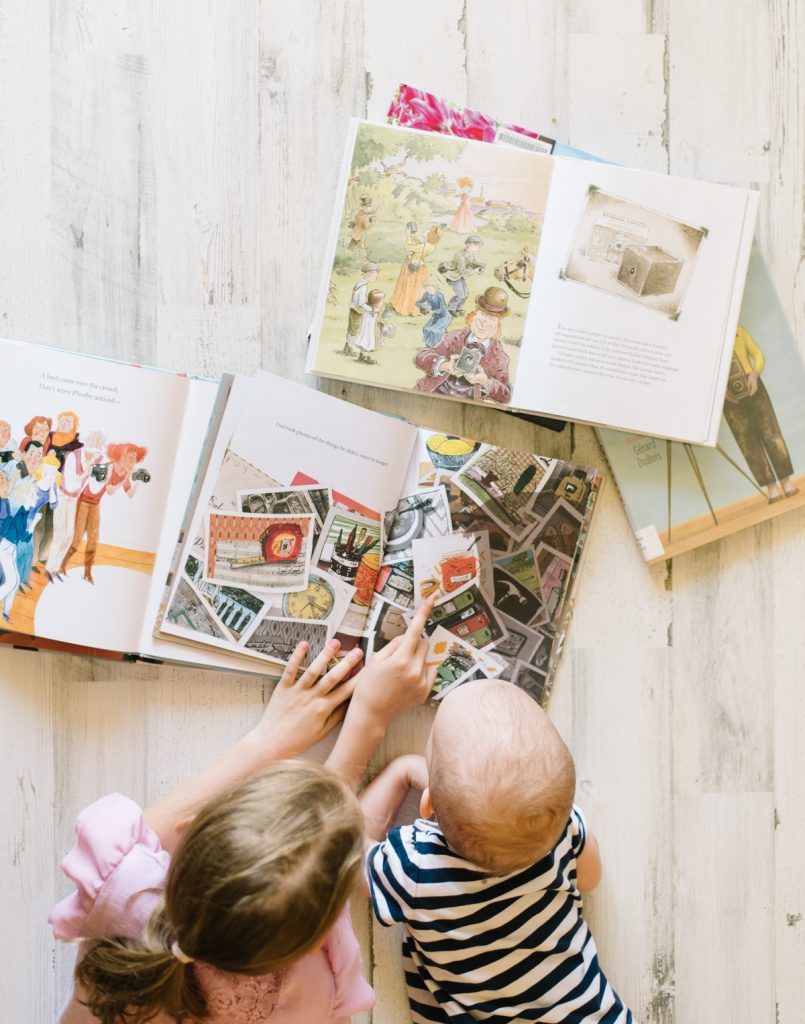 A geographer and designer duo decided to take alphabet books to a new level using satellites to discover "accidental" letters all over the world. Let your kids take a journey around the globe to find 26 letters in roads, rivers, buildings, and lakes with this special book.
When Esquire magazine decided to highlight the American jazz scene in the 50s, Art Kane had an idea. How about he get together a group of beloved jazz musicians and take a great picture of them? Even though he didn't own a nice camera or know if the musicians would even show up, he set up a place for photos in Harlem.
This photography book for kids tells the fun story of a lively block full of kids and the larger-than-life jazz musicians all coming together in Harlem on a hot summer's day.
Even though she was seen as plain, Julia Margaret went on to create her own beauty, through her photographs.
She persuaded kids and friends to dress up for staged scenes based on literature and myth. This book features vintage photographs that help tell the story of the beginning of photography and the woman who found her own beauty.
No matter where you look, you'll see tons of different shapes, colors, and people.
This is a picture book about photography dedicated to how one young girl captures the art and community in her hometown, New York City. It's guaranteed to be a hit amongst any budding photographers.
Have you ever seen shapes in the clouds? Or wondered what the world looks like from space?
This clever alphabet book is filled with photos of Earth from space, and your child will be fascinated to see how diverse our world is. You can find letters anywhere in nature! There's a fun informational section in the back with maps of where all the letters where found, and descriptions of how satellite imagery works.
Are your kids bored at home? This book will take them on a whimsical journey to Parker Palm Springs, a delightful place with a tennis court, a lemonade stand, and a lawn set up for a game of croquet. But the guests and staff are... unexpected.
This photo book will whisk kids away on a short vacation that will help their imagination bloom.
You may also enjoy Opposites by the same author, full of colorful pictures!
---
You've got tons of options for photography picture books for kids on this list.
Which one are you most excited about?
Related Posts: