Yoto music cards are the perfect way to expand your child's music library. You can introduce them to your favorite songs or create cards based on their favorite artists and shows. You get to approve of the music you're willing to give them, and they get the autonomy of choosing what to listen to!
Music cards fall into two big categories: premade Yoto music cards from the card store or MYO music cards. We'll cover ideas for both in this post!
If you're new to the world of MYO, check out these posts for some how-tos: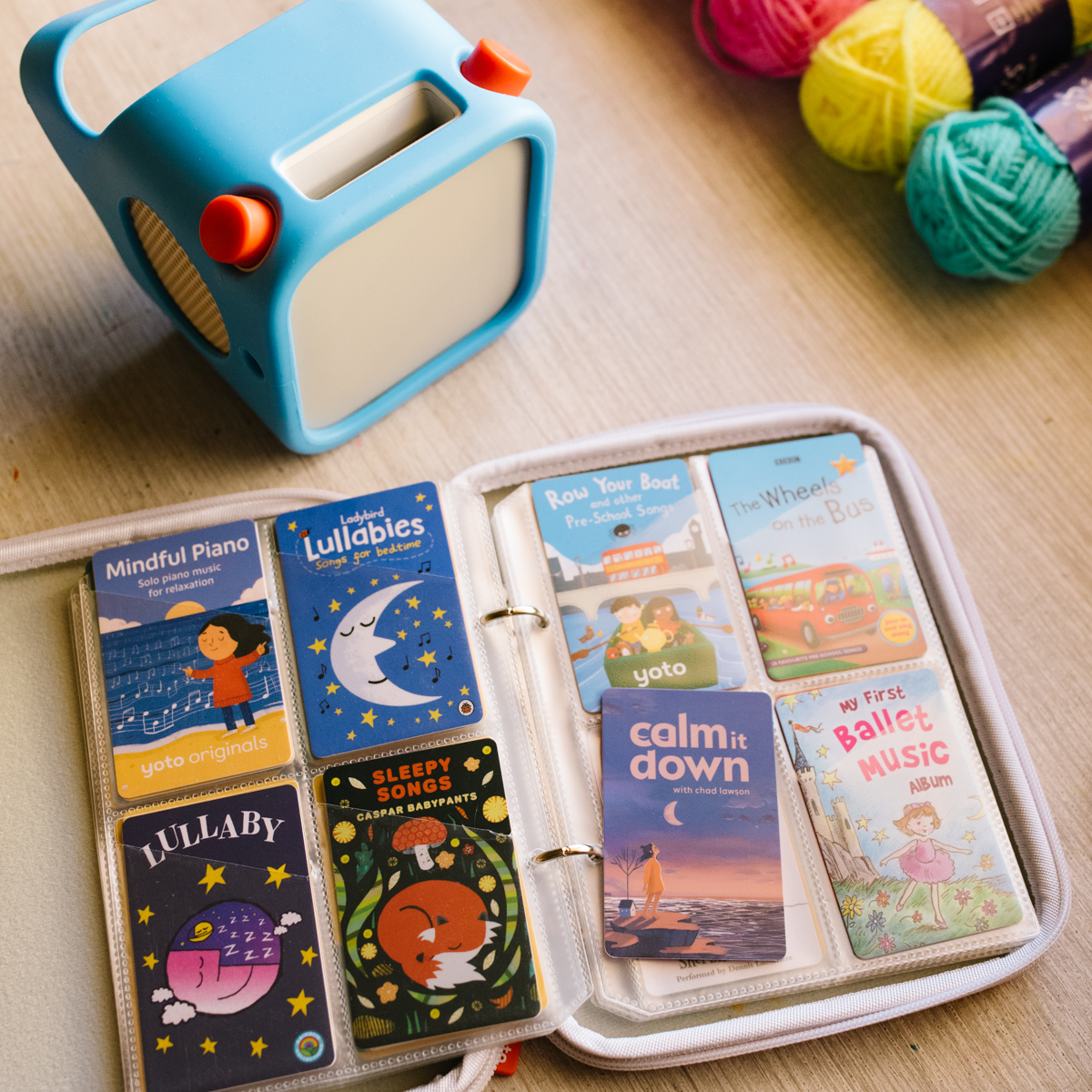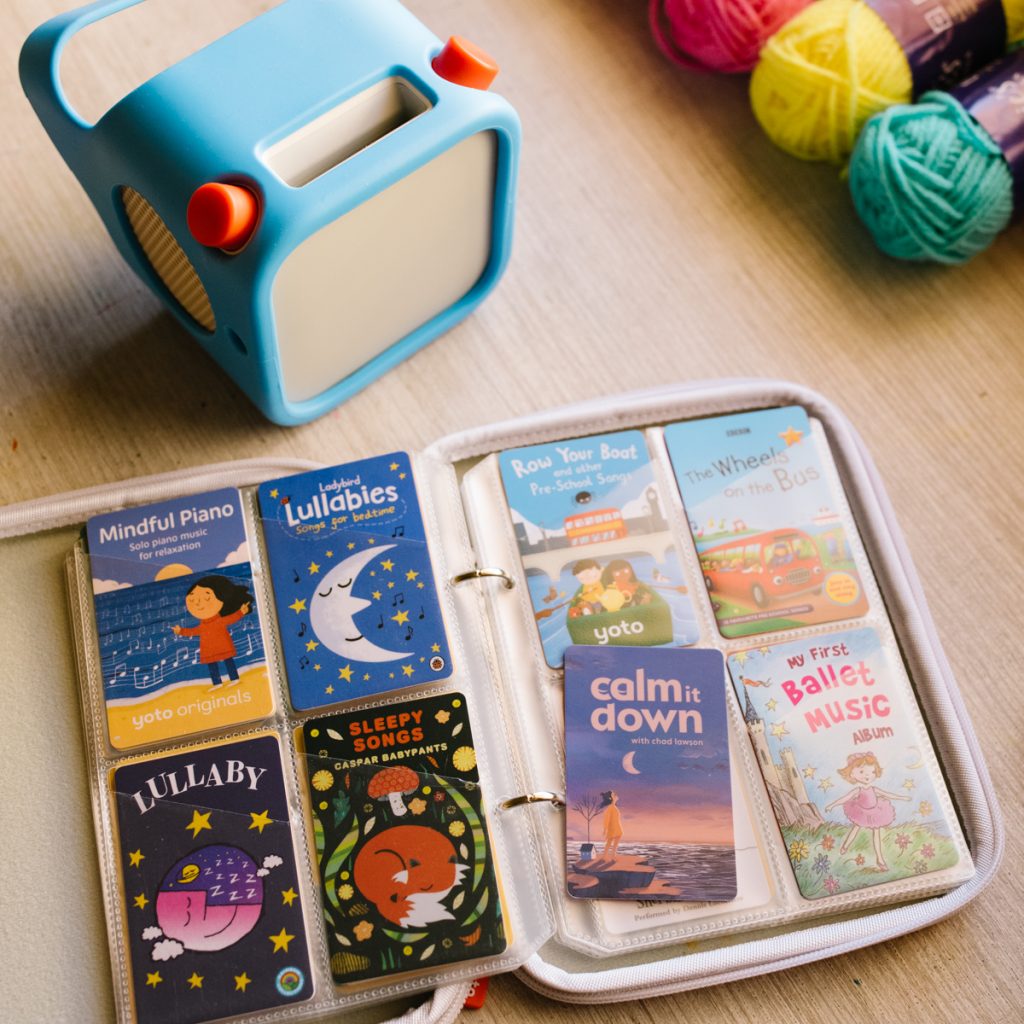 Favorite Yoto Music Cards Straight from the Store
Can we just start off by saying there are some amazing Yoto music cards available straight from the Yoto store? Here are some of our favorites by category:
Music that's for your kids (but you secretly love as well)?
Got toddlers? They'll enjoy these:
Upbeat fun?
Bedtime?
Our favorite bedtime card hands-down is Calm It Down. I haven't met anyone who doesn't like this card! It's beautiful, calming piano music that just works perfectly for bedtime and quiet time.
Ladybird Lullabies - My toddler calls the "moon" card and it's the next most requested bedtime card.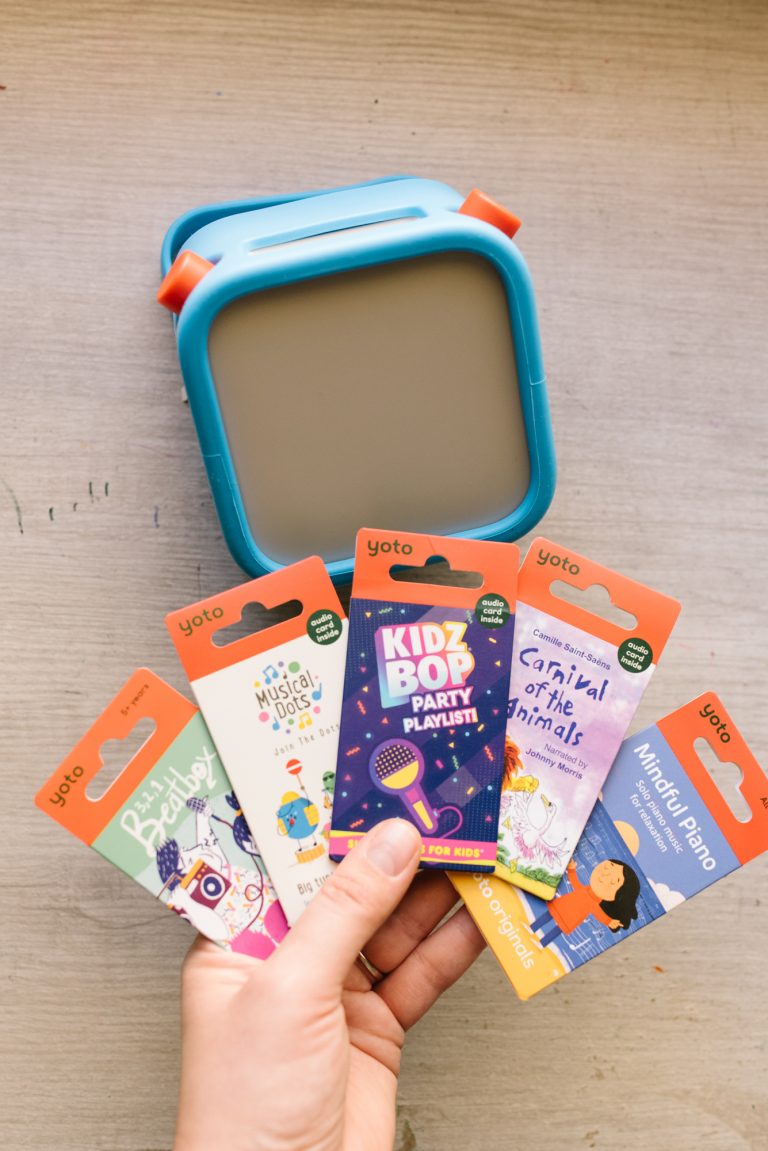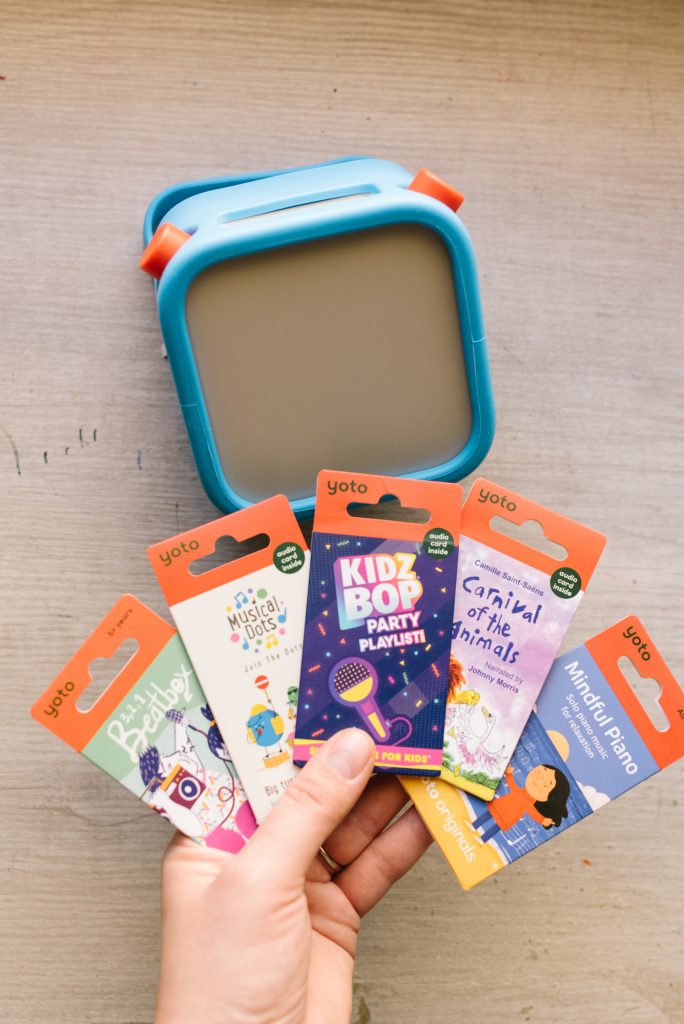 Kid-Friendly Music for MYO Yoto Music Cards!
But you'll also want to make your own Yoto music cards. You could put pretty much any music you want on a card! If you want to introduce them to your favorite band or rock out to the 90s with them, go for it!
This post is a list of the most popular options we've seen people use for MYO Yoto music cards.
We've linked to them on Amazon as we've found it's the easiest source for downloading MP3s, ready to go for playlists.
Wondering about Spotify? Amazon Music Unlimited? Check here for all the details on where you can and cannot get content for Yoto players.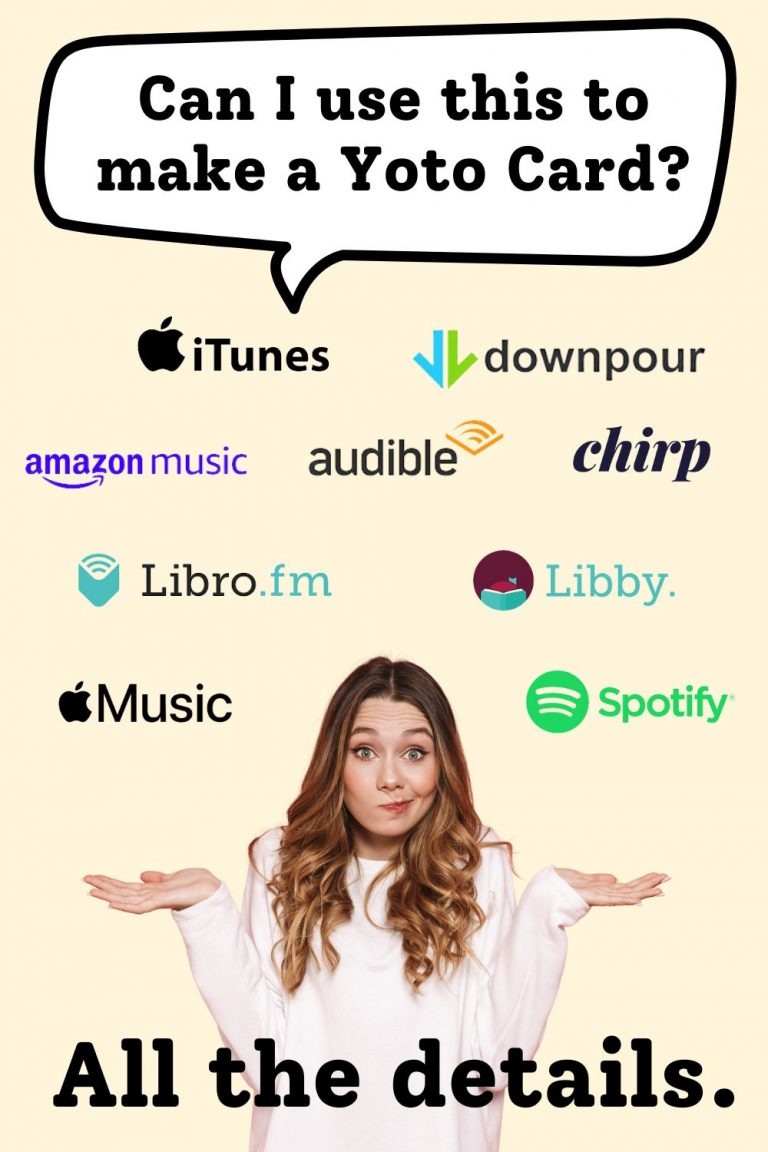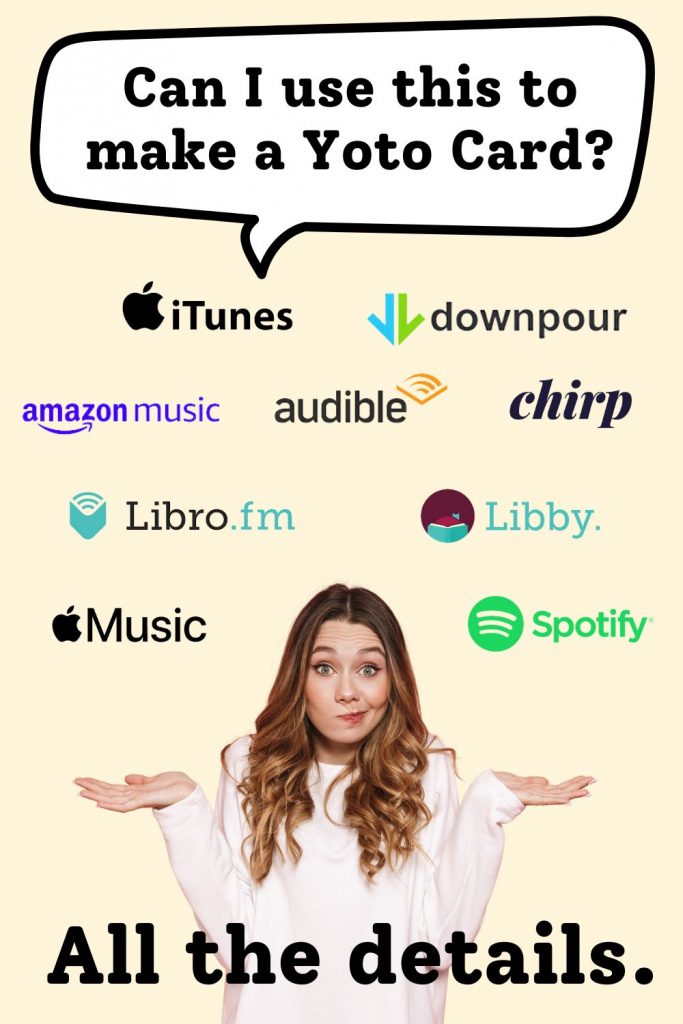 Note that there's a difference between streaming these on Amazon Music and purchasing the MP3 file to use on a Yoto card. Streaming is included in your Amazon music subscription or Prime benefits, which means you can only play songs from an Amazon device or website.
But to make a Yoto card, you must specifically PURCHASE the content you want to use on a Yoto card. Your streaming fee does not include buying any content - it's a separate transaction.
Each of the links below goes to a streaming page because that's where the link is to purchase. I can't link you any more directly than what's available here.
When You're Ready to Purchase...
After you've clicked a link from this page, find the button that says "Purchase Options" with a downward-facing arrow. Click or tap that. Then choose the MP3 Music option.
You'll then see a popup that shows up with a Buy Album-Pay Now button. That's how you buy a track that you can download and put on a Yoto Playlist.
[Note: Many people purchase these (for free!) with the Prime no-rush shipping credits. Head over to this post to learn more.]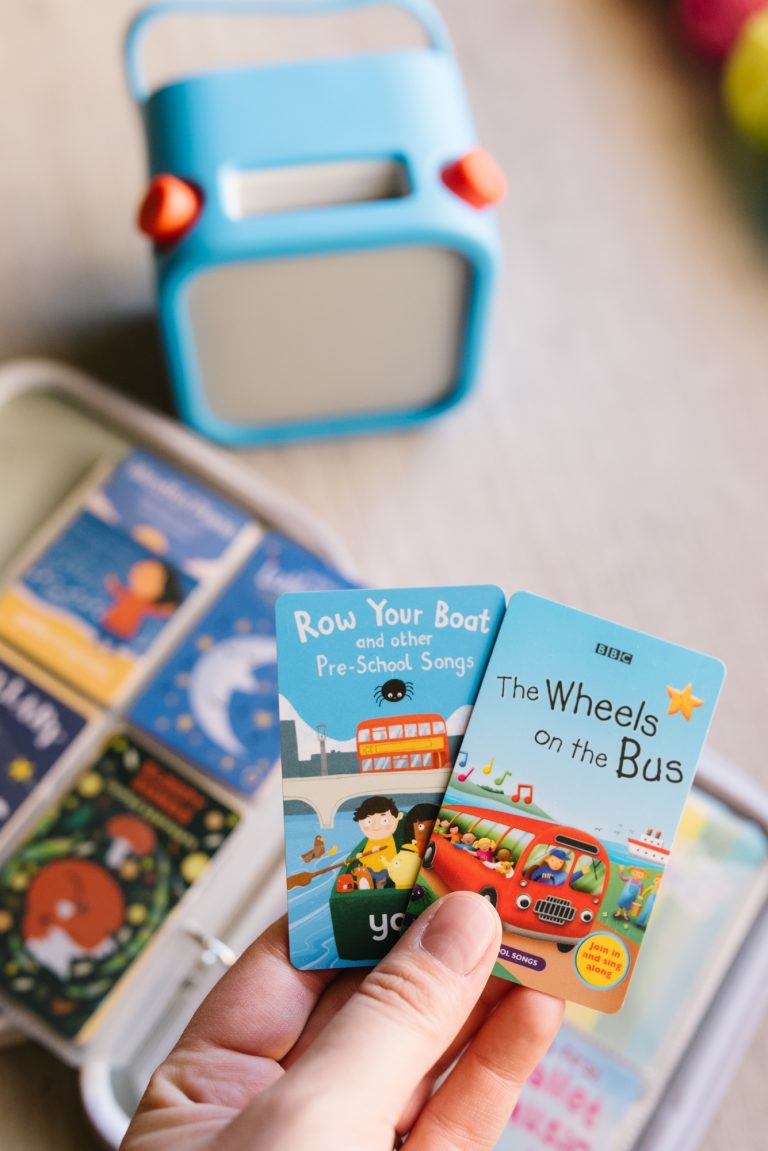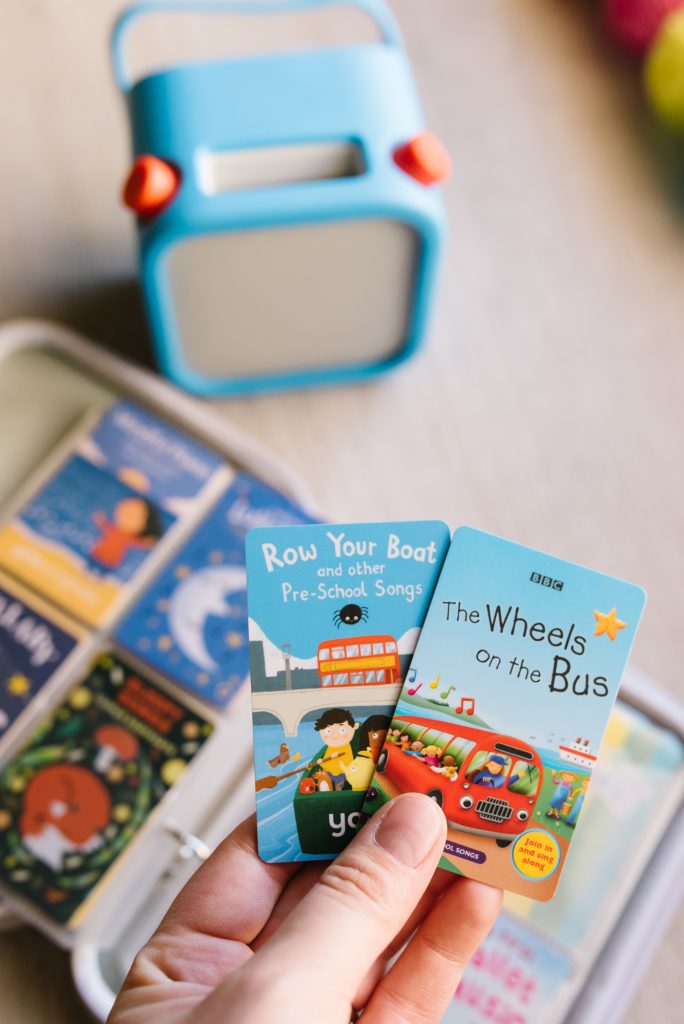 Toddler/Preschool Ideas for Yoto MYO Music Cards
Bluey The Album
If your family loves Bluey (and who doesn't?), then you can get the Bluey soundtrack, which contains 17 tracks. There's a second album called Bluey: Dance Mode as well! Since there are no Bluey stories available in the US, this is the best way to make a card of Bluey content.
Raffi
Have you ever heard of Raffi? If you haven't, he is a Canadian singer/songwriter who makes kids' music! You can get his album of nursery rhymes, an album of singable songs for young kids, or his Best of Raffi album.
StoryBots
There are tons of StoryBots music on Amazon.
Some of our favorites are their Animals album, the Ask the StoryBots album, the ABC Jamboree, and their album about colors.
Blippi
If your kids like Blippi, you can get all of Blippi's essential songs and make a Yoto card with popular Blippi songs like The Excavator Song, Dinosaurs, and Monkeys Jumping on the Bed.
Peppa Pig
You can get Peppa Pig's Nursery Songs or Peppa's Lullaby album.
Numberblocks
Numberblocks is an animated show for young kids featuring ten friends who use their own abilities to work together. You can get the music from the show here.
Daniel Tiger
Do your kids love Daniel Tiger Songs? Mine sure do! Here is the Life Lessons collection and their collection for Big Feelings.
Nursery Rhymes and Toddler Favorites:
You might not love having these songs playing, but your kids sure will!
Popular Yoto MYO Music Card Ideas for Any Age
Disney Soundtracks
There are SO MANY Disney soundtracks available. It's pretty likely your favorites are on Amazon as MP3 downloads.
You can get Encanto, Moana, Tangled, Frozen, and the Disney Princess song collection! You can either get individual tracks (like We Don't Talk About Bruno, I See The Light, Let it Go) or buy the whole album to save.
Don't forget the older classics like Lion King, Mary Poppins, Tarzan, and more. You can definitely make a Yoto card with Disney hit songs.
Pixar Movie Scores
You can also get the Pixar movie scores. These don't have the words to the song, but they are perfect if you are looking for interesting instrumentals to have in the background or play as your children are going to sleep.
Owl City
This is a great option for an upbeat artist with catchy tunes - it's like electronic dance music but way less annoying. Everything is very child-friendly but the adults still like it. My kids request Owl City on nearly every car ride!
Kidz Bop
Here is the MP3 for the all-time greatest hits from Kidz Bop. You can also get this one or this one.
Note that if you want to save time and you're only planning on listening to Kidz Bop on Yoto, you can get any of the Kidz Bop cards from Yoto itself. They have a card with the all-time greatest hits, a party playlist, the ultimate playlist, a 20th birthday edition, and hits from 2023.
The Greatest Showman
This is the MP3 of the soundtrack for The Greatest Showman. It's a great soundtrack and it would be so fun to add it to a Yoto card! My kids adore this one.
Matilda the Musical
If your kids liked the Matilda musical, then get the soundtrack with your credits! It has 22 super energetic songs.
Sound of Music
You can also get the original cast recording for the Sound of Music. So if your family likes Julie Andrews, you can make a Yoto card out of the soundtrack! If you go this route, there are lots of other family-friendly musicals out there.
Popular Singles for Yoto Music Cards
You might not want entire albums, but we've found these particular songs to be well-loved by most kids, and pretty clean too. Make a playlist of these and anything else they like!
If you have more suggestions for single songs, please comment below!
Christian Music for Yoto Cards
If you're looking for worship music or scripture songs, this post has TONS of options for creating a Christian Music Yoto Card.
Head over there to find tons of Christian MYO options!
---
Downloading music for Yoto cards is a great way to get music content that the Yoto store doesn't sell. With MYO cards, you can play any audio you want through your Yoto player. So if you can't find an already-existing Yoto card of the soundtrack or artist you want, you can just purchase the audio MP3 and add it to an MYO card.
Sometimes you can also use Amazon Prime credits to get digital audio on Amazon for free! If you want to learn more, check out this post.
What is your kids' favorite song or CD? Comment below so we can add it to the list!