One of the best things about Yoto is the endless options for MYO cards. But there are always questions about where to actually get the content:
"Where can I buy mp3 files for Yoto cards?"
"Can I use Spotify for a Yoto Card? Apple Music? Amazon Music?"
"What about Libby? I get all my audiobooks there."
This post has all the details about WHERE to get your MP3 content to make a Yoto Playlist: which sources offer DRM-free downloads, which places are streaming only, where the easiest place is to start, and more.
There are at least 25 sources that people ask about, and this post covers them all!
If you need help figuring out where to get content from, keep reading!
What file format do I need for Yoto Cards?
Almost everyone understands that mp3 files are audio files. But technology has improved and there are even more options now.
Biut I don't want to get technical here. So simply:
You can make yoto playlists with files that end in .mp3, .m4a or .m4v.
Note about phones vs. computers:
Most sources for audio files allow you to purchase on either a mobile device or desktop computer.
However, there are some sites/apps that require a computer to be able to ACCESS those files. If you don't a have a computer, you'll want to stick to the phone-friendly places instead.
Keep in mind that every other aspect of making a card can be done from the comfort of your phone on a cozy couch - creating a playlist, making a card image, rearranging tracks, renaming trackings, creating and assigning Yoto icons, etc.
Obviously, you'll need the phone app and a Yoto for the last step as well: linking a playlist to a card. Full post about explaining the steps to making your own card here.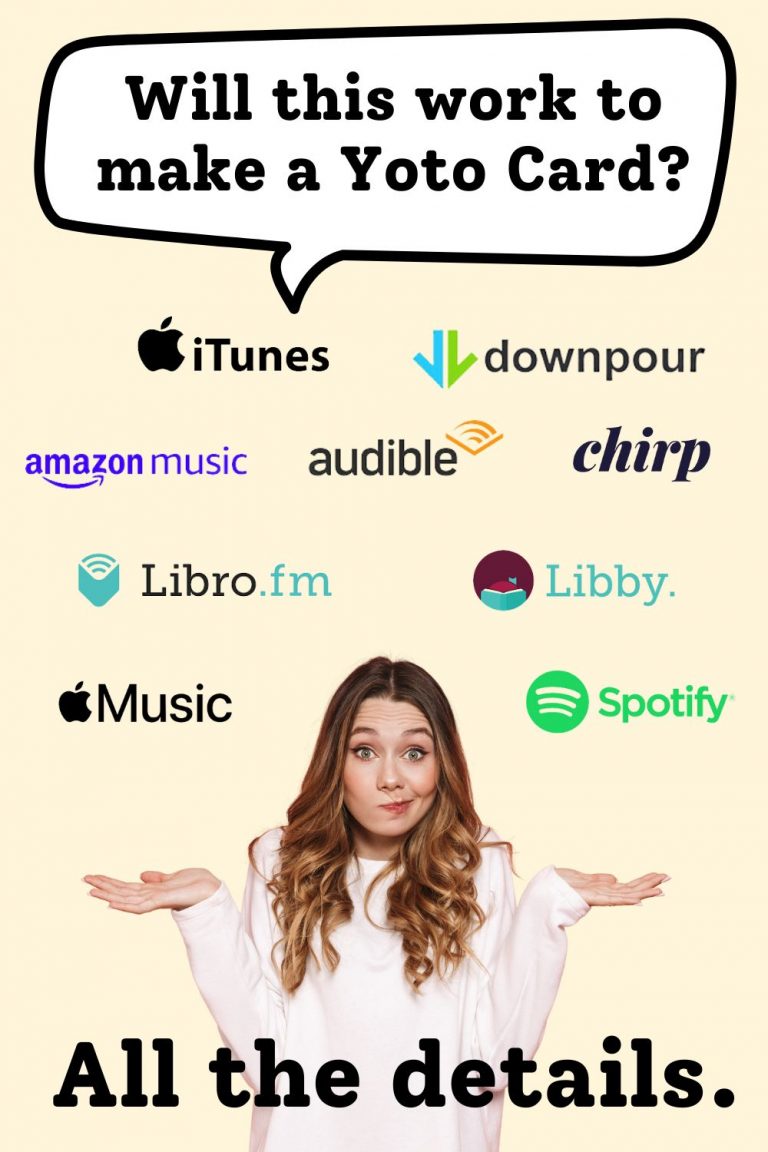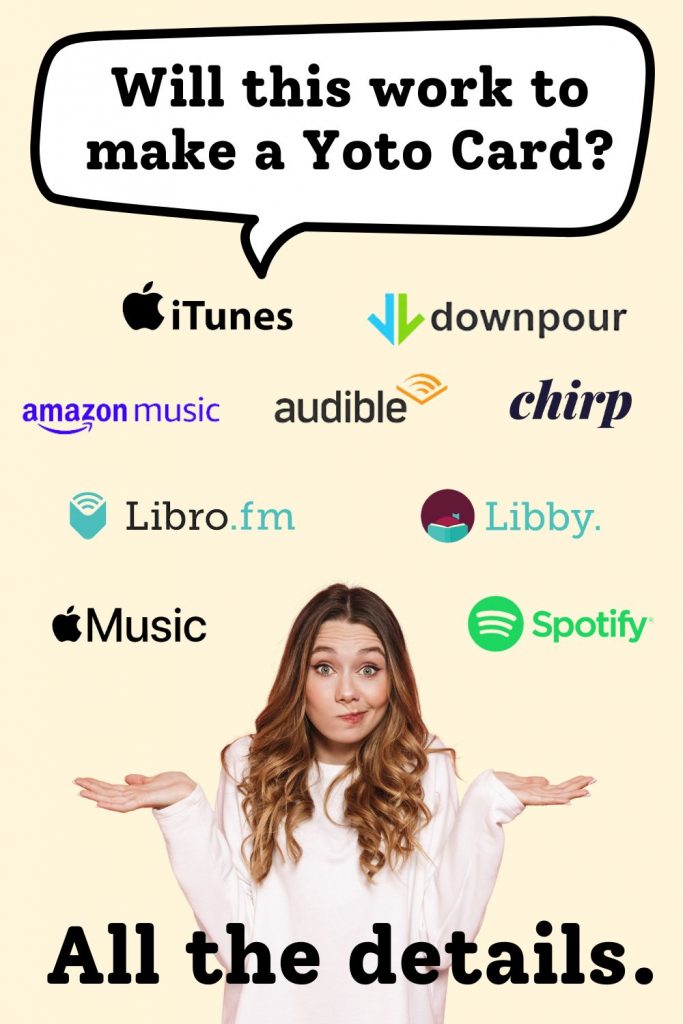 Sources You CAN Use for with Yoto
The following are the five places that always work for downloading audio files for a Yoto MYO card.

1. Libro.fm and Yoto
Libro.fm is an audiobook store that gives you MP3 files to download. It's probably my favorite way to make Yoto cards because it's so quick and easy!
Audiobooks from Libro.fm are available as MP3 and m4v files, so they are ready to download for Yoto playlists. Better yet, each chapter is separated into individual tracks, which saves you a step you may have otherwise.
This post has a step-by-step walkthrough of exactly how to use Libro.fm to make Yoto cards.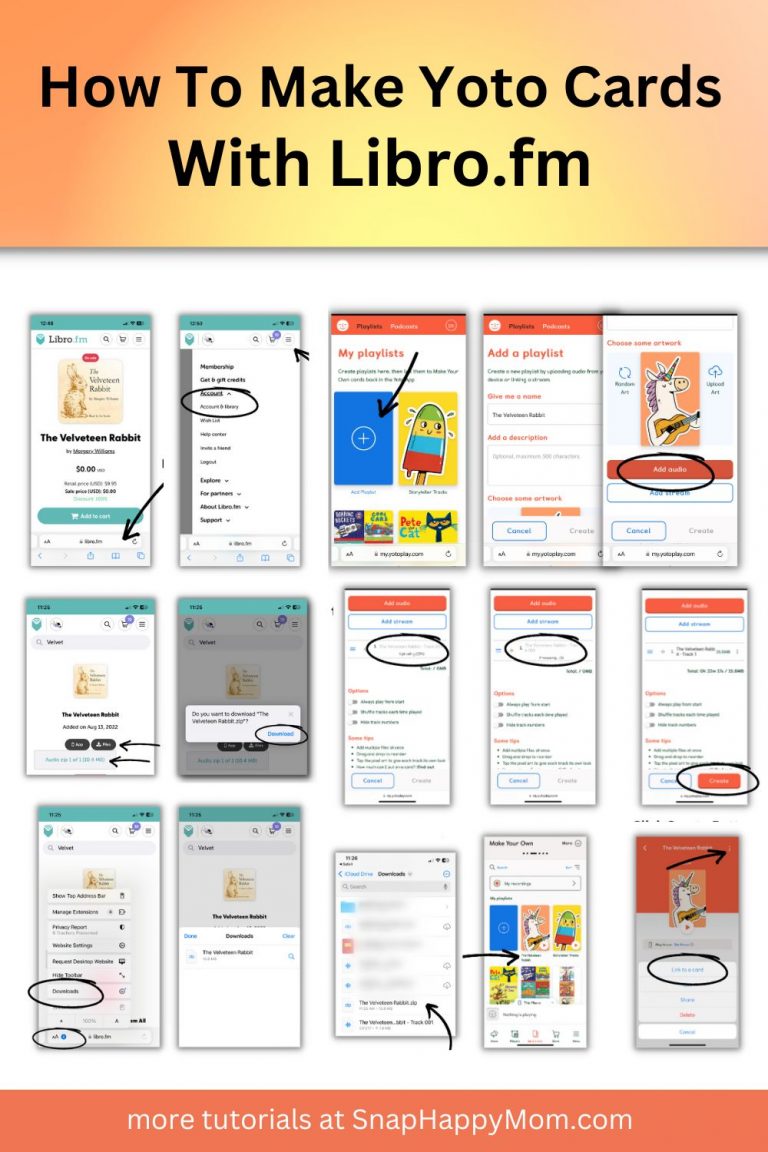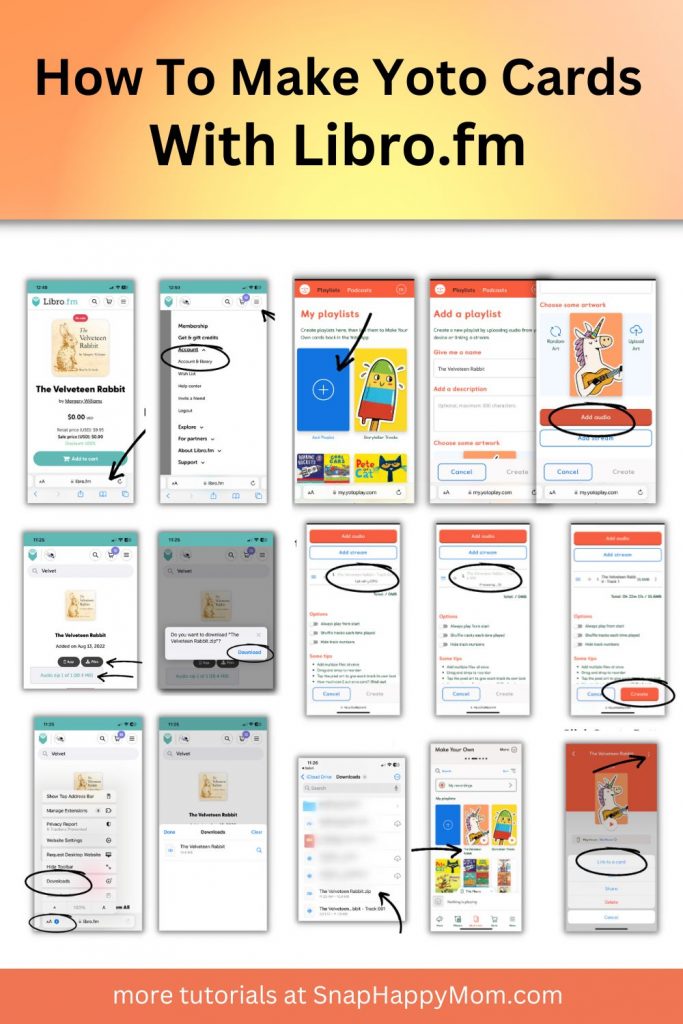 Seriously - I nearly always start my search at Libro.fm if I'm looking for a new audiobook. They have the best sales! I totally recommend starting here as you look for Yoto content.

2. Amazon MP3 Music (the store, not streaming)
Amazon lets you purchase many MP3 Music files directly from an Amazon browser.
Getting Amazon music mp3s are my #1 choice for new music tracks for Yoto cards! It's just a matter of finding what you want in the Amazon store, and then choose to buy the "mp3" format instead of the cd.
Note that this is totally different than the Amazon Music streaming service (the subscription service is about $10/month and usually gets streamed through an Alexa Echo device). This is also different than using Audible, which is an Amazon entity.
This actually only works in a browser. The Amazon app has a weird quirk that doesn't let you purchase tracks, but you can open Amazon in a browser on your phone instead. Or use a computer!
Go to the Amazon music store and search for the song/playlist you want. Look for the "Purchase Options" button and then "MP3 Music." Individual tracks are usually between $1-1.29 each. You can also buy the whole collection of songs for a flat fee (like buying a CD, but you just get the files).
For example, you can buy the digital files of Bluey: The Album from Amazon. You can pay $1.29 for each track or purchase all 17 tracks for $11.49.
You can download these files easily on a phone or computer and then upload them right to a Yoto Playlist. It's super quick and easy!
Amazon also has the best selection of licensed content for popular shows and characters. Head to this post to see the all the links we've found for characters like Peppa, Bluey, Blippi, and more!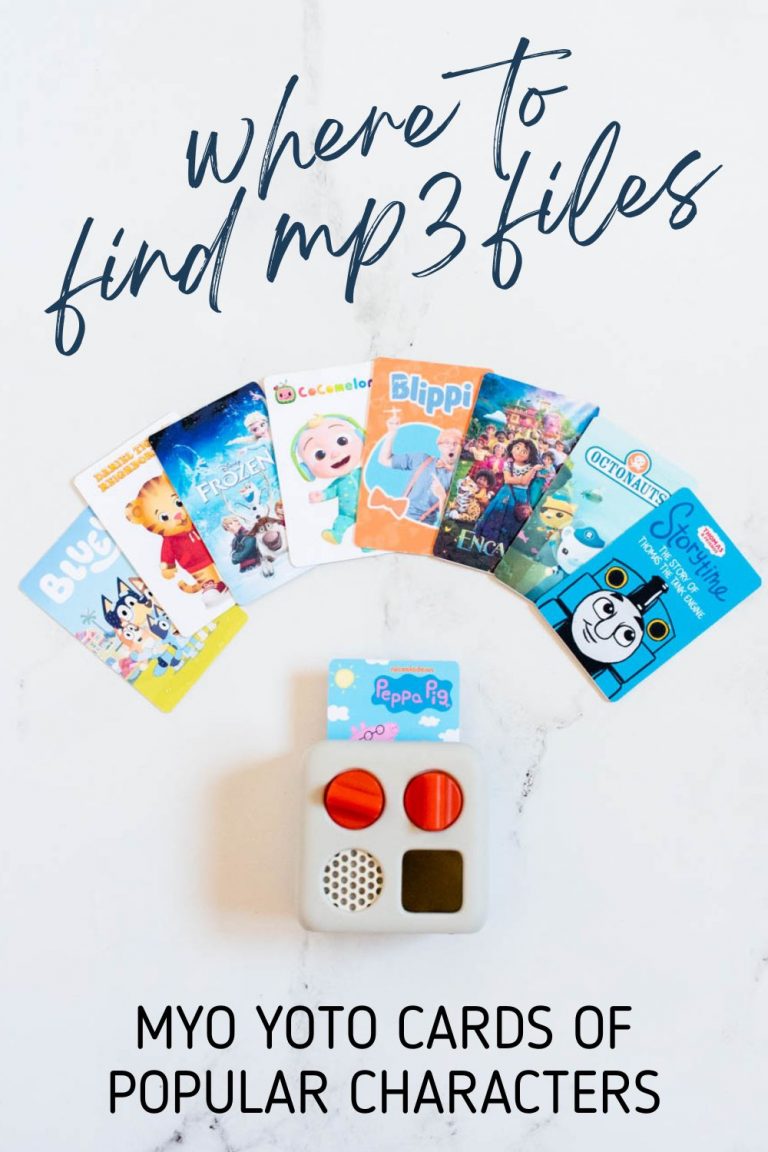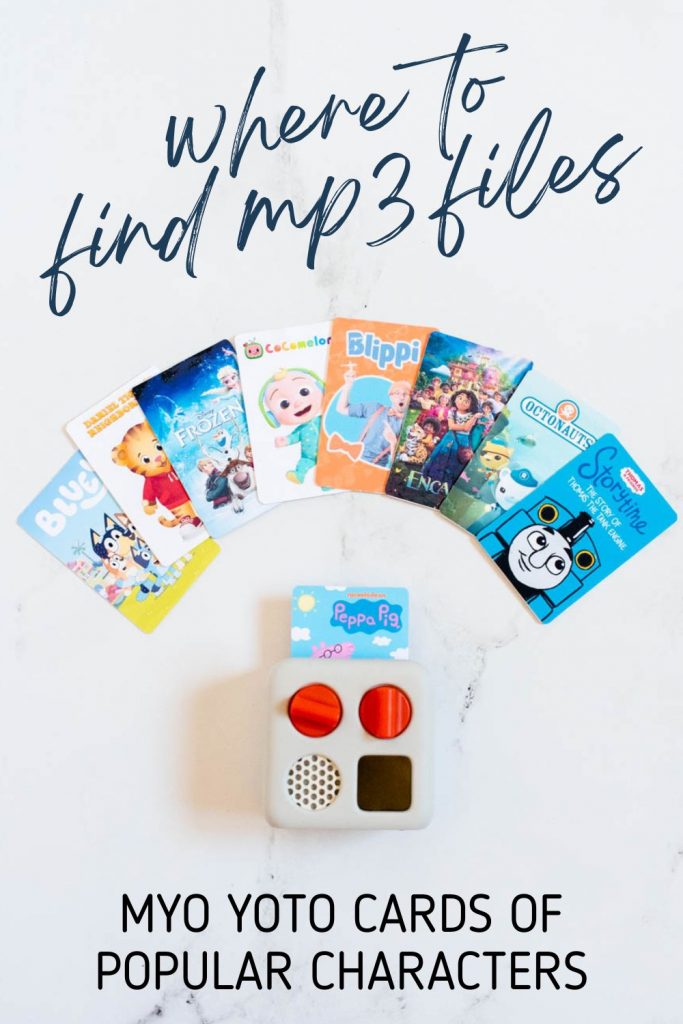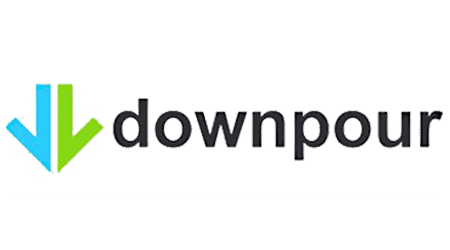 3. Downpour and Yoto
Downpour is a audiobook store that makes it easy to download mp3 files of your purchases. Those are ready for Yoto playlists, so it's an easy process! Downpour often has great sales.
When purchasing content on Downpour, make sure you check what format you're buying. They also sell CDs so you just need to make sure you've selected the radio button for "digital download" - so it can be turned into Yoto content easily.
You can purchase files on Downpour at sale prices, or use a credit subscription system.
This post has a step-by-step walkthrough of how to use sites like Libro.fm and Downpour to make Yoto cards.
Two notes:
First 99% of the content on Downpour is available to make Yoto cards, with the exception of Disney Press stories. They look available but are "locked" with DRM. These means that although you can buy them to listen to inside the Downpour app, you will not be able to access the MP3 to download outside of the app to put it on a Yoto card.
Second, the Downpour search functionality is really quirky. It's not as "smart" as you expect - it only pulls up exact matches in the initial search, instead of likely searches. Don't judge their inventory based on what shows up in the autofill of search - hit enter after your search term and search from there. Try not to get discouraged!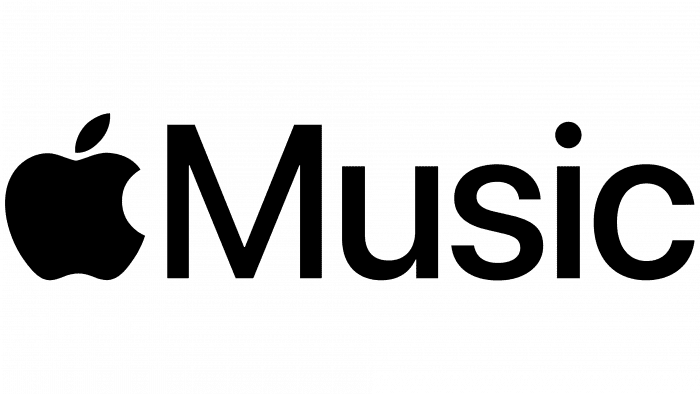 4. Apple Music You've Purchased (on a Computer)
Apple Music is a bit tricky, because the app includes both things you have purchased/imported, as well as songs you are streaming as part of their subscription service.
But the theory is the same - anything you own (i.e. you've paid for or imported from a cd) you can use on a Yoto card. Anything that you just search for and play, but never officially purchased, you cannot use.
You can usually find your MP3 files in your computer's music folder!
Note that you can only make Yoto Playlists from iTunes content from a computer/laptop. The mobile app does not give you access to your iTunes content to retrieve the mp3 files (the "download" option is for offline playing, not to download the file.)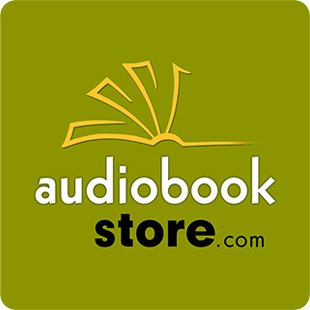 5. Audiobookstore.com
At audiobookstore.com, you can download some books because that website does not have any DRM protection like Audible does.
Once you purchase the content, you can download the MP3 to use! They can be a little pricier than on other websites, but it should be a fairly straightforward process to convert their content into Yoto cards, so it's worth the price.
I haven't actually used audiobookstore.com myself because I've always found content on libro.fm, but it looks like it should work!
---
Sources That DO NOT WORK with Yoto
Here's a list of nine places that you cannot use for Yoto Content, even if you pay for the service or use the premium version.
1. Spotify and Yoto
You cannot make a Yoto card from Spotify music or podcasts. Spotify is a subscription service. You do not own the audio you're playing - you're basically just renting music with a flat fee.
Spotify does not let you download MP3 files from their service. (Downloading to your device for offline viewing doe not give you access to the files outside of the app).
There is no way to connect a Spotify playlist to a Yoto playlist, despite their similar names.
Spotify Podcasts caveat - Some people use Spotify to listen to podcasts. If the podcast is exclusive to Spotify, then it cannot be put on a Yoto card. However, if the podcast is available from other sources, you can likely find the RSS link and put it on a card. More details on this post.
2. Libby and Yoto
It is not possible to make Yoto cards using Libby content.
First of all, Libby is a library app, so you're only borrowing the books - you don't own them.
Second, even if it was legal, there is no download function on the Libby app to get an MP3 of the content.
However, there is one workaround to be able to play Libby content without making a card. Your Yoto can function as a Bluetooth speaker, which means anything that plays on your phone can be routed via Bluetooth to another speaker. This removes a lot of the autonomy that kids love about Yoto, but it works in a pinch.
3. Overdrive and Yoto
You cannot put Overdrive content on Yoto MYO cards. It is a library service and you don't own it.
There used to be a way to download library content through Overdrive, but it no longer exists.
Overdrive has already confirmed that the Overdrive will eventually disappear completely. Overdrive is transitioning its content to its sister app Libby, which does not allow you to listen to any content off-platform.
4. iTunes / Apple Music (on a Phone)
There are two kinds of content on Apple Music: things you've purchased and things you stream.
For songs you stream: Apple Music contains a subscription service, so you're essentially renting the music. You don't own the files, so you don't have the rights to use them anywhere but through Apple Music. You can't make Yoto cards from Apple Music.
For things you've purchased on Apple Music: It is not possible to make a Yoto card with iTunes content using ONLY your phone. The app does not allow you to download music files, even ones you've rightfully purchased, so you can't turn audio from Apple Music into an MYO card. You have to use a computer to access the files.
5. Amazon Music and Yoto
You cannot use songs from the Amazon Music service to use on Yoto Cards.
Amazon Music is a subscription service, meaning, you don't actually own anything you play through Amazon Music. You're just streaming it and therefore you cannot use Amazon Music for Yoto cards.
Note that you can use Amazon Music Digital Mp3s that you've purchased individually. See the section at the beginning of the post.
6. Apple Books
There is no way to put Apple Books (iBooks) on Yoto Cards.
Apple Books are DRM protected, which means Apple has restricted how you can use files you buy from them. In this case, Apple has decided you can play Apple Books on Apple products, so they won't work with Yoto players.
The "download" feature in the app is just to download it for offline use - it doesn't save in a separate folder with just the MP3 file.
We don't know any way to convert Apple Books into Yoto cards. It's much easier to find the content you want from Libro.fm or Downpour for a make-your-own card.
7. Hoopla and Yoto
You cannot put content from Hoopla onto Yoto cards. Hoopla is a library service; you do not own the content, even if there was a way to download files.
8. Epic Books and Yoto
You cannot use content from Epic Books for Yoto cards. Epic is a subscription service and you do not own the files.
9. Chirp Books and Yoto
You cannot turn audiobooks from Chirp Books into Yoto cards. You're buying the right to play the file through the Chirp site or app.
There were some directions going around the interwebs that listed a way to look in the source code and download each track individually. I have tried it and couldn't get it to work. I will, of course, update if I figure it out!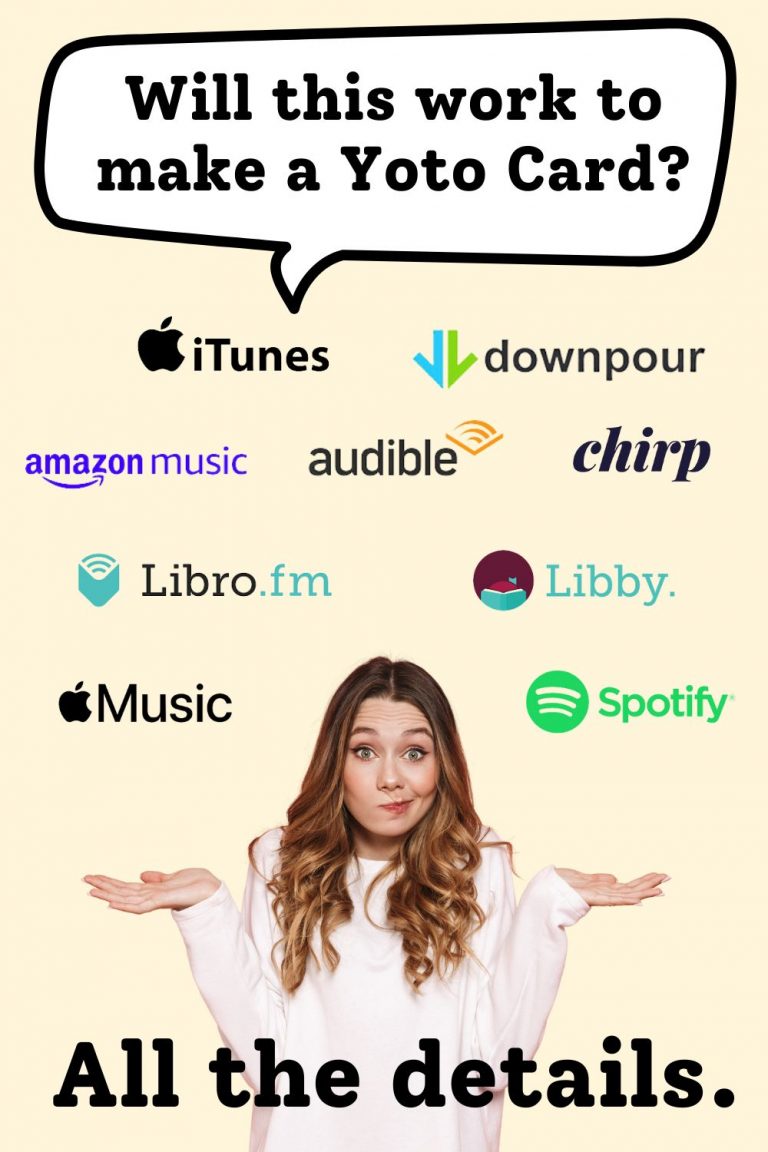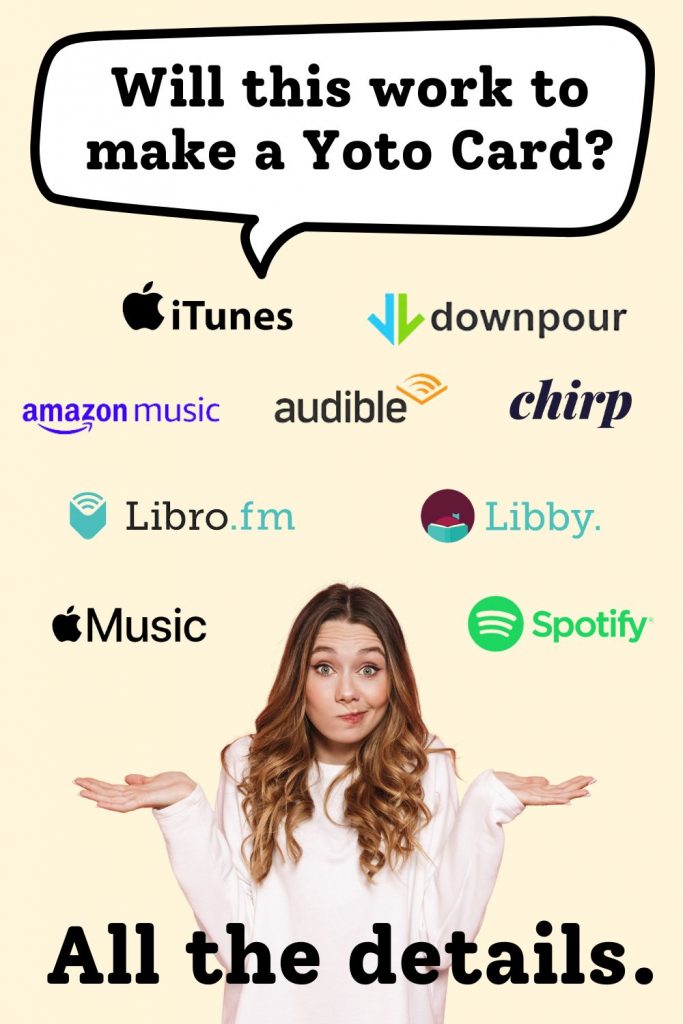 ---
Gray Area - Audio sources that might work, but it depends.
The following three options may work for you, but they may not. Read on for individual details.
1. Audible and Yoto
Using Audible for MYO Yoto content requires 3 things:
a computer
a $20 software purchase called Open Audible to strip the DRM.
and being ok breaking Audible's Terms of Service, which prohibit you from using the above software to unlock their files.
Turning audio from Audible into an MP3 has some legality issues. Audible's terms make it clear that you're not allowed to remove the "lock" that are placed on their audiobook files called DRM. So, basically, they've dictated what you're allowed to do with audio you purchase through them.
However, many people are frustrated with this part of Audible's terms of service, for two main reasons.
First of all, if you legally purchased the file, can you do what you want with it? (Assuming it's for personal reasons, and not to sell or copy for others?)
And second, many people want a backup of their audible content that isn't dependent on the service's viability. Will Audible exist 20, 50, or 100 years from now? I don't know, but many people want to have the content they legally purchased in a non-Audible format. MP3 files are playable almost anywhere, so it's a good plan for digital backup.
Many Yoto parents are decided they are morally ok with using OpenAudible for Yoto MYO cards, because they are just putting content they legally own in a file format that is more accessible to them. They aren't selling the content, sharing the content, etc.
If you're ok with the legality, it does take a few steps: you'll need to convert it to an MP3 and likely create shorter chapters of long files.
Head to this post for Step-by-step directions to convert Audible files to make Yoto cards.
You have to use third party software to do this - we've got directions for three popular programs at the link above.
However, all three require computer, so you cannot do this if you only have a phone/tablet.
2. BorrowBox and Yoto
Using BorrowBox for MYO Yoto Card content requires three things:
that you live in the UK and your local library offers it
that you have a computer to use
that you delete the content after your loan ends
BorrowBox is a library service only available in the UK. You won't find it in the US, so this is only for the UK folks.
If you are in the UK and want to use BorrowBox to turn into Yoto card content, keep in mind that the actual app will not let you download the file, so it will work better going through the browser on your computer.
I am in the USA so I don't have a ton of details on how this works, but I believe you use the link in your confirmation email to download the files, and then upload them as usual.
3. Audiobooks.com and Yoto
Using Audiobooks.com for MYO Yoto content requires:
digging into the code to download your streaming files.
This is not for the faint of heart - I highly recommend you look at Libro.fm, Downpour, or physical CDs instead. You'll make your life a lot easier, and most audiobooks are sold on multiple platforms.
So, it's possible to download content from audiobooks.com to convert into Yoto cards, but there's a bit of a learning curve. Start playing the audiobook you want to download because you need the window player to pop up. After it does, right-click on that window and click on "View Page Source." An HTML document should pop up, and when it does, look for the file that ends in ".mp3". This is the streaming file.
You'll then copy that URL string but delete the part that says "&rs=68". That part affects the speed, so you want to remove it. Then you can paste the new URL in your address bar, hit enter, and then right-click and save. Now you'll have your file that you can save as a playlist on Yoto.
More detailed directions can be found in this post on reddit.
---
Whew! That's a lot of information, I know. If I've made any mistakes (or technology has changed since I updated this!) please comment so I can correct it.
Hopefully you feel better equipped about choosing where to spend your money if you want the content for MYO cards.