Instax cameras have been super popular for a while now, and you may not know what to do with all your fun Instax shots.
If you have a bunch of Polaroid or Instax photos lying around, here are some fun products you can get to display your favorite photos around your home or office.
From frames of all styles to photo holders, we're sure you'll find something you love in this post about Instax display ideas!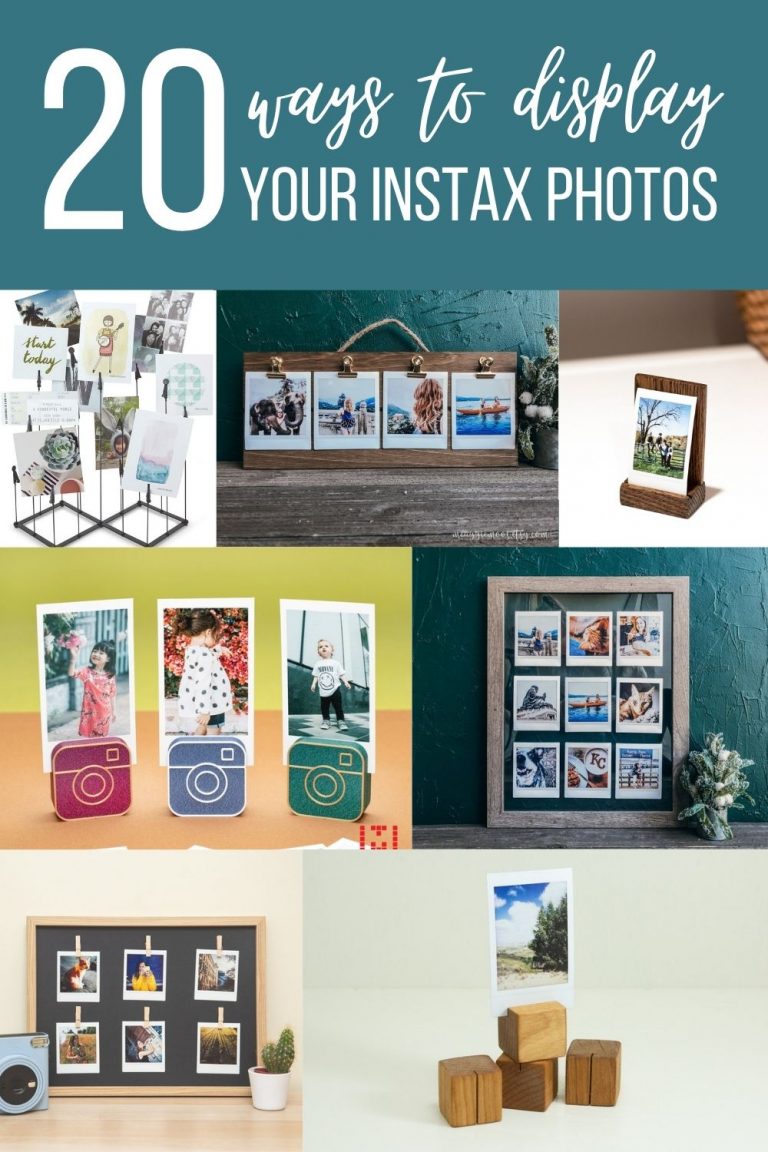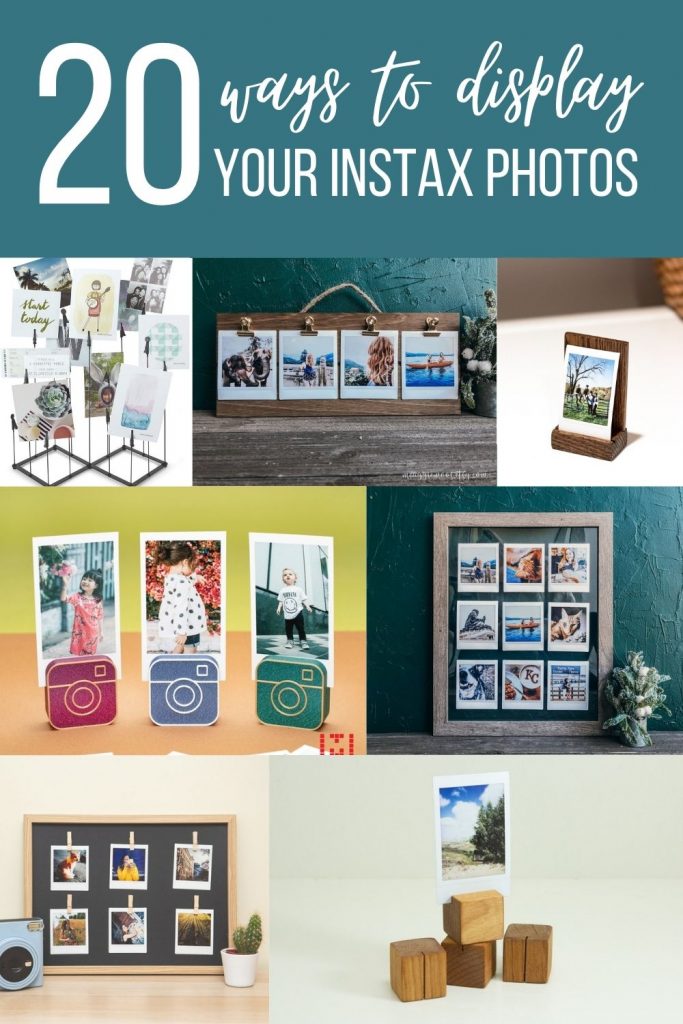 Jump to:
You can put your Instax Mini photos in these cute freestanding acrylic picture frames. They are high-quality acrylic, so the frames are durable and easy to clean. These frames come in several styles. You can get colorful or iridescent frames or designs with leaves or flowers for your Instax photo display.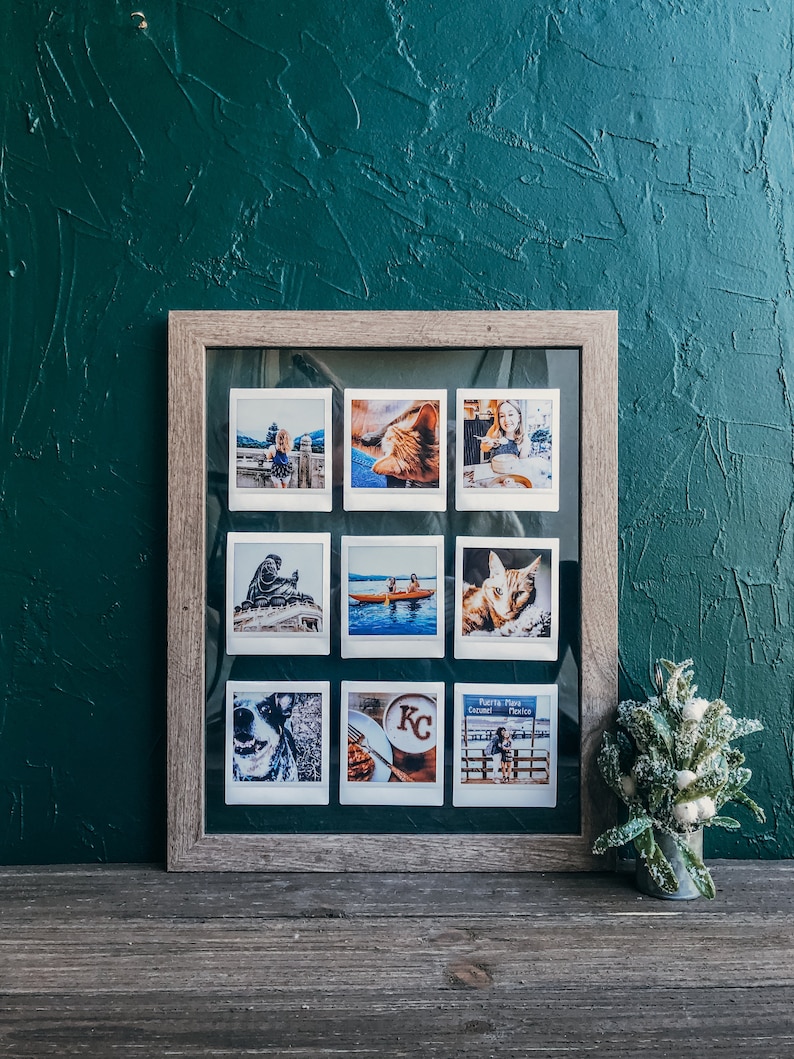 We love this 11x14 float frame. It comes with 9 of your photos printed on Instax film, so it's all put together and filled with your photos when you get it. The wooden frame is pretty and simple, so it will look great on any wall.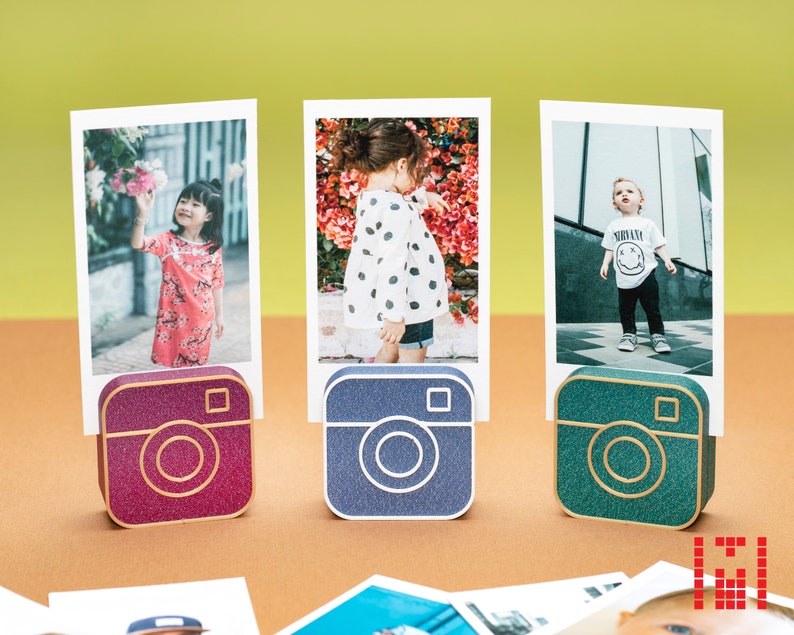 These adorable 3D magnetic camera icons are perfect for displaying Instax photos. It consists of two different parts with magnets embedded inside that are strong enough to hold a photo between them.
There are 31 different colors you can choose from, and you can choose the highlight color as well. This little magnetic icon is an adorable Instax photo display!
This mini photo album display would look great on a desk or side table. It's made from high-quality acrylic crystal and is pretty lightweight. You can put in whatever pictures you want and flip through them throughout the year.
They hold 52 photos with 2 photos per pocket so that they are double-sided as you flip them.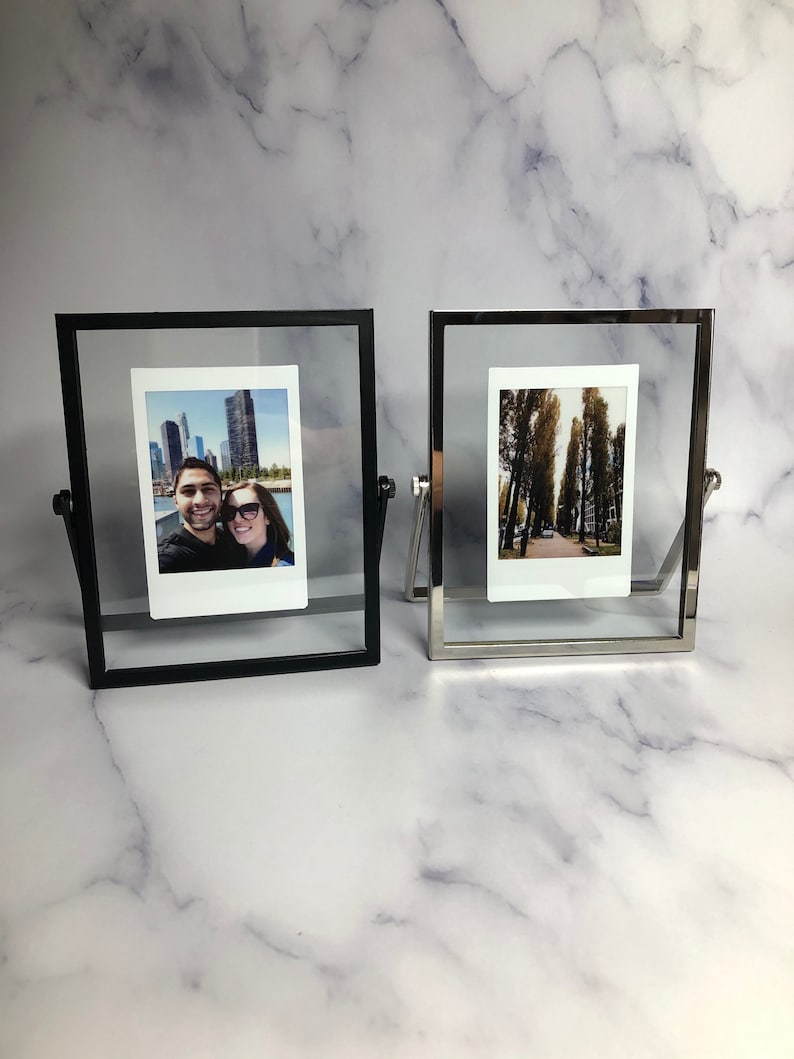 This floating frame is perfect for any of your polaroids. It's a metal frame that is a classic and sophisticated way to show off your favorite photos.
One awesome thing about this seller is that if you have a favorite photo that wasn't taken as a polaroid, you can email the photo to the seller and they'll print it out on Instax film.
This simple frame is designed to fit the Instax mini film. The frame has a satin finish and can be hung on the wall or used as a standing display. It comes in white, gold, or black, and you can get a frame with 6 photo openings or 3.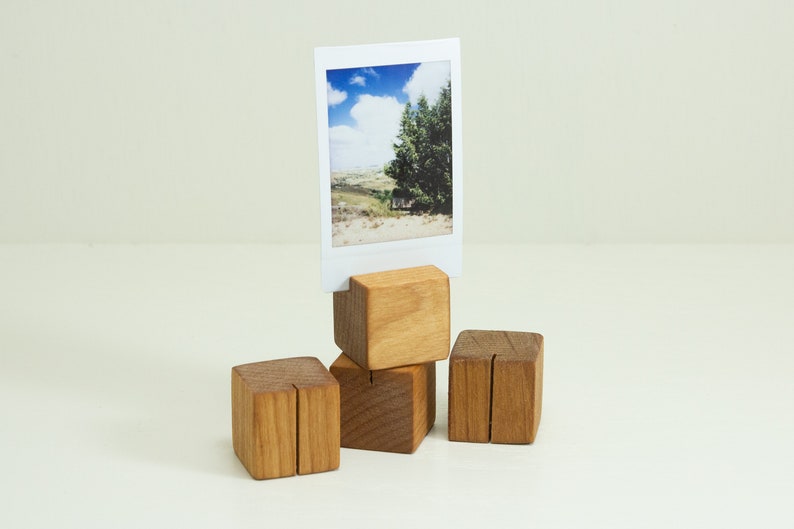 These wooden block photo holders are made from cherry wood and are a great size for Instax prints. Four blocks come with each order and measure about an inch and a quarter all the way around.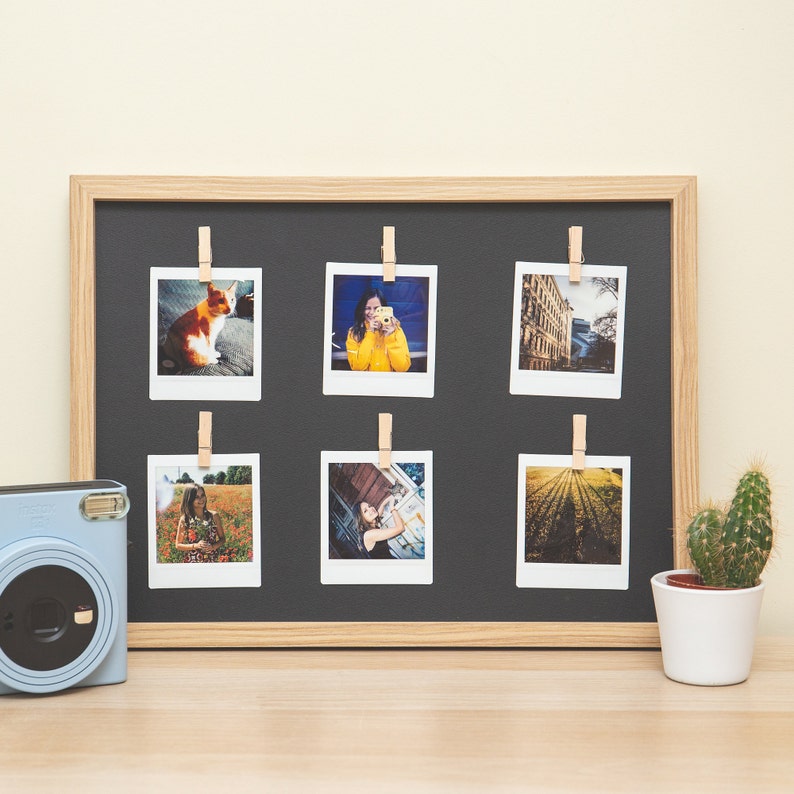 This Instax display frame holds 6 polaroid photos and can be hung on the wall or stood up on a table. You can easily choose photos of your choice to the wooden clips in the frame. The frame is 12x16.
This acrylic floating frame is a unique frame that connects with powerful magnets. It's an 8x8 Instax display frame that can display six photos. There's a stand on the back that you can use or you can remove the stand and stick the frame to a flat magnetic surface.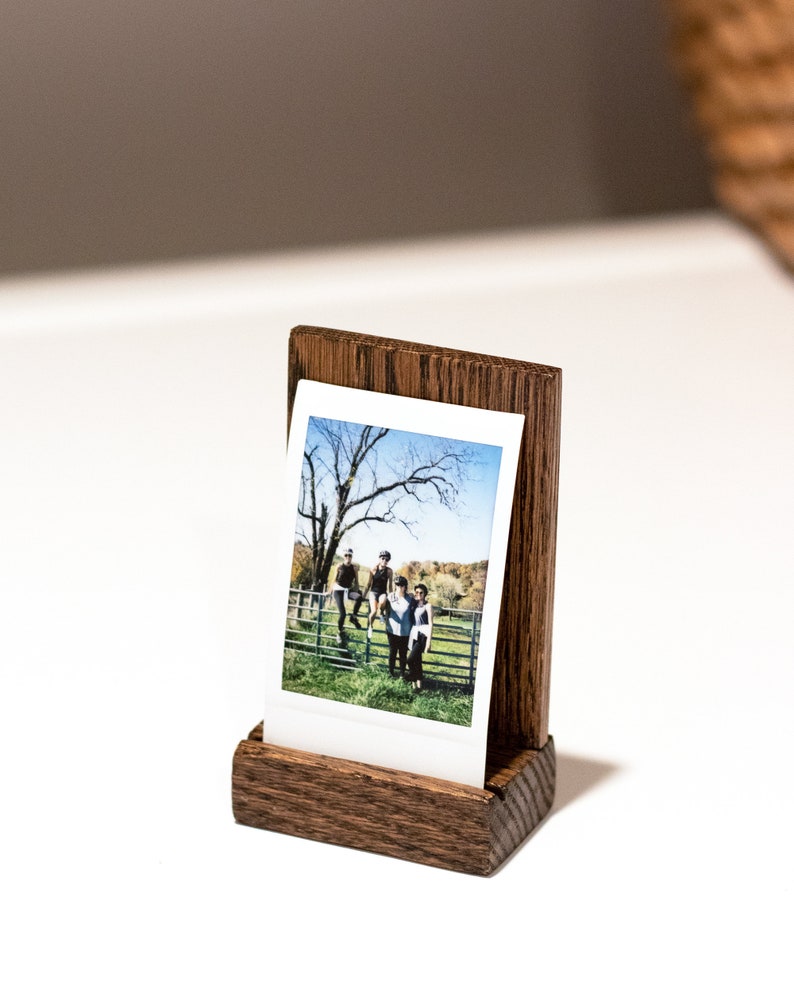 This wood photo stand is a great way to show off your polaroids on a desk. This adorable Instax photo display is made of oak wood with a scratch-free finish. The heavy base is sturdy and won't tip over. You can easily swap out the photo you've placed in the slot whenever you want!
This rustic wall hanging can work as a collage because of its 5 handing metal chains. It comes with wooden gold clips that you can use to clip up any photos you like. It's a unique piece for your wall and can be hung easily with a hook or nail.
These magnetic frames are double-sided so you can put two photos back-to-back. The magnetic corners will stick to your fridge or another magnetic surface. It's easy to change the pictures out. You just need to slide the blocks apart and swap your photos!
These magnetic frames would work on a refrigerator, dishwasher, whiteboard, or any other metal surface. They are compatible with Instax photos and are made of plastic. This 10-pack of multicolored Instax display frames is a fun way to brighten up your space with your favorite photos.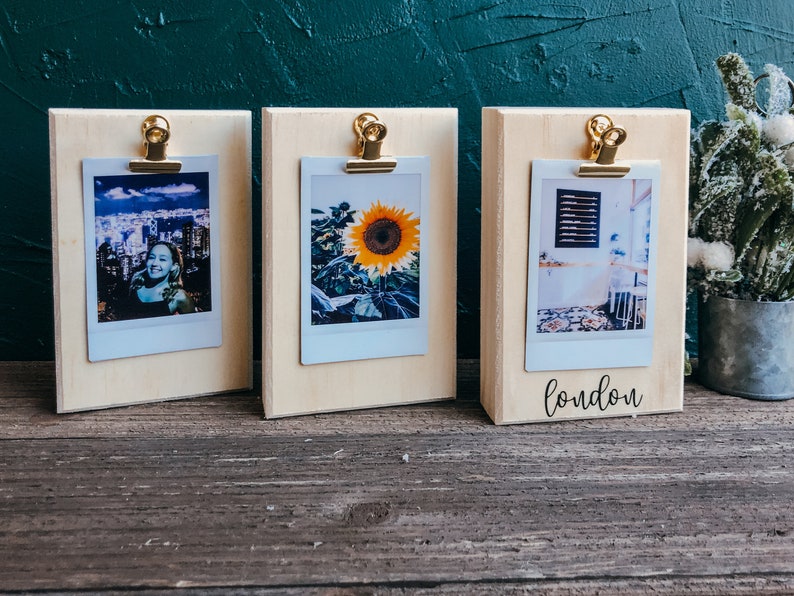 These chic wooden tiles can help you customize your space by displaying your favorite Instax shots. You can even have the tiles personalized with names and dates to commemorate vacations, anniversaries, or other life events.
This wall organizer is made of premium metal wire and brushed with an anti-rust finish. You can use hinge clips or clothespins to clip up any photos that you love with other items for beautiful wall decor. It can work perfectly as an Instax photo display!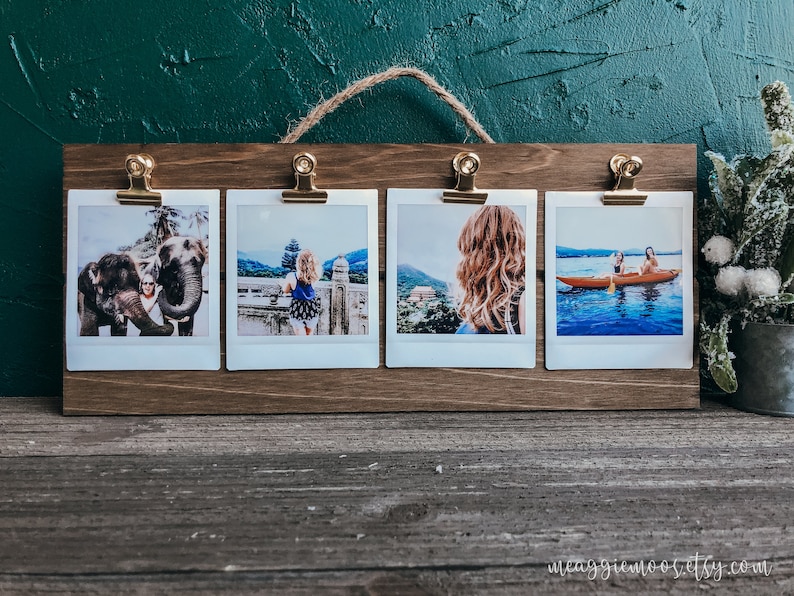 This boho frame holds 4 Instax photos and comes with an attached rope to hang it on the wall. The frame is 12 x 4 and is an adorable, simple piece to place on your wall and show off your favorite snapshots.
You can build your own gallery wall with this unique frame system. The frames are magnetized so you can click them together and position them in any way you'd like. They are a great size for polaroids and a fun way to customize your own collage as an Instax display frame.
This photo display comes in black or nickel and is a really cool way to display your photos on your desk or on a shelf. The base of this display can expand and contract, so it can ultimately display up to 15 photos. The clips are of varying heights so you can still see the photos in the back.
This easy to assemble frame contains hardware, a glass front, a matboard, and backing. The frame's simple design would look beautiful on any wall and it comes in brass, white, barn wood, natural, and black. This frame has openings for eight photos but it also comes in a smaller frame with fewer photo openings.
This frame is super unique and interesting. It's a wooden picture board with a honeycomb design that can display 14 polaroid photos. It also comes with two mini photo displays so you can have a cool honeycomb gallery display.
---
We love these fun ways to display your adorable polaroid or Instax photos. No matter what your personal style or home decor is like, there should be something here that will look great on your wall or on your desk.
If you're looking for a more festive way to display your Instax photos, check out this post about Christmas ornaments that fit Instax mini photos!
What's your favorite way to show off your Instax photos? Let us know in the comments below!