There are many wonderful, magical novels people for children that you can make make into Yoto Cards. Especially because children can listen at a higher level than they can actually read at - so getting slightly more advanced stories for your kids will help their comprehension skills.
If your child is ready for Harry Potter Yoto cards, then they are ready for SO MANY other good series they can enjoy as well!
But the cost is always a question - what's the cheapest way to make cards of longer series? When you have to get multiple books and make several cards of each one, how do you save money?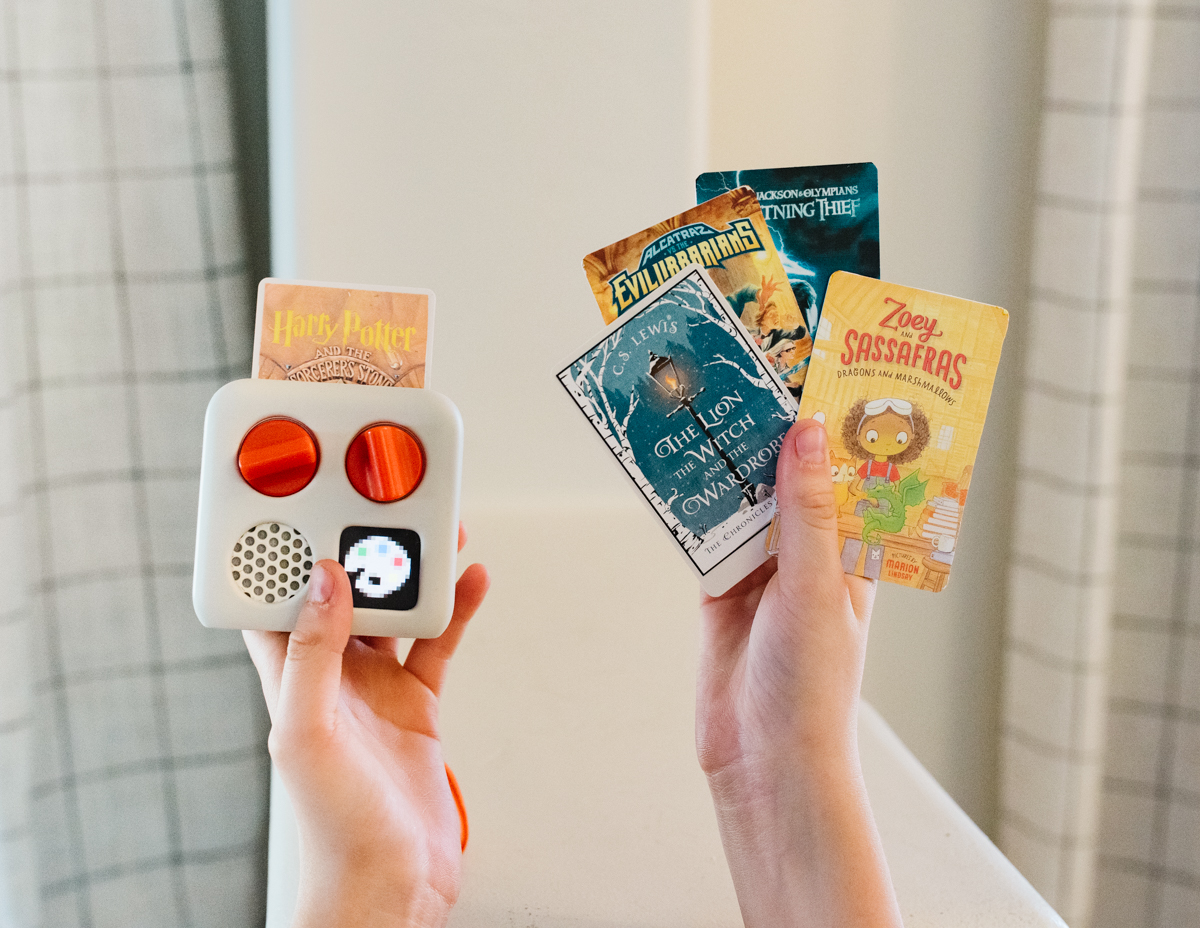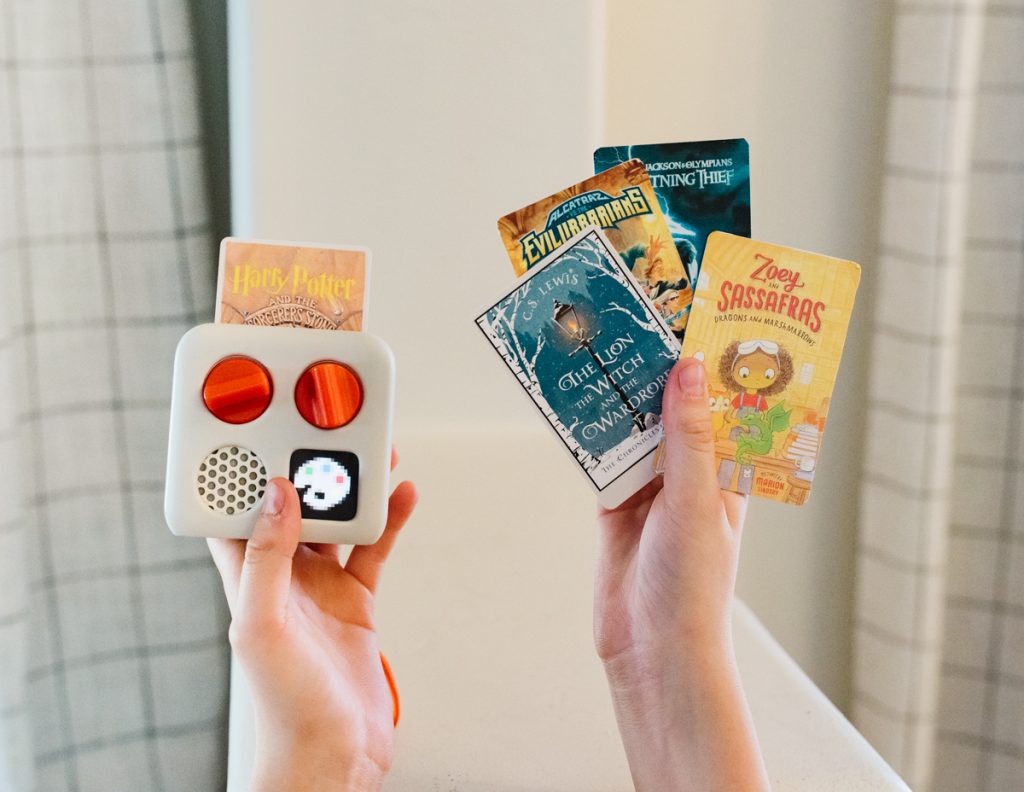 This post is a cost comparison of popular middle grade audiobooks so you can make Yoto cards without spending a fortune!
Pros & Cons of the MYO Route for Long Books
One major pro of making cards yourself is the cost. It's often cheaper to buy the audio tracks elsewhere and then put them on a Yoto Card.
Remember that you'll have to factor in an additional $2-3 for the cost of the physical Yoto card. However, don't forget that cards are reusable and can be relinked to different playlists, so you may not need as many MYO cards as you think.
Also, you own the audiobook file forever, so if you ever left the Yoto system, you still own the file itself. (For example, sometimes my kids listen to Audible titles on the Yoto, but I have the actual file in my Audible Library even when they outgrow the Yoto.)
You can also combine tracks onto a single playlist if you make them yourself. That means you can put several books on the same MYO card to save money, even if Yoto sells it in the book-per-card format. If you use cards from Yoto, you cannot change the playlist at all; Yoto is in charge of the playlist and you can't change anything. So if the series comes on 6 cards, you're stuck with that.
One con to making your own cards is the time it takes. Instead of just buying a card and it's all ready to go, you've got to find the audio from another source, possibly convert it, create a playlist on the Yoto app, arrange the tracklist, and add them to your MYO card. You'll get faster at doing these steps, but it is time. (Here are the step-by-step directions for MYO if that sounds like a lot!)
You'll probably want to add labels to your MYO cards so you can easily see what book or music is on the card. This can take time and effort, depending on how professional you want to make them look! However, most parents enjoy the little creative outlet.
Depending on your available time, it may be easier to just buy the cards available through Yoto.
Pros & Cons of Buying from Yoto
A major pro of buying it from Yoto is that it's fast and easy.
It definitely takes a few steps to make your own cards and your time is valuable! Some parents enjoy the simple steps of MYO cards and the creative outlet of making matching labels. But it might be worthwhile just to buy a card and be done.
Plus, if you buy directly from the Yoto store, the file shows up instantly in your app. This is a big deal since you can instantly stream your audio from the app.
Another advantage is that you can resell the Yoto card when your children have outgrown it and get a bit of your money back.
One con is that it can be more expensive to buy cards from Yoto than the MYO route. (Like with the Henry Huggins series, which we will talk about in the next section.) Even when you factor in the cost of a few MYO cards, some audio files are much cheaper elsewhere.
Another con is that you could end up with tons of short cards, which can feel inefficient.
For example, the Llama Llama books from Yoto come on 8 separate cards and each book is only about 5 minutes long. Many parents choose to buy the tracks instead so they make a single Yoto playlist with the 8 book tracks on it. That feels much more efficient and doesn't bloat your collection.
Or some parents might dislike a single music track on a Yoto card and want to leave that song off their card. But There's no way to delete/skip a track from a card created by Yoto. But if you buy the music yourself and add it to a card, you have complete control over what you include.
And remember, you can make decisions on a case-by-case basis!
There are absolutely times when buying from Yoto makes sense, and there are times when you'll choose to DIY it. Let your heart (or wallet) guide you!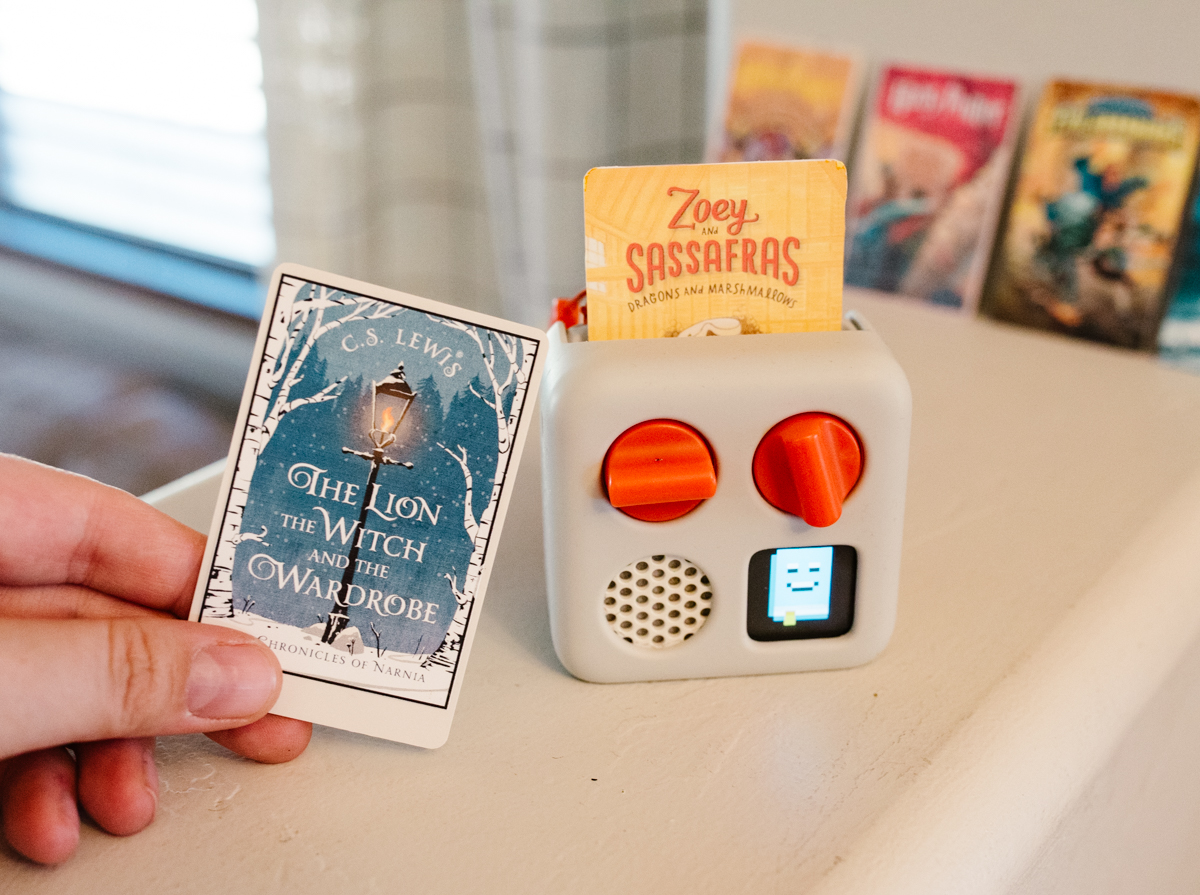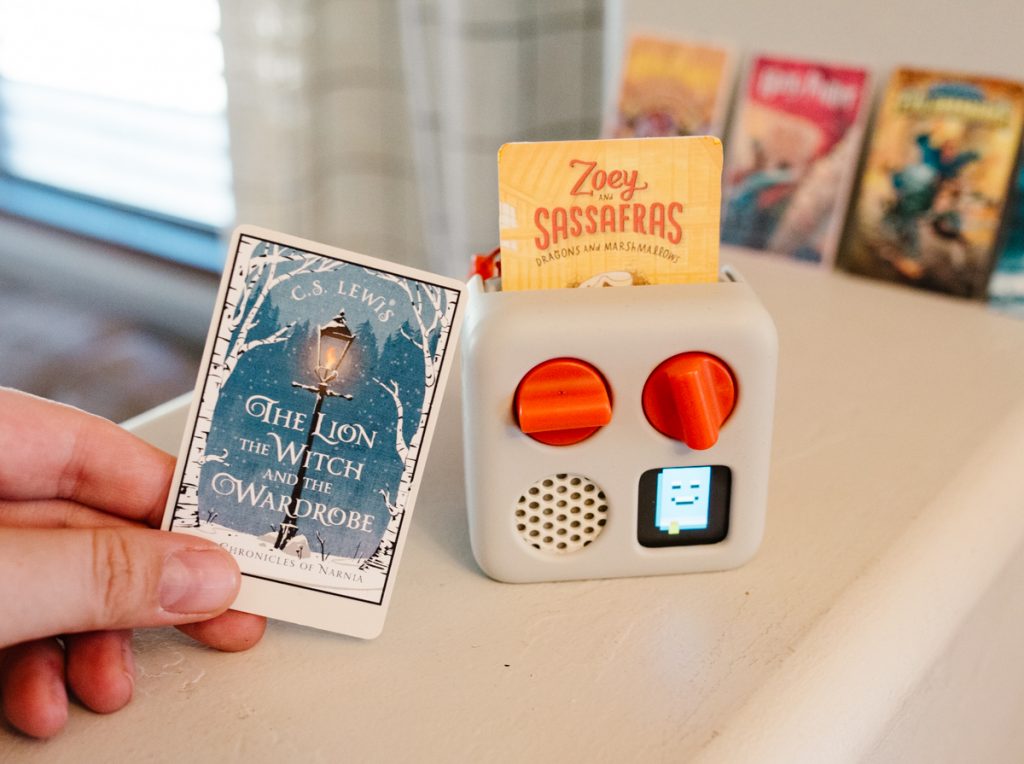 ---
Middle-Grade Audiobooks for Yoto MYO Cards
Here are some suggestions for other great middle-grade audiobooks and series for kids-teens.
If you go the MYO route, these posts will be super helpful:
Henry Huggins Collection
The Henry Huggins series by Beverly Clearly is a winner for 7 to 9-year-old boys. The series has six books. My son blazed through all six books in just two weeks!
The cheapest way to get Henry Huggins on Yoto: This one is a clear no-brainer. Buy it on Libro or Downpour! Yoto's licensing deal makes it absurdly expensive in comparison. You can put 3-6 books on a single card if you want!
Ramona Quimby Series
Magic Tree House Books
Magic Treehouse Books are short stories featuring two children who go on adventures to different lands and times. There are literally 100+ books! These are very popular read-aloud books for young students - our kindergarten teacher always starts reading these to her class and they are a hit at that age and beyond!
There are a few options here for making Magic Treehouse Yoto cards. First, the Yoto Store itself carries a set of the first eight books in the series for $35. But you can also go the MYO route for the series and turn your favorites into Yoto cards.
The cheapest way to get Magic Treehouse for Yoto: This set is cheapest through Audible even if you don't have a membership with them! It's about half the price of the cards through the Yoto store.
Charlotte's Web
This is on Yoto already for $13, making it the cheapest and easiest way to get this book. However, I've totally seen Charlotte's Web on sale at Libro.fm, so check that too!
Roald Dahl Books: Charlie and the Chocolate Factory, BFG, James and the Giant Peach
Yoto has lots of books available by Roald Dahl, and several of them come in sets. You can get them individually for about $13 each (the shorter books are sometimes $10). But if you want to get the entire collection, Yoto has two sets, each containing 6 different stories.
One set (with well-known stories like the BFG, Charlie and the Chocolate Factory, James and the Giant Peach, and more) costs $50. The other set, which has stories like Fantastic Mr. Fox and The Enormous Crocodile, costs $30.
Because Roald Dahl's books are so popular, the sets and some of his more popular novels are frequently sold out on Yoto. So you really have to watch the website to grab one when they restock. You can also sign up to be notified if there are certain cards you're eyeing.
The sets are much cheaper at Downpour and Audible but it depends if you are interested in all the books or just some (since the Downpour/Audible sets have only 5 books).
Boxcar Children Yoto Cards
Because Yoto sells a set for only $30, that's your best bet! The other options all sell the books separately.
Little House in the Big Woods
Yoto does not currently sell any books from the Little House on the Prairie series. The other books in the series are available from each retailer.
The Phantom Tollbooth
Your cheapest option here is buying directly from Yoto though you could use an Audible credit if you have an Audible membership (but keep in mind you'd then have to convert it into a card).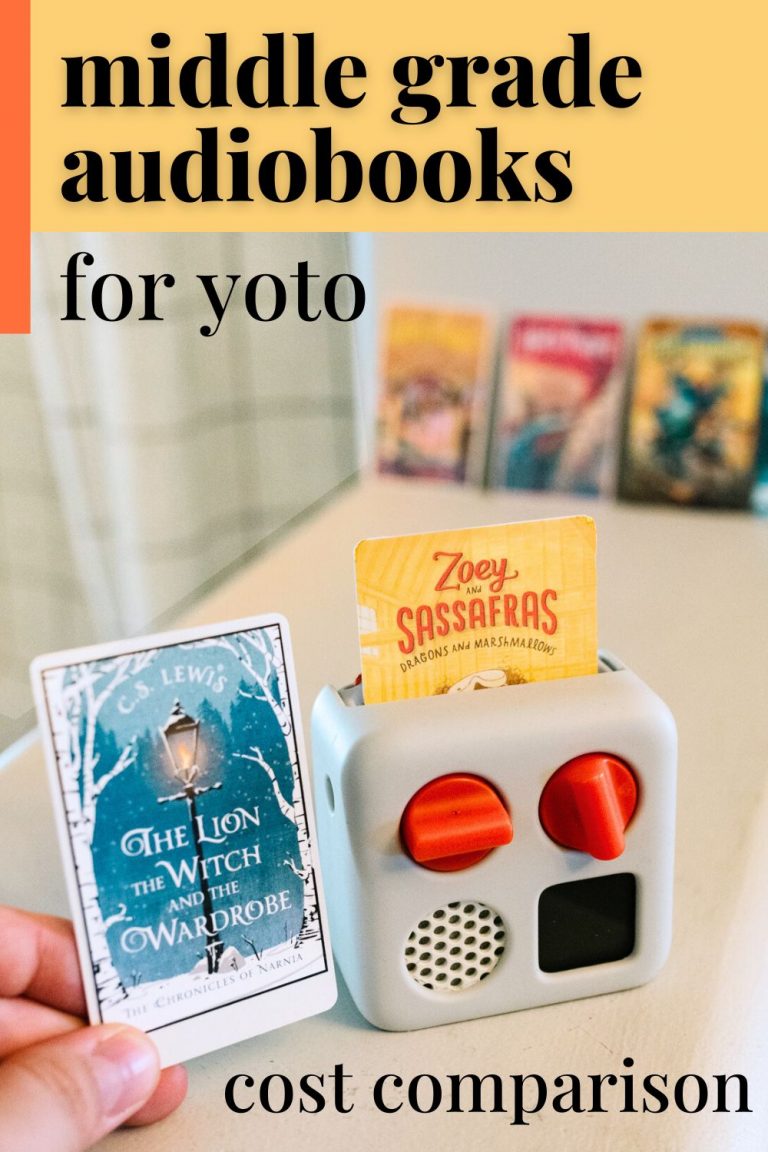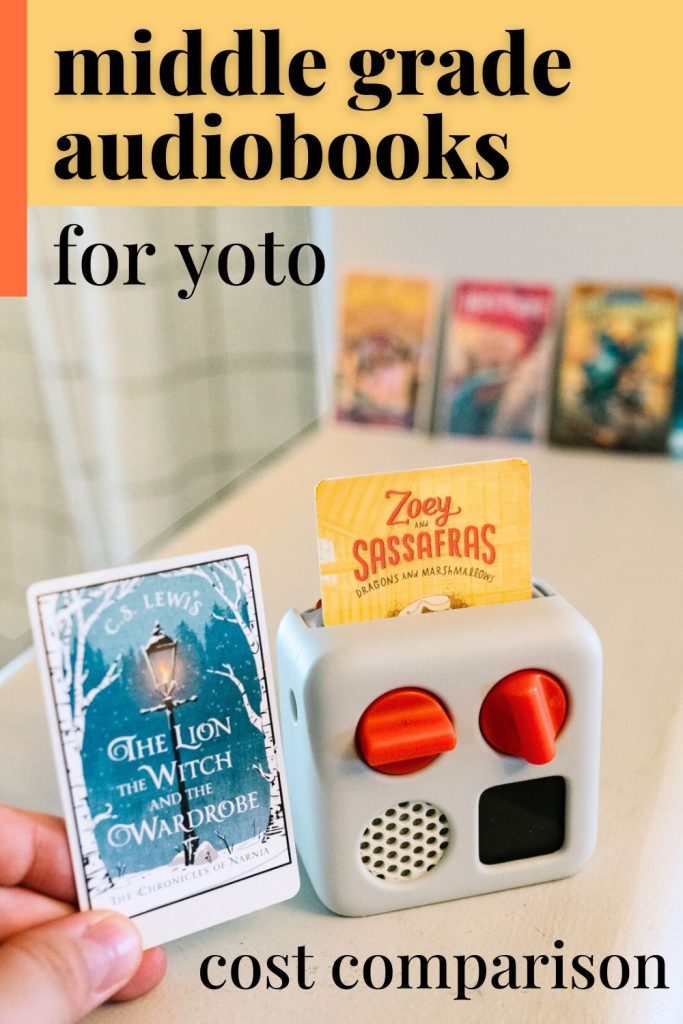 ---
Young Adult Audiobooks For Yoto MYO Cards
Here are some other great audiobooks and series for young adults that you could put on Yoto for your teens!
Narnia Series - The Lion, The Witch, and The Wardrobe
There are seven books in the Narnia series: The Magician's Nephew; The Lion, the Witch, and the Wardrobe; The Horse and His Boy; Prince Caspian; The Voyage of the Dawn Treader; The Silver Chair; and The Last Battle.
This is such a well-loved series, and Yoto just barely came out with the cards! Audible is the cheapest way, but it's a lot of time/energy to convert everything over. The Yoto card set seems expensive, but it's on par for just under $9 a book.
Percy Jackson And the Lightning Thief
This is a super popular series, especially for school-age boys. There are lots more books after this first one!
Yoto does not currently sell any Percy Jackson books.
Harry Potter
We have a whole post dedicated to the best way to create Harry Potter Yoto Cards. Head there to read it!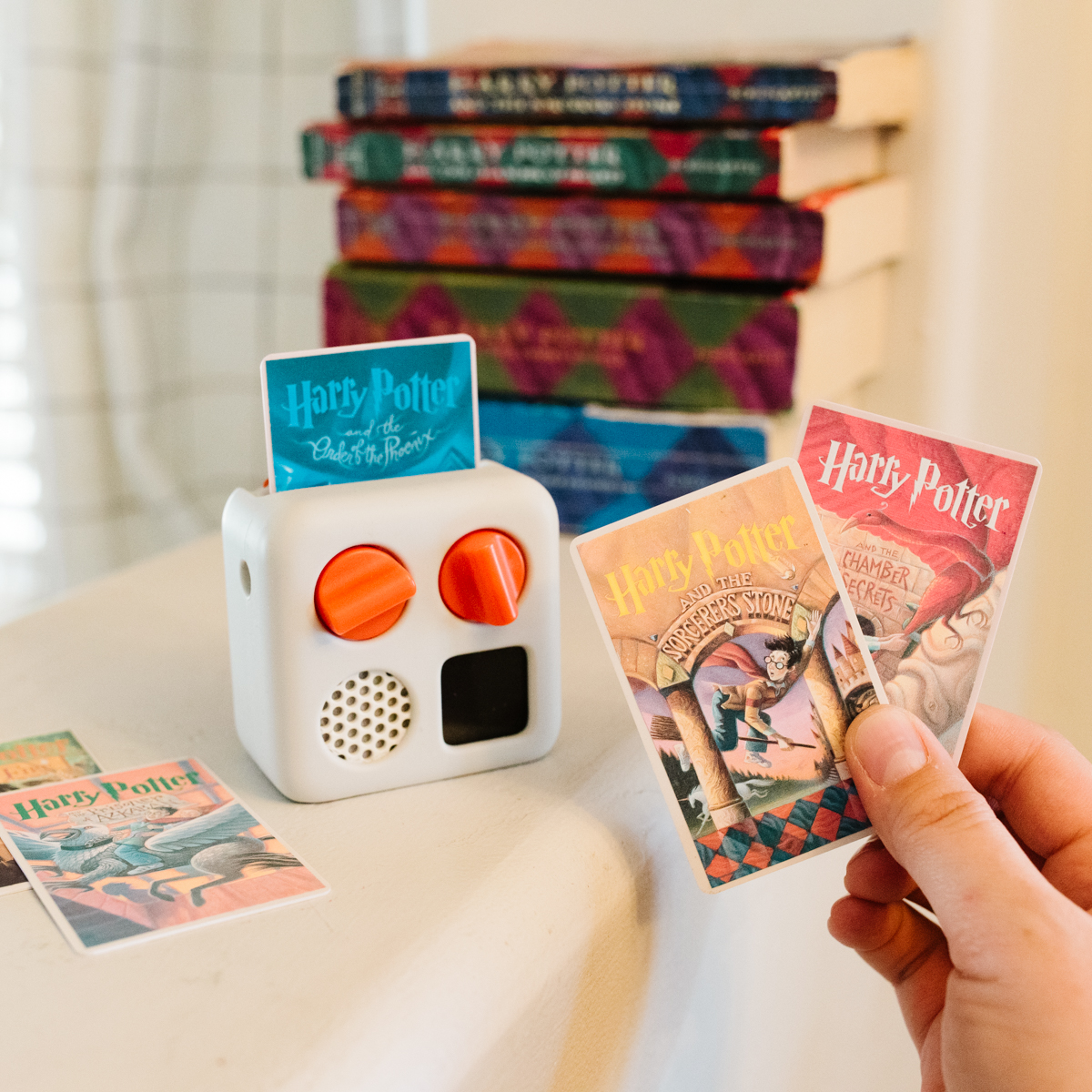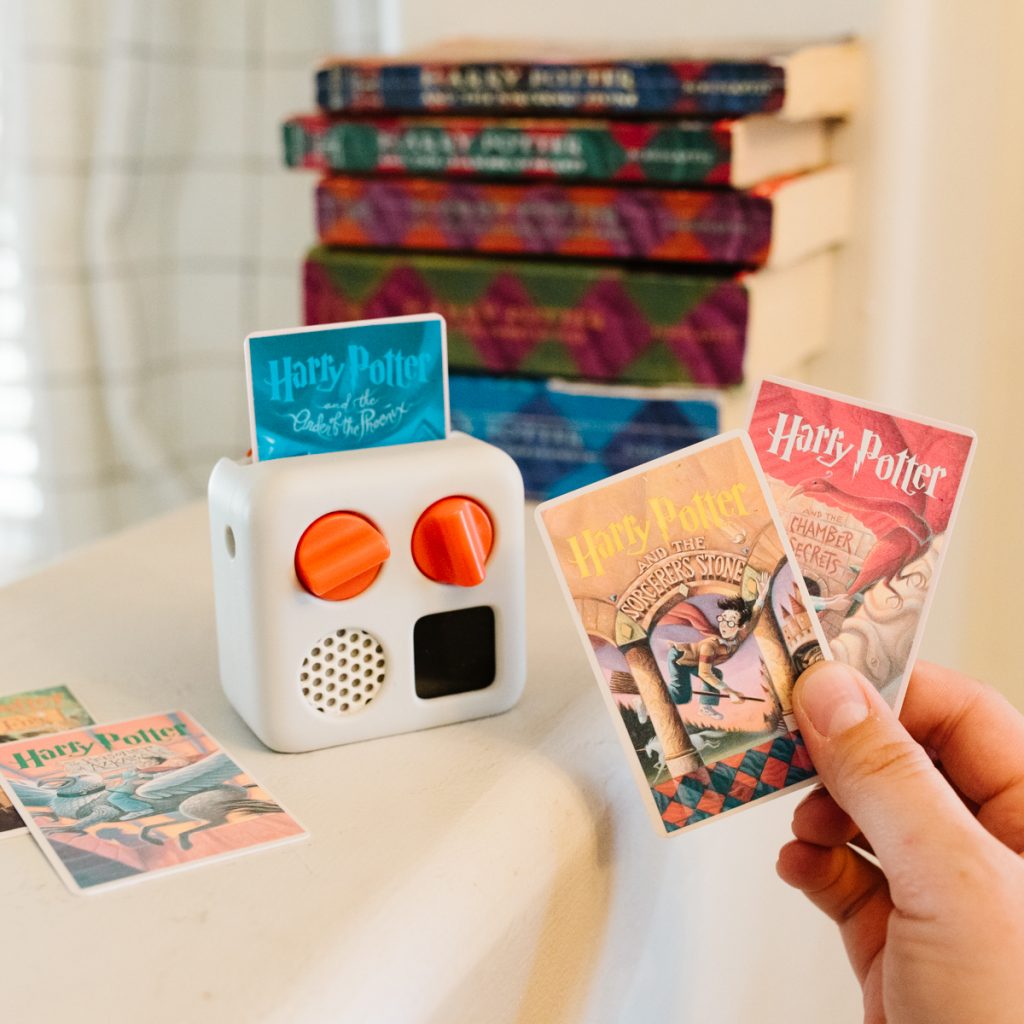 The Lord of the Rings
The Lord of the Rings trilogy is not currently available from the Yoto Store; you'll have to do a MYO Lord of the Rings Yoto card.
The Hobbit
There are several versions of The Hobbit available, including one by Andy Serkis (Gollum), and then another by Rob Inglis.
The Yoto store does not carry The Hobbit, you'll have to get the file elsewhere and make your own. If you choose one from Audible, then here's directions for unlocking your files for Yoto.
Are You There God? It's Me, Margaret.
This book is not currently available with Yoto and is about the same price on other platforms.
Howl's Moving Castle
Yoto does not currently carry a Yoto card for this book.
Holes
We suggest getting this one through Yoto!
Wingfeather Saga
Yoto does not currently sell any books from the Wingfeather Saga.
The Girl Who Drank The Moon
This is a beautiful fantasy novel for school-age children. I loved it!
Yoto does not currently sell this book, and it's fairly comparable among the other options.
A Wrinkle In Time
This is a classic! Watch for sales on your platform of choice.
Yoto does not sell A Wrinkle in Time.
Esperanza Rising
Downpour doesn't Esperanza Rising available in English, only in Spanish.
The Cheapest Option is...
As you can tell, there's not really one specific place that will always have the cheapest option for Yoto cards.
Sometimes, if Yoto carries the card, then buying directly from them might be your best bet. Other times, even if they do carry it, their cards are more expensive than buying the audio from a different service along with an MYO card.
Audible has a lot of great prices, especially if you have a membership with them and can just use your credits to get the card. However, remember that you have to use OpenAudible to convert the audio into a format usable for Yoto cards. The first time will feel tricky but it's so easy once you've done it!
You can choose which source makes the most sense for each book. Have fun building your Yoto Library!
The posts below also have some sources for cheap or free content: