Any budding young photographers in your life? Do any of your kids want to learn more about cameras or photography?
Here's a collection of incredible photography books that will help any photography-loving kids learn more about the art, the icons behind the lens, and the camera itself!
This guide is broken up into two parts:
The first half of this post has Instructional Photography Books for Kids.
These are how-to, educational books for children. If your child wants to learn how to use a camera, take better pictures, or why some pictures are better than others, these are the types of books you want! They are perfect for someone who wants to get into photography, or with a camera for a gift.
But reference books aren't your only option.
Part two of this post includes Inspiring Books About Photography.
Taking amazing pictures is more than just using your camera - the subject matters too! These are coffee-table style books with big, beautiful pictures to inspire your budding photographer. Looking at amazing photos from other talented photographers can spark anyone's creativity. From animals to space to historical images and more - these books can be enjoyed by kids of many ages.
Are you looking for an illustrated picture book?
If you want something for a younger child, then head over to 24 Picture Books About Photography. That post has tons of great picture books and stories about cameras and the inspiring people who used them.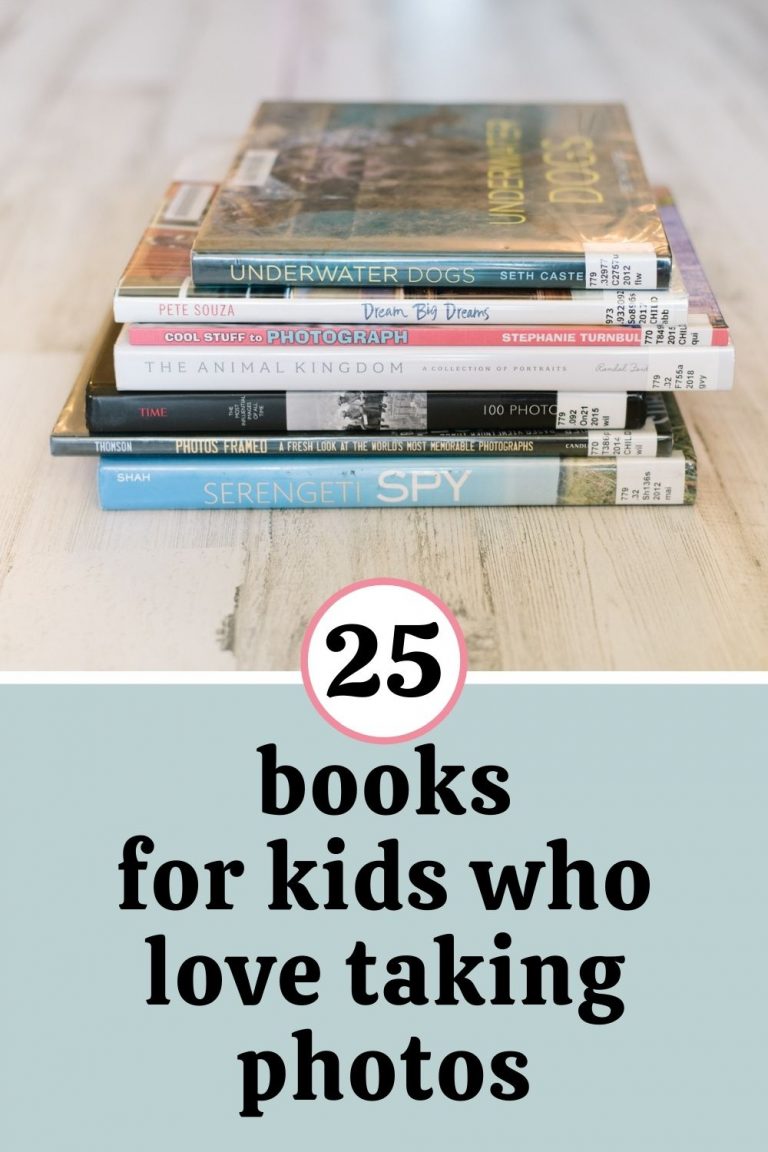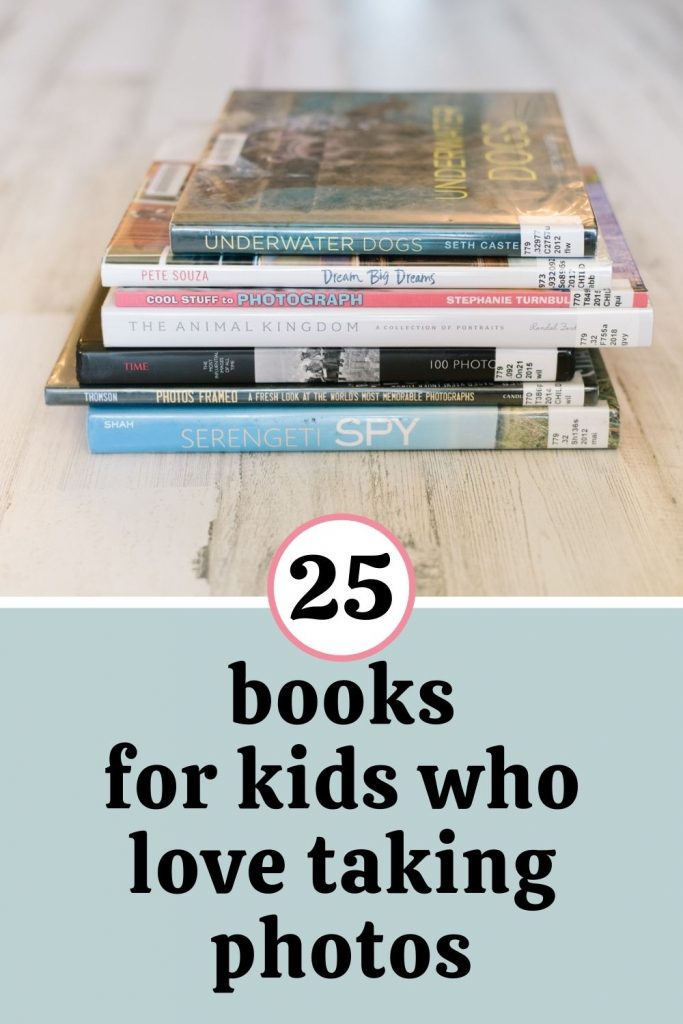 Instructional Photography Books for Kids
This is another great photography activity book for your child. This one encourages your kid to explore the power of photography through learning one big lesson: how to take a great photo anywhere you go.
This helps kids "see" hidden photo spots wherever they are - whether it's at home, school, the backyard, on a field trip, or out in nature. And the little cutout "viewfinder" in the back of the book is a great way for kids to find great views even without a camera.
This National Geographic book is a fact-filled and kid-friendly guide that helps any beginning photographer learn the basics. From setting up shots to lighting to software, this book goes through equipment, camera settings, and photography concepts. With easy-to-follow visual explanations and tips, this is a great book for any budding photographer (kid or adult)!
If your child already has a basic understanding of photography and access to a camera, this is the book for them! It has 31 unique challenges set up like a scavenger hunt to help your little photographer develop better skills while having fun.
Photographer Joel Meyerowitz wrote this book to help readers see how photographer can change the most ordinary things into beautiful memories. This book features photos from tons of photography masters along with a short blurb that tells readers to inspect every aspect of the photo - from lighting to composition - so they can begin to understand how amazing photography really is.
This book contains a mixture of professional photos with some taken by kids to help demonstrate the dos and don'ts of photography.
This book uses real photographs to help encourage readers to create their own masterpieces. The 20 exciting photo challenges in this book are unique and will get your kid's imagination working, like taking photos where you learn to be invisible, to stop time, and more!
Does your child want to capture the world around them? Then this is the book for them!
This book offers step-by-step tips on photography basics that are easy to understand. Your child (or you!) can learn how to set up a camera and edit their new photos, all with enough space to make notes and keep track of their newfound skills.
This activity book, created by a professional photographer, is all about learning how to make magic with just a camera or smartphone and a bit of creativity. With the help of a few props you can find around your house, your children will be able to create an "x-ray" of their brain with a collage of photos or transform their siblings into three-legged monsters with just a camera and a tricky camera angle.
This book will be tons of fun for your whole family!
If your child likes photography and loves activity books, this is the perfect marriage between the two!
This book has tons of fun projects and prompts that encourage kids to take photos both indoors and outdoors, some that take just a little while and some that might take most of the day. They can do them alone, with friends, or with the whole family, and some projects don't even require a camera! This is a great book for any kids who want to engage with the world of photography.
This informative guide is easy enough for kids of all ages to understand. It covers the differences between digital and film cameras, and helps new photographers learn how to properly hold a camera, how to take action shots, and hot to use photography to tell a story.
There's also a section that will help introduce children to famous photographers and iconic photos through history. Photography-loving kids will be excited to learn how to take creative and compelling high-quality photos.
Written by a professional photographer for National Geographic, this is a how-to guide for both digital camera and smartphone users.
Framing, F-stops, and editing are just a few topics this book goes over. In a series of short, easy-to-read lessons, readers will learn the fundamentals of taking great photos. This book also helps explain the basics of choosing the right camera and gear, and how to apply exposure and lighting tips to family, pet, travel, and nature photography.
Though this isn't necessarily aimed towards children, several of the reviews say that it's easy enough to understand for teenagers, and possibly younger with the help of an adult!
This book is aimed towards older children - if you have a middle schooler or high-schooler that's interested in photography then this would be a great place to start. It contains a step-by-step photography course that is more in-depth than anything else on this list.
The book is set up as a 20 week course, with tutorials, demonstrations, assignments, and answers to help readers learn to use both their cameras and their artistic talents at full capacity. Readers can work at their own pace, going quicker or slower than the 20 weeks if they need to.
This is a great introduction to photography with step-by-step instructions that will help anyone interested in photography become a confident and competent photographer.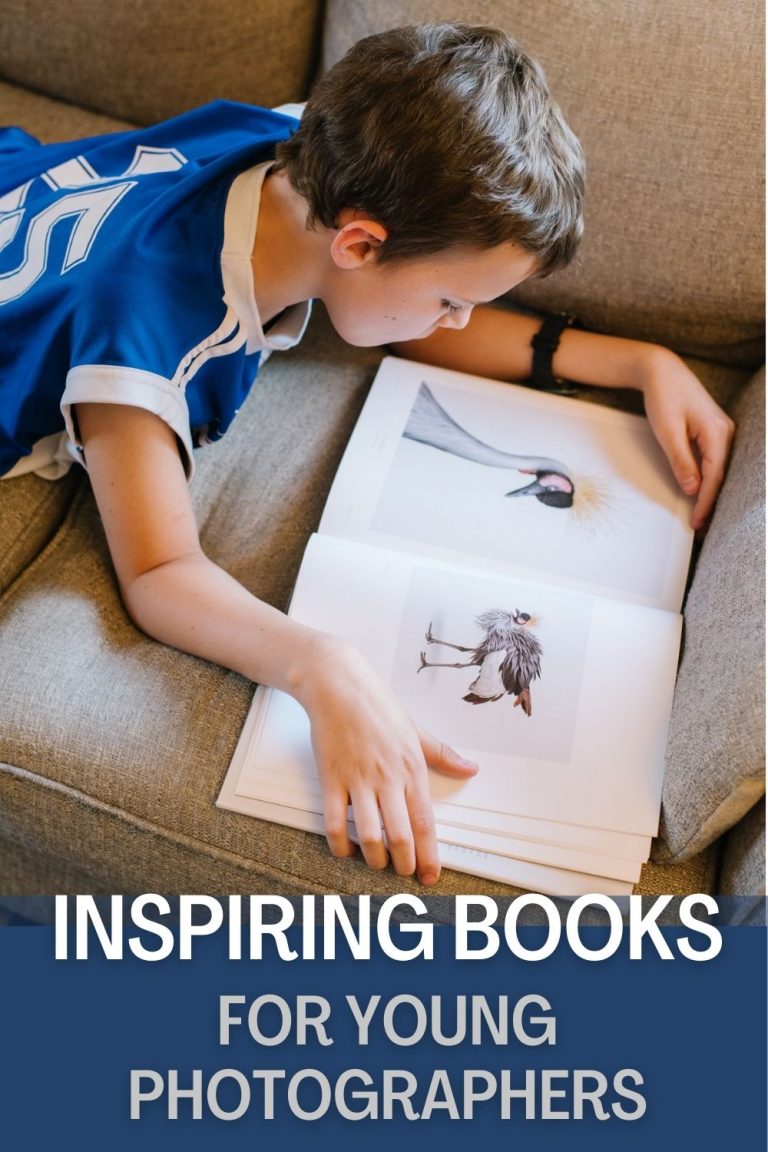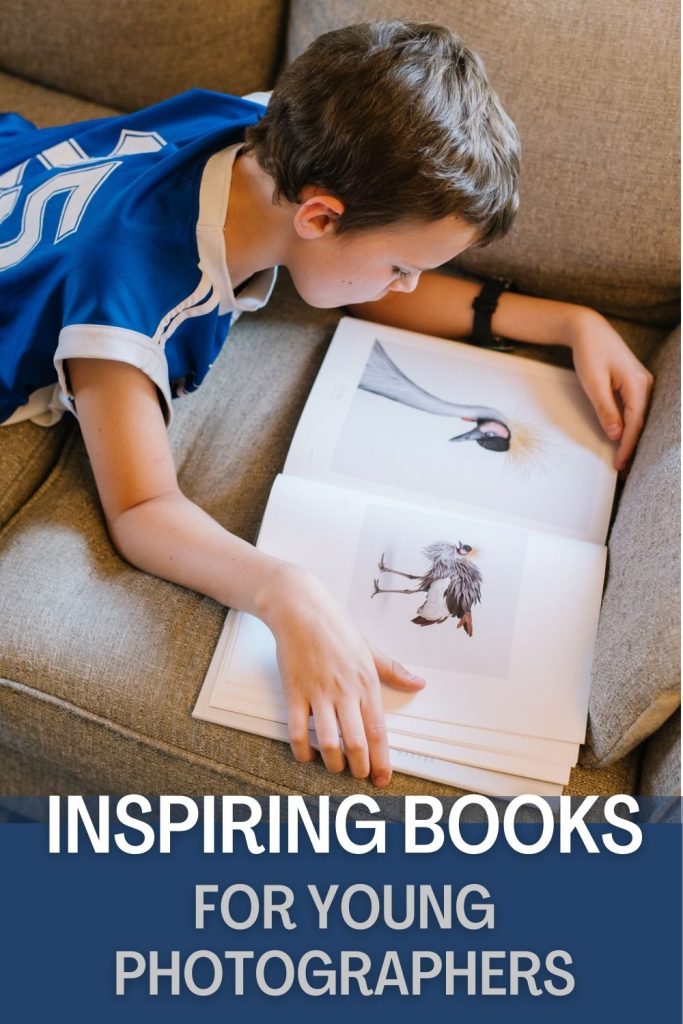 Inspiring Photography Books For Kids
A great book doesn't just have to teach - it can also inspire!
Check out these beautiful photography books for kids, that are sure to help them see more creatively, and recognize the impact their photos can have on the world.
This is one of my favorite photography books for kids: it's just so interesting to see all the different personalities of animals show up when they're in a studio setting.
This book of portraits features animals from all over the globe, photographed in powerful portraits by one photographer. He includes little stories at the end about how he worked with humane animals and their trainers to get the photos - including how they encouraged cooperation (it's not like a flamingo is going to listen to posing instructions!) and which animals he was nervous about. Animal lovers will enjoy seeing the personalities and traits of each animal shine through.
Photographs have the power to inspire the world or break your heart.
This book explores some of the most important photos in history, while inviting readers to think about the big picture or the photographer behind the camera. This book will help photography lovers take a closer look at the power behind a photo and how amazing this art can be.
This adorable little book features the cutest dogs playing underwater.
Your kids will love seeing them chasing after their toys, ears floating in the water, or staring at the camera with curiosity. IF you like this one, there's another by the same author called Underwater Puppies. Because if you think dogs are cute, then puppies are sure to delight as well!
Pete Souza was the Chief Official White House Photographer for 8 years. He captured Obama throughout his presidency and shared thousands of moments with the world, both classified and candid.
This collection of over 75 photographs is geared towards young readers. It provides the behind-the-scenes stories of some of the iconic photos of the President with his family, colleagues, and other world leaders. It's a fascinating visual record of life in the White House.
No matter what your political affiliation, you can appreciate Souza's incredible expertise as a documentary photographer.
The title says it all! If you just need a super fun photography book for kids, this is it.
Kids and teens will adore this collection of 80 photos of insanely cute animals: Do you want cats wearing wigs? What about otters holding hands? Piglets wearing rainbows? Check, check and check. This book has them all!
If you need to cheered up or your kids want some cute photos to giggle over, then this is the book for you.
This book is an around-the-globe adventure that features incredible photos of the wonders all over the natural world. These rarely seen images will help your camera-loving-kid see how photographs can capture the beauty of planet earth.
All little kids dream of adventures, don't they? Little Heer sure did. She and her friends decided to go on an exciting journey, and this book, with colorful photos that serve as the illustrations, will take its readers on an exciting journey right alongside them. The creative photos of household items are sure to inspire any kids who read it.
Have you ever wondered what your dog is thinking? I'm sure everyone's thought at least once in their life, "What kind of person would my dog be?"
This fun book provides the answer to that question through hilarious and creative photos. Whether it's a dog as a couch potato or a biker, this book will take everyone on a fun journey through the imaginative world where dogs might be like people.
Is your child interested in media and photojournalism? This one can show them how pictures can really made a difference.
This book tells the important story of how photos helped end child labor. In the 1800s, many little boys spent over 60 hours a week sorting coal in dirty, dangerous factories for only 45 cents a day. Though child labor was common back then, most people didn't understand how awful the working conditions really were.
Photographer Lewis Hine brought those conditions to the public's attention. With his camera, he showed the country what life was like for those little boys working in factories and mills - rousing public sympathy and helping end child labor in the US.
There's nothing better than National Geographic for nature lovers, and this book delivers.
With over 40 unique animal portraits, each page invites children to explore the characteristics of each animal and find out how to protect them. With stunning photos and beautiful poems, this is a nature photographer's lifelong project to take pictures of every captive animal species around the world. It's an inspiring photography book!
Want something unique for a dog lover? This photography book is sure to delight any child who has feed their beloved pet.
The book is a collection of dogs at their favorite time of the day... treat time! These hilarious and surprising photos will make everyone laugh as they capture every dog's unique personality.
Who doesn't love pictures of cute animal babies?
This book perfectly captures the wonder of the first weeks of baby animals around the globe. From kangaroos and fox cubs to elephant seal pups and painted turtles, these pictures highlight the first moments in these wild infants' lives. Anyone who loves baby animals will adore this pictures.
I got this book from the library and my whole family was transfixed!
Anup Shah set up hidden cameras in the wild, and then photographed animals from a remote location. Since there were no humans present, the pictures provide a close-up encounter with animals, in an authentic way that is totally different than going to the zoo.
Many of the animals actually heard the click of the camera and were intrigued, and got even closer to see what was going on!
Readers will stare a hyena right in the face, watch lion clubs playing, and see wildebeests jumping across a ravine.
Your kids will love the photos and interesting facts about the animals on the Serengeti - my family certainly did!
This picture is perfect for older kids or teens who are interested in photography or photojournalism. It's a compilation of some of the most groundbreaking photographs of all time.
Some of the pictures are well-known, but some will surprise you. All of them changed the world in some way, making it both fascinating and inspirational.
---
Looking for Picture Books instead?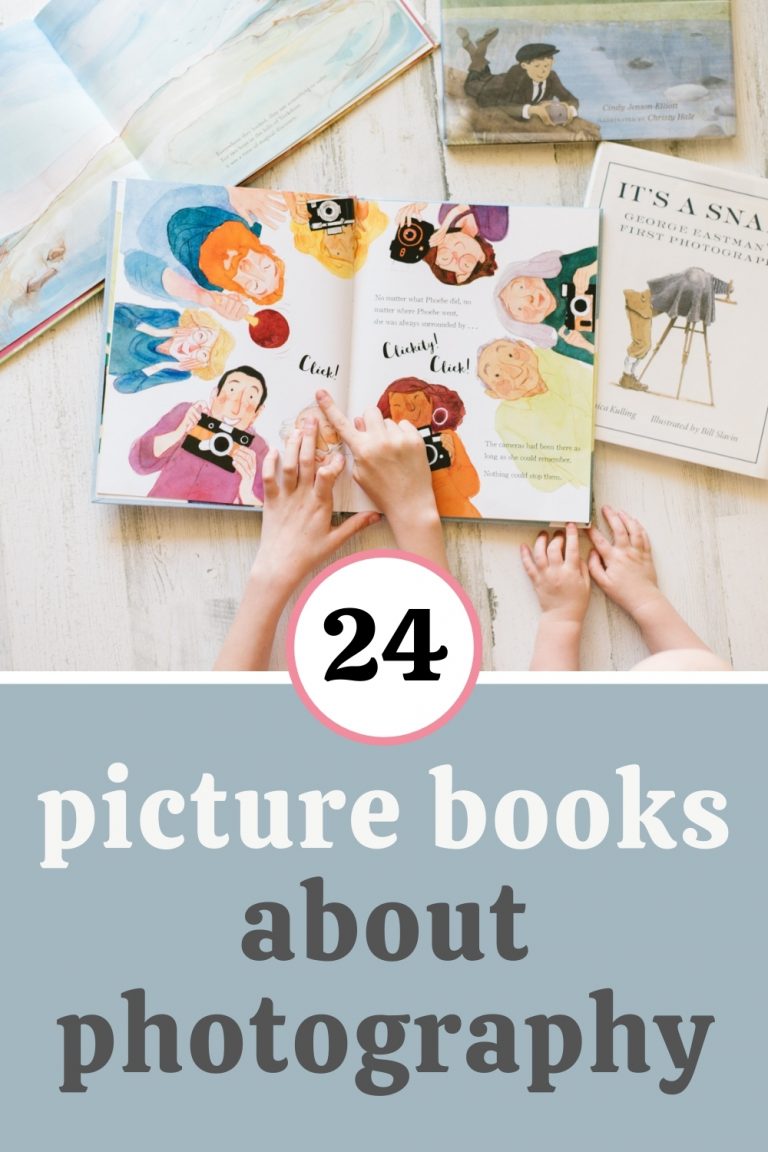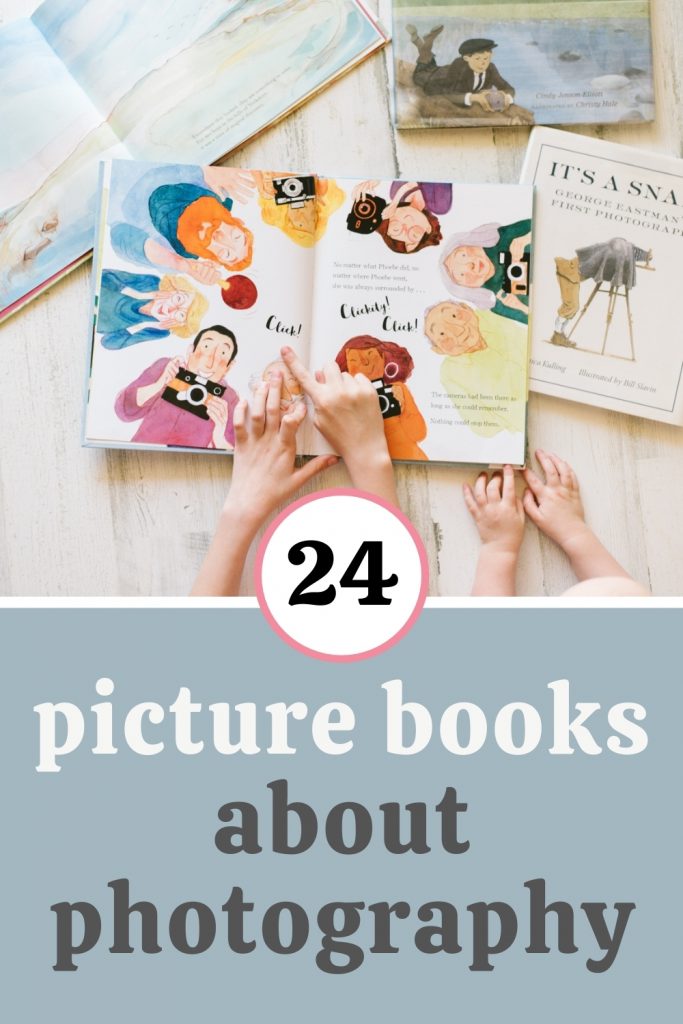 We already gathered together all the picture books about cameras and photographers that are out there. Head to this post for 24 illustrated picture books about photography.
Any of the books in this post would make a great gift.